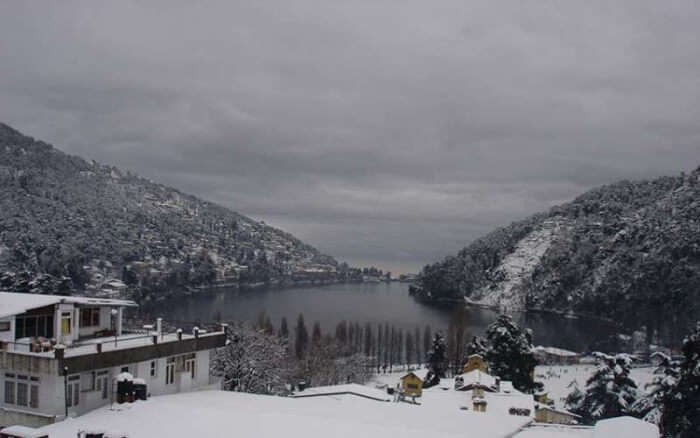 Nainital, the city beautified with a pear-shaped lakes and snow-capped peaks, is a beloved hill station for tourists across the country. This resort town in Uttarakhand's Kumaon Region enjoys pleasant weather around the year, and with the arrival of winter, snowfall in Nainital only doubles up the fun.
Being a weekend getaway from Delhi, Nainital can be an ideal pick for you; if you wish to play around in snow this year, without having to take leaves from work. Now that you must be wondering about the experiences to look forward to during your visit, here is a list featuring the best!
1. Take a cable car ride to the Snow View Point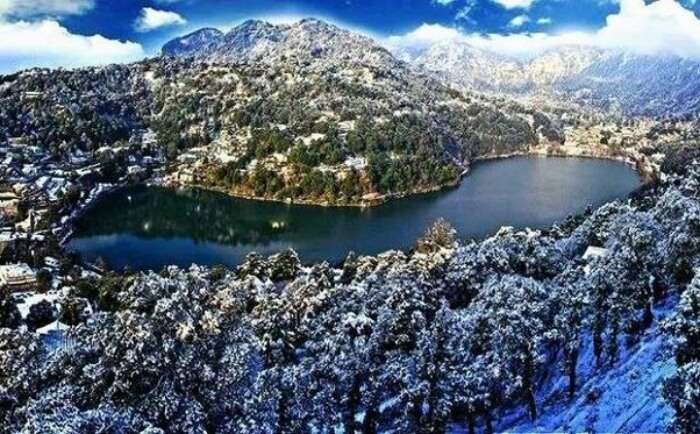 One of the most famous tourist attractions in Nainital, Snow View Point is renowned for the views that mesmerize. Right from this point, you not only get to witness a panoramic view of the city and the valley, but the popular Himalayan peaks covered in snow are also beheld from this point (Namely- Trishul, Nanda Kot and Nanda Devi). The Nainital snowfall time can be unpredictable so it's wise to plan ahead.
In fact, if you're heading to Snow View Point, you might feel that the journey is as beautiful as the destination itself. The cable car ride connects the foothills of Nainital (Mallital), with Snow View Point, 2270 meters above sea level. This 2.5 minutes long trip to the point will leave you in utter awe, especially if you are visiting during snowfall in Nainital!
Must Read: Snowfall In Lambasingi In Winter: Your Handy Guide
2. Treat yourself with a cozy winter staycation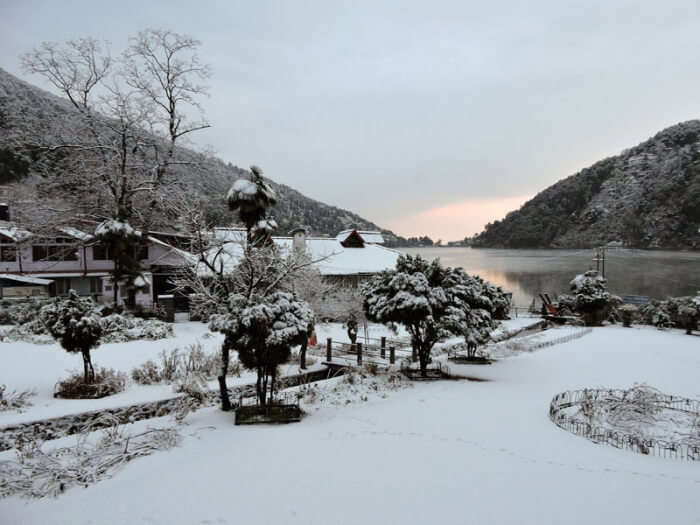 Image Source: Amit Sah, euttaranchal
Being among the most preferred weekend getaways from Delhi, there are chances you've been to Nainital already. But, if you're in for a magical experience of snowfall in Nainital, there is no better way than snuggling in a blanket and watching the snowflakes fall to the ground. There are many homestays, hotels, and resorts in Nainital which offer luxurious comfort at nominal tariff. So, if you are a lazy traveler, who would rather sit and watch the beauty, then a staycation during a classic Nainital snowfall is the perfect idea for you!
Where to stay: Balrampur House, The Naini Retreat, and Shervani Hilltop
Must Read: 10 Best Resorts In Nainital For Your Himalayan Staycation
3. Shop for warm woolens in Mall Road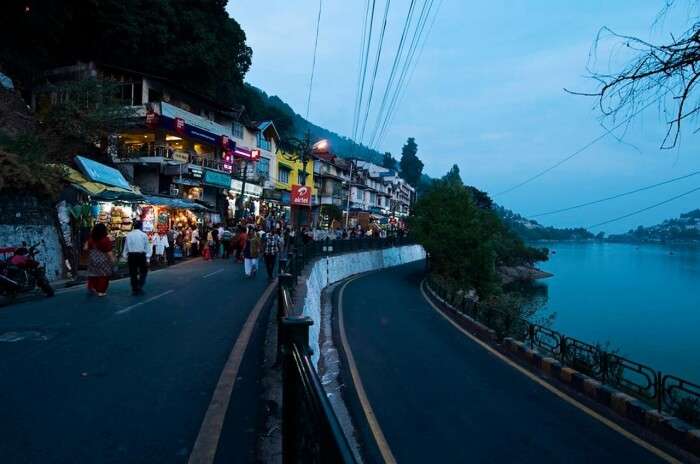 Who doesn't like shopping in anyway?! And when it's time for snowfall in Nainital, you know it's just another excuse to bag cute woolen clothing! Also, you don't even have to run out of money if you're shopping in this city. If you are good at bargaining, sky is the limit for you! The shopkeepers are usually very friendly and would negotiate the selling price, especially if you're buying in bulk. Some of the best shopping places in Nainital can be explored by asking the locals and taking a detour from the city.
The woolen clothings sold in Nainital Mall Road are of premium quality and will keep you warm even when the temperature drops below zero degrees!
Must Read: 23 Places To Visit Near Nainital For A Revitalizing Vacation
4. Play around with snow near the Naini Lake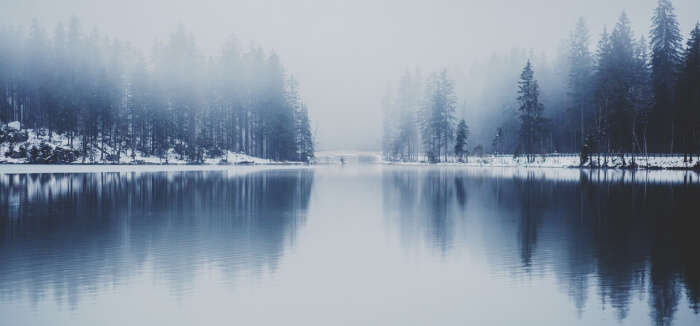 The pear-shaped Naini Lake is a show-stealer! This is a major tourist attraction, beautified with Himalayas all around. Travelers love spending their time boating in Naini Lake, and this is indeed one of the best things to do in Nainital!
With temperature dropping, the water starts to get colder, and when snowfall starts in Nainital, the upper layer of the lake starts freezing a bit. You can indulge in a boat ride, depending on how cold it is. However, spending some fun time with your mates or family right beside the lake and challenging them in snowball fight will be an experience to cherish. It is also one of the best camping places in Nainital.
Suggested Read: Camping In Nainital: 12 Sites For The Perfect Mix Of Nature And Adventure
5. Be a part of an extravaganza called Nainital Winter Carnival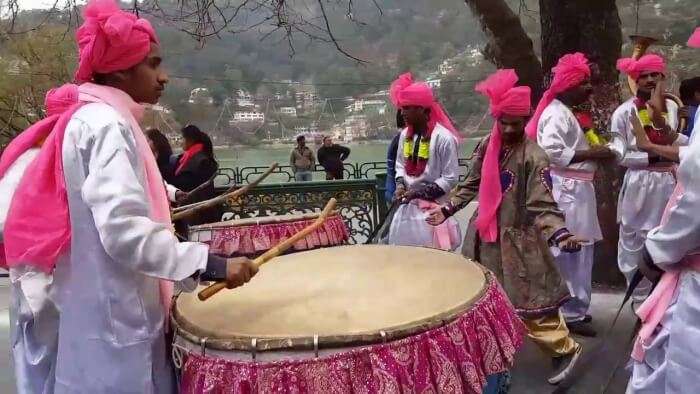 Organized in the merry month of December, the Nainital Winter Carnival is a three-day long extravaganza. Each year, the carnival is witnessed by more and more visitors. One has a number of activities to indulge in! Whether you're someone who prefers sitting back and watching cultural performances, or want to get moving and explore by going on heritage trails, or maybe spend a lazy winter evening bird watching; Nainital Winter Carnival will not disappoint you.
Highlights: Naini Photo Fest, army band, heritage tours, and Choliya dance
Suggested Read: 10 Guest Houses In Nainital: Perfect Vacationing Avenues For A Wonderful Stay
6. Get an insight to the local culture via Uttarani Festival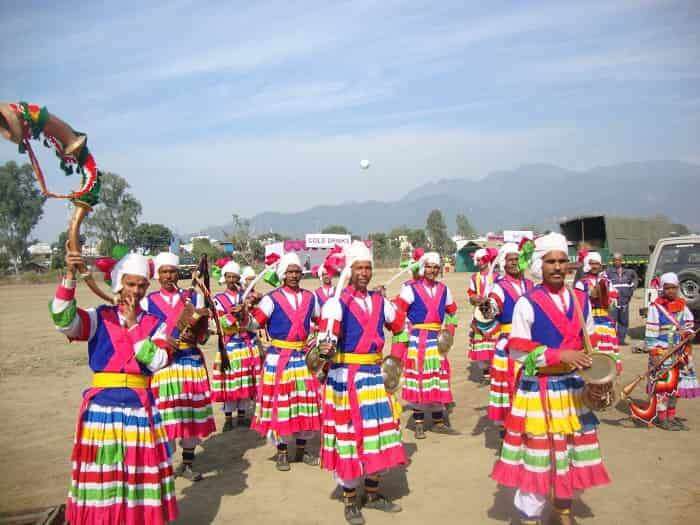 If you are someone who's always been fascinated with the vibrant culture and heritage of Uttarakhand, then your trip to Nainital in winter season is about to get better! The Uttarani Festival or Kale Kaua Festival is something that demands to be attended as it flaunts different hues of the Kumaon traditions. The celebration majorly comprises of grand fairs, where one can indulge in various games, watch local street performances, and shop for knick and knacks that symbolizes the culture of Uttarakhand!
Where is the festival celebrated? Salt Mahadev, Rameshwar, Pancheshwar and Chitrashala.
Further Read: 5 Reasons You Should Take Another Trip To Nainital NOW!
So, since winter is here, why not pack your bags and head over to witness snowfall in Nainital?! There's nothing better than a snow-filled vacation with a trip to Nainital, especially when you want to escape the bustling chaos and nestle in nature with all it has to offer. 
Frequently Asked Questions About Snowfall In Nainital
Is it safe to visit Nainital amidst the ongoing pandemic?
Yes, it is perfectly safe to visit these places as the place has a relatively low number of cases. But don't take our word for it: check up on the latest travel advisory, Covid-19 measures, and the number of cases before your departure. It is safer to undertake solo travel or with a small group of people to somewhere that is not overly crowded at the moment.
Why is Nainital famous?
Nainital is famous for it being an amazing tourist destination. The natural attractions here like the Naini Lake after which it is named, the pleasant climate which makes it a year round destination and the charming cottages all make this city worth visiting.
How can I reach Nainital?
Nainital does not have an airport and the best way to reach is via road. One can self drive or hire a taxi for the city. The nearest railhead is at Kathgodam, which is around 34 km away from Nainital.
Does it snow in Nainital in November?
No, it does not snow in Nainital in November. November marks the beginning of the winter season here, but it does not snow until late December here.
What is the best time to visit Nainital?
One can visit Nainital all year round. The best time to visit is during the summer from March to June. the temperature is pleasant in Nainital during these months. If one wants to enjoy the snow, then they can plan a trip in between late December to early January.
Is there snowfall in Nainital in January?
It is quite cold in Nainital during the months of December and January, so one can expect a snowfall in Nainital in January.
---