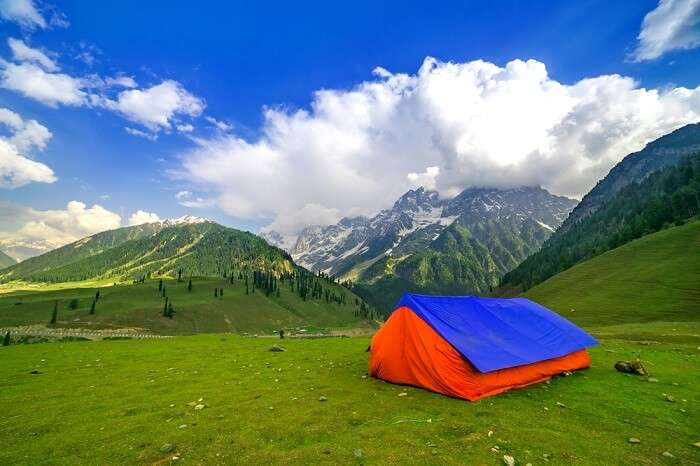 Need a quick escape from the ever-rising pollution and chaos of your metropolitan? Then camping in Nainital is the perfect dose of rejuvenation for you that lets you get up and close with Nature! There's no better place than Nainital in Uttarakhand to experience the beautiful medley of history, culture, views, nature, adventure, and a pleasant weather during a quick escape to the hills. Other than nature, Nainital is a hub for adrenaline junkies with activities like paragliding, rock climbing, rappelling, hiking, trekking, jungle tours, yoga, caving, kayaking, mountain biking, bird watching, and more. With so much adventure to delight oneself with, Nainital never fails to keep the thrill quotient soaring high at all times!
While the nights will be filled with crackling bonfires, music, and twinkling stars overhead, your mornings will be graced by majestic views of lush mountains, warm sunlight sifting through thick canopies of trees overhead, and the sweet chirping of birds. Intrigued? Scroll down to see where best you can find these experiences in this charming retreat.
Best Time For Camping In Nainital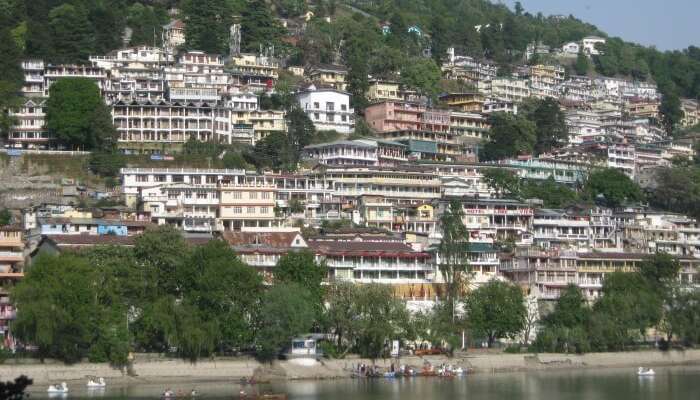 Though this picturesque hill station is absolutely scenic and serene throughout the year, travelers prefer to visit in the summer months from March to June when the weather is at its most pleasant and one can indulge in a maximum number of adventure sports. This also serves as the best time for camping as most of the campsites are open only during the summer (and sometimes winter) months.
You can also visit Nainital in winters, between October and February, for its captivating landscapes and tranquil surroundings. One should avoid visiting during Monsoons (July to September) as the place experiences constant rainfall which causes hindrances in commuting and increases the chance of landslides.
12 Best Nainital Camps
Looking for camps in Nainital? While exploring Nainital, camping in tents is something you will love doing. Here are some of the best options for camping in Nainital where you can experience everything from adventure, nature, relaxation, amenities, and views. See what they all have to offer and pick your favourite! Alos, do visit the places near camping in Nainital for a complete holiday!
1. Ayar Jungle Camp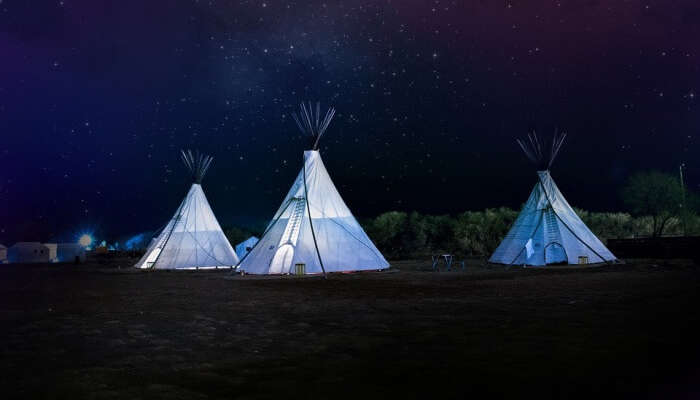 An ideal getaway for adventure lovers, Ayar Jungle Camp in Nainital provides the ultimate experience of Nainital District's wildlife. One can immerse themselves in the natural beauty all around and chill amid the serene atmosphere of these luxury camps. Other than a range of amenities, these beautiful Nainital camps offer adventure activities like Caving, Rock Climbing, Night Treks and Bird Watching, experiences that are sure to make your trip to Nainital memorable. This is one of the most popular Nainital adventure camp.
Cost: INR 3,360
Location: Barapathar-Sherwood College Road, Ayarpatta Hill, Mallital, Nainital, Uttarakhand 263002
Facilities: Bonfire, 24/7 Doctor on call, 24/7 Power Backup, Hot Water, Pets Allowed, Barbeque, Dedicated Parking, Restaurant, Conference Room, Free WiFi, Assistance with Cab/Train bookings
Google Rating: 4.3 | TripAdvisor Rating: 4
Website | TripAdvisor Reviews
Must Read: 5 Reasons You Should Take Another Trip To Nainital NOW!
---
Uttarakhand Holiday Packages On TravelTriangle
---
2. Camp Mehi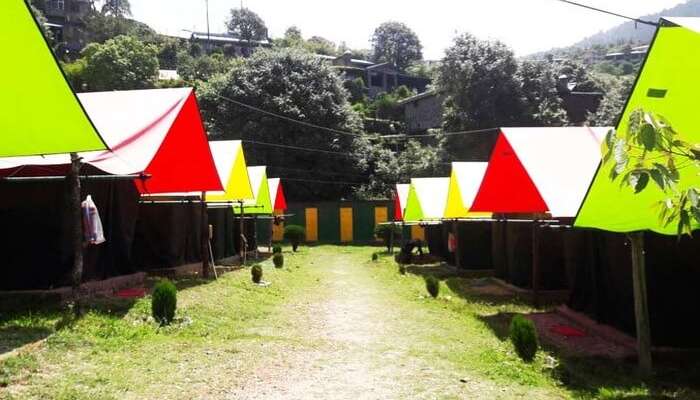 Situated in the Pangot Village of Nainital, Camp Mehi offers its guests a mix of a soothing environment along with thrill and adventure. Set amid scenic hills, your tents will give you a chance to wake up to stunning views each day during the length of your stay. The village of Pangot is also a birder's paradise as one can spot a number of colourful resident and migratory birds here, making it one of the best places to visit in Nainital. Located mere 15 km from Mall Road, the convenient location of Camp Mehi makes it one of the best options for camping in Nainital.
Cost: INR 3,136
Location: Pangot 263002, India
Facilities: 22 Deluxe Tents, Well Furnished Wooden Cottages, Attached Bathroom, Obstacle Course, Garden Dining, Generator Back-up, Private Car Parking, Adventure Activities with Safety and Sports Gear, Multi Cuisine Kitchen, First Aid Attendance and Doctor On Call, Camp Vehicle for Emergency Needs
Google Rating: 4.3 | TripAdvisor Rating: 4.5
Website | TripAdvisor Reviews
3. Camp Dhanuli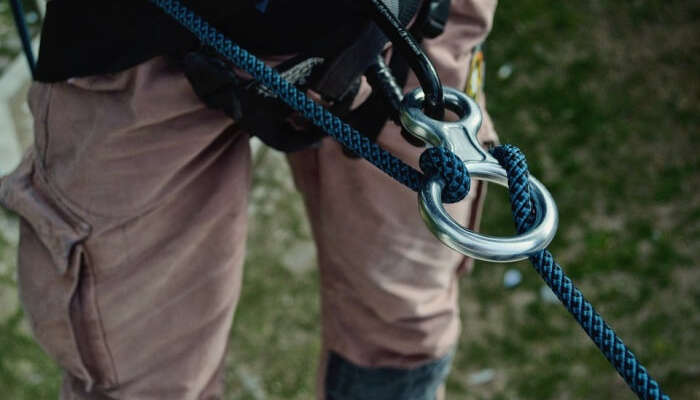 Camp Dhanuli provides the perfect escape from the city clutter and pollution. Equipped with all amenities, this Nainital adventure camp is the ideal destination for you to spend your holidays. The camp offers expert guided adventure activities like trekking, night hiking, Jumaring, rappelling, rock climbing, and valley crossing. Providing a lush retreat amid nature and surreal views, this high mountain trekking camp in Nainital will not let you leave disappointed!
Cost: INR 1,700 
Location: Village Mangoli, Kala Dunghi Highway, Nainital 263001
Facilities: Mineral Water Bottles on daily basis, Running Hot Water, Toiletries Kit, Electric Heating Bags, Adventure activities like Paragliding, Rock Climbing/Rappelling,
Day Trip to Corbett National Park (Jungle Safari), In-House Rope activities like Burma Bridge, Jumaring, Trust Walk, Board Games like Volleyball, Badminton, Chess, Carom, and Darts
Google Rating: 4.5 | TripAdvisor Rating: 5
4. Camp Kyari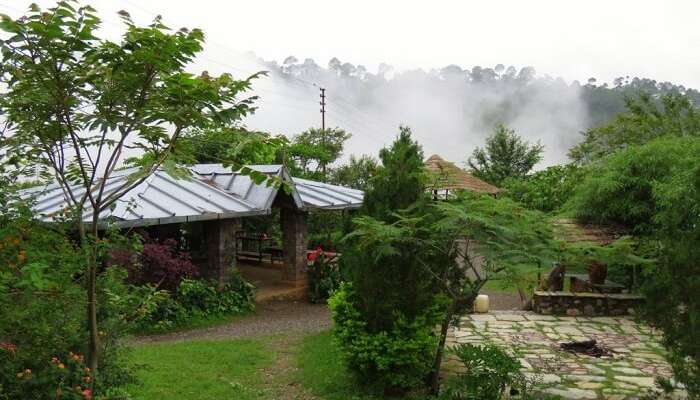 Live in the wilderness and unspoilt natural beauty at Camp Kyari. Located in Kumaon Village, Syat, Camp Kyari is an elaborate camping ground at an elevation of 2,800 ft. It is the perfect spot for camping in Nainital to discover Uttarakhand's untamed wildlife in their natural habitat. When here, you get to stay in luxurious tents, savour the taste of fresh, homegrown food, and enjoy well-guided activities like Body Surfing, Swimming, Rappelling, Rock Climbing, Mountain Biking, and more.
Cost: INR 6,160
Location: Village Syat, Kotabagh, Nainital 263159
Facilities: Wildlife & birding trails, mountain biking, night hikes, river treks, camping in the forest, Swimming In River Pool, Volleyball, Harvesting At An Organic Farm, Trekking, Rock Climbing, Rappelling, Mountain Biking, Body Surfing
Google Rating: 4 | TripAdvisor Rating: 4.5
Website | TripAdvisor Reviews
Tip: Camp Kyari is open in the month of October to April and remains closed in the other months.
Suggested Read: Top 10 Summer Festivals In India You Shouldn't Miss In 2020
5. Getaway Jungle Camp
Located a simple walk away from the Naini Lake through the forest, this camp stay in Nainital is sure to transport you into a magical world of nature and scenic beauty the moment you set eyes on it. Fresh mountain air and lush surroundings coupled with the sounds of birds and animals, rather than the blazing of horns, pollution, and industrial noises of urban centres, are sure to rejuvenate your senses and make you feel more alive. Apart from being located in a serene, scenic setting which was once a lake, you'll be given a chance to indulge in numerous adventure activities like hiking, bird watching, volleyball, board games, and more. This is a hidden valley camp in Nainital you must try! 
Cost: INR 4,800
Location: Chapora, Sattal 263155
Facilities: Well-equipped Kitchen, Birdwatching, Nature Walk, Angling, Day Hiking, Rappelling, Obstacle Course, Burma Bridge, River Crossing, Trekking, Wildlife Safari, Expeditions, Kayaking, Paragliding
Google Rating: 4.4 | TripAdvisor Rating: 5
Website | TripAdvisor Reviews
Suggested Read: 15 Best Things To Do In Nainital For An Amazing Holiday In 2020
6. Sattal Birding Camp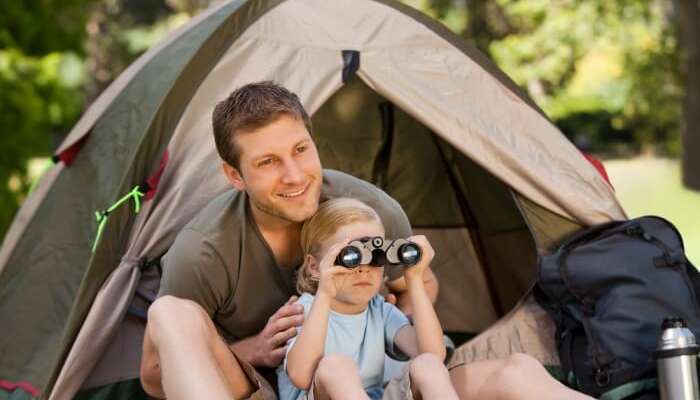 Located in a small hamlet of Bhaktura overlooking a wooded valley, Sattal is a delightful Nainital adventure camp for bird watchers, photographers, and trekking enthusiasts. Set at an altitude of 4,400 ft above sea level, this camp provides adventure enthusiasts an abundance of natural surroundings to revel in and lots of fun activities to engage in.
Cost: INR 3,280
Location: Sattal Birding Camp Village, Bhaktura Meragaon, Sattal Road, Uttarakhand
Facilities: Bird Watching, Fishing in the lake, Treks, Boating, Picnic, Rock-climbing, Barbeques, Bonfires
TripAdvisor Rating: 3.5
Website | TripAdvisor Reviews
Suggested Read: 10 Fascinating Hotels in Nainital on Mall Road
7. Camp Milieu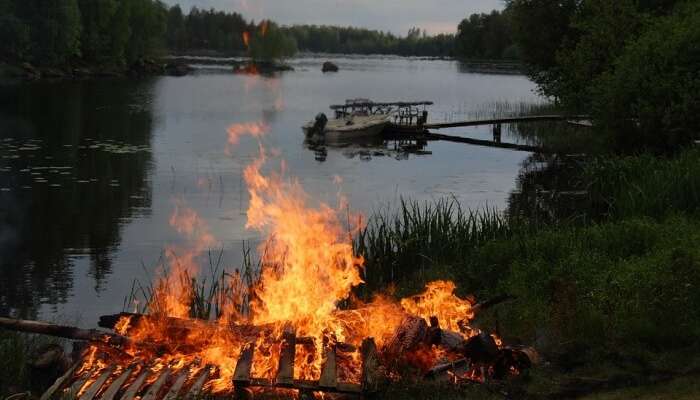 Located conveniently away from the hustle and bustle of a hectic chaos of civilization, Camp Milieu lies within an equal distance of both Nainital and Jim Corbett. Enjoy sheer tranquillity, breathe in fresh mountain air, and explore the treasure trove of the forest while camping trip in Nainital. There's no better place to unwind than these luxury camps in Nainital. Other than nature and adventure, Camp Milieu provides you the ultimate location to experience the Kumaoni culture. Here, you could listen to folk music, participate in folk dances, be part of cooking workshops, and spot myriad colourful birds and animals.
Cost: INR 2,866
Location: Village Ghatgarh, Nainital 263001
Facilities: Accommodation in mud huts, tents, and village homes, warm hospitality, hygienically cooked food, entertainment, bonfire, adventure activities, bird watching
Google Rating: 4.5 | TripAdvisor Rating: 5
Website | TripAdvisor Reviews
Tip: Camp Kyari remains closed during the peak rainy season, that is, from July till September.
Suggested Read: The Ultimate List of Adventure Holidays In India For Summer 2020
8. YMCA Camp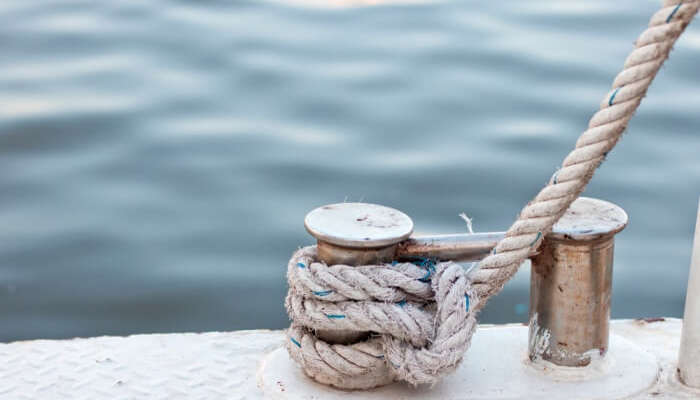 Tucked snugly in the small village of Sattal, YMCA Camp offers a blissful camping experience to guests in the midst of nature, scenic surroundings, dense jungles, and a diverse wildlife. These well maintained Nainital camps are spread over an area of more than 15 acres of land and provides utmost comfort to travelers. The camp provides comfortable tented lodging and varied adventure sports along with workshops and cultural interaction programmes for the youth.
Cost: INR 1,029
Location: Sattal, Nainital
Facilities: Activities like Commando Net, Burma Bridge, Double Rope Bridge, Flying Fox, Angling, Hiking, Rappelling, River Crossing, Nature Walk, Wildlife Safari, Paragliding, Kayaking, Expeditions, Outdoor Conferences, Bird Watching, Ground for Cricket, Badminton, and Volleyball.
Google Rating: 4.5 | TripAdvisor Rating: 4.5
Website | TripAdvisor Reviews
9. Jungle Adventure Camp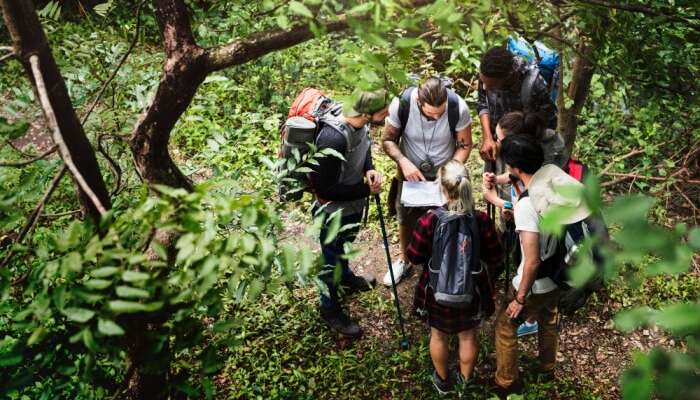 True to its name, this camp will give you a surreal experience of living in a jungle and having adventures. Living in luxury tents in a forest setting will surely come as a pleasant break from the monotony of daily life and charge up your senses. Located at an elevation of 1,220 meters above sea level near Naukuchiatal in Bhimtal, camping near Nainital in Jungle Adventure Camps will give you the perfect retreat in lush woods for that much needed break you were seeking.
Cost: INR 6,383
Location: Near Templeton Academy, Naukuchiatal
Facilities: Proper & Comfortable Bedding, Speedy Room Service, Running Hot Water, Garden Dining, Generator Backup, Car Parking, Well-Equipped Restaurant, Experienced Activity Instructors & Trekking Guides, First Aid Attendance & Doctor On Call, Camp Vehicle for Emergency, Jungle Trekking, Rock Climbing, Bird Watching, Sightseeing, Night Safari, Cable Cars, Horse Riding, Paragliding, Bonfire, Music
Google Rating: 4.2 | TripAdvisor Rating: 5
Website | TripAdvisor Reviews
Suggested Read: 10 Best Things To Do In Nainital For An Amazing Holiday
10. Camp Lagoon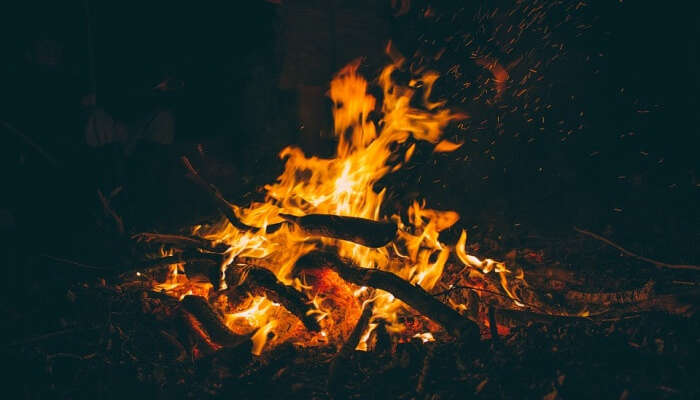 Perched at an elevation of 1,218 meters above sea level in the heart of Nainital – Naukuchiatal, Camp Lagoon is surrounded by dense woods with a sparkling stream flowing nearby. Providing guests the opportunity to try varied adventure sports, Camp Lagoon is an excellent spot for camping in Nainital amidst the unmatched beauty of nature and eco-friendly environment that transports you in an altogether different world. This is one of the most loved place for Nainital camping.
Cost: INR 2,500
Location: Earthvision Properties, Rewati Cottage, Near Hanuman Temple, Naukuchiatal 263136
Facilities: Veg & Non-Veg Buffet Meals, Bonfire, Music, Evening Snacks, Games like Volleyball, Cricket, Carom, Chess and Badminton, Activities like Swimming, Fishing, Paragliding, Trekking, and Hiking, Railway Transfers, Free Stay for Children Below 10 Years of Age, Log Huts with Attached Western Toilets, Running Hot Water, First Aid, Internet
Google Rating: 5 | TripAdvisor Rating: 4
Website | TripAdvisor Reviews
11. Back To Nature Camp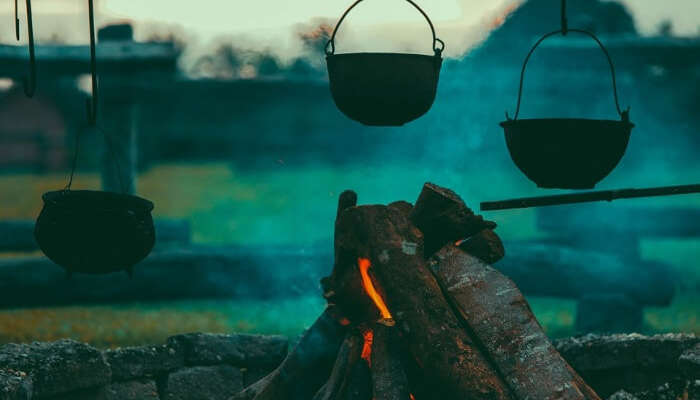 And just as the name suggests, these Nainital camps really do take you back to nature! It's an interesting campsite located on the slopes of Nainital's hilly terrains and an absolutely eco-friendly location in Bhimtal, one of the best places to visit near Nainital. It is perfectly suited for tourists who wish to indulge in various engaging activities in the lap of nature and far, far away from the maddening chaos of the city, all at an affordable price. Providing the ultimate relaxing vacation to travelers, Back To Nature is a one-of-a-kind nature camp with well equipped luxury tents and lodges.
Cost: INR 4,885
Location: Village Alchona, Near Bhimtal, Nainital-Mukteshwar Road, Uttarakhand 263136
Facilities: Adventure and Kid's Activities, Meals, Speedy Room Service, Free Parking, Internet
Google Rating: 5 | TripAdvisor Rating: 4.5
Website | TripAdvisor Reviews
12. Aspen Adventures Camp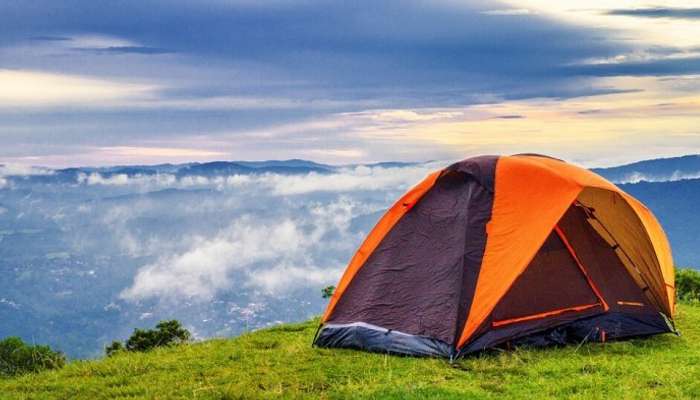 Located at a height of 5000 feet above sea level, these camps will let you have the most breathtaking views while camping there. And what makes them stand out among all the others is the fact that they are both luxurious as well as adventure-filled. Aspen offers cottages with all the amenities you will ever need! This place is known for offering the best Nainital camping experiences. 
Cost: INR 7,839
Location: Camp Nature's Encounter, Village- Ghattughat, Pauri Garhwal, Rishikesh, Uttarakhand 249201
Facilities: Campfire in the evening, Burma bridge, Flying fox, rappelling
Google Rating: 4.2 | TripAdvisor Rating: 4.5
Website | Reviews
Tips For Camping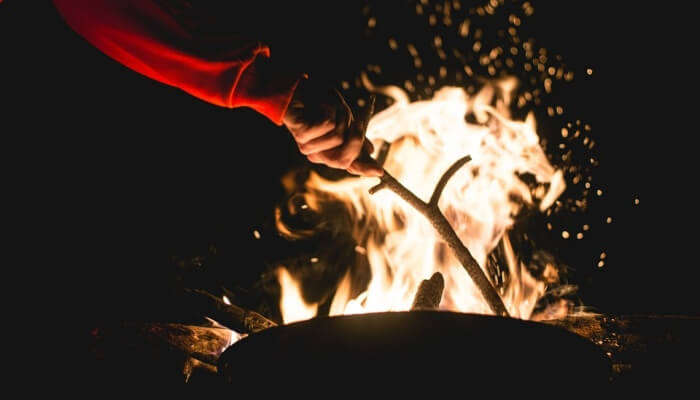 Check out these important tips for camping that will surely help you on your next adventurous expedition:
Be familiar with your gears before going on a camp
Make a checklist and ensure you are carrying all the requirements
Reach your campsite before time 
Plan your meals in advance
Follow campground rules
Carry comfortable clothes
Further Read: Go Camping In Lansdowne For A Perfect Weekend In The Himalayas
So, which of these do you fancy staying in? Camping in Nainital is surely the best way to experience the magnificence of this beautiful hill town. Don't wait. Book your trip to Nainital right away for a delightful time in these camps in the lap of nature.
Frequently Asked Questions For Camping In Nainital
Got queries? See if any of the following answer your doubts.
Q. How to reach Nainital?
A. Well connected to major cities of India via air, road, and rail, traveling to Nainital is a piece of cake!
By Air: Nainital does not have direct air connectivity. The nearest airport to Nainital is located at Pantnagar, which is at a distance of 65 kilometers from the city center. The airport mostly only receives private chartered flights, no commercial flights are operational to and from here.
The second nearest airport is located in New Delhi at a distance of approximately 290 kilometers. Delhi airport, on the other hand, is well-connected to various metros in the country and across the world. From the airport, one can easily hire a cab or take a bus to Nainital, which will take around INR 1,500/- per person.
By Train: This is the most economical option to travel to Nainital, especially for those hailing to major cities like Delhi, Jaipur, Chandigarh, and more. The nearest railway station to Nainital is located mere 34 kilometers away at Kathgodam in the foothills of Kumaon hills. The Kathgodam Railway Station is well connected to important Indian cities like Delhi, Lucknow, Jaipur, Kolkata, Mumbai, and more, with daily trains running to and fro New Delhi. Once at the station, you can hire a shared taxi or take a bus all the way to the city.
By Road: Driving to the scenic, verdant hills up north is an adventure in itself. Nainital is well-linked to all nearby towns, cities, and all other hill stations in Uttarakhand through a network of well maintained, smooth roads including. Nainital can be easily driven down to from cities like New Delhi (303 km), Lucknow (426 km), Jaipur (552 km), Chandigarh (474 km), and Dehradun (290 km). There are various private cab companies and tour operators that provide regular transport services to travelers who wish to go to Nainital at affordable rates.
Many tour operators also provide regular AC bus and Volvo services with luxury amenities and varied seating arrangements (sleeper, semi sleeper, seater, and more) to tourists. To enjoy a hassle-free and enjoyable tour to Nainital without the efforts of driving down long distances yourself, you can always board overnight AC buses and travel in luxury and comfort at economical rates.
Q. What are the safety precautions one needs to take while camping in Nainital?
A. Though camping is downright adventurous and fun, one needs to take certain precautions to ensure their safety and have a pleasant time:
1. Go camping only in a favourable weather (avoid camping in monsoons)
2. Keep your bag as light as you possibly can
3. Carry food items that you can easily cook, like packaged foods and ready-to-cook meals.
4. Trust only a certified agency for all your camping activities & gear
5. Carry the following objects:
Medical Kit
Pocket Knife
Torch
Compass
Mosquito Repellent
Warm Clothes
Q. What are the top 10 trekking and camping destinations in India?
A. Rishikesh, Spiti Valley, Jaisalmer, Chandertal Lake, Solang Valley, Mussoorie, Rohtang Pass, Pushkar, Sonamarg, Goa, and Kaudiyala are some of the best trekking and camping destinations in India.
---
Looking To Book A Holiday Package?
---
People Also Read
Camping In Rishikesh Camping In Lansdowne Camping In Manali
Comments
comments