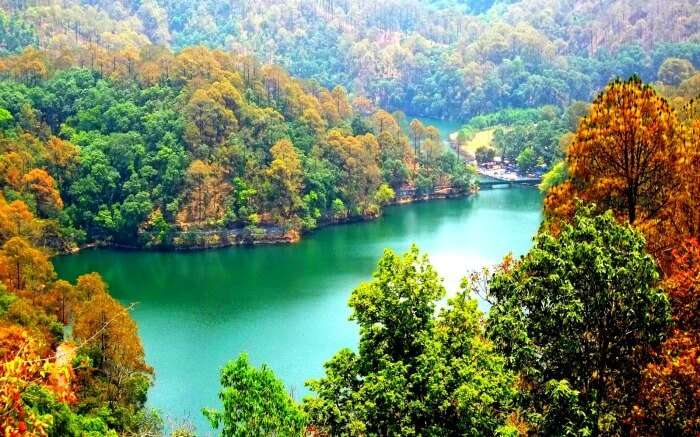 A trip to Nainital might not sound that exciting to you, thanks to the overdone boat rides and repeated visits to Tiffin Top you are rubbing shoulders with many other tourists who are busy clicking pictures and chattering away to glory.But Nainital isn't that bad after all!
In fact, there is another – a less explored – side to this beautiful hill station in Uttarakhand. One that brings peace and serenity to a tired soul. One that doesn't take you around the famous tourist attractions in Nainital. Instead, it takes you to places that your heart desires to explore, and makes you do what you love doing the most.
I suggest, plan a weekend trip to Nainital, and enjoy a stay that makes your vacation totally worth it. This is no ordinary Nainital travel guide – this piece sheds light on the most amazing experiences you can have in Nainital.
So, why Nainital out of all the places?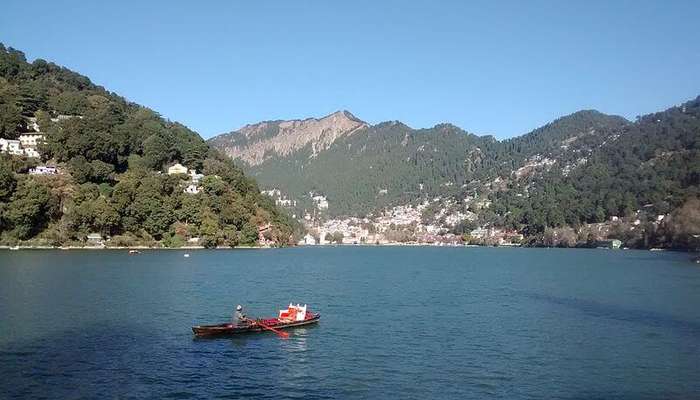 Image Source
A weekend trip to Nainital from Delhi is one of the most relaxing getaways for Delhiites. It is about rejuvenating in the lap of nature and have quick access to all the urban luxuries (shops, ATMs, restaurants, public transportation etc.) at the same time. Further, the 7-hour road trip from Delhi to Nainital is bejewelled with lush grass fields and mountainscape that move the soul. So, the route is as much a delight as the destination.
Yes, I know you've been there before, but here are a few experiences that you must include in your Uttarakhand tour package to make it an unforgettable holiday. You can choose a few or just one of the suggestions below; just pick one that will refresh you completely!
1. Plan a staycation – Pamper yourself in the cozy hill resorts of Nainital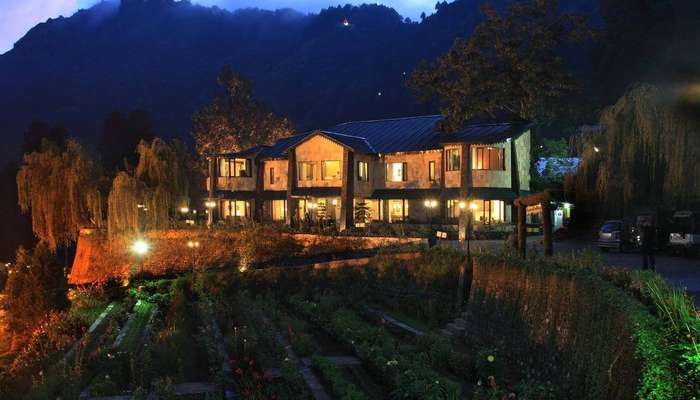 The obvious: Checking into hotel, dumping the luggage and going for a city tour.
This time: Go for a pampering staycation.
Imagine waking up to the song of birds, as the sunshine slowly kisses the hills around and the sky changes its color. That's a perfect staycation you need to re-enliven your senses. Right?
One advantage of Nainital being a popular tourist destination is that there are plenty of resorts to choose from. So this time, plan a staycation in any of the luxury resorts that offer the best of views, amenities, and activities. Spend the weekend having the best of time – behold the view of cloud-kissed hills, rejuvenate in the spa, sip on hot tea while reading your favorite book in the library, and munch on awesome food.
For those who like the hill station hustle bustle, pick one of the hotels in Nainital near Mall Road. Otherwise, choose from resorts like Shervani Hilltop, Alpine Club, Balrampur House, and The Naini Retreat.
Must Read: 27 Best Places To Visit In Nainital For An Incredible Vacation In 2021
2. Pick from the homestays in Nainital – Experience local hospitality & goodness of Kumauni cuisine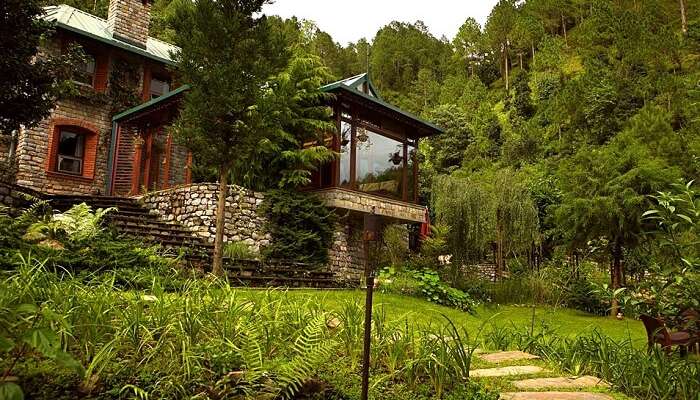 Image Source
The obvious: Staying in a budget hotel and living off the same old Butter Chicken/ Kadhai Paneer
This time: Live and eat with the locals of Nainital
If hotels and resorts are not for you, how about a homestay with some finger-licking local dishes to savor? Trust me, you'll pick a book on Kumauni cuisine soon after you've had a taste of it!
No five-star hotel can beat the hospitality offered by the pahadis and this is the reason why homestays have become such a popular concept. The homestays in Nainital offer a comfortable stay, with simple food and warm hospitality; they are your home away from home. You can chat with your host for long hours, exchange conversations about local culture, food and interesting experiences you can have there.
Two of the best homestays in Nainital are Himalaica – the vacation home of Shalini and Uttam Dave – and The Cottage in Jeolikot. The tariff per night varies between INR 1000 to INR 5000 per night, which includes taxes and sometimes complementary tea/coffee and snacks are also provided.
Suggested Read: 11 Secret Homestays In Himalayas That Will Possess You For Life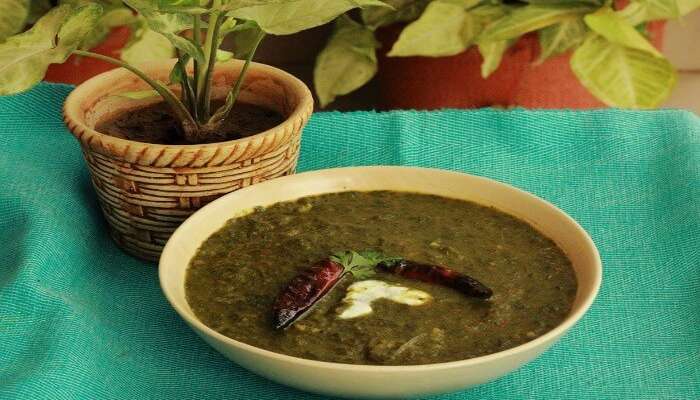 Nainital falls in the Kumaun region and this region has its own signature cuisine that you cannot resist. It offers a wide range of lip-smacking preparations, such as Gutke ke Aloo, Gahat ki Dal, Bhatt ki Churdkani, Chainsoo, and Bal Mithai. Off late, travelers are experimenting more with the local cuisine and are liking it too. In an interview about Kumaoni food with The Quint, Ashish Bhasin – Executive chef, Trident Mumbai said- "Initially, people were reluctant to try. They would take a small portion of the dishes from the region. But once they tasted them, they kept going back for more."
Ghee is an essential ingredient in the dishes as it helps in dealing with the freezing temperature of the region. This also adds that perfect aroma and homely feeling. Local herbs are used to complete the flavor and sprinkle up more nutrition. Jakhya is added instead of cumin and mustard for digestion.
Suggested Read: Top 15 Places To Visit In Uttarakhand
3. Head out for self-exploration walks and tours – Experience Nainital like a local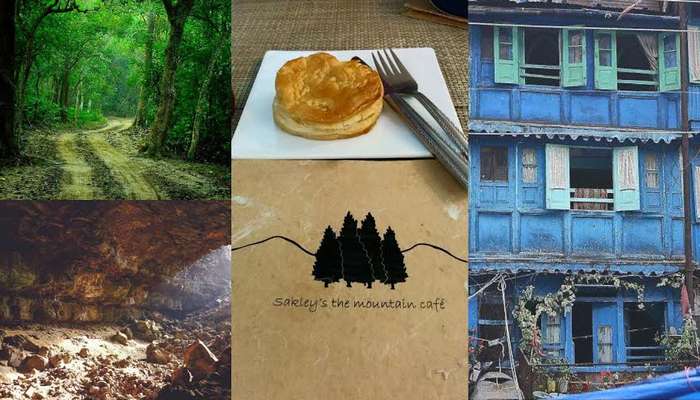 The obvious: Covering major tourist attractions of Nainital that are mostly crowded
This time: Explore the city on your own – go on leisure walks, enjoy sunsets, go birdwatching and so on.
Now that we are talking about everything local, why not explore the hill-station like one!
Nainital is a beautiful town. If you want to be at peace and with nature, even one day trip from Delhi to Nainital does the trick. Just chuck the temples tours and visits to popular hill points. Put on your comfiest pajama, pick your camera and head out. Take morning walks to make the most of the pollution free surroundings. Go on small walking trails and discover your own sunset points.
For those who love green, Nainital is abundantly carpeted with Oak, Pine, Sal, Deodar, and Surai. Other than that, you'll also come across orchards of pears, apricot, strawberries and other fruits. With so much greenery, Nainital is heaven for bird lovers. You can spot pretty avians such as Himalayan Tree Creeper and Grey Winged Blackbird. The variety of flowers you see while walking the roads adds a dash of colors to the otherwise covered-in-green town. Some of the famous flowers you can spot on your trip to Nainital are Leopard Lily, Dahlia, Roses, Jafri Marigold, and Pink Hydrangea.
Suggested Read: Camping In Nainital: 12 Sites For The Perfect Mix Of Nature & Adventure In 2021
4. Go camping in Nainital – From barbecue with buddies to lonesome stargazing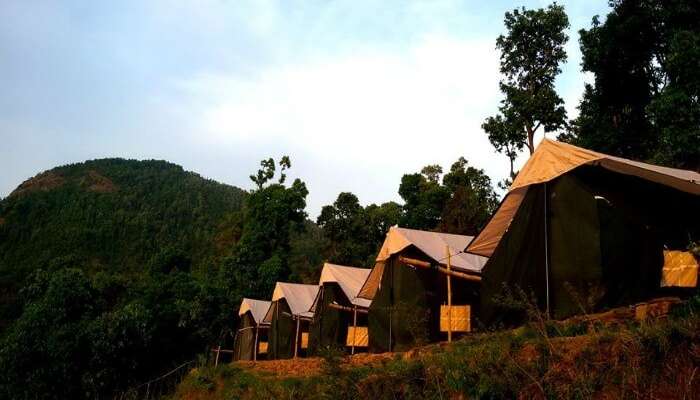 The obvious: Staying in the same hotel you did the last time on your trip to Nainital
This time: Go camping in the nature's lap
Adventure bug is an irritating one. Keep it calm by going for an awesome camping trip to Nainital.
Chitter-chatter of the crickets, lovely cool breeze, soft mud beneath your feet and withered leaves on the grass – that's the kind of retreat every weary soul needs. Plan camping on your next Nainital trip and I can bet you will return home a little more alive.
Dusk knocking on the door and dreamy Nainital weather, together weave a wonderful setting for friends to catch up over drool-worthy barbecue snacks and bonfire, when you can sing your heart out, laugh as loud as you can and dance with your arms wide open. Even if your own company pleases you the most, what's better than laying right on misty grass and looking up above, gazing at the stars. After all, going solo is fun too!
There are various options for camps in Nainital providing good amenities, for different budgets. The tariff ranges between INR 1000 to INR 4000. Most camps also provide combination packages with meals and activities in reasonable price.
Best camp organizers in Nainital: Ayar Jungle Camp, Sigri Camp, Camp Mehi, and Hidden Valley Camp.
5. Plan A Complete Adventure Trip to Nainital – Indulge in some thrill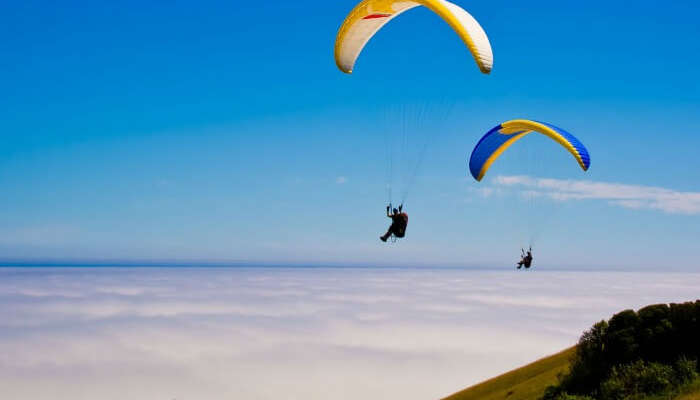 The obvious: The mandatory boat rides and candle-shopping
This time: Feel the adrenaline rushing through the veins trying various adventure sports in Nainital
We know, you've ticked off all things to do in Nainital. Or, maybe not!
Ditch boating and shopping in Nainital, I recommend trekking, paragliding, river crossing, and rappelling – some of the thrilling adventure sports in Nainital. While ropeway rides give you an enchanting bird's eye view of the valley, rappelling and paragliding are exhilarating experiences in themselves. If you haven't had a taste of adventure in a long time, a trip to Nainital from Delhi is the perfect escape for you.
Paragliding in Nainital
Location: Naukuchiatal
Cost: INR 1500 for short fly (5-10 minute) and INR 5000 for high fly (20-30 minute) (approx)
Rappelling in Nainital
Location: Barapathar
Cost: INR 400 (approx)
Best time: Anytime, but avoid during the monsoon season
Ropeway in Nainital
Location: Mallital
Cost: INR 150 both ways (approx)
Timings: 10 am- 4 pm
Suggested Read: Fly Like A Bird: 9 Gorgeous Places In India For An Exhilarating Paragliding Experience
Now that we have set you thinking, it is important to know the best time to visit Nainital. Well, you can hit the road just about anytime during the year. Monsoon (July to September) brings heavy showers, so make sure you've done your part of research about the weather conditions before leaving and plan your Nainital trip accordingly.
Summers (March to June) are pleasant in Nainital. And owing to high temperatures in neighboring states, this is the peak tourist season too. Winter kick starts from October and fades in February. For those who love snow-covered landscape, December-end to January-end is the perfect time.
Also, Nainital is easily accessible by different modes of transport. Roadways, airways or railways- anything is convenient if you are thinking about how to reach Nainital. Nearest airport, Pant Nagar Airport, is just 72 km away, connected by motorable road. Kathgodam is the nearest railhead, 41 km away. And you can easily get government-run and privately-run buses from Delhi to reach Nainital.
Nainital is more like a canvas, the way you paint your memories here depends solely on the way you plan your trip to Nainital. Do you know about any other exciting experiences on a Nainital vacation? I'd love to know.
Further Read: 20 Heartwarming Hill Station Cafes In India For The Nomad In You
Frequently Asked Questions About Trip To Nainital
Q. What is the best time to visit Nainital?
A. The months of October to February are perfect for a trip to Nainital.
Q. What is Nainital famous for?
A. Nainital is famous for the beautiful Naini lake, famous Naina Devi temple, unique Eco cave gardens and much more.
Q. Does it snow in Nainital?
A. Yes, Nainital experiences snowfall in the months of December to February.
Q. What can I buy from Nainital?
A. Nainital is a beautiful hill station that offers picturesque views and great places to visit. You can buy handmade candles, jams, apples, peaches, antiques and much more from there.
Q. Is it safe to visit Nainital?
A. Yes, it is safe to visit Nainital. However, you should avoid visiting Nainital during monsoon as it can be dangerous.
Q. What should I not miss in Nainital?
A. You should not miss boating at Naini lake and seeking prayers at Naina Devi temple in Nainital.
Q. How many days are sufficient for Nainital?
A. Two to three days are enough for a visit to the beautiful Nainital.
Q. How to reach Nainital?
A. The nearest railway station to Nainital is Kathgodam train station. It is located at a distance of 34 km from Nainital. Once you reach there, you can take a taxi till Nainital.
---
Looking To Book A Holiday Package?
Book memorable holidays on TravelTriangle with 650+ verified travel agents for 65+ domestic and international destinations.
---
Comments
comments