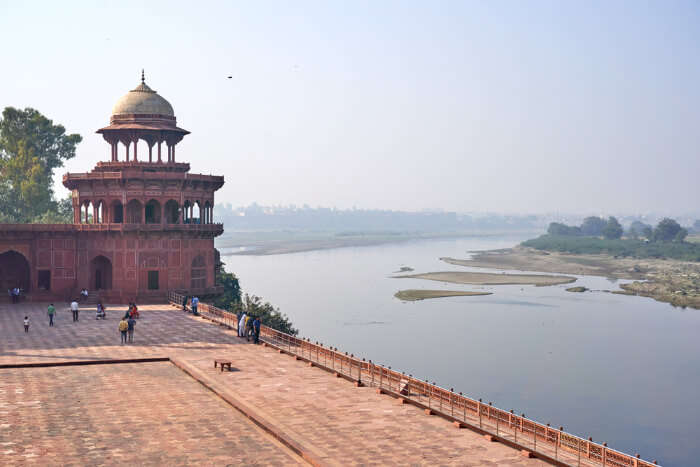 You are on a trip to the Taj – one of the biggest crowd pullers in India and after a momentous rendezvous with the masterpiece, you want to explore some more. For tourists like you, there are some delightful soulful retreats near Agra, mostly religious sites and bird sanctuaries that pull peace seekers away from the crowds.
Places like Mathura, Vrindavan, Bharatpur, and Chambal are merely a couple of hours drive from Agra. And the best part is, you don't have to do a lot of planning. With your few spare hours, you can buy a trip to one of these tourist places near Agra and extend your trip beyond the city of the Taj.
Holy places near Agra for spirituality seekers
Explore these places near Agra for they are located pretty so close and are pretty much accessible.
1. Firozabad – Temples and throbbing chaos

Ancient sites, monuments, some authentic eating joints, and a number of religious retreats make Firozabad exactly the place to explore. Firuz Shah Tughlaq Tomb, Balaji Temple, Radha Krishna Mandir, and St. Johns Church are some of the places of attraction in Firozabad.
Distance covered and time taken from Agra to Firozabad: 44.3 km and 1h 2m
Connectivity from other parts of Uttar Pradesh: Gwalior is another major city located 154 km from Firozabad.
2. Mathura – To the abode of gods

Welcome to the holy birth place of Lord Krishna. Mathura happens to be one of the popular religious places near Agra. A peaceful sojourn, Mathura sits on the bank of river Yamuna and has a total of 25 ghats over the city.
Dwarkadheesh Temple, Sati Burj, Sri Krishna Janmabhoomi Complex Temple, and Vishram Ghat are some of the must visit places in Mathura. Holi celebrations in Barsana – a village in Mathura, is renowned worldwide. Holi is a festival of colors.
Distance covered and time taken from Agra to Mathura: 56 km and 1h 20m
Connectivity from other parts of Uttar Pradesh: Direct trains run from Hazrat Nizamuddin, Delhi to Mathura that almost 2.5h to reach the holy city.
Must Read: Celebrations Of Holi In Mathura And Vrindavan 2022
3. Vrindavan – Holy town for the spiritual seekers

Of all the popular places near Agra to visit, Vrindavan has legendary stories attached to its name. The alleys, roads, and even trees in Vrindavan romantic duets of Radha – Krishna to tell. This place is all about temples of Lord Krishna and Radha from centuries ago. The chants and soothing vibes prevailing in the air would make for an ideal escape from Agra.
Krishna Balram Temple, Govind Dev Temple, and Madan Mohan Temple are a few popular temples in Vrindavan that you shouldn't miss.
Distance covered and time taken from Agra to Vrindavan: 76 km and 1h 36m
Connectivity from other parts of Uttar Pradesh: Mathura is the nearest city located 15 km far from Vrindavan.
Suggested Read: Best Of North India On A Religious Historic Tour To Vrindavan, Mathura, & Agra
4. Govardhan – Where legends come alive

Govardhan is a popular pilgrimage attraction located near Mathura. An easy day tour from Agra and New Delhi, Govardhan Hill has legendary stories attached to it. The place when Lord Krishna held the complete hill on his little finger. Today, a circumambulation around the hill is considered auspicious.
The parikrama road around the hill is 25 km one must follow the rules while performing this ritual. Some of them being, you must walk clockwise and the hill must be on your right. Radha Kund and Krishna Kund are some of the attractions near Govardhan.
Distance covered and time taken from Agra to Govardhan: 77.4 and 1h 46m
Connectivity from Delhi: One can drive 142 km straight from Delhi to reach Govardhan. It shouldn't take you more than 3 hours.
Suggested Read: Top 12 Summer Festivals In India You Shouldn't Miss In 2022
5. Bateshwar – A spiritual confluence of Hindus and Jains

A prominent seat of spirituality and culture, Bateshwar is mostly known for its temples and National Chambal Wildlife Sanctuary. The 101 Shivalinga Temples in one row located by the Yamuna is a world famous attraction of the village located in Morena.
October – November is considered as the best time to visit the spiritual sojourn. A range of activities like boating, camel ride, and horse ride make Bateshwar a prominent tourist attraction in North India.
Don't miss the massive cattle fair in Bateshwar held in November.
Distance covered and time taken from Agra to Bateshwar: 80.6 km and 1h 34m
Connectivity from other parts of Uttar Pradesh:
Historical cities near Agra for heritage buffs
6. Aligarh – To the seat of learning

Located in western Uttar Pradesh, Aligarh is known for its medieval age buildings and other architectural wonders. The city has a rich cultural past and is a huge attraction for tourist planning a visit to Agra and nearby areas.
Maulana Azad Library, Teerthdham Mangalayatan, and Khereshwar Temple, Aligarh Fort, and Jama Masjid are the places to visit near Agra. Are you ready for an exciting date with medieval past of the country?
Distance covered and time taken from Agra to Aligarh: 89.3 km and 2h
Connectivity from Delhi and adjoining areas: Aligarh is a 2.5-hour ride from New Delhi. A number of buses ply from other parts of Uttar Pradesh to Aligarh frequently.
Suggested Read: The Ultimate List of Adventure Holidays In India For Summer 2022
7. Deeg – Another regal site in the vicinity of Bharatpur

Deeg with all its ancient forts, gardens, and palaces make one of the best historical retreats near Agra. Truly a historian's delight, Deeg Palace is an exciting place to be at. The white marble work in the temple is truly mesmerizing and noticeable. Bharatpur lies in its vicinity, and you can plan a quiet day into the wilderness from here.
Distance covered and time taken from Agra to Deeg: 93 km and 2h
Connectivity from other parts of the country: Well connected by road Deeg is 34 km away from Bharatpur. Mathura is 35 km and Delhi is 129 km far from Deeg.
Suggested Read: 20 Best Palaces In Rajasthan That Tell Stories Of Past Glory
Peaceful natural retreats near Agra for peace seekers
8. Patna Vihar Bird Sanctuary – Chirpy haven in the heart of Etawah

Take a short break, and surrender yourself to the wilderness where nature flourishes at its best. Patna Vihar Bird Sanctuary is another of lesser thronged places near Agra where you can rejoice to the tune of chirpy birds in the dense forest. Winter is the right time to visit when the smallest of bird sanctuaries in Uttar Pradesh welcomes lots of migratory birds. March is the time when birds flock back to their homes.
Lesser Whistling-Duck, Graylag Goose, Comb Duck, Ruddy Shelduck, and Gadwall make some of the most exciting attractions at the sanctuary.
Distance covered and time taken from Agra to Patna Bird Sanctuary: 54.5 km and 1h 31m
Connectivity from other parts of Uttar Pradesh: The sanctuary can also be comfortably reached via Aligarh (68 km) or Hathras (29 km) by road.
Suggested Read: The Best Places To Visit Near Agra For A Weekend Getaway
9. Bharatpur Bird Sanctuary – Some hearty moments with the birdies

Bharatpur Bird Sanctuary, also known as Keoladeo National Park, is one of the nature's majestic spectacles and is among the best places to visit near Agra. Winter is the time when thousands of migratory birds flock to the sanctuary to rejoice and enjoy the moderate climate in India. Other endangered animals can also be found here.
A jeep safari here amidst the colorful creation of nature is a must. A trip to government museum, Lohagarh Fort, and Bharatpur Palace shouldn't be missed when you are here.
Distance covered and time taken from Agra to Bharatpur: 58 km and 1h 13m
Connectivity from Delhi: The sanctuary is located 184 km far from New Delhi making for an ideal day trip from the national capital.
Suggested Read: Bharatpur Bird Sanctuary: Your Perfect Date With Nature
10. Chambal Safari Lodge – A day out in the wild

How about letting yourself free into the wild that has retained its charm by the days bygone? Take a closer look at the great diversity of Chambal with a stay at Chambal Safari Lodge. The wonderful property has heritage plantation along with sprawling gardens, wonderful wildlife around, and a arranges for a stay that is accomplished in its own way.
Apart from camel and jeep safaris, a visit to Bateshwar – an ancient site of cattle fair bigger than the size of Pushkar Fair, is highly recommended. Should you be an avid birder or a nature enthusiast, Chambal Safari Lodge is a momentous experience for you into the wild. October – April is the best time to visit.
Distance covered and time taken from Agra to Chamba Safari: 55.7 km and 1h
Connectivity from other parts of Uttar Pradesh: The lodge is a 1-hour drive from Taj Mahal. Located on the Mela Kothi Road
Further Read: Long Weekends In India 2022: Enliven Your Vacay Vibes!
Agra has plenty of delights for the discerning traveler in you. So Plan a trip to Agra, All you need to do is look around! Nature never ceases to fascinate its devotees.
People Also Read
Shiva Temples In India Mysterious Temples Of India Temples In Sikkim
---
Looking To Book An International Holiday?
Book memorable holidays on TravelTriangle with 650+ verified travel agents for 65+ domestic and international destinations.
---