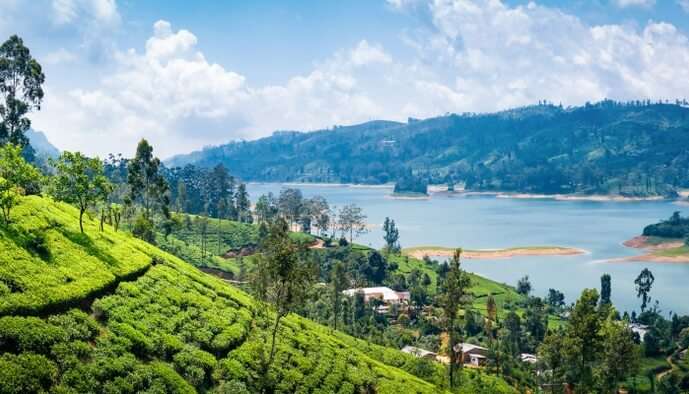 Drop-dead gorgeous land with serenity, wide topography, exotic wildlife, scenic beaches, and ethereal landscapes is the perfect definition for Sri Lanka. Emerging as one of the top-notch tourist destinations near India, it is a perfect escapade for those looking for a change in their mundane life and want to revitalize their mind and body. Rich in historical, cultural, and natural beauty, Sri Lanka is a perfect holiday destination offering a wide range of activities to travelers. Let's have a look on how is it to travel to Sri Lanka in winter and what all it can offer to us during this time of the year.
Weather In Sri Lanka In Winter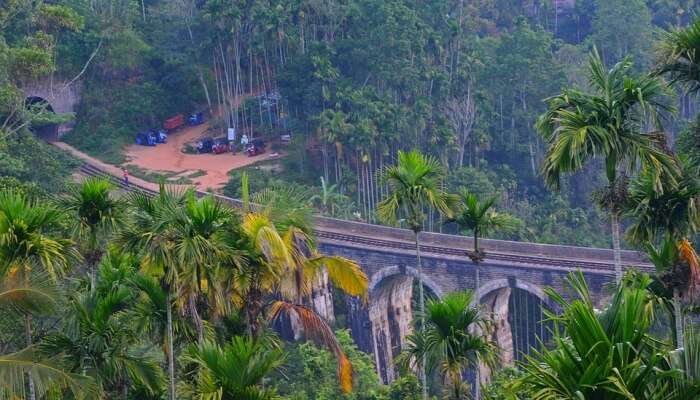 Sri Lankan coastline is hit with a flock of tourists during the winter season. December to February constitutes winter months in Sri Lanka which is the most ideal time to visit most of the places in Sri Lanka. Winter months are best to visit the south part of Sri Lanka when the weather is dry and is perfect for visiting beaches, monuments, and other activities. The precipitation level remains between 82 mm to 165 mm during the winter months.
The average temperature in Sri Lanka in winter months in Sri Lanka ranges between 22°C to 30°C. Visiting this heavenly gorgeous country in the month of December will let you see its spark during the Christmas festivities. The beaches remain calm so swimming can be enjoyed without any hindrance. The cool breeze hits the atmosphere making the weather very pleasant and ideal for sightseeing and beach activities.
Sri Lanka in Winter: Best Places To Visit
There are so many happening places to visit in Sri Lanka during the winter season. Stroll through the list below to find the best of them and make the most of your winter trip to Sri Lanka.
---
Sri Lanka Holiday Packages On TravelTriangle
Book your Sri Lanka trip from TravelTriangle: Inclusive of Hotels, Sightseeing, Transfers, & Meals. Best Prices Guaranteed. Get Customizable Package & Free Guidance From Destination Experts. Book Now!
---
1. Yala National Park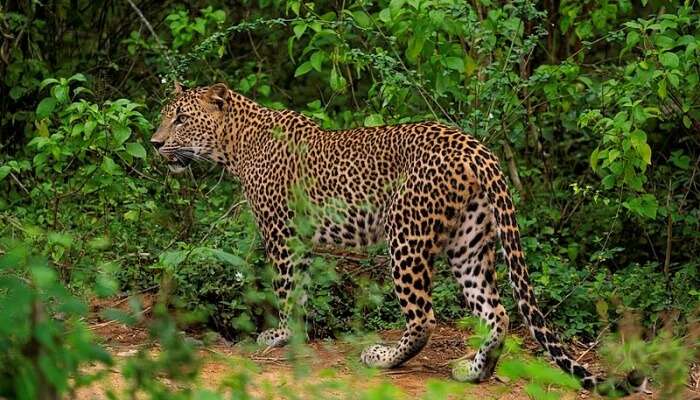 This is one of the best places to visit in Sri Lanka during the winter season. The park is rich in a variety of wildlife which includes Sri Lankan animals, sloth bear, golden palm civet, fishing cat, toque macaque and many such unique animals. Tourists can also enjoy camping here for 3 days amidst the wild and natural setting. Safari is one of the highlights of the Yala National Park which lets you get a glimpse of various animals. Magul Maha Viharaya, and Sithulpawwa are two important sites to visit at this national park.
Entry fee: For children aged 6-12 years – 8$ and for adults – 15$
Must Read: The Complete Guide To Applying For A Sri Lanka Visa For Indians
2. Nuwara Eliya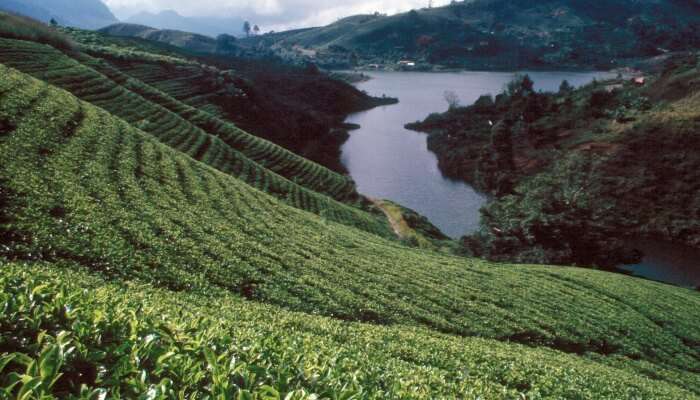 One of the best places to visit in Sri Lanka in winter is Nuwara Eliya. Famous for its lush green valleys, misty air, and aesthetic tea gardens, Nuwara Eliya is a nature lover's paradise. Get to know about the entire process of tea making and also gorge upon the tea made from freshly picked tea leaves at these tea gardens in Nuwara Eliya. Other places to visit here includes Lake Gregory and Lover's Leap Waterfall.
Famous for: Tea Gardens, Lake Gregory, and Lover's Leap Waterfall
Suggested Read: 10 Places To Visit In Nuwara Eliya In 2019: The Mini London Of Sri Lanka!
3. Kandy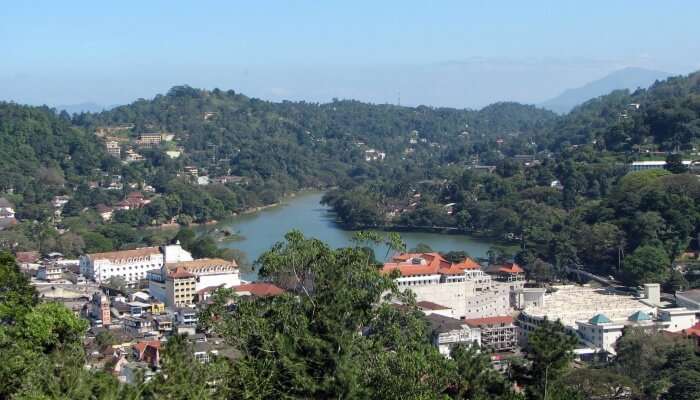 Kandy is another major tourist destination to visit in Sri Lanka during the winter months from December to February. Famous for its temples and spiritual charm, Kandy should be in every traveler's bucket list who is planning to visit Sri Lanka. The Temple of the Sacred Tooth Relic, Royal Botanical Gardens, National Museum of Kandy, Hulu River Waterfall, Kandy Lake, Royal Palace of Kandy, Udawattakele Forest Reserve are some of the best places to visit in Kandy in winter season.
Suggested Read: 12 Things Not To Do In Sri Lanka If You Wish To Have A Hassle-Free Holiday
4. Mirissa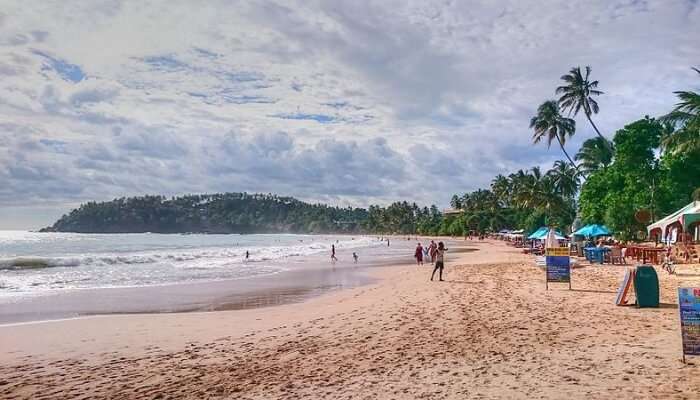 Misrissa is a small town situated at the southern province in Sri Lanka. It is famous for its beachside resorts, quirky cafes, and enthralling nightlife. The wallpaper perfect beaches of Mirissa offers great views of the sunset and the sunrise along with adventurous activities like surfing, fishing, and dolphin watching. Some of the best places to visit here are Mirissa beach, Polhena beach, Parrot Rock Bridge, Secret beach, and Coconut Tree Hill.
Suggested Read: Viharamahadevi Park: A Handy Guide To Explore This Nature's Paradise In Sri Lanka!
Sri Lanka In Winter: Things To Do For An Exciting Vacay
1. Indulge in the Christmas festivities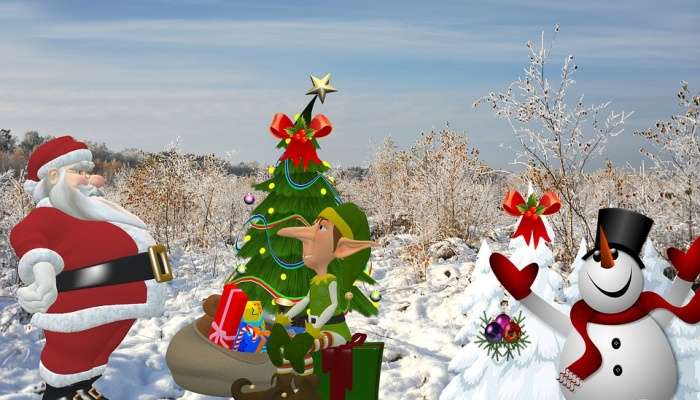 One of the best places to celebrate Christmas in Sri Lanka is Negombo and it is also one of the major festivals in Sri Lanka in winter. The whole vibe and aura of this city changes at the time of Christmas festivities. Houses gets decorated and people are all merry making and seems excited for the festival. People celebrate the festival by performing Kafirinha folk music and dance. Great offers and discounts are provided by the restaurants and cafes to celebrate the Christmas festival.
Where to celebrate: Galle Face, Cinnamon Grand, Loft Lounge Bar, Barefoot Garden Cafe
Suggested Read: Ceylon Tea Museum: The Perfect Spot To Relish The Taste Of The Authentic Sri Lankan Tea!
2. Experience the mesmerizing scenery by taking a train ride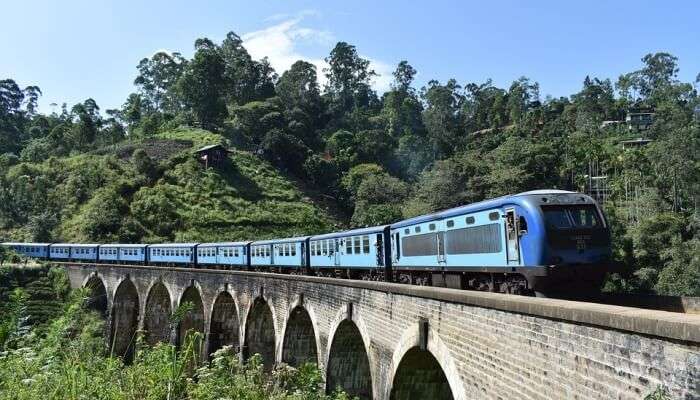 One of the best things to do in Sri Lanka in winter is witnessing the natural beauty, pristine landscapes, rugged mountains, and lush valleys by taking a train ride. The weather in winter season is just perfect to board the train when the cool breeze and misty breeze flows and makes the overall train journey hell exciting and enjoyable. One of the most scenic rail routes is from Colombo to Nanu Oya which is full of scenic beauty and mesmerizing views.
Most famous train routes: Ella to Kandy, Kandy to Nanu Oya, Anuradhapura to Jaffna
Suggested Read: The Ultimate Guide To Sri Lanka's Dambulla Cave Temple
3. Celebrate New Year in Style at Sri Lanka's Capital City, Colombo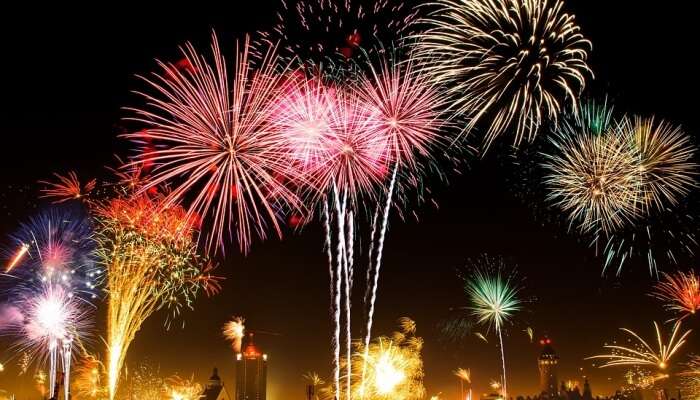 What could be better than celebrating the arrival of new year in a completely new destination. While you are in Sri Lanka in winter, make the most of this opportunity and enjoy the New Year festivities. One of the best places to witness the New Year festivities in Sri Lanka is Colombo where night parties, concerts, and New Year events are in full swing and people celebrate the arrival of new year with great pomp and show.
Where to celebrate: Rhythm and Blues nightclub, ZAZA Bar, Sky Lounge, Old Trinitians Sports Club
Suggested Read: Your Trip To Sri Lanka Is Incomplete If You Miss Out These 11 Places To Visit In Polonnaruwa
4. Enjoy surfing on the deep-blue ocean waves of Sri Lanka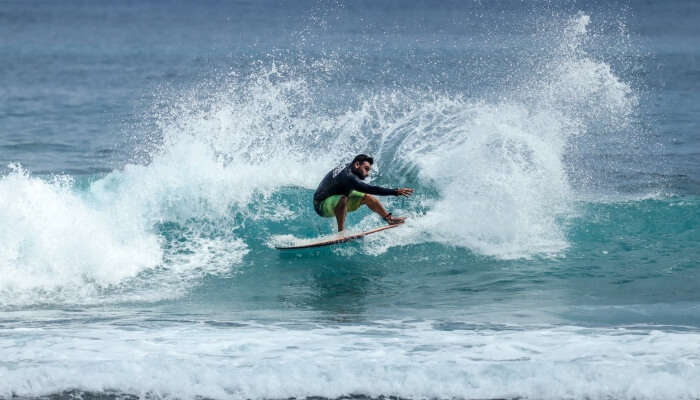 One of the best adventures to try in Sri Lanka in winter season is surfing. Surfing in Sri Lanka attracts many tourists from all over the world as the waves here are suitable for every kind of surfer. The weather during the winter months is just perfect to indulge in this audacious yet exciting water activity.
Where to surf: Unawatuna, Hikkaduwa, Weligama, and Arugam Bay
Suggested Read: 11 Top Villas In Hikkaduwa To Enjoy In The Beachy Paradise Of Sri Lanka!
How To Reach Sri Lanka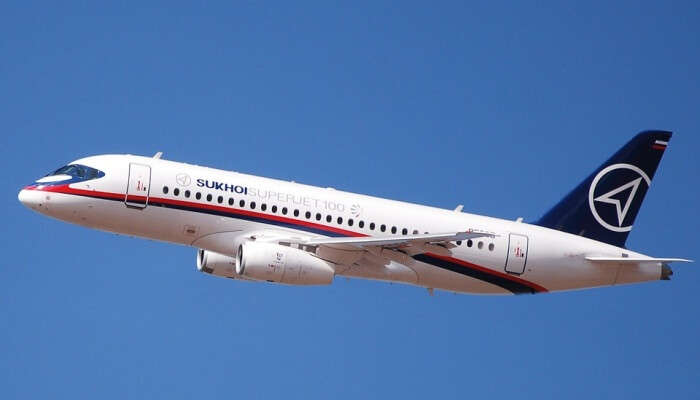 It is very easy to reach Sri Lanka from India due to proper connectivity between the two nations. Let's find out how to reach Sri Lanka in the best possible way.
By Air: Probably the best mode of transport to travel to Sri Lanka is by air. The major international airport is located in Colombo, the capital of Sri Lanka. Flights from India and all over the world arrive at this airport on a daily basis. From India it takes 1.5 hours to 3 hours to reach Sri Lanka depending from which city you are traveling from. Direct services are provided by companies like Sri Lankan airlines, AirIndia, Spicejet, IndiGo, etc.
By Sea: There is a direct connectivity between India and Colombo via a ship, however, this mode of transport is very time consuming as it takes around 7 to 8 days to reach Sri Lanka from India. There are only few ships that depart from Mumbai port and arrive at Colombo port. The ships are luxurious cruises and can be afforded by people who have no budget constraints.
Further Read: 30 Soul Satisfying Things To Do In Sri Lanka In 2019 For Travelers Of All Types
Now that we have given you several reasons to visit Sri Lanka in winter, there shouldn't be anything left to hold you back from packing your bags and go on an excursion to Sri Lanka. Witness the charm of Sri Lanka which is an amalgamation of culture, history, and nature. Enjoy a visit to its religious and historical places, meet the exotic wildlife, relax on its pristine beaches or go for an enchanting night party. Sri Lanka has everything to offer to the travelers who plan a visit to Sri Lanka.
Frequently Asked Questions About Sri Lanka In Winter
Q. What is the best time to visit Sri Lanka?
A. Sri Lanka is a beautiful country that offers pristine beaches, blissful tea estates, grand temples and much more. You can visit the country anytime of the year. However, the best time for visiting the Western region of the country is from December to March when the weather is pleasant to explore the destination. And April to May is the best time to visit the east coast of Sri Lanka. So, plan your trip accordingly.
Q. How is the weather in Sri Lanka in December?
A. Visiting Sri Lanka in Winter months is a great idea, especially in December. But, before planning your trip, you must know about the weather of the country during that month. Sri Lanka experiences warm weather throughout the year as it has a tropical climate. During the month of December, the highest temperature remains 30 degree celsius and the lowest temperature goes down till 22 degree celsius. This makes it very easy to explore the beautiful country in December.
Q. What is the rainy season in Sri Lanka?
A. Sri Lanka is one of those countries that experiences two rainy seasons. The south-west region of the country experiences a rainy season from May to September. There is little rain during this time. However, the other region of Sri Lanka, that is, North-east side the rainy season enters in the month of October and goes on till January. So, now you know when to expect rain in which side of the country and plan your trip accordingly.
Q. What is the coldest place in Sri Lanka?
A. Nuwara Eliya is one of the coldest places in Sri Lanka. It is a hill city of Sri Lanka and offers picturesque views of tea estates.
Q. Is Sri Lanka expensive?
A. Visiting Sri Lanka is not that expensive. One can visit the country on a backpacker's budget without any hassle. The only thing you need to keep in mind is that sports activities and heritage sites are quite expensive in Sri Lanka.
Q. Can you drink alcohol in Sri Lanka?
A. While drinking alcohol in Sri Lanka in public is not considered a good act, there are few places in the country where you will see people drinking alcohol without any issue and quite a lot. Apart from that, there are many places where alcohol is not served from 2 to 5 pm whenever you go.
People Also Read
Winter In Kashmir Kasol In Winter Places To Visit In Winter In India
Comments
comments