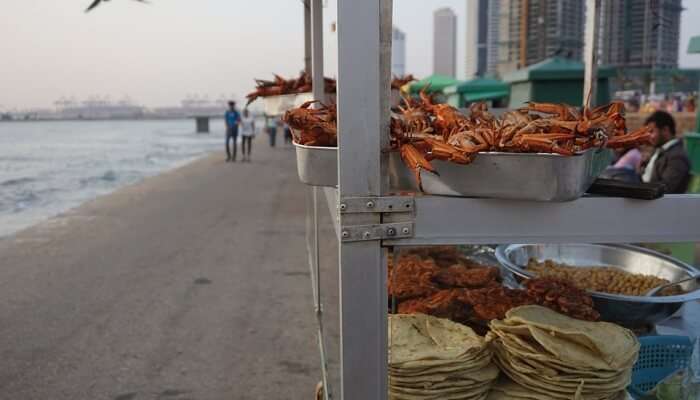 Cover Image Credit: Pixabay
The best way to experience any country is by digging into its distinct culture. And, what could be a better way than gorging on every authentic cuisine that it has to serve! If you consider yourself a real foodie, then gear up for a sumptuous culinary expedition to Sri Lanka with us; and take a stroll through its many streets to savor the cultural melting pot that this island country is! Scroll through our list of the must-try Sri Lankan street food items that has been curated just for you! And, cherish a delightful experience on your next trip that your taste buds have been craving like crazy!
Top 10 Sri Lankan Street Food Items
Here are a few of the mouth-watering Sri Lankan street food recipes that you must try once while exploring the food culture of its every magical city.
1. Egg Hoppers
Wake up to scenic landscape views, and treat your taste buds to crunchy pancakes served in Sri Lankan style. Often served in the early hours, egg hoppers can win over your senses in minutes! Perfectly cooked in mini woks, the sumptuous bites are prepared in a small bowl shape with a fried egg at the centre. Served with chutney, coconut sambal, or chilli sauce, this Sri Lankan breakfast is something you can't miss out on!
Popular Eateries: Green Cabin, Cafe on the Fifth, Grand Oriental Hotel
Must Read: The Complete Guide To Applying For A Sri Lanka Visa For Indians
2. Kottu
With a perfect balance of flavors, Kottu Roti seems to top the list of the best Sri Lankan street food items. Served piping hot, this dish is made from Godhamba roti chopped into strips, vegetables, spices, and eggs or meat. Accompanied with a masala sauce, its creamy texture may just leave you craving more. Its cheese version is quite popular amongst locals. Sri Lankan hawkers often sell it from evening to late nights.
Popular Eateries: Hotel de New Pilawoos, Nana Kings, Galle Face Hotel
Suggested Read: 22 Places To Visit In Nuwara Eliya In 2022: The Mini London Of Sri Lanka!
3. Roti
Albeit, 'roti' means 'plain bread' in every corner of the world, but the one that you find in Sri Lanka is much more than that. An assortment of perfect flavors, its many versions, including plain roti, vegetable roti, egg roti, and meat or fish roti are meant to take your fancy. Grab this delectable staple from a hawker stall, and let your taste buds take complete delight in this culinary voyage.
Suggested Read: Viharamahadevi Park: A Handy Guide To Explore This Nature's Paradise In Sri Lanka!
4. Achcharu
Achcharu is a tangy, sweet, and sour concoction of pickle served in island-style. Made with unripe fruits, vegetables, and even fish or meat pickled in a mixture of salt, sugar, seasoned vinegar, and chilli powder, achcharu is on-the-go snacks in Sri Lanka; and it can be bought from a street vendor.
Suggested Read: Ceylon Tea Museum: The Perfect Spot To Relish The Taste Of The Authentic Sri Lankan Tea!
5. Vadei
A mouth-watering lentil patty, vadei is the staple to have on the street if you are planning to set off for a Sri Lankan food tour. Besides the usual vadei made from urad dal, the island country also serves its alternative version, called isso vadei, which is made from fried prawns. Choose to gorge on it as a party chow, and let the delicacy help you satisfy your hunger pangs.
Suggested Read: The Ultimate Guide To Sri Lanka's Dambulla Cave Temple
6. Pol Sambol
If you really want to dig into the Sri Lankan food culture, here is another staple meal of the island country, called Pol Sambol. A fresh mix of dessicated coconut, red onion, lime, tomato, garlic, chilli, and other spices, you can have this delightful concoction with any dish, and pamper your taste buds to a tantalizing experience.
Suggested Read: 11 Top Villas In Hikkaduwa To Enjoy In The Beachy Paradise Of Sri Lanka!
7. Curries
Unlike Indian lentil curries, Sri Lankan curries are made of usual dal and a lot of coconut milk. Here, you can also slurp a brinjal curry which has a taste of honey. Besides that, there are other special curries made of cashew, banana flower, and jackfruit that may just blow your mind!
8. Thosai
Influenced from South India, thosai is a Sri Lankan twist to Indain food called 'dosai'. Served often at breakfast and dinner, this ulundu flour pancake is one of the best Sri Lankan delicacies to be found amongst hawkers. A quick light feast, it can be eaten with coconut sambol or chutney, or even with spicy condiments of meat or fish.
Suggested Read: Your Trip To Sri Lanka Is Incomplete If You Miss Out These 11 Places To Visit In Polonnaruwa
9. Thambili (King Coconut Water)
Rich in Vitamin E, calcium, carbohydrates, iron, potassium, and other nutrients, Thambili, also referred to as King Coconut Water is a sweet beverage found in almost every part of the island country. Sold by roadside vendors and street hawkers, every sip of it possesses a magical power like an elixir to help quench your thirst in minutes. Famed as a remedy to numerous ailments, such as allergies, rashes, and kidney disorders, it has abundant health benefits.
Suggested Read: 12 Things Not To Do In Sri Lanka If You Wish To Have A Hassle-Free Holiday
10. Samosas
Last, but definitely not the least, samosas are one of the most ubiquitous snack items available on the roadside streets of Sri Lanka. Loaded with a variety of spices, these savory triangles are either stuffed with veggies or beef. Served by almost every street food vendor, these crunchy delicacies are pure delight to gorge on.
Popular Eateries: Bombay Sweet Mahal (195 Galle Road)
Further Read: 38 Soul Satisfying Things To Do In Sri Lanka In 2022 For Travelers Of All Types
With such an exhaustive variety of Sri Lankan street food, from pickles and rotis to lentil patties and rejuvenating coconut water, hawkers and roadside vendors of this enchanting country are ready to surprise your taste buds with scrumptious flavors. So, book an excursion to Sri Lanka now, and get ready with your backpack to stroll through the delightful streets of this tear-shaped island country for an altogether a different culinary experience.
Frequently Asked Questions About Sri Lankan Street Food
What is the most popular food in Sri Lanka?
You have Fish Ambul Thiyal which is the sour fish curry and then you can also find kottu roti and kukul mas curry. You have Parippu which is dhal curry and Lamprais.
How can I avoid getting sick in Sri Lanka?
This doesn't apply in Sri Lanka but everywhere else in the world. You can avoid drinking the local tap water and stick to treated or boiled water. You can visit those cafes, restaurants and street vendors who are flocked by a lot of people, are busy and also look clean. Make sure the food is cooked properly before you consume it.
What is a Sri Lankan breakfast?
Dal is a type of curry that is made with yellow lentils. It is also mixed with Sri Lankan spices and coconut milk. This is the staple of any Sri Lankan breakfast and sometimes people take it up as lunch or dinner. Depending on the way you cook the dal, the curry can be decided to be made thick or thin.
What is Sri Lanka's famous food?
Rice and Curry is the most famous food in srilanka. You can also find a special wambatu moju or the brinjal or eggplant pickle. You can have rice with vegetables, lentils, or different fruits. Also, the dishes that are made here are known to be completely accompanied by pickled fruits or vegetables and chutneys.
What is the national dish of Sri Lanka?
It is rice and curry. Also, every meal you have rice and curry.
People Also read
Street Foods In Darjeeling Street Food In Kathmandu Street Food In Surat
---
Looking To Book An International Holiday?
Book memorable holidays on TravelTriangle with 650+ verified travel agents for 65+ domestic and international destinations.
---