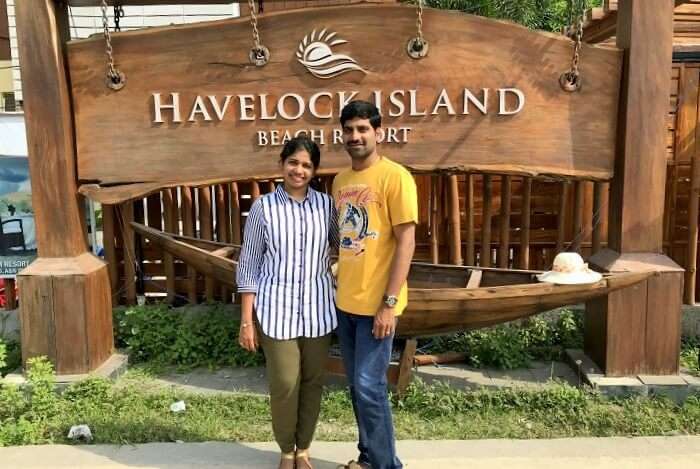 My honeymoon trip to Andaman was an escape to a surreal paradise that had nothing but the goodness of nature. Andaman is one of the those destinations that exudes "the good life" feeling. With clear waters and beautiful beaches, it is not only a perfect place to chill but also a land of adventure – in other words, just the place we were looking for!
TravelTriangle was found via Facebook when we were looking for a suitable Andaman honeymoon package. After raising our request for the same here, we soon received a call from their representative who also suggested us Andaman as per our destination requirements. Later, after understanding our needs, he further connected us to their various travel agents onboard, who then started sending us suitable quotes along with their itineraires.
We chose "Andaman Ecstasy Private Limited" as our travel agent and were now sorted when it came to planning our honeymoon trip to Andaman.
Details of our Andaman honeymoon
Cost: INR 93000
Trip Type: Honeymoon
Duration: 5 Nights 6 Days
Inclusions: Hotels, Transfers, Breakfast, Dinner, and Flights
Exclusions: Water activities, personal expenses, and lunch
Day 1: Arrival and night stay in Port Blair
28 Honeymoon Places In Andaman Couples Can't Afford To Miss
Our journey started from Hyderabad and after arriving at Veer Savarkar International Airport in Port Blair, we were escorted to the SINCLAIRS Bay View Hotel which lies just besides the sea shore and overall offers a rejuvenating and beachy vibe. After checking in, we relaxed for a while, had lunch, and then began our sightseeing in Port Blair. The first place that we visited was the Samudrika Museum and it was followed by the iconic Cellular Jail. It was fascinating to know the dark history behind this place and we soon followed it up with a brilliant sound and light show.
Day 2: Hello Havelock
13 Top Sea-Facing & Beach Resorts In Port Blair, Andaman
Post a packed breakfast today, we proceeded towards the Phoenix Bay Jetty on ferry and it took us approximately two hours to reach Havelock island. This was a pleasant journey and both my husband and I had a great time spending some quality time with each other amidst the goodness of the ocean.
Upon our arrival, we were transferred to our hotel in Havelock and after relaxing for a while, we once again ventured out and visited Radhanagar beach ad part of our Andaman honeymoon itinerary.
Radhanagar beach is one of the best beaches in the world and we enjoying the cool breeze and watching the sunset here, which by the way was too awesome to explain in words. Later, we went back to the Havelock Island Beach Resort near the seashore for a comfortable;e overnight stay.
Day 3: The many adventures on Havelock Island
25 Best Beaches In Andaman & Nicobar Islands
Day three of our honeymoon trip to Andaman was totally action packed. We enjoyed the best of watersports in Andaman today and it included Scuba Diving and Underwater Sea Walk. Both of these experiences were incredible and surreal to be honest. Andaman truly has a treasure when it comes to marine life and we were glad we were able to witness it on our honeymoon.
Later on during the day, we also visited the Elephant Beach which was some 40 minutes away from Havelock Island and was one of the best beaches we had ever seen.
Day 4: Transfer to Neil Island
Here's Why Havelock Island Is Nothing Less Than A Slice Of Paradise In Andaman
In the morning after breakfast, we were once again transferred to a new destination – Neil Island. Upon our arrival, we were once again transferred to our hotel here – Pearl Beach Resort and post the check in, we proceeded towards the Howrah Bridge and Laxmanpur Beach.
The Howrah Bridge experience was truly unique and fascinating while the Laxmanpur beach was extremely calming and nice. It was great to explore such places of tranquility with my husband and overall, we felt both of these places, especially the beach, exuded a romantic vibe.
Day 5: Back to port Blair
Scuba Diving In Andaman: 15 Unexplored Sites To Unravel The Colors Of The Ocean
After a quick visit to the Bharatpur Beach today, we were transferred back to Port Blair via a ferry, where we once again checked into our hotel. Post a great lunch, we visited the Anthropological Museum and did some shopping before finally coming back to the hotel.
Day 6: A sweet goodbye to Andaman
This was the day we were to go back to India (Hyderabad) and thus with a heavy heart, we checked out of our hotel. Given the fact, that we still had time before our flight, we also visited the famous Corbyn's Cove beach before finally going to the airport to catch our flight.
We came back to India with a lot of sweet memories. Andaman was surely a romantic place for it had all the tranquility and peace one would require to spend some quality time with their beloved and we surely made good use of that. Extremely rejuvenating and delightful, I think the moments we spent here would be cherished throughout our life.
Wow moments from the trip
Doing Scuba Diving and Underwater Sea Walk
Visiting the beaches
Sightseeing in Port Blair
Spending quality time with my husband
Low Point
There were no low points as such except for the fact that waiting for ferries can be a bit tiresome
Tip for travelers
Choose your destination as per the kind of activities you want to do and try going in for a customized package for a more personalized experience.
---
Looking To Book Your Honeymoon Package?
Book memorable honeymoon on TravelTriangle with 650+ verified travel agents for 65+ domestic and international destinations.
---
Comments
comments