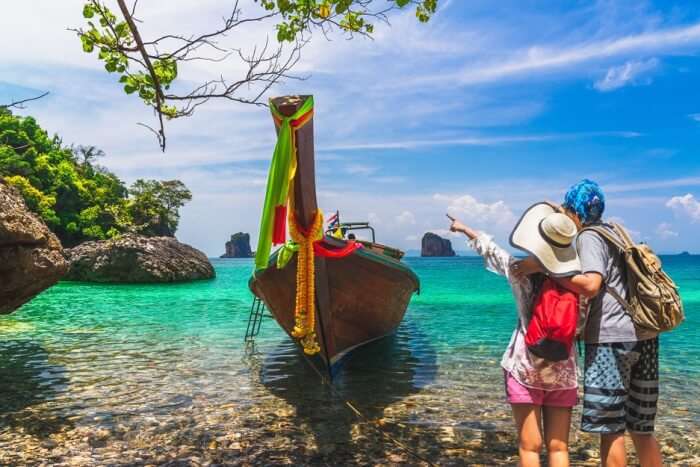 Mostly looked upon by a newly married couple, the honeymoon places in Andaman are a gorgeous mix of marooned islands, idyllic views, and never-ending stretches of white sand. Adorned with nature's magnificence and lovely resorts, these popular Andaman honeymoon places are perfect to enjoy romantic sunsets with the love of your life.
Plan a honeymoon to Andaman to embrace true colors of nature, celebrate your first-hand diving moments in the depth of the ocean, and look at playful dolphins with a setting sun in the background.
Here are the top destinations in Andaman that couples must-have on their itinerary. Most couples go for a Port Blair-Havelock-Neil combination; Little Andaman and Diglipur are great for those who love exploring offbeat destinations.
Popular Honeymoon Places In Andaman
These wonderful places spread across the Andaman Islands are every honeymooner's dream destination. How you wish to spend a memorable honeymoon with your beloved in these charming honeymoon places in Andaman and Nicobar islands!
1. Port Blair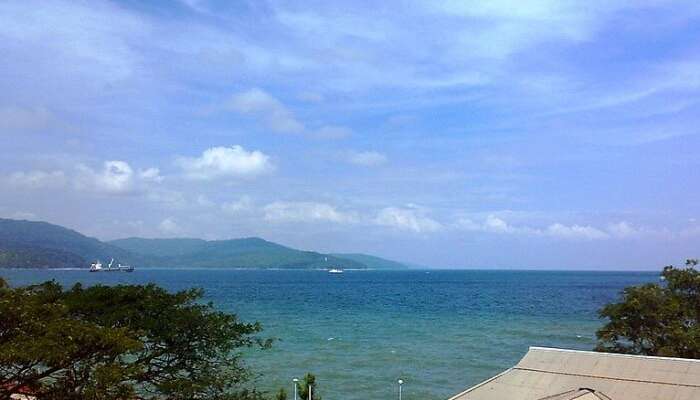 Port Blair still has its rustic charm depicting the best of the British Raj and is one of the best places in Andaman for honeymoon. Day tours, excursions of nature and marine parks, and luxe beach resorts in Port Blair are hot picks for honeymooners. The sea views and sunsets are magnificent, and there are plenty of tourist attractions. Cellular Jail tour and light & sound show is must see. Also, live music evenings set a great mood for a romantic meal
How to reach: The city has an airport and connects to many islands by ferries and few destinations by road.
Ideal stay duration: 4 days
Beautiful places to visit in Port Blair: Bay Island, Chidiya Tapu, Fisheries Museum, Wandoor, Mahatma Gandhi Marine National Park, Cellular Jail tour, and Anthropological Museum
Things to do in Port Blair for couples: Trek to Munda Pahar Beach, basking in the sun at Corbyn's Cove Beach, trekking at Mount Harriet, and shopping at Aberdeen Bazar & Samudrika
Romantic hotels in Port Blair: Sinclairs Bay View, Anugama Resort, and Fortune Resort Bay Island
Must Read: Idyllic Honeymoon in Andaman 2019: 3 Legit Tips With First-Hand Experiences
2. Havelock Island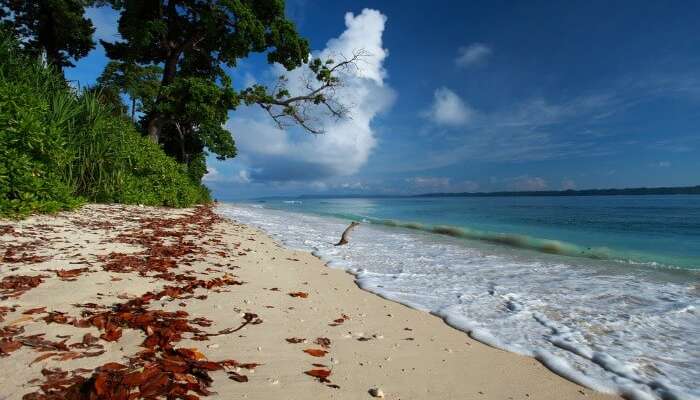 There really is nowhere quite like Havelock Island. Exotic beach resorts allow you complete privacy and plenty of water adventures. There are both easy and moderately difficult adventures that honeymoon couples in Havelock can enjoy. Sunsets and sunrises are particularly beautiful here, making it one of the best honeymoon places in Andaman.
How to reach Havelock: Catamaran ferry and other government ferries operate from Port Blair to Havelock. While Catamaran takes around 90 minutes, a normal government ferry takes 2.5 hours to complete the journey. Also, there are Port Blair – Havelock seaplane rides that take close to 20 minutes to complete.
There are not many places that have seaplanes, we suggest you take a ride one side at least. A one-way ride cost around INR 5000 per pax, which is much higher than ferry tariffs.
Ideal stay duration: 2 days
Beautiful places to visit in Havelock: Radhanagar Beach, Elephant Beach, Kalapathar Beach, and Govindnagar Beach, Wild Orchid Restaurant – for its amazing food delicacies
Things to do in Havelock for couples: Snorkeling at Radhanagar, Scuba diving at Elephant Beach, beach dinner at the resorts, romantic dining at Blackbeard's Bistro or Full Moon Cafe
Romantic hotels in Havelock: Barefoot At Havelock, Symphony Palms Beach, Seashell, Munjoh Ocean Resort, and Dolphin Resort
Suggested Read: 15 Fascinating Hotels In Havelock For A Wondrous Holiday In Andaman
3. Neil Island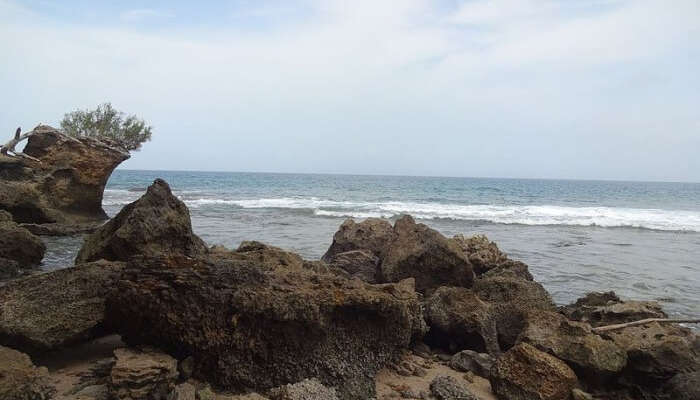 If you are looking for a hot and happening place on Andamans, Neil is NOT the right place to be at. Totally secluded and unspoiled, Neil is the place for nature seekers. There aren't many tourist spots, just a few pristine beaches, and a few romantic hotels and beach resorts, making it one of the best honeymoon places in Andaman and Nicobar for the peace lovers.
How to reach Neil Island: Take a ferry or boat from Port Blair to cover 36 km on the sea. A government ferry takes close to 2 hours to reach Neil from the capital city.
Ideal stay duration: 1 day
Beautiful places to visit in Neil Island: Laxmanpur Beach, Sitapur Beach, and Bharatpur Beach
Things to do in Neil Island for couples: Glass bottom boat ride, nature photography at Sitapur beach, and water activities
Romantic hotels in Neil Island: Pearl Park Beach Resort, Tango Beach Resort, Summer Sands Beach Resort, and Silver Sand Beach Resort
Suggested Read: 20 Best Beaches In Andaman & Nicobar Islands
Lesser Explored Honeymoon Places In Andaman
The lesser thronged Andaman is a calm and soothing sojourn with more of nature and less of the crowd!
4. Little Andaman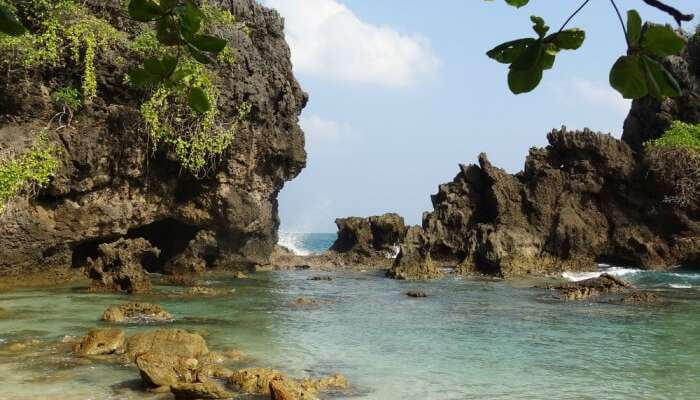 120 km from Port Blair, Little Andaman is a soothing retreat located at the southern tip of Andaman. The beach has plenty of attractions for honeymooners that include wonderful nature views made up of waterfalls, creeks, rain forests, and stunning white beaches. Little Andaman is truly charming and a place with a bounty of surprises.
How to reach Little Andaman: Ferry services are available from Port Blair to Andaman that usually run from Phoenix Bay in Port Blair to Hut Bay in Little Andaman. Time taken is 6-8 hours, which usually depends on the weather conditions.
Ideal stay duration: 1 day
Beautiful places to visit in Little Andaman: Hut Bay, Butler Bay Beach, and Harminder Bay Beach
Things to do in Little Andaman for couples: Surfing and trekking to the nearby places
Romantic hotels in Little Andaman: Greenwood Island Resort
Suggested Read: Cruise To Andaman: 2019 Guide To Fares And Ferries From Kolkata, Chennai, Vizag
5. Diglipur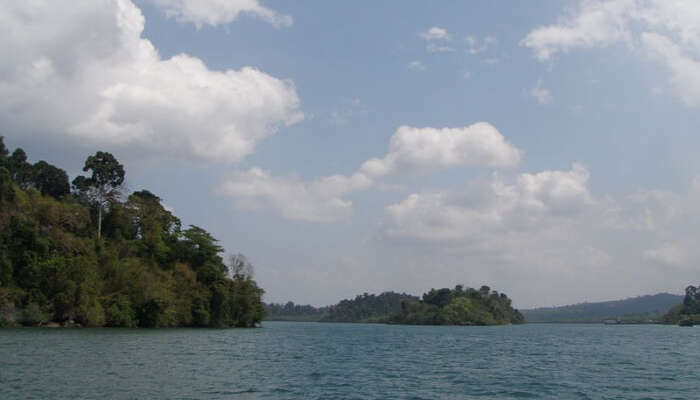 Prettified by the wonderful nature, Diglipur in the North Andaman Island is an offbeat destination. The verdant views of Saddle Peak and unspoiled nature are perfect for honeymooners in pursuit of scenic places in Andaman.
Don't expect too much of luxury coming your way. The place is all about natural beauty and cozy moments with your beloved.
How to reach Diglipur: Diglipur is well connected by Great Andaman Trunk Road. Private buses and cabs are available from Port Blair that takes around 5.5 hours to complete the 300 km distance.
Ideal stay duration: 1 day
Beautiful places to visit in Diglipur: Pathi Level Beach and Kalipur Beach
Things to do in Diglipur for couples: Explore the rustic charm of the Chalis Ek Caves and the Alfred Caves
Romantic hotels in Diglipur: Turtle Resort and Pristine Beach Resort
6. Radhanagar Beach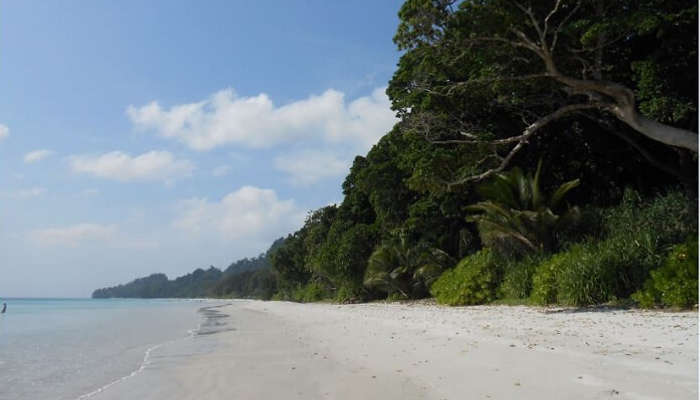 This beach on the Havelock island is a paradeise for all daydreamers and waderlsut souls. The beach is the ideal spot for couples to rekindle their romance and feel the spraks amidst the white sand and lush green forest bordering it. Enjoy a ferry ride to the island and witness a magical sunset on this beach with your better half.
7. Kaala Pathar Beach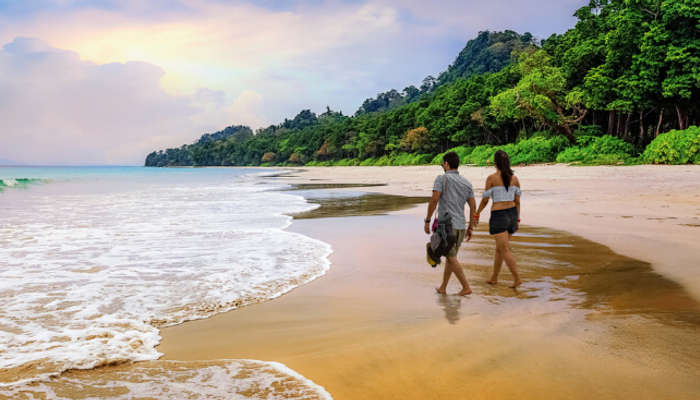 If you're looking for some peace and solitude then check out the Kaala Pathar beach that is dotted with greenery and little islands. Spend your time amidst the stunning blue waters and spend a day out with your loved ones. There are plenty of picnic spots where you can lay out your lavish spread, the beach is also surrounded by eateries.
8. Elephant Beach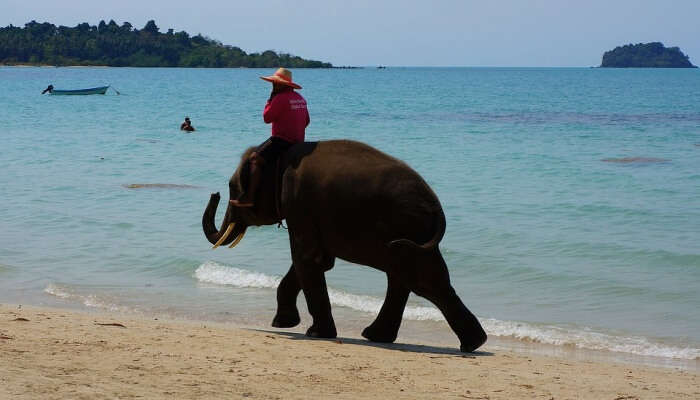 This beach is dotted with a stunning marine life andvibrant coral reefs that are worth exploring with your partner. You can go on a snorkeling expedition or a scuba diving adventure and marvel at the magical underwater world. Enjoy an adventurous rendezvous with nature and the ocean.
9. Ross Island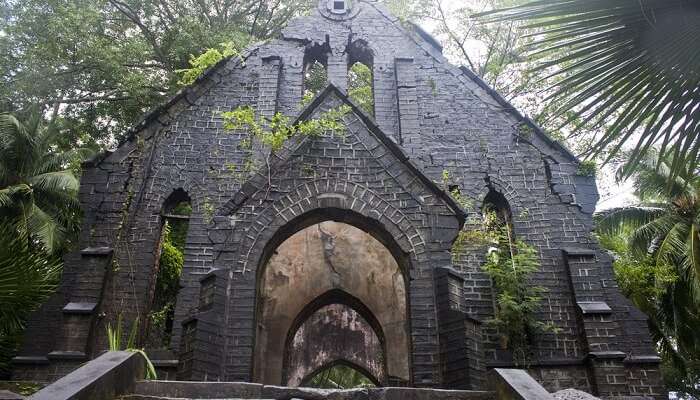 Ross Island is known for being a historically significant tourist destination which was set up as a penal colony by the British to punish those who participated in the 1857 rebellion. The island has since then become a historically significant destination that attracts thhousands of toursits who come to pay homage to those who shed blood to fight for freedom.
10. North Bay Island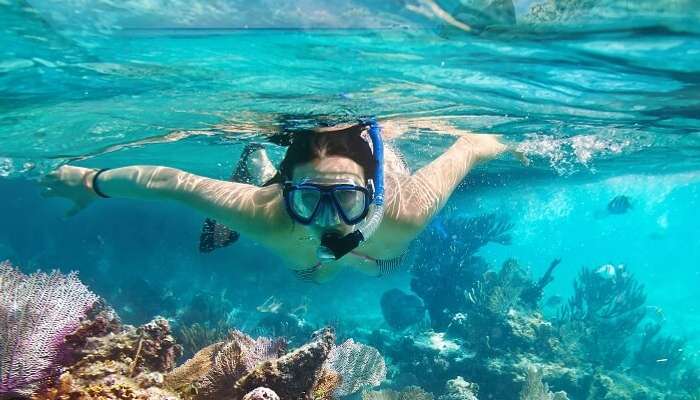 The islands lies in close proximity to Port Blair, you can explore the vibrant coral reefs and indulge in snorkeling excursions. witness the mirculous marine creatures that inhabit the shores around the island. This island gives ample of opportunities to idulge in water sport activities.
11. Jolly Buoy Island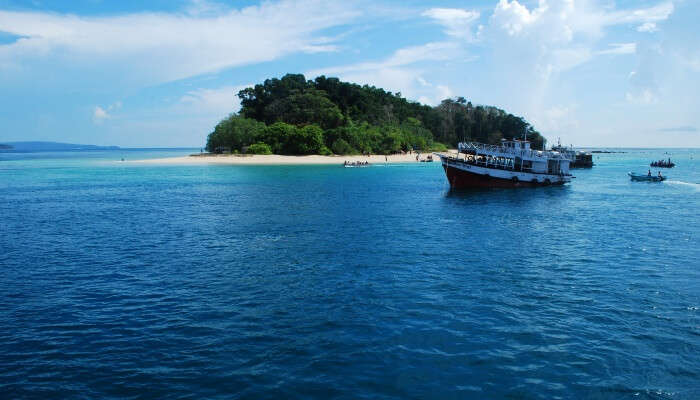 This island is surrounded by pristine beauty and the journey to Jollly buoy makes the whole experience even more memorable. The island is a part of the Mahatma Gandhi National Marine Park, and offers ample opportunities for diving and exploring the stunning marine life.
12. Barren Island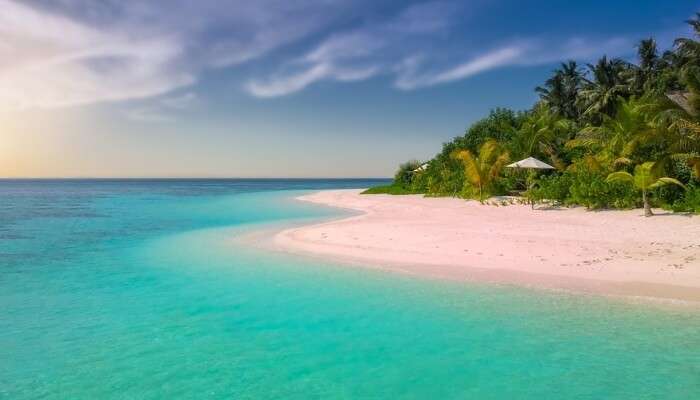 A honeymoon on Barren Island includes a lot of diving opportunities, and an exotic marine life that will blow your mind away with its beauty. The island is rich in biodiversity and also observes some volcanic activities. Witness some breathtaking basalt formations and enjoy the solitude in this remote island with your better half on your honeymoon trip to Andaman.
13. Baratang Island
This island is marked by popular landmarks, and limestoen caves that are worht visiting. You can enjoy a day trip to this island and explore the hidden gems like the Parrot island whre thousands of parrots congregate.
14. Limestone Caves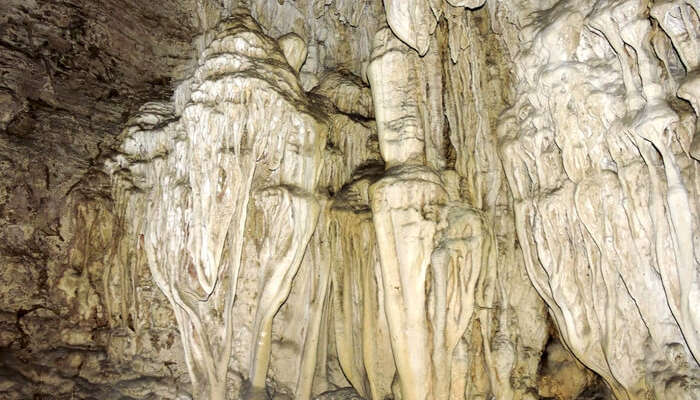 Last, but not the least, the limestone caves are an integral part of the Andaman that one cannot miss while on a vacation to Andaman. The caves are situaed in the Baratang island and are a magnificent natural phenomemon that have over the years transformed into beautiful formations that will startle your eyes.
Further Read: 15 Things To Do In Port Blair That Will Urge You To Plan An Andaman Trip In 2019
This string of pearl located in the Bay of Bengal is too good for a honeymoon. Relax here at the sunkissed beaches and enjoy the shimmering sunsets. Plan an Andaman honeymoon now!
Frequently Asked Questions About Honeymoon Places In Andaman
Q. Is Andaman good for honeymoon?
A. Andaman islands aren't just good, but a pretty great choice for a honeymoon. With shimmering blue waters and sun-kissed beaches, it is a perfect escape for a couple to spend some quality time together. And other than lazing at the beaches, there are so many things to do in Andaman on a honeymoon like scuba diving, mangrove kayaking, sightseeing tours, visit to the Barren Island, Sea Walking and more.
Q. Which place is better for honeymoon Andaman or Kerala?
A. Andaman and Kerala both are great options for a honeymoon. It is difficult to say which is better because both these places offer different experiences which are both exciting and thrilling. While one can enjoy scuba diving and sea walking in Andaman, they can experience a houseboat stay in Kerala. Thus, depending on what a couple would like to enjoy, they can choose from either of the places.
Q. How many days are sufficient for Andaman?
A. One should spend a week at least in Andaman. With so many beautiful islands to cover and explore, one should give themselves enough time at all of these places, and also have a day or two to just relax and unwind at the beach. So, a minimum of 7 days is good for a honeymoon trip to Andaman.
Q. How much does it cost to travel to Andaman?
A. The cost to travel to Andaman would depend on the number of days of the trip. Honeymoon packages for 6 days and 5 nights in Andamans begin at INR 30,999.
Q. How many days are enough for Havelock Island?
A. Havelock Island, which is a part of Ritchie's Archipelago, is a beautiful island. It is known for its sun-kissed beaches and exciting diving sites. One should stay here for a minimum of 2 days on a trip to Andamans.
Q. Why is Andaman good for honeymoon?
A. Yes, Andaman is an exotic island destination with gorgeous landscapes and romantic experiences. This is one of the best destinations in India for honeymooners and couples who are looking forward to a beach holiday. It allows you to escape into a world with lesser crowd so that you can steal some time for just the two of you, be it on the beach or anywhere else. Andaman also brings immense opportunities to indulge in adventure activities and add some thrill to your honeymoon. Andman honeymoons are also pocket friendly as it brings wonderful luxury experiences in affordable prices. The direct flights connecting Port Blaire to most of the Indian cities makes it a convenient choice too. And because there is so much to do and see, you can decide the duration as you like. But the best reason to make Andaman your honeymoon destination is its beautiful beach resorts.
Q. How much does it cost to travel to Andaman on a honeymoon?
A. A general 3days-2nights tour cost to Andaman stars at around INR 11,500. And a 4 days-3 nights honeymoon tour cost to Andaman starts at around INR 14,000.
Q. Is Andaman safe for couples?
A. Yes, Andaman is safe for any traveler including couples. In fact it is one of the top honeymoon destinations. There are some restricted Islands and some basic don'ts apart from which the safety is not an issue.
Q. Is a passport required for Andaman?
A. No, Indian citizens do not need a passport to visit Andaman and Nicobar Islands as it is a part of India. Some restricted tribal areas may need permission for visit.
Q. What is there to do on Havelock Island?
A. Some of the best things to do on Havelock Islands include snorkeling, scuba diving, kayaking, boating, trekking, beach tours, and romantic candle light dinner.
Q. Which time is best for Andaman?
A. The months of October to May is the best time to visit Andaman and Nicobar Islands.
People Also Read
Honeymoon Places In Sri Lanka Honeymoon Destinations In India Honeymoon Places In Colombo
Comments
comments