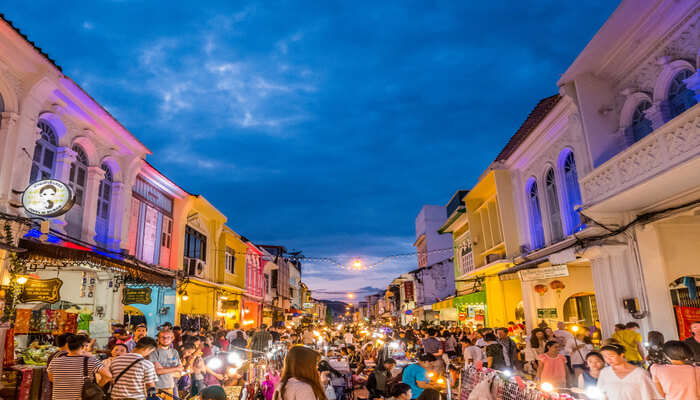 Your visit to Phuket is never complete without tasting the street foods in Phuket. Pancakes or roti dipped in the curry or meatballs, or the chewy noodles. You name it, you will find it in the streets of Phuket. Meat on skewers is found on every nook & corner of Thailand streets. Bangkok, the capital of Thailand, had the crown of street foods for long, but the hidden secret of street foods in Phuket is slowly emerging out. Thanks to the food aficionados, travel bloggers and YouTubers who made it a point to try and made these places known to the outside world. The taste of Thailand street food is not just the flavor of Thai, but a rich mix of recipes from India to China to Malaysia, etc. All thanks to the history of Phuket as a commercial trading port that attracted tourists and immigrants from all over the world. Thailand is not only blessed with tropical fruits and vegetables, it is also the land of tasty seafood.
Get ready to make your taste buds do that over time, let's head to the best street food in Phuket. Here we present some of the exotic at the same time, affordable street food in Phuket for the foodie in you.
6 Best Street Food In Phuket
Sawadee-ka or Welcome. Thailand is rightly called the "Land Of Smiles". I am sure you will agree with me on this when you find yourselves welcomed by every passer-by with a warm smile. The vendors and hawkers selling street food in Phuket are no exception. Their smiles will surely invite you to their shop to try out every other food on display.
Phuket is not only known for its pristine beaches and resorts but also known as an exotic & exciting place for street food. Do you know that Phuket is one of UNESCO's City of Gastronomy? Yes, and Phuket allows you to taste a variety of street foods without lightening your wallet too much.
It is rightly called so since you can find exotic Thai food, Malay food, Chinese and also Indian food. Let us get to the list of big 6 street food in Phuket that no traveler should miss.
1. Moo Ping and Khao Niao

Are you wondering what this strange name could be? These are nothing but the grilled pork on skewers along with the white rice. Not just white rice, but the sticky white rice that people love to taste. The very moment you hear about how this is made, your taste buds will rise to joy. Similar to our regular marinated foods in India, this port is also marinated. Not by just spices as we do, but this is marinated with the fish sauce, garlic, and even coconut milk. Before roasting it in the charcoal grill, palm sugar is also added to this. This gives a slightly sweet taste for the grilled pork meat and adds to the aroma.
The Moo Ping is served with sticky rice and serves as lunch or dinner. So, you can find these shops open till midnight in the hawkers market.
Price: The cost of this food would be in the range of 15-20 BHAT.
Timings: Noon to Midnight
Must Read: 24 Spectacular Things To Do In Koh Samui For A Fulfilling Holiday In 2022!
2. Thai Pancakes

Thai Pancakes or Roti is more like a French crepe. Made from flour, this flatbread is fried to be very crisp. Believe me, you can never stop tasting this light snack. The roti is rolled with butter and white sugar inside. The sweetened condensed milk adds to the flavor. The roti comes in various flavors. You can order your Thai Roti with just egg, or include banana, strawberry jam or even chocolate sauce.
Enjoy the Roti when it is warm since they taste the best when they are warm. We highly recommend you to taste this must-eat street food of Phuket on your visit to Phuket.
Price: The cost of the Thai roti starts at 10-12 BHAT, and goes upwards depending on the flavors you choose to fill it up with.
Timings: Mostly in the evenings as a light snack.
Suggested Read: A Sojourn In Thailand Or Bali For Honeymoon In 2022? We'll Help You Decide
3. Thai Steamed Dumplings

Who doesn't like dumplings, the favorite food of Kung-fu Panda? Although these dim sum dumplings are originally from Chinese, it was localized and made better by the Thai Hawkers. Which means, you cannot compare the tastes of Thai dim sum dumplings with the street foods of China. The dim sum dumpling is generally served along with the Sala Pao or steamed buns. It is one of the most famous breakfast in Phuket.
The steamed buns come in two flavors – one a bit sweet and the other stuffed with pork and eggs. If you are clear on the types of Sala Pao or its names, just raise your hand, order both and try. It does not cost much.
Price: The cost of the dim sum dumpling with the Sala Pao will be in the range of 15-20 BAHT for the set.
Timings: Mostly in the mornings as breakfast.
Suggested Read: New Year Party In Thailand (2022): 17 Top Venues & Events
---
Planning your holiday in Thailand but confused about what to do? These Thailand travel stories help you find your best trip ever!
---
4. Oyster Omelet

O-Tao, or the Oyster Omelet, is an iconic food of Phuket. The taste of this Omelet is from the taro (a root vegetable), baby oysters, eggs, flour, onion with sprinkles of garlic on it. This Oyster Omelet is a traditional food during the Chinese New Year.
Due to the increased participation from tourists enjoying the street foods of Phuket, this pork topped Oyster Omelet has become very famous. Even though it may sound like an appetizer, it can fill your stomach really full.
The taste of O-Tao or Oyster Omelet is from Phuket's Chinatown. The food has been around for the past 80 odd years.
Price: The cost of the Oyster Omelet is in the range of 60-70 BHAT.
Timings: Noon to midnight.
Suggested Read: Our Anniversary Trip To Thailand Made Us Fall For Each Other All Over Again
5. Spicy Meat Balls

If there is one food so common in the street foods of Phuket, it has to be the spicy meatballs and sausages. You can get them grilled, steamed, deep-fried and all sorts of preparations. They are very delicious meat which is very cheap and available almost everywhere.
The meat could be made of Fish, chicken, port or even beef. Feel free to get a few of them made from different meat and enjoy those with the juicy spicy sauce. If there are fumes coming from your ear, make sure you do not complain to me.
Price: The cost of the meatballs is 10-20 BAHT for a stick with 5-6 meatballs.
Timings: Mostly in the evenings, a good way to pass time with your friends.
Suggested Read: Thailand 7 Days Trip: There's So Much To Learn From Rakshita's Experience
6. Ice Cream Sandwich

Want to taste the refreshing Ice cream? Why not? Especially after those lip-smacking spicy meatballs. Have you ever wondered how ice cream can replace the hot dogs inside the sandwich? Yes, everything is replaceable in this world, right?
An Ice cream sandwich is not something new for the street foods in Phuket. It's been here for more than a decade. Irrespective of the weather, kids, and elders enjoy this all the time of the year. Let me reveal another secret for you. When you order the ice cream sandwich do not miss to try the coconut ice cream to be placed in the sandwich.
If you still have some appetite, go for those extra fillings. You have a wide variety of flavors to choose from including the banana, sweet corn, peanuts, jack fruits, etc.
Price: The cost of the Ice cream sandwich starts from 20 BHAT.
Further Read: Thailand In September: A Pocket Guide For An Amusing Vacation In 2022!
Street foods are fun. Be it in the morning, or in the evening, right? For foodies, these street foods in Phuket are a boon to try out various foods and flavors of Thailand in an economical way. Light on the pocket, and allows you to try out all. So now when you plan a vacation to Thailand, make sure to not miss out on taking a food tour of Phuket.
Frequently Asked Questions About Street Food In Phuket
Where can I eat street food in Phuket?
You can find street food in Phuket on almost every corner of the street. If you want to try out without traveling across places, then head straight to Thalang Road in Phuket.
Is it safe to eat street food in Phuket?
Yes, it is completely safe & Hygienic to enjoy eating on the street from Hawkers and vendors.
What is the famous food in Phuket?
Dim Sum dumplings, Coconut ice cream, Spicy meatballs are some of the famous cuisines in Phuket.
What is the healthiest Thai food?
Papaya salad, Green Mango Salad, and Tom Yum soup are the healthiest of all dishes in Thailand.
How much does an average meal costs in Phuket?
An average meal of the street foods in Phuket costs around 30 BHAT.
---
Looking To Book An International Holiday?
---
People Also Read:
Street Food In Jakarta Street Food In Gwalior Street Food In Bhutan