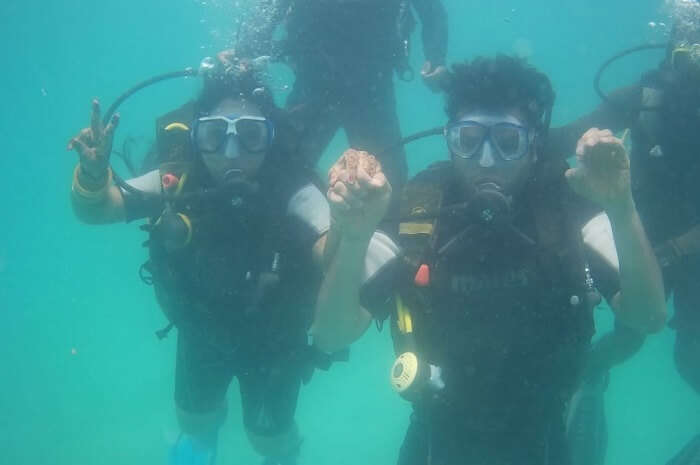 Tucked away from the chaos of metropolitan cities, Andaman is touted as land which is less explored. This relatively unexplored paradise is rapidly becoming India's hottest new destination which allured travelers from all over the world. Be it its clean & beautiful surroundings, scenic beaches, welcoming locals, and a relaxed vibe, everything here is loved by the travelers coming here. Sunny and his wife planned to stay in the lap of nature for 5 days. With the perfect itinerary customized by TravelTriangle, they could enjoy the best experiences on their romantic trip to Andaman.
Stealing time for travel, especially when you are a working person is not an easy peasy task, but this time, my wife and I took some time off to loosen ourselves up in this heavenly destination called "Andaman". Looking at pictures of Radhanagar beach and Bharatpur beach had always enticed us, so an Andaman trip was guaranteed.
One of my friends already had a successful trip with TravelTriangle hence, opting for it for our long trip was a no brainer. Honestly, the delightful weather conditions, various opportunities for enjoyment coupled with the perfect itinerary from TravelTriangle made our expedition a blissful affair. And here I am penning down all the marvelous experiences we've had on our romantic trip to Andaman.
Details of our romantic trip to Andaman
Trip Type: Romantic Trip
Cost: INR 38700
Duration: 5 Days
Inclusions: Breakfast, Airport Transfer, Cab, Private AC Cruise, Water Sports, Entry Permit, Meals, Ferry Transport
Exclusions: Lunch, Dinner, Personal Expenses, Government Taxes
Beaches, Exotic Islands, And Adventure: Parul's Honeymoon Trip To Andaman Had It All!
Must-read highlights of our romantic trip to Andaman
1. Light, sound & action: The patriotic feel at Cellular Jail



On the day of arrival in Port Blair, we straightaway headed towards Cellular Jail which is one of the best places to visit in Andaman. We were surprised to know that we were allowed to enter the jail and could feel how freedom fights must have felt in those times. Also, the architecture of the jail is quite commendable. Post exploring the jail we went ahead to watch the light & sound show which was a great representation of the times when freedom fighters devoted their lives for our country. (such a patriotic feeling it was!). Then with sumptuous dinner and a bit of shopping, our day was peacefully ended.
2. Getting cozy at Havelock Island



Renowned for its unbeatable reef and swimming elephants, Havelock island was our next stop on day 2. We heard that it boasts Asia's best beaches and yes indeed it's true!. We visited some of the best beaches and enjoyed swimming and relaxing by the shores. Needless to say, the beaches in this less crowded place were quite clean and also the tourist here makes sure that they do not disrupt the calmness that this place holds.
Honeymoon In Andaman 2022: A Handy Guide With Legit Tips, First-Hand Experiences And More!
3. An adventurous affair at Bharatpur beach: Scuba diving & a lot more!

Now was the time for some adventure! With low tide, Crystal clear and knee-deep water, Bharatpur Beach is one of the best beaches in Andaman. We could walk half a mile from the shoreline and it was such a blissful experience to feel the chilling water. We also got the opportunity to go for scuba diving and what an experience it was! Getting exposed to a range of fish, a vibrant reef and intriguing marine life was actually a one of a kind experience altogether. It was such an eventful day for both of us.
4. The Niel Island diaries: A scenic sunset & blissful time


On day 4, we headed towards Niel Island which seemed to be the last but most awaited destination. With so much excitement, we were looking forward to witnessing a beautiful sunset there. And Voila! We were quite lucky! Seeing the sunset while walking on this beach was quite an enriching experience. Also, with marvelous views, clear white water under the clear blue sky, this place seemed like it had never been touched. Frankly, were able to spend the romantic time that we'd been craving for.
5. Jet ski at Corbyn's Cove beach: Going back with a bang!


Now was the time to bid adieu to this fantastic place but, some fun still left to do before leaving. We heard that one of the best thrilling sports to try in Andaman was Jet ski at Corbyn's Cove Beach. Jet skiing among the colorful corals, mesmerizing fishes, and rock faces provides a challenging but breathtaking experience. Post enjoying this enthralling experience, we went for some shopping spree. I must say that PortBalir is really a good place for shopping. The products were available at affordable prices. We got many sea shell handicraft gifts for all our friends and family.
28 Honeymoon Places In Andaman Couples Can't Afford To Miss In 2022!
Our marvelous experience with TravelTriangle
Eventually, our stress-buster expedition reached its end. Since our return flights were booked for the afternoon, we still had some time on hands to say goodbye to the scenic views. So, we proceeded towards the beach in Port Blair and explored the area. Lastly, while taking numerous memories brimming with sheer joy, thrill, adventure, and contentment, we headed back to our hometown.
We cannot believe that our much-needed vacation is over and we have to get engaged with our daily lives. Everything was extremely synchronized that we didn't have to worry about anything at all. A huge thanks to Traveltriangle for making this trip happen with so much of adventure and thrills. We are definitely looking forward to another exciting and rocking trip with Traveltriangle.
A glimpse into our customized Andaman itinerary
Day 1: Arrival at Port Blair Airport, check-in at the hotel, and visit cellular jail
Day 2: Visiting Havelock Island
Day 3: Enjoying water sports at Elephant Beach
Day 4: Transfer to Neil island and enjoying at beach
Day 5: Fun time at Corbyn's Cove Beach and departure
Queries you might have on your trip
Q1. Which island is best in Andaman?
Some of the must-visit islands in Andaman include Havelock Island, Neil Island, Long Island, Rangat Island, Baratang Island, and many more.
Q2. How many days are enough for Andaman?
If you want to enjoy an extremely unforgettable, book a 10-day trip. In these days you can visit many famous islands, relax by the beach, visit various restaurants and historical sites and also try hands at watersports.
Q3. Is alcohol available in Andaman?
Yes, you can easily find liquor shops in Andaman. Although it is restricted in some parts, in most of the islands, liquor can be purchased at government licenses stores.
Q4. What is the famous food of Andaman?
Andamanese cuisine is There are various restaurants in Andaman where you can try a wide variety of seafood.
Q5. Do you need a passport to travel to Andaman?
Since Andaman is a part of India, you do not need a passport or special permit to visit here.
19 Best Hotels And Resorts In Andaman That Fit Under Every Budget
If you want a perfect haven from the humdrum of daily life, plan a romantic trip to Andaman with your partner. Adventurous water activities, enthralling sea views and an ambiance filled with sheer tranquility will surely treat your senses. If a vacation is what you're looking for, go ahead and customize your own package