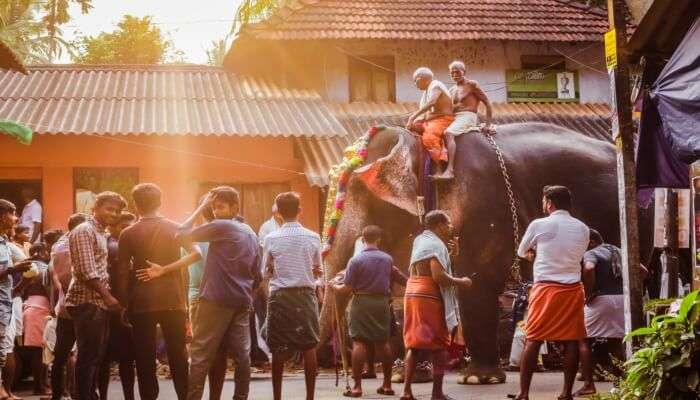 Surrounded by the Nilgiris hills on the East and the Arabian Sea on the west, the district of Malappuram is remarkable for its unique natural beauty. Malappuram, literally meaning the terrace atop hills and it is enriched with three great rivers meandering through it – the Chaliyar, Kadalundi, and the Bharathapuzha. The rich cultural legacy of the temples in Malappuram is unparalleled. Malappuram is one of the two Muslim-majority districts in south India. The Hindu temples and the Moplah mosques of this region are famous for their colourful festivals. Scroll below to walk through some of the most renowned temples of this city.
8 Best Temples In Malappuram
Find the most popular temples that pilgrims and spiritual souls can pay a visit to when they're visiting this city in Kerala. Find the interesting history behind each one of them and what makes them so famous!
1. Alathiyur Hanuman Temple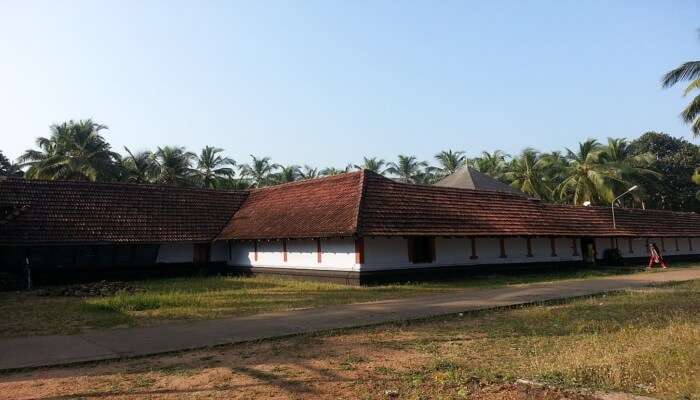 Situated in the small village of Alathiyur of Malappuram district, Althiyur Hanuman Temple is one of the most celebrated Hanuman temples in Malappuram. Believed to be constructed over 3000 years ago, the effigy of Lord Hanuman present in its complex was sanctified by the revered Saptrishi, Guru Vashista. Since Lord Hanuman was the devoted follower of Lord Rama, you can also find the idols of Lord Rama along with his wife, Goddess Sita, and his brothers, Lord Lakshmana and Lord Bharatha. Shrines of these deities are strategically constructed to resemble the glorious scene of the holy epic Ramayana.
Timings: 5:00 am – 10:00 pm
Must Read: 5 Best Waterparks In Malappuram Where You Can Splash Away Your Worries!
2. Garuda Temple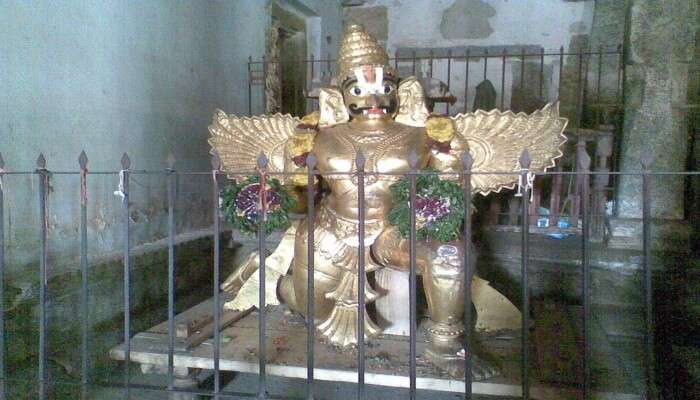 Locally known as Vellamassery Garudan Kavu Temple, the Garuda Temple of Malappuram dates back over 1800 years ago. Falling en-route the holy Sabarimala Temple, it lies near Tirur of Malappuram district in Kerala. Pilgrims praying devotedly to Lord Garuda at this shrine are said to get relieved of long illnesses and diseases. Little snake sculptures coated with golden paint are also established inside the complex, depicting the Lord's powers of curing poisonous snake bites. This is one of the most famous temples in Malappuram known for its grandeur and rich architectural beauty.
Timings: 5:00 am – 10:00 am and 5:00 pm – 6:00 pm (Monday to Friday). 5:00 am – 10:30 am and 4:30 pm – 6:00 pm (Saturday and Sunday).
Suggested Read: Top 9 Restaurants In Malappuram To Grab A Sumptuous Meal!
3. Navamukunda Temple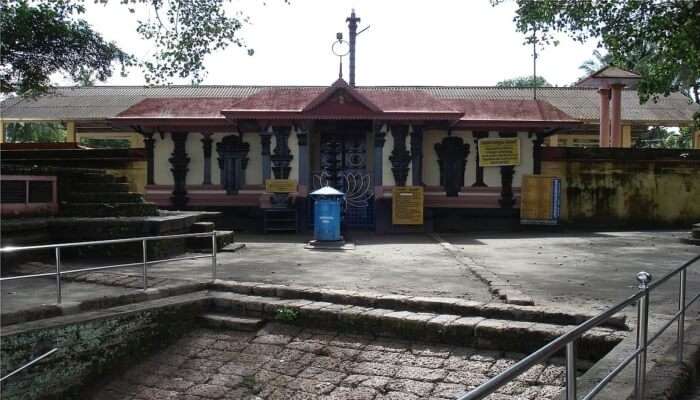 With the holy waters of river Bharatappuzha flowing adjacent to the shrine, the ancient Navamukunda Temple is a remarkable Vaishnavite temple of South India. It is situated in the pilgrim town of Thirunavaya. Designed in traditional Keralan architecture, the rectangular complex of this temple encloses the main shrine along with little temples worshipping other Hindu deities. Pilgrims travel to the temple to be blessed with wealth and perform rituals for the departed souls of their forefathers. A fair is organised on the banks of river Bharatappuzha where all auspicious ceremonies and rituals take place.
Timings: 5:00 am – 10:00 am and 4:00 pm – 7:00 pm every day
Suggested Read: 23 Best Places To Visit In Malappuram To Satiate Your Wanderlust While In Kerala!
4. Keraladithyapuram Temple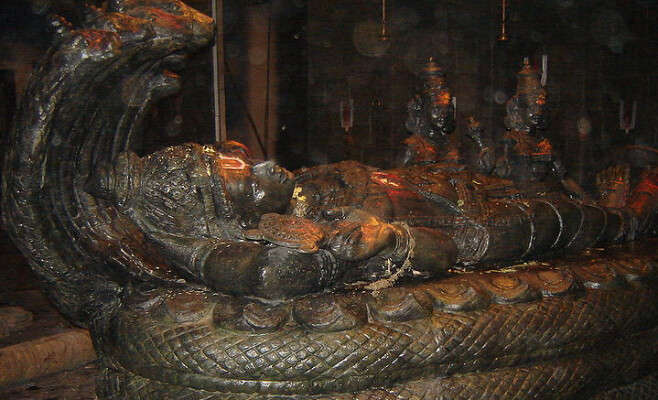 NOTE: The image is for representation purpose only.
Swaying palm trees lining the Malabar Coast form the scenery of the petite town of Thanur, the setting of Keraladesshapuram Temple. With a history dating back to over 3000 years, this ancient temple is amongst the oldest throughout the state of Kerala. Worshippers of Lord Vishnu visit this shrine to pay obeisance and seek the blessings of their god. The temple also houses a magnificent effigy of Lord Krishna. In the mid-18th century, the emperor of Mysore, Tipu Sultan, invaded the temple and caused damages. However, with the effort of ardent worshippers, the temple and its idols were rebuilt and preserved in its pristine form.
Timings: 5:00 am – 10:00 am and 4:00 pm – 7:00 pm every day
Suggested Read: 4 Days In Kerala: Best Places To Visit And Amazing Things To Do
---
Planning your holiday in Kerala but confused about what to do? These Kerala travel stories help you find your best trip ever!
---
5. Kadampuzha Bhagavathy Temple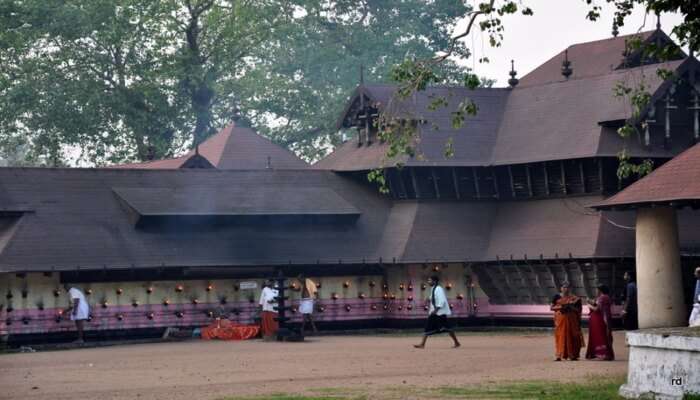 Image Source
Situated in the narrow bustling lanes of Kadampuzha city is the magnificent Kadampuzha Bhagvathi Temple. Honouring the fiery goddess Durga, this holy temple is visited by people seeking blessings for an auspicious start, or for performing rituals to cast off evil eye from new vehicles. Interestingly, instead of the traditional idol of Goddess Durga mounted on an idol, the temple has a small pit where all the rituals and offerings are performed. Legend says that there was a radiant idol of the goddess on this very spot.
Timings: 5:00 am – 8:00 pm
Suggested Read: Here's Why Off Season In Kerala Is The Best Time To Travel, Explore, And Chill!
6. Thirumandhamkunnu Temple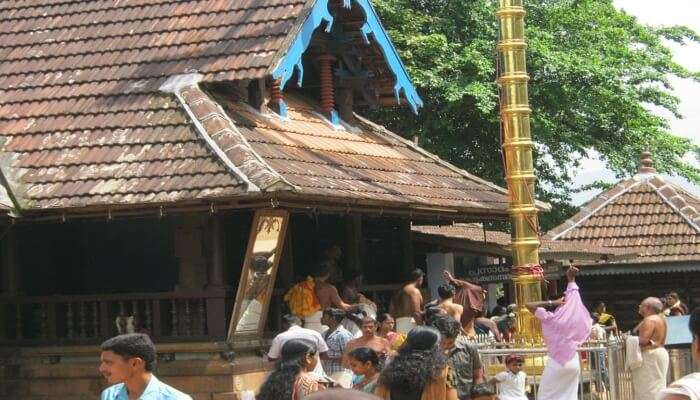 In the pilgrim town of Angadipuram lies the Hindu temple of Thirumanthamkunnu. Cradled by lush greenery and rural scenery from all sides, this temple is known for its architectural beauty and picturesque surroundings. Despite primarily being a Shiva temple, the temple is renowned for the great offerings made to the avatar of Goddess Parvati, Goddess Bhadrakali. Pilgrims seeking repentance for their sins travel from far corners to visit the goddess' shrine. It is also said that praying with full devotion and passion at this temple also brings prosperity and harmony in the worshipper's life.
Timings: 5:00 am – 8:00 pm
Suggested Read: Trekking In Kerala 2022: A Short Guide For Beginners To Have An Ultimate Experience!
7. Venkitta Thevar Temple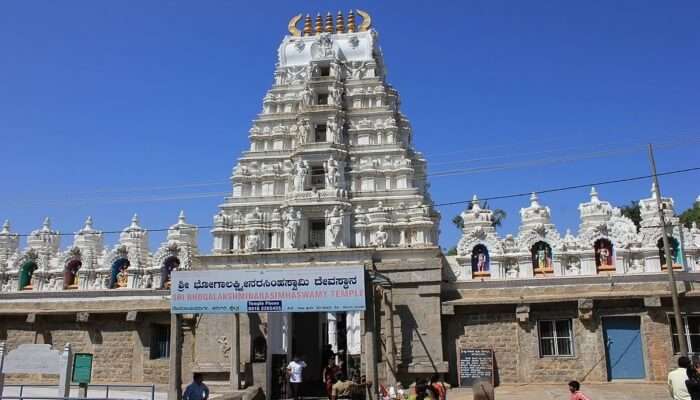 This Malappuram mandir is a shrine dedicated to Lord Shiva. It is a rock temple, believed to be constructed during the 7th – 8th century period. Its architecture is of Dravidian style with influences of the Pallava art. The chief deity of this temple is Lord Shiva. This is one of the most famous Shiva temples in Malappuram that is believed to be made by cutting and carving from the mountain rock. This temple is acclaimed for etchings and paintings on its walls. This temple offers a visual delight to the devotees with about 64 types of mural paintings inscribed on the walls.
Timings: 5:00 am – 10:30 am and 4:00 pm – 7:30 pm
Suggested Read: 57 Best Places To Visit In Kerala For An Enchanting Holiday In The Year 2022
8. Nalambalam Temple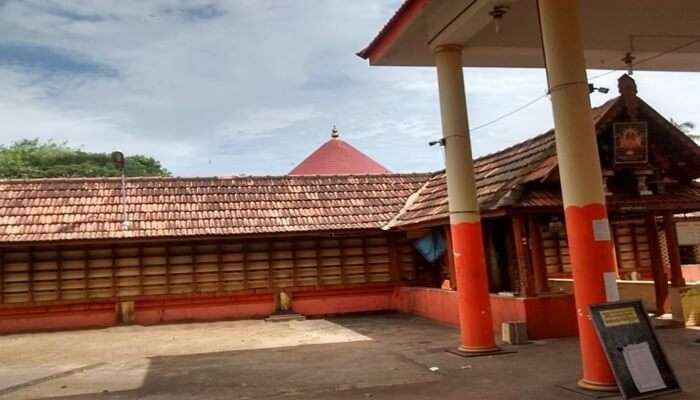 Since times unknown, the people of the city of Malappuram have recited and upheld the stories citing their city's roots to the legend of Ramayana. It is believed that about thousands of years ago, a brahmin (Hindu priest) travelling from Nepal halted for rest at a household in Kerala. In his arms, he carried a divine idol of Lord Rama. Upon arriving at the house, he asked the females of the house to look after the idol until he was back. After that, the brahmin set out to perform his evening prayers and meditation.
Further Read: 12 Famous Churches In Kerala That Can Take You By Surprise With Their Magnificence
The simplicity of the Keralan temple architecture will capture your souls as you walk through the halls, praying to your god. You will feel blissful as the tranquillity of the setting will encapsulate your mind. The temples of Malappuram become some of the most scenic religious places that you can visit on your trip to Kerala as the emerald greenery blends beautifully with the divinity of the sacred shrines.
Frequently Asked Questions About Temples In Malappuram
How many temples are there in Malappuram?
There are numerous temples in Malappuram dedicated to various Hindu gods and goddesses. Also being a Muslim-majority district, it also has many beautiful mosques. The temples are famous for their rich heritage, culture, and colourful festivals.
Is there any dress code for visiting the temples in Malappuram?
Temples in Malappuram have a strict dress code. Western wear like shorts, Bermuda, skirt, etc. is not allowed when visiting the temples. Also, in some temples, men are expected to remove the shirt and wear dhoti while entering.
Are there any rules to be followed when visiting a temple in Malappuram?
There are some general rules to be followed when visiting the temples. Remove footwear before entering the temple premises. Mobile phones and cameras are not allowed inside the temples. Many temples do not allow devotees to touch the deities. The proper way to visit all the shrines is in the clockwise pattern.
How many days are required to fully explore the city of Malappuram?
It is best to plan a trip of about 3-4 days to fully explore the city, its temples and other sight-seeings.
What is the best mode of transportation to travel in Malappuram?
Local buses and cab services are the go-to modes of transport to travel locally in Malappuram.
What are the famous tourist attractions can one visit in Malappuram?
Other than temples, there are many picturesque tourist places to visit in Malappuram. Some of them are Mini Ooty, Nilambur teak museum, Kottakkunnu, Nedumkayam, Kodikuthimala, etc.
---
People Also Read:
Temples In Varanasi Temples In Alleppey Temples In Ahmedabad
Comments
comments