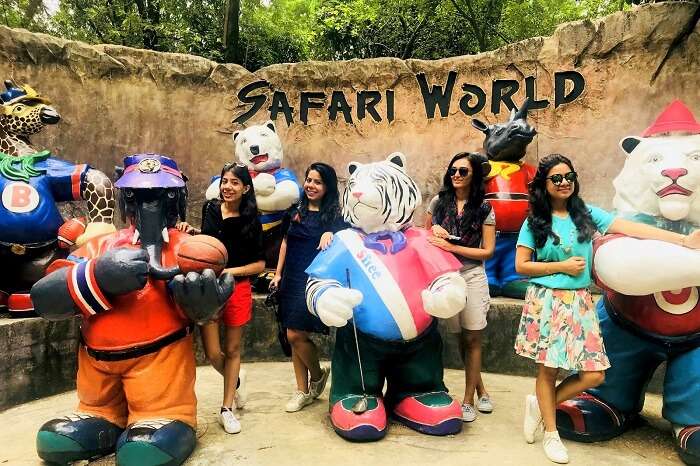 Pooja had long craved a good holiday with her three best friends. So, when the time was right, they ditched monotony, packed their hats and sunscreen, and flew off to Thailand with a customized 9 days Thailand tour package. Their trip had everything a girls escapade could ask for – fun, glamour, and a whole lot of shopping! Here is an account of our exciting getaway with major Thailand shopping tips that no tourist guide will ever give you!
Trip Type: An All Girls Getaway
Trip Cost: INR 2,13,200/-
Agent Name: Journey Routers
Inclusions: Airport Transfers, Breakfast, Airfare, Local Transfers, English Speaking Driver, Sightseeing, Government Taxes and Service Charges
Exclusions: Lunch, Dinner, Visa
It all started with "Let's go somewhere, we really need a good vacation", and immediately, everyone was in on the plan! From all the places we had scribbled down on our list, we ended up picking Thailand since it's the perfect destination for an all-girls vacay with its fun vibe and sparkling nightlife.
Why We Chose TravelTriangle:
"Hey guys, my friend once told me about TravelTriangle. Should we try it?"
And boy, am I glad that I did! We posted our preferences on the website and within no time at all, we received itineraries and quotations from different agents, each offering the best deals in the market.
With the help of Journey Routers, we were able to plan our all girls trip with so much ease and comfort. Within two weeks we were all set with our itinerary and plan, thanks to Amit from Journey Routers. Being travel enthusiasts, we wanted to be sure that our first international trip together would be worthwhile and a memorable one and Journey Routers played a major role in making sure that it was!
The plan was in place and the payments were through. Soon the 'Veeras' were on a flight to Bangkok, and that's when the excitement really kicked in! Here we share our amazing journey to inspire you to always keep the love for travel alive!
Cheap Shopping In Pattaya, Meeting Tigers, And Underwater Sea Walk!
Here's how to blend adventure, fun, and shopping in the charming city of Pattaya:
DAY 1: Arrival in Pattaya
We kickstarted our all-girls trip to Thailand by driving off to Pattaya from Bangkok at 8 AM in a very comfortable car. After a 2-hour long refreshing road journey, we were at our destination – Golden Sea Hotel Pattaya, where we were welcomed with cool local drinks.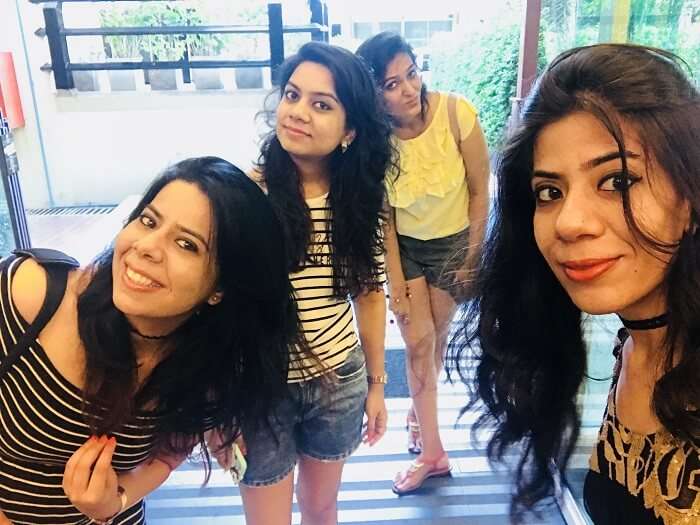 This Is Why A Thailand Group Tour Is A Smart Option For Those Who Want To See More & Spend Less
After giving some time for relaxation, we all were set to explore the city by evening, and our first stop was Alcazar Cabaret show. The show has very enthusiastic performers, where you can witness different cultures from across the globe. It was an amazing display of dance and acting. After the show, we went on to have some awesome Thai food at a local joint as suggested by our guide. We ended the first day with a walk around the hotel where we visited local stores.
DAY 2: Pattaya – Coral Island and Tiger Park
After a refreshing breakfast, we took off for the beautiful Coral Island at around 9 AM in the morning. The Coral Island gives you the opportunity to go wild amid numerous adventurous sports. We did parasailing, Underwater Sea Walk, jet skiing, and the banana boat ride.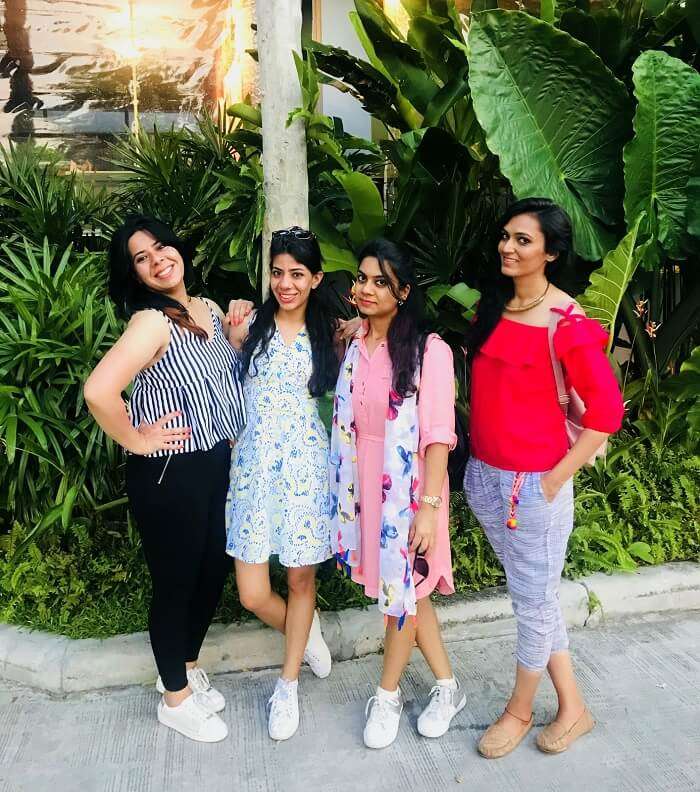 We all were a little nervous during the Underwater Sea Walk, as none of us could swim well and two us of are even aquaphobic to some extent. But the instructors assured us of our safety the unique experience of witnessing corals and feeding fishes at the bottom of the sea made it worth the effort!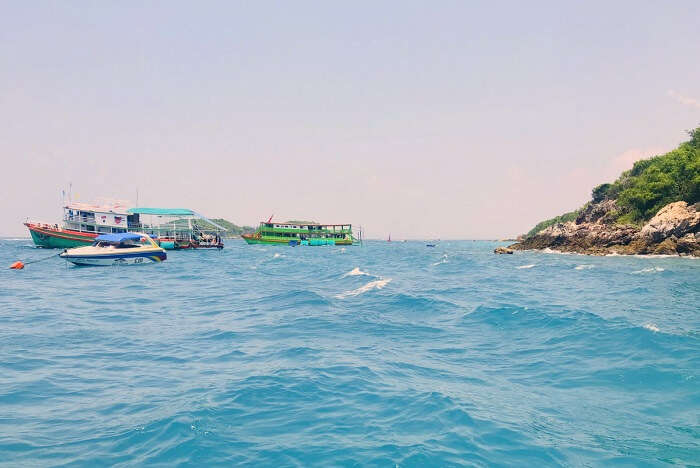 A Friends Trip To Thailand For The Best Party Scene In Asia!
We visited the Tiger Park in the evening and got some pictures clicked the biggest of the lot. Though the experience was definitely a scary one (imagine caressing a tiger and smiling through the fear for a picture!) but we all managed to 'come out alive' to explore more of Thailand!
DAY 3: Pattaya – City Tour and UnderMarine Aquarium
After our adventurous, yet tiring gigs on the second day, we had opted for a relaxed routine to explore Pattaya and visit the alluring world of Under Marine on the third day. We headed to the Under Marine world to explore different fish, sea turtles, and water spiders, and our favourite was the Jellyfish region with Neon Light effects!
On our way back, we witnessed the amazing Songkran festival of Thailand which is celebrated in mid-April. It's pretty much like Holi in India, but they splash cold water instead of colours.
Pattaya Shopping Tips
Pattaya is famous for its collection of Gemstones and Pearls. If you're looking for certified gem and pearl jewelry in great designs and affordable prices, head to the World Gems Collection Gallery. After all, what's a girls trip without a little bling and sparkle!
You can buy beautiful pearl strings and earrings, and even grab your favorite birthstones in different variants like pendants, rings, and bracelets. The pearl accessories will cost you around INR 4,500 – 5,000 on an average, while the price of the birthstones will depend on the type of stone. It's the best place to shop for gems and pearls in Thailand and you'll surely get a great deal for the quality and designs they offer!
They also have an amazing & very extensive collection of leather items, scented soaps, oils, and essence, each of which will cost around INR 150 – 200. Their collection of essence is must-grabs!
For cheap shopping in Pattaya, head to the Pattaya City Avenue which is a great place for roadside shopping and local BBQ delights. Everything you pick will make you realize how low Thailand shopping prices are and why it's a paradise for shopaholics like us! You can get almost everything in this flea market from jewelry, accessories, clothes, packaged snacks, to utility items like portable sewing machines and even electronics as cheap as INR 150 – 400 on an average.
Looking for cheap Fish Spa in Thailand? You can get it right here in about INR 150 for a spa of 45 minutes (if you bargain well).
Thailand Shopping: The Secret Sauce To The Best Buys In Thailand For 2022
Cheap Shopping In Bangkok, Serene Temples, And Colourful Parakeets
Here's how we experienced pure bliss in Bangkok and what all trinkets we grabbed from its bustling markets:
DAY 4: Back to Bangkok and City Tour
We headed back to Bangkok by road and made ourselves comfortable at Citin Pratunam Hotel which is in the middle of Indira Market – a haven for cheap shopping in Thailand!


We dumped our bags in the room and headed out to explore the famous temple of Bangkok – Wat Traimit (Temple of Golden Buddha). It houses the world's largest massive gold seated Sukhothai style Buddha that is a sight to behold! From there, we visited another beautiful temple, the Wat Mahaprutharam, which also has a statue of Buddha sitting under the sacred Bodhi tree surrounded by breathtaking sculptures, attractive artwork, and royal architecture. Our day couldn't have been more pure, calm, and peaceful!

 Our Friends Trip To Thailand Will Make You Prepone Your Holiday Plans!
DAY 5: Bangkok – A wild and adventurous trip to Safari World
The most awaited day of our all-girls trip to Thailand was finally upon us! We headed out for an hour-long journey to Safari World and Marine Park & the first creatures we spotted were these beautiful and colourful Macaw Parrots.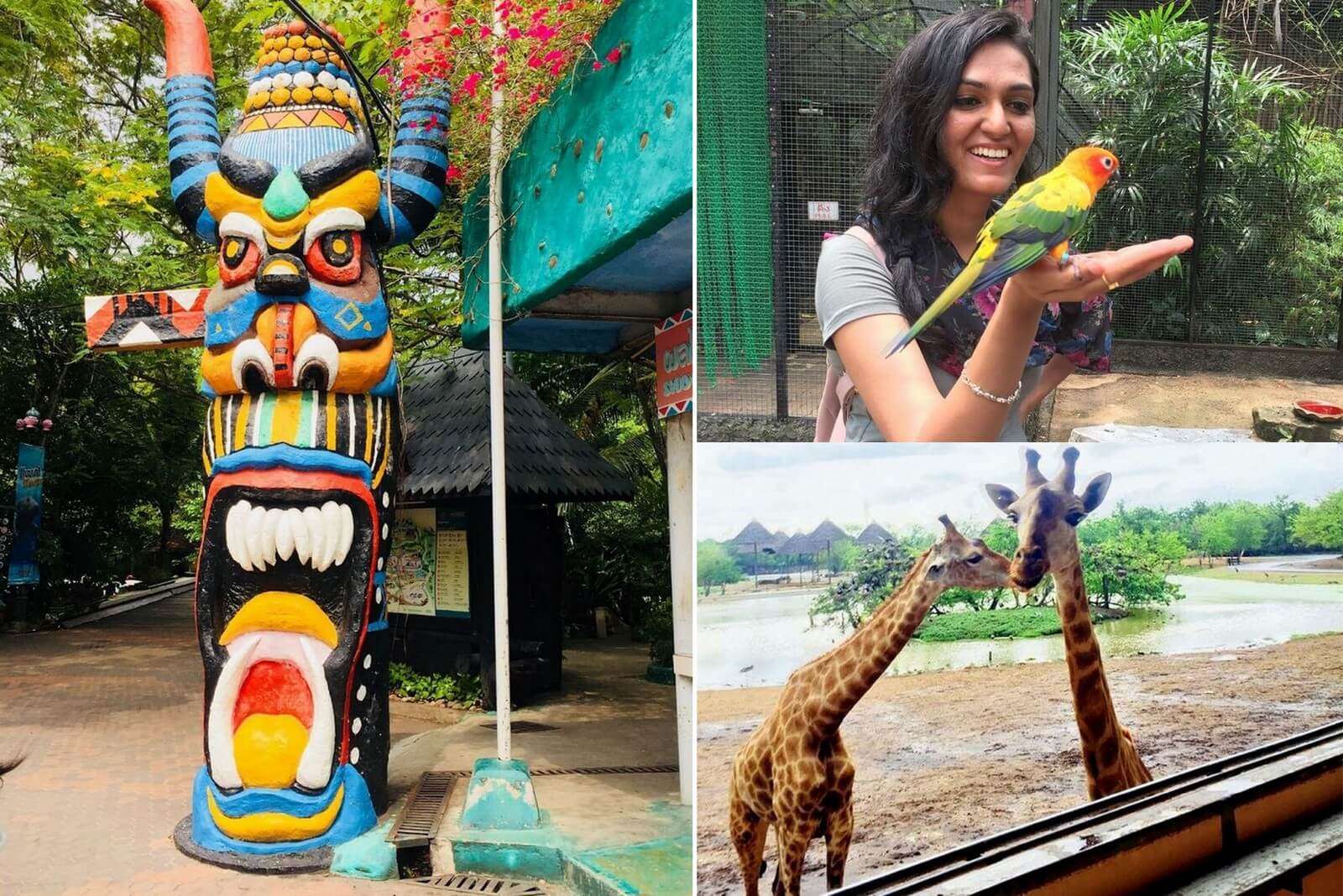 The park's whole setup is like that of a Jungle with sheltered gardens and walkways. We could spot different animals and birds like Lions, Kangaroos, White Tigers, Gorillas, Swans, and Giant Flamingos. The park also runs different shows and the most amazing ones are the Dolphin Show, Orangutan Boxing, as well as the dedicated bird and giraffe feeding areas where you can feed these gentle creatures from table tops.
Bangkok Shopping Tips
The Indira Market is the ultimate stop for cheap shopping in Bangkok (try and stay at the Citin Pratunam Hotel which is incredibly close to this market and will make your shopping experience all the more easy and fun). At Indira, you can buy a range of goodies like:
Trendy bags – INR 250 – 500
Cute dresses, tops, shorts, jumpsuits – INR 200 – 800
Fashionable sunglasses (good quality copies) – INR 200 – 400
Things like shoes, accessories, and jewelry are also up for grabs here at rock bottom rates. You can bargain, but not stubbornly since Bangkok shopping prices are amongst the lowest in Thailand (and anywhere else for that matter!).
If you're looking for more places for cheap shopping in Bangkok, head to the Platinum Mall. Here, you can buy Thai Silk scarves (INR 300 – 450) and scented soaps (INR 200 for 5 soaps).
You can also grab great home decor items, gifts, and souvenirs just within a range of INR 40 – 600. Some of the most common things people buy here include:
Scented candle sets
Wall hangings and paintings
Shots glasses
Vases
Statues
Lights
Fridge magnets
Postcards
Shells
If you wish to bargain, make sure you buy in bulk in order to get good deals.
Thailand Street Food: A Gastronomical Guide To The Best Local Dishes And Where To Find Them!
Cheap Shopping In Phuket, Scuba Diving, & Meeting A 'Rockstar'!
---
Planning your holiday in Thailand but confused about what to do? These Thailand travel stories help you find your best trip ever!
Real travel stories. Real stays. Handy tips to help you make the right choice.
---
See what we did in Phuket and Phi Phi Islands other than engaging in a soul-soothing retail therapy:
DAY 6: Flight to Phuket
We took our Thai Airways flight from Bangkok to Phuket and both the journey and services were very comfortable.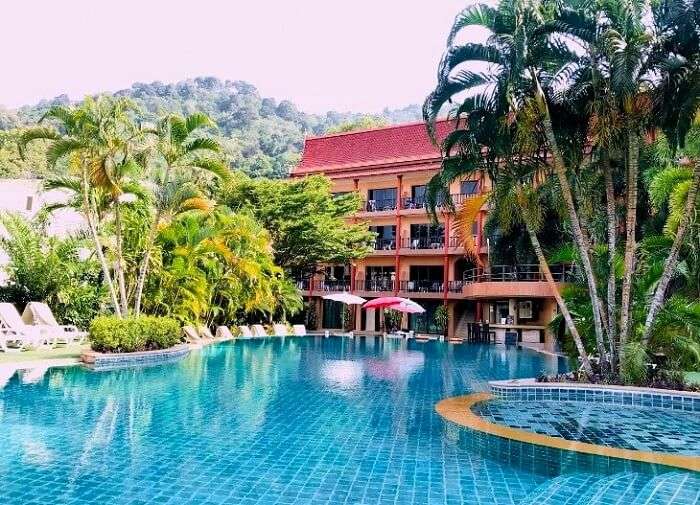 We arrived in Phuket earlier than we had expected and were transferred to Casa Del M Resort that had beautiful cottage-like rooms and a massive swimming pool.
DAY 7: Phi Phi Island – Our ZNMD moment under the sea!
Our TravelTriangle guide had advised us to take a motorboat in order to get to Phi Phi Island instead of the large cruise ship. It turned out to be a really helpful suggestion as it enabled us to make up time and explore more in this beautiful island. The guide took us on a motorboat to the first spot – Maya Bay, and we were awestruck by the beauty of the place which is a paradise in itself!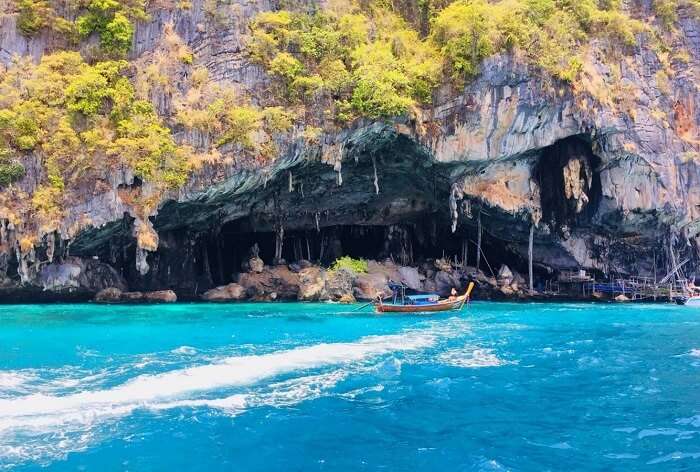 10 Best Indian Restaurants In Bangkok That Will Add A Vivacious Flavor To Your Vacation In Thailand
Once here, we decided to try Scuba Diving. We were definitely frightened as we had never done it before, but we had full faith in our expert instructors as Phi Phi Islands is one of the few best places for scuba diving in the world.
Scuba Diving In Phi Phi Islands:
"Pighlay neelam se behta hua yeh samaan. Neeli neeli si khamoshiyan. Na kahin hai zameen, na kahin aasmaan" (The moment seems to flow like molten sapphire and there's deep blue silence. Neither is there land below, nor sky above us) – Farhan Akhtar in ZNMD. Being a part of their world was exactly as had been described in this movie – "Being fully alive to each and every moment of our existence!"
As we swam deeper and deeper into this part of the world, the views, the fish, the colorful corals, and the calmness and tranquility we experienced made us forget everything else. Thanks to our patient and encouraging trainers, we could somewhat overcome our fear of the water, and scribble off one item from our bucket list!
After a tasteful lunch buffet at the island and some more island hopping, we came back to Phuket. In the evening, we relaxed at the hotel restaurant which offered an amazing view of the city. We spent the evening in the company of some delightful Italian cuisine, amazing terrace views of the Phuket, and some light gossip.
DAY 8: Phuket City Tour
The last day of our Thailand trip was dedicated to an extensive Phuket City Tour. The tour guide was a very jolly person and gave us plentiful insights into the history of the city and relevance of Buddhism.
We got to the top of Phuket to get a magnificent city view and later headed to the Wat Chalong Buddha Temple that has wall paintings and architecture depicting Buddha's life story. Here, apart from experiencing utter peace and calm, we also spotted this cute little Rockstar, before heading to the best Indian food restaurant in the area – Bollywood Restaurant.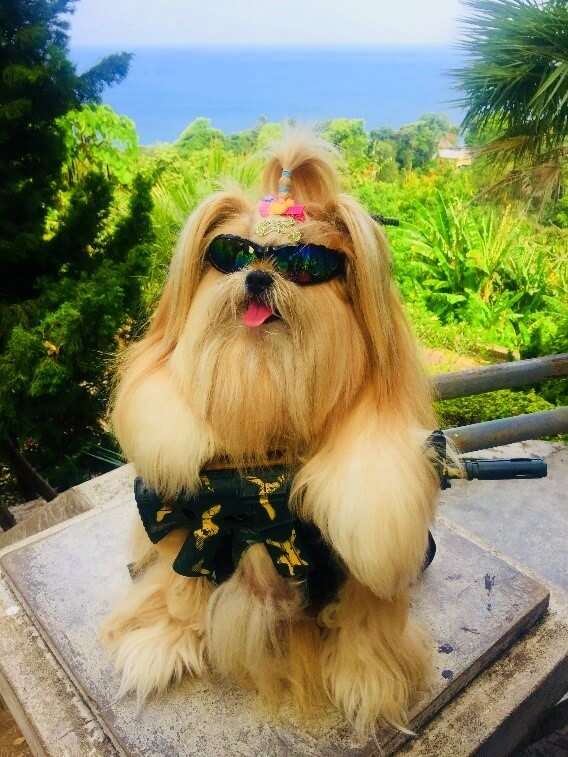 13 Best Places For Shopping In Phuket That Prove Thailand Is The Ultimate Paradise!
After a hearty meal, we headed straight to the airport and flew back to Bangkok for our connecting flight to Kolkata where we had a one-day layover. Making the most of the time we had at the Bangkok airport before our flight, we decided to experience duty-free shopping in Thailand and bought chocolates and booze.
Phuket Shopping Tips
We didn't do a lot of shopping in Phuket, but that doesn't mean we didn't get you some handy Thailand shopping tips from this city!
Apart from the usual malls and markets, Pattaya also has some nice gem and jewelry stores that give good quality ornaments, but the prices are a little higher than what you'll find in Pattaya.
For some cheap shopping in Phuket for food items, you can head to the cashew factory called Methee Phuket. Here you can grab cashews in unique flavors like Wasabi and BBQ, along with all varieties of dried fruits and nuts. Though the prices vary from medium to high, the flavors and variety make it worth every penny!
DAY 9: Layover at Kolkata
We landed in Kolkata early morning and then headed to our hotel. After refreshing ourselves after the long journey, we decided to treat our taste buds to some desi delights at the famous Haldiram shop nearby.
15 Holiday Homes In Thailand You'll Never Want To Leave
After this, we went for local shopping as the beautiful Kolkata market has some really good stuff that one can buy at very reasonable prices. For starters, you can check out Kolkata Silk or embroidery sarees in the Gariahat Market and buy the best quality leather from Sreeleathers at New Market.
Don't miss out on the street food experience in Kolkata! We tried everything from Puchkas (Pani Puri), Jhaal Muri (made of puffed rice), and Kolkata sweets like 'Sondesh' and 'Roshogullas'!
With all that Thailand offered, there couldn't have been a better place to satiate our wanderlust…for the time being! ;-) Also, we hope our Thailand shopping tips help you on your own fun escapade to this wonderful country.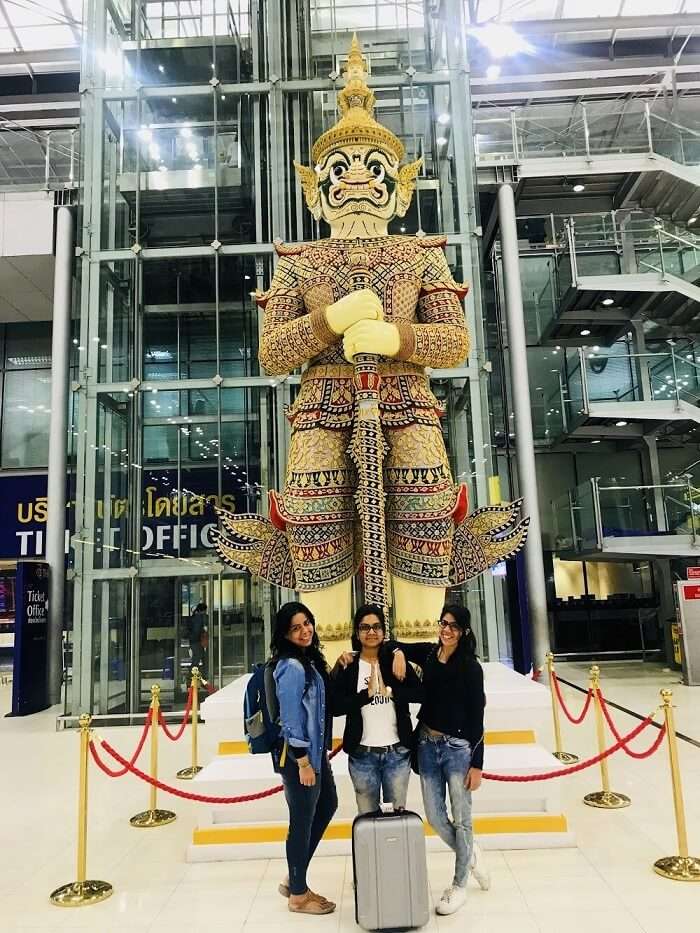 Our WOW Moments On The Trip:
Every bit of it!
Our Experience With TravelTriangle:
We were a little skeptical about having an all-girls trip to a new and unknown land. But with the help of TravelTriangle and Journey Routers, the entire trip was fun, relaxing, hassle-free, comfortable, and convenient, all at a very reasonable price (with no hidden costs or terms!)
We are thankful to the team at TravelTriangle as well as Journey Routers and we really look forward to taking another rocking trip in the future with the help of TravelTriangle.
Tips For Future Travelers
Many flea markets in Pattaya and Bangkok give last minute deals before bringing down the shutters, so you can grab great items at the cheapest prices during closing time!
Do not opt for Visa-On-Arrival, as you'll be greeted at the airport with a really long queue for the same. It's not a great idea since you'll be all tired from the traveling.
If you do opt for Visa-On-Arrival, make sure you have every document handy, including a working pen and glue!
Don't miss out on Safari World just because you may have to walk a lot there. The refreshing surroundings and variety of fauna will make it worthwhile.
The baggage weight limit at Phuket Domestic Terminal is only 10 kg, so make sure you arrange around your stuff accordingly well before reaching the luggage check-in counter.
Thailand Visa For Indians: Here's Everything You Need To Know
Craving for your own classy getaway with all this exciting info and a bucket full of handy Thailand shopping tips? We bet you are! Stop dreaming and get to work! Book your own Thailand tour package via TravelTriangle right away and tell your tale of adventure to the world!
---
Looking To Book An International Holiday?
Book memorable holidays on TravelTriangle with 650+ verified travel agents for 65+ domestic and international destinations.
---