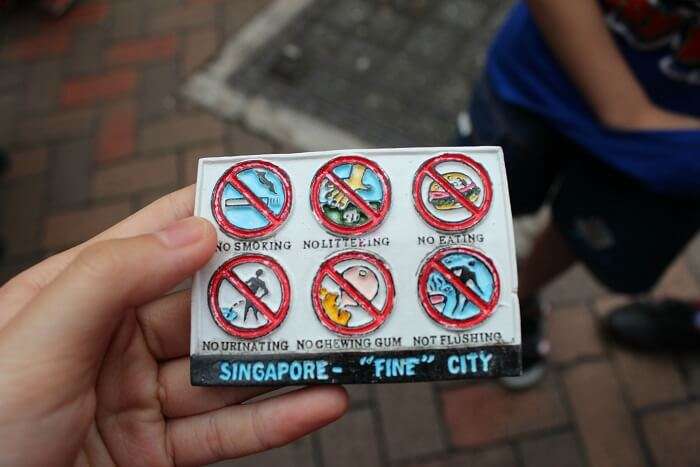 Singapore is a global hub of education, culture, entertainment, tourism, and trade. It has the highest diversity in terms of religion and culture. The country has been adjudged as the best city in the world several times in a row. When you're visiting Singapore, make sure you do not overstep a line and subsequently, offend the locals. The city has formulated several rules and regulations that it expects everyone to abide by. The locals are as vigilant as the authorities about maintaining peace and order. Keeping this in mind, we've shortlisted 15 things not to do in Singapore.
15 Things Not To Do In Singapore
To make sure you do not land in trouble while visiting this fine city, we have put together a list of 15 things not to do in Singapore that you should take care of:
Do Not Litter
Chewing Gum Can Earn You A Penalty
Avoid Taking Public Transport During Peak Hours
Do Now Show The Bottom Of Your Feet
Avoid Discussing Extreme Political Or Religious Views In Public
Tipping Isn't Customary
Eating And Drinking On Public Transport Can Be Penalised
Do Not Connect To Unsecured Network
Be Cautious While Gifting
Do Not Smoke in Public
You Can Be Sued For Pointing Your Fingers At Someone
Taking Drugs Is A Crime
Remember To Flush
Avoid Walking Around Without Clothes Or Watching Adult Films
Avoid Using Taxis
1. Do Not Litter
As easy as it seems, you do not want to overlook it in Singapore. Singapore is one of the cleanest cities in the world and plans to stay that way. The rules regarding the smallest offenses are taken very seriously. If caught littering, you could be charged with a fine of INR 21,000 or you could be penalized to do community work in Singapore to make up for your offense. That is definitely not something you want to pursue your vacation.
Must Read: Blast From The Past: 11 Spectacular Historical Places In Singapore
2. Chewing Gum Can Earn You A Penalty
As devoted as Singapore is to its cleanliness, it has strict opinions about people chewing gum. Even the shops in Singapore do not sell gum because sometimes the way it is disposed of is not in accordance with the cleanliness standards of the city. You are not allowed to chew gum until and unless you have a prescription. This might sound a little absurd to some but let's face it; this is what it takes to get a city as clean as Singapore.
3. Avoid Taking Public Transport During Peak Hours
If you are traveling in groups and intend to keep your pack intact throughout your vacation, in Singapore, you must avoid taking trains or buses during peak hours, i.e. 8 AM – 9 AM and 6 PM – 7 PM. This is also advised in case you do not know the city as the back of your hand, of which the chances are high. The public transports are highly crowded during these hours and you, as a tourist, do not want to be a part of this crowd.
Suggested Read: 14 Ethereal Festivals In Singapore That Will Force You To Ditch Yours In 2022
4. Do Now Show The Bottom Of Your Feet
Although no legal action against you would be taken, someone might get offended if you show your feet, point with your toes or somehow shoe the bottom of your feet. Singapore is an amalgamation of people from all over Asia and in the view of many Asian people lowly feet are considered dirty and showing them to someone might come off as disrespect. Similarly, you do not want to pat someone on their head, even kids because the head is considered sacred and you do not want to meddle with it.
5. Avoid Discussing Extreme Political Or Religious Views In Public
Singapore, being a conglomerate of 15% Malaysian, 6% Indian and 76% Chinese cultures,, does not want any of if inhabitants to be offended on the grounds of politics or religion. Religion and Politics are the sensitive strings you do not want to tug at. The religious harmony and tolerance here is already at its best and is the last thing you want to put to imbalance here. Respectful conversations are harmless but do not start one until you know you can keep your cool. Singapore is composed of multicultural societies and you are expected to be sensitive to the fact.
Suggested Read: 20 Romantic Places To Visit In Singapore For Honeymoon In 2022
6. Tipping Isn't Customary
No matter how good a mood you are in or how happy the cuisines of Singapore make you, do not tip at a restaurant or a café or wherever it is that you are eating. The Goods and Services Tax will be added to your bill along with Service charges, which sounds synonymous with "tip" so you do not have to pay anything out of the way. You do not want to disrespect the people who served you well!
7. Eating And Drinking On Public Transport Can Be Penalised
Singapore has one of the world's most advanced transport systems. The public transport of Singapore has been a "no eating or drinking" zone since decades. You could be charged with up to $500 if caught snacking on a public train or a bus. However, if you're claustrophobic, it is okay to sip on water or pop a mint, but that is it. When we talk about public transport, the station premises and waiting areas are included.
Suggested Read: 9 Popular Hindu Temples In Singapore To Turn Your Trip Into A Mini Pilgrimage
8. Do Not Connect To Unsecured Network
When visiting Singapore, you do not want to commit a crime akin to hacking. This is not an empty warning but actually holds true under the Computer Misuse Act. So while you are in Singapore, make sure you turn off the "auto-discovery" setting so that even unintentionally, you do not commit a crime in a foreign country.
Suggested Read: Famous Drinks In Singapore: 12 Lip-Smacking Beverages To Quench Your Thirst In 2022
9. Be Cautious While Gifting
In a place like Singapore, it is very likely that you might have had amazing hosts or made friends with a few local citizens during a longer stay and it is also very likely that you want to gift these people something before you bid adieu. In Singapore, it is advised to be very careful with what are you giving to whom. You wouldn't want to gift handkerchiefs, flowers or clocks to a Chinese or leather and pigskin goods to an Indian or Malay to a Muslim. Moreover, it is ill-advised to use your left hand while passing a gift to someone. And while accepting one, do not jump at the gift with excitement but refuse it thrice, graciously without finally accepting it.
10. Do Not Smoke in Public
This should not come as a surprise to you after the one where food isn't allowed in public transports. And even though Singapore might not be the only place with the non-smoking protocol, Singapore is pretty intolerant about it. You could be charged a fine of a minimum $200. In Singapore, there are areas which are designated for smoking and you could light it up there with all the ease. But even there, make sure you don't drop a butt or two or you might be fined for littering.
11. You Can Be Sued For Pointing Your Fingers At Someone
Although this is one of the most common etiquettes of the entire mankind, make it a point to not point your finger at someone here. It is considered rude and should be avoided. Even if you couldn't keep your excitement make sure you politely apologize to whoever thinks you have pointed a finger at them.
12. Taking Drugs Is A Crime
Even before arriving here, it is advised to keep your system clean. Singapore prides itself on its tough stance and if traces of any sorts of illegal drugs are detected in your body, one of the best trips of your life might just turn into your worst nightmare. As outrageous as it sounds to you, it does not matter because there is a reason Singapore is one of the countries with the lowest rate of drug abuse.
13. Remember To Flush

Image Courtesy: daily.wordreference
This is one of the must remember things you should not do in Singapore. Although it is generally a civic duty and human mannerisms to press the flush after finishing off your business, Singapore has taken this task to a legal extreme. Singapore has dedicated officers to go on random rounds and check the urinals If someone is found guilty of not flushing, they will be fined $150 for the offense. This might sound barbaric to some, but think about being welcomed by a clean and hygienic public loo to get done with your doody!
14. Avoid Walking Around Without Clothes Or Watching Adult Films

Nudity is a big no in Singapore, be it in public or in private! It might seem like unfair enforcement but that's how it is Singapore and one of the things you're not allowed to do in Singapore. If someone gets a sneak peek of your room from your window, you will have to face a $2000 fine or up to 3 months of jail time. It is better to keep all the curtains closed well. As for adult films, it is advised that one avoids watching them even in private. The MDA in Singapore is mainly concerned about purveyors and distributors of these adult films, but consumers should also treat cautiously.
15. Avoid Using Taxis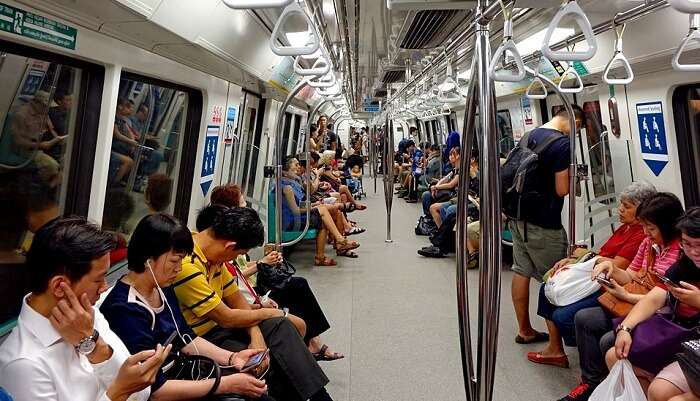 Singapore is home to the fastest railway network, the Mass Rapid Transit system taking a taxi would anyway be an insult to it. The cost of taxis in Singapore is pretty high and that can be avoided by making use of the other famous public transport. The MRT is not only a comfortable mode to travel around the city, but most of the main landmarks of Singapore are also within the vicinity of the station. Moreover, the public also has access to the buses which are well air-conditioned double-deckers and offer some of the most scenic views of the nation well under budget.
Further Read: 10 Alluring Night Markets In Singapore That'll Be Easy On Your Pockets!
It is worth following all the rules, as minor as they seem, of a country. You do not want to disrespect the local citizens or embarrass your own self on your Book your trip to Singapore . Singapore would be one of the best experiences of your life, provided you do not meddle with its code of conduct. Most of the rules states here fall under the category of common civil conduct and if you rolled your eyes reading even a single one of there, it is time you do a self-check.
Frequently Asked Questions About Things Not To Do In Singapore
Can you wear shorts in Singapore?
Yes, wearing shorts in Singapore is not an issue. Although, there are a few exceptions where shorts are a big no-no such as places of worship, fine dining, clubs, and other formal settings.
What should I buy in Singapore?
There are ample souvenirs that one can buy when in Singapore such as miniatures of Merlion, gold plated orchids, orchid perfumes, coconut jam, and many others. One can also buy apparel, electronics, and other such items from Singapore .
Can I use my debit card in Singapore?
Yes, one can use debit cards in Singapore. The most commonly used debit cards are that of Visa, MasterCard, and UnionPay.
Are phones cheaper in Singapore?
If we compare the prices of Singapore and other countries, phones are a few percents cheaper in the nation. For instance, an iPhone XS in Malaysia would be 10 percent more expensive than in the US but it would be much cheaper in Singapore.
Where can I buy cheap things in Singapore?
There are ample places in Singapore that offer items at a cheaper rate such as Bugis Street, Mustafa Centre, Far East Plaza, Lucky Plaza, Scape Underground, and many more.
---
Looking To Book An International Holiday?
Book memorable holidays on TravelTriangle with 650+ verified travel agents for 65+ domestic and international destinations.
---