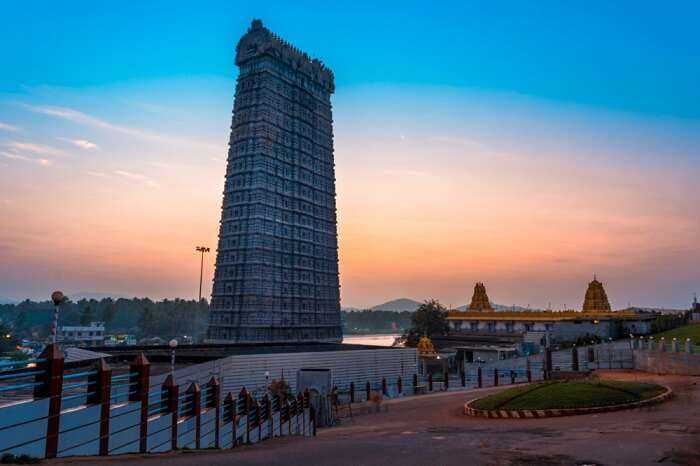 The first sight that catches your eye as you enter this peaceful and scenic seaside town is the majestic statue of Lord Shiva blessing you perched atop a small hillock overlooking the Arabian Sea. Though there are a plethora of things to do in Murudeshwar, the spiritual town's biggest draws are the revered Murudeshwar temple and the heart-shaped Netrani island offering excellent scuba diving and snorkeling opportunities. You can also walk along the serene beach, get great photographs at the Statue Park, visit a coastal fort, indulge in hiking and water sports, and spot some gorgeous waterfalls on your trip to this quaint town.
12 Best Things To Do In Murudeshwar
If you're planning a religious vacation and thinking about what to do in Murudeshwar, make sure to indulge into these offbeat things to do in Karnataka. Keep scrolling down and read along!
1. Lord Shiva Statue: Feel The Divine Presence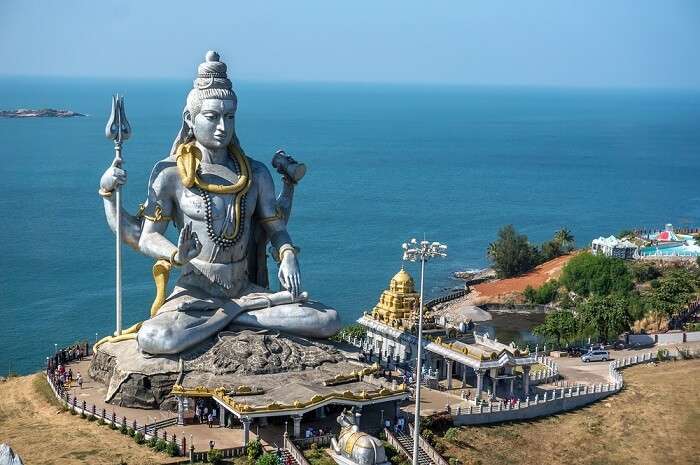 Standing tall on the Kanduka Hill surrounded by water on all three sides is the 123-feet high awe-inspiring colossal Shiva statue and one of the top things to do in Murudeshwar. Even those crossing the town through the Mangalore-Gokarna highway must stop by to feel the divine energy of this majestic piece of art, which is also the second tallest statue of Shiva in the world. Viewing the towering deity from the top of the rajagopuram of the temple with panoramic views of the coast in its backdrop is nothing short of breathtaking.
Timings: 6AM-1PM; 3PM-9PM
20 Temples In Karnataka That Are All About Grandeur That You Must Visit
2. Gopuram: Gaze The Beauty

One of the most spectacular shore temples of India, this magnificent abode of Lord Shiva is said to be one of the sites of the divine atma-lingam. Also known as the Kethappa Narayana temple, its 20-storey high gopuram said to be the tallest in the world is guarded by two life-size elephants. The Dravidian style majestic granite temple is a must-visit during Murudeshwar sightseeing. The sanctum sanctorum is home to one of the original atma-lingas thrown by Ravana, placed 2 feet below the ground level. The complex also houses a small museum explaining the mythical story and significance of the temple.
Entry Fee: No entry fee but Rudrabhishekam ticket costs INR 55 for 2 people
Timings: 6AM-1PM; 3PM-9PM
3. Mirjan Fort: Walk Amidst History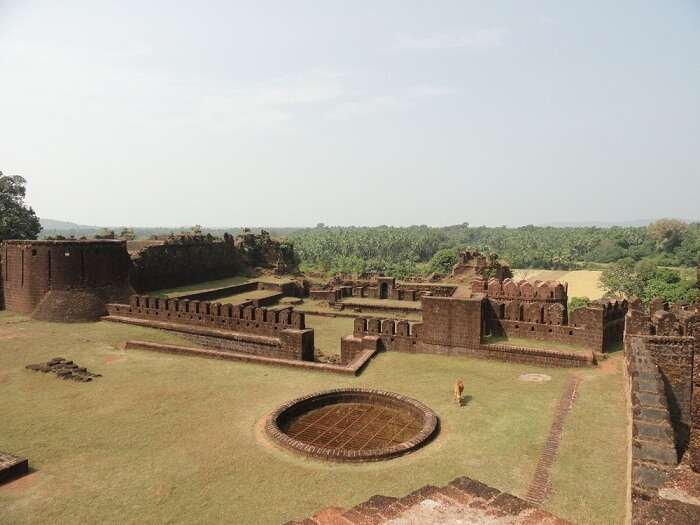 Located at an hour's drive from the pilgrimage town, this historical fort stands testament to the military might of the region and is amongst the best things to do in Murudeshwar for history buffs and photography enthusiasts. One of the lesser-known gems, this ASI preserved monument presents an aesthetically beautiful sight, especially during the rainy season. The sprawling 4 hectare complex with double walls and secret passageways also rewards you with stunning views from above. The construction credits of the 16th-century fort with Deccan and Mughal influences goes to Queen Chennabhaira Devi also called the 'pepper queen'.
Entry Fee: No entry or camera fee.
Timings: 8 AM-6 PM
8 Best National Parks In Karnataka For The Wildlife Enthusiasts To Explore
4. Netrani Island: Explore The Biodiversity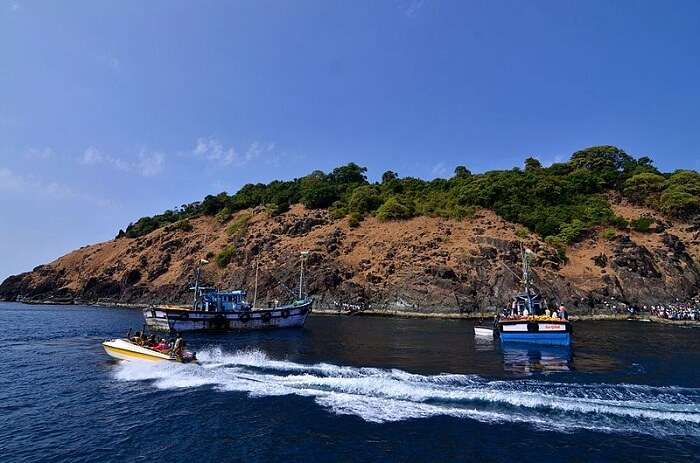 Tucked away in the Arabian Sea, at a distance of 20Kms is Karnataka's best-kept secret: the heart-shaped Netrani Island also christened as the Pigeon Island. One of the best snorkeling sites in Karnataka and the top things to do in Murudeshwar, Netrani Island is home to amazing marine biodiversity. You can spot a wide variety of corals, parrotfish, butterflyfish, eels and triggerfish on your snorkeling and diving tour. The crystal clear waters allow visibility up to 25-30 meters and ensure you have an amazing Murudeshwar scuba diving experience exploring the underwater world
Things To Carry: Waterproof backpack, swimming costume, sunscreen sunglasses and floaters/slippers.
Scuba Diving Costs: packages begin from INR 5500 inclusive of underwater photographs
5. Statue Park: Capture The Gigantic Beauty

Around the majestic Shiva statue, amidst lush green lawns is the statue park that beautifully depicts the history behind the temple and is adorned with many more sculptures. One of the top things to do in Murudeshwar right inside the temple complex, the statue park portrays legends from the Ramayana including the story of the Atma-linga with images of Ganesh and Ravana. Also eye-catching is the Surya statue as well as those of Krishna and Arjuna from the Mahabharata. Do not miss the glorious sunset views from the area right behind the park. A small Shani temple close by is also worth visiting.
Tip: Visit around 4 pm for the best light for photographs and to witness the sunset once you've done the park tour.
Timings: 6 AM-8:15 PM
11 Adventure Places In South India That'll Get Your Heart Racing On Your Vacay!
6. Yana Hike: Taste The Adventure

An hour and a half away from Murudeshwar are the unique and unusual limestone rock monoliths known as the Bhairaveshwara Shikhara and the Mohini Shikhara. Surrounded by lush evergreen forests, hiking through the dense forests to reach these surreal rock outcrops is amongst the most thrilling things to do at Murudeshwar. At the base of the Bhairaveshwara Shikhara is a revered shiva-lingam frequented by devotees. Going inside the caves is an exciting experience too and adds to the adventure quotient of your trip to Yana.
Tip:
1. At the vehicle parking spot (parking fee:INR 30), remember to pick some aerated drinks and water from the food stalls before embarking on the adventurous hike.
2. Wear sports shoes/sneakers for a comfortable experience.
Location: Yana Rocks Rd, Achave, Karnataka 581403
Timings: 8 AM-6 PM
7. Murudeshwar Beach: Soak In The Tranquility

Like most Konkan beaches, the Murudeshwar beach is a beautiful and clean sandy beach extending to 2-3 kilometers with shallow waters to enjoy the sea and here you can try out some amazing Murudeshwar beach activities. One of the most fun things to do in Murudeshwar is to indulge in exciting water activities like banana ride, water scooters, water-skiing, speed-boat ride, etc. The beach is also a great spot for marveling at the grand Shiva statue especially with the lights turned on at night. Evenings are abuzz with the small flea market, street vendors, and food stalls.
Location: Murudeshwar Beach, Murudeshwar
Karnataka Cuisine: 22 Popular Karnataka Dishes For A Flavorful Culinary Journey
8. Bhatkal: Seek The Spirituality

Just about 20 minutes from Murudeshwar is the ancient port town of Bhatkal with a picturesque beach and interesting monuments. Home to temples from the Vijayanagar period and some ancient Jain shrines, the place also holds historical and spiritual significance. Though you cannot enter the Bhatkal lighthouse, the spot offers some breathtaking views of the port and the beach.
Location: Uttar Kannada, Karnataka
9. Idagunji Ganapathi Temple: Experience The Spiritual Bliss

On the banks of the Sharavathi river stands one of the most revered temples of Southern India, visited by more than a million devotees every year. With a mention in the Skanda Purana, the temple holds great mythological significance as it is believed to be the place where Lord Ganpati stayed making it one of the popular Murudeshwar attractions. Simple and elegant, the shrine houses a unique standing posture of Ganpati in dvibhuja style holding a modak and a lotus. A haven of tranquillity and peace, this spiritual place must feature on your Murudeshwar things to do list.
Timings: 6AM-1:30PM; 3PM-8:30PM. Abhisheka at 11:00Am and Maha Pooja at 12:30PM
This Private Island Homestay In Karnataka Is A Treasure & You Won't Doubt It!
10. Apsarakonda Falls: Feel Refreshed

Located just 20 Kilometres from Murudeshwar are the small yet mystical Apsarakonda Falls believed to be the bathing place for angels (hence the name) and is one of the popular Murudeshwar attractions. Right behind the Apsarakonda beach, the waterfalls are a great place for a cool dip in the shallow pond. Visiting the falls for a few hours is one of the fun things to do in Murudeshwara with kids and family. The beautiful garden above the falls offers spectacular views and approach steps to the beach below.
Timings: 6 AM-6 PM
Entry Fee: The entry to the garden is INR 10/person.
11. Water Jet In Murudeshwar: Feel The Thrill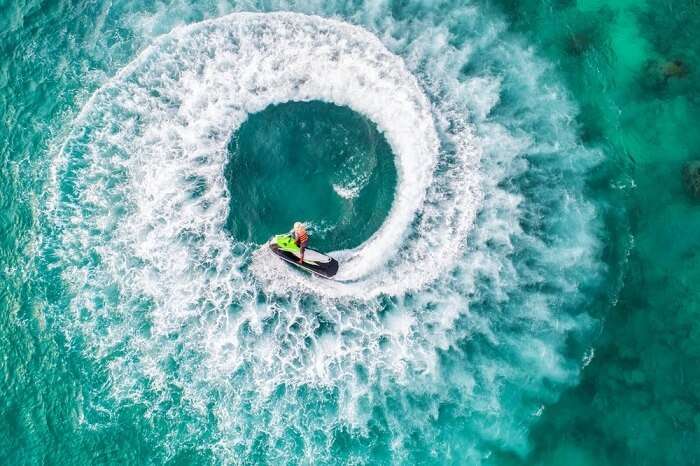 Get into the thrill of experiencing water jet on the calm waters of Murudeshwar beach which is situated at Uttar Kannada coastline in Karnataka. Apart from the spiritual tour of the famous Murudeshwar temple, devotees can also enjoy some adventure around the coastline This 10 minutes activity can be availed anytime during the day where you will be geared up with all the safety gears. Along with this one can also witness the calm beauty of the sea as you indulge into this one of the best things to do near Murudeshwar.
Location: Uttara Kannada District
Duration: 10 Minutes
9 Museums In Karnataka: Top Creative Spots With A Rich Heritage
12. Eco Beach: Spend A Leisure Day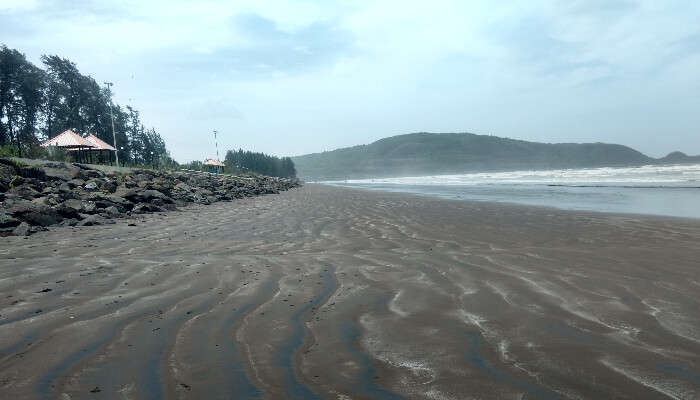 If you are thinking about Murudeshwar Beach activities that you can try out then you are in luck as Eco  Beach which is just 24 kilometers away from the main city and is the most pristine and unexploited beaches in Konkan coast. One of the best places to visit in Murudeshwar and originally known as Kasarkod Beach, this white sand beach is not too crowded and stretches up to 5 kilometers. Another great thing about this beach is that it can be a great picnic spot if you wish to visit the place with your family.
Location: Honavar Lighthouse, Bunder Road, Kasarkoda, Karnataka 581334
Timings: 8 AM-7 PM
Best Time To Visit Murudeshwar

Situated in Karnataka, Murdeshwar is a quaint town that is renowned for the Murudeshwar temple. If you are planning a vacation to this town and are confused about the best time to visit then keep reading. Winter season is considered as the best season to visit this serene town as the weather is perfect for a relaxing vacation. You can visit this town between October and March to make the most out of your trip. If you want to attend the grand celebrations of Maha Shivratri at Murudeshwar Temple then you should plan your visit in February or March.
30 Temples In South India: The Perfect Amalgamation Of Art And Divinity
Murudeshwar is surely a treat for those who want a calming vacation for the mind and soul and looking at all the amazing things to do in Murudeshwar, it is surely a must-visit destination. So when are you visiting this coastal abode of Shiva? If you're planning anytime soon then take a look at the customize your Murudeshwar holiday with TravelTriangle and enjoy a surreal holiday in South India.
For our editorial codes of conduct and copyright disclaimer, please click here.
Frequently Asked Questions About Things To Do In Murudeshwar
How to spend a day in Murudeshwar?
In order to spend an ideal day in Murudeshwar, you must visit its top attractions including Murudeshwar Temple, Murudeshwar Beach, Statue Park. Statue Park, Idagunji Ganapathi Temple, Bhatkal, and more. In the evening, you can visit the best local markets.
Is it safe to visit Murudeshwar during Covid?
Yes, Murudeshwar is one of the safest destinations where you can plan a vacay during Covid. However, make sure to get fully vaccinated before planning a trip. Keep your mask on at all times when out, sanitize your hands at regular intervals, and maintain social distance whenever in a crowd. All in all, your trip can be quite safe if you follow all the government protocols.
What is the best time to visit Murudeshwar?
You can visit this town between October and March to make the most out of your trip. If you want to attend the grand celebrations of Maha Shivratri at Murudeshwar Temple then you should plan your visit in February or March.
What is Murudeshwar famous for?
Murudeshwar is famous for not just one but many things. Murudeshwar is another name for Lord Shiva and the town very naturally happens to be famous for being home to the second tallest Shiva statue. Murudeshwar Temple is also known for being home to Murudeshwar Temple and it lies on the coast of the Arabian Sea. There are many interesting things to do in Murudeshwar which also contributes to its fame.
What is there to see in Murudeshwar?
There are many interesting places to see in Murudeshwar which will be a treat for your eyes. Some of the best places to see in Murudeshwar are Murudeshwar Beach, Netrani Island, Murudeshwar Temple, and Mirjan Fort.
How does one get from Murudeshwar to Netrani Island?
There are many ways to get from Murudeshwar to Netrani Island. Taking a boat ride from Murudeshwar to Netrani Island is one of the most convenient ways to commute. It will just take somewhere around 75-90 minutes. You can also hire a taxi from Murudeshwar to Netrani Island. Murudeshwar Railway Station is just 21 kilometers away from Netrani island so you can take a cab or taxi from there too.
How far is Murudeshwar to Gokarna?
Murudeshwar is just 78 kilometers away from Gokarna and it will take you just 1 hour and 45 minutes by road to reach from one destination to another.
How far is Murudeshwar from Udupi?
Murudeshwar is 102 kilometers away from Udupi and it will take you around 2 hours by road to reach from one destination to another.
---
Looking To Book A Holiday Package?
---
People also read:
Things To Do In Coorg Things To Do In Mangalore Things To Do In Gokarna