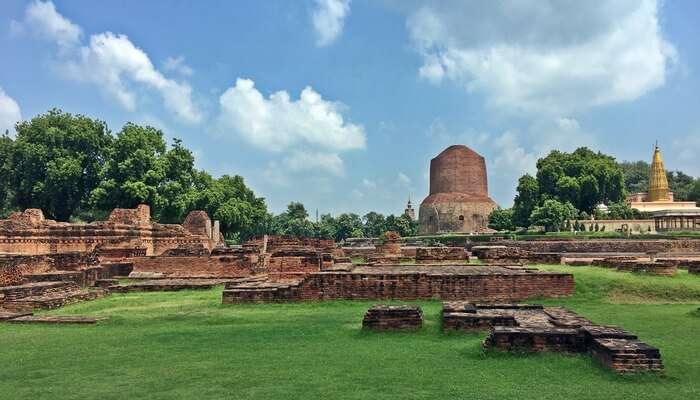 Cover Image Credit: pexels.com
Sarnath in Varanasi is known to be the place of Gautama Buddha. His first ever discourse was held here in the city's Deer Park. All kinds of travelers feel a beautiful spiritual connection on their visit to this city. Sarnath sits where the sacred Ganga and Gomati rivers merge. It has many names – Mrigadava, Migadāya, Rishipattana and Isipatana, all with a spiritual significance. With so much to explore, there can never be a dearth of things to do in Sarnath. By indulging yourself in some of the best activities here, you won't only get a glimpse of the city's historicity but also its cultural aspects.
10 Things To Do In Sarnath
If you are visiting this holy city, keep this list of top 10 things to do in Sarnath handy for a comprehensively fun travel experience.
1. Witness The Majestic Bodhi Tree
2. Visit Chaukhandi Stupa
3. Seek Enlightenment At Dhamek Stupa
4. Visit The Place Where The Buddha Rests In Peace
5. Witness Buddha Purnima Celebrations
6. Travel Back In Time At The Archaeological Museum
7. Visit The Buddhist Temple
8. Try The Local Food
9. Visit The Thai Temple And Monastery
10. Relax At The Garden Of Spiritual Wisdom
1. Witness The Majestic Bodhi Tree

Visiting the fresco art rich Mulgandha Kuti Vihar is one of the best things to do in Sarnath. The frescos on the walls of the structure depict important events from Buddha's life. The murals are painted by renowned Japanese artist Kosetsu Nosu. Since it's a temple, inside you will find a golden statue of Lord Buddha sitting on a marble platform. Situated just behind this Buddha temple is the Deer Park, the place of Buddha's first ever sermon.
The highlight of this place, apart from the temple and the surrounding ruins, is the Bodhi Tree. It is said to have been grown from the sapling of the tree in Bodh Gaya under which Buddha attained enlightenment. Don't leave this place before evening. As the sun is about to set, the place reverberates with the calming voices of monks chanting Buddha's first sermon.
Must Read: Top 12 Summer Festivals In India You Shouldn't Miss In 2022
2. Visit Chaukhandi Stupa

Did you know, Buddha was once deserted by five of his disciples in Rajgir as he travelled from Bodhgaya to Sarnath? Chaukhandi Stupa stands on the spot where Buddha reunited with those pancha vargiya bhikkhus (5 disciples).
The stupa is as old as 5th century AD. The tower atop the stupa was added to the structure in the 16th century to commemorate Emperor Humayun's visit to the monument. The beautiful structure is worth marvelling at for long hours. After that, sit amidst the green surroundings and attain peace through meditation.
Suggested Read: 12 Best Things To Do In Varanasi For An Enigmatic Vacation
3. Seek Enlightenment At Dhamek Stupa

After hearing the sermons of the Buddha in the Mulgandha Kuti Vihar, head to the place where it was actually delivered. Dhamek Stupa is situated just behind Mulgandha Kuti Vihar. Dhamek Stupa is a collection of stupas, monasteries, ruins, temples, museums, gardens and more. Situated inside the Deer Park, this place offers a memorable glimpse of the Buddhist history and culture to the visitors.
4. Visit The Place Where The Buddha Rests In Peace

Situated close to Dhamek Stupa is the Dharmarajika Stupa. This stupa is mostly in ruins today. This place is believed to house the mortal remains of Lord Buddha. The remains were divided in 10 parts and buried at different spots atop which monuments were built by the Mughal.
Suggested Read: 23 Places To Visit Near Varanasi That You Cannot Miss Out On In 2022!
5. Witness Buddha Purnima Celebrations

Make sure you plan your holiday to Sarnath around Buddha Purnima, which falls in Vesak month that usually comes in the month of May. The city is something else on Buddha Purnima. Buddhists from all over the world come to the city to celebrate the joyous occasion. Huge processions displaying Buddha relics to the public are held along with grand festivities.
Suggested Read: 14 Varanasi Festivals You Can Attend To Add Those Festive Vibes To Your Trip In 2022
6. Travel Back In Time At The Archaeological Museum

If you are a history buff, you simply cannot give the Archaeological Museum in Sarnath a miss. It lets visitors go back in time when Buddha roamed the land. It houses Buddhist relics that were recovered from the site where Buddha delivered his first sermon.
The museum constructed using sandstone is around 100 years old. Apart from the relics from the events of Buddha's life, the highlights of this museum are the 3rd-century-BC lion capital from the Ashoka Pillar and a 2000-year-old huge stone umbrella featuring Buddhist symbols.
Suggested Read: 23 Best Weekend Getaways In Varanasi Which Will Give You The Urge Of Taking A Road Trip!
7. Visit The Buddhist Temple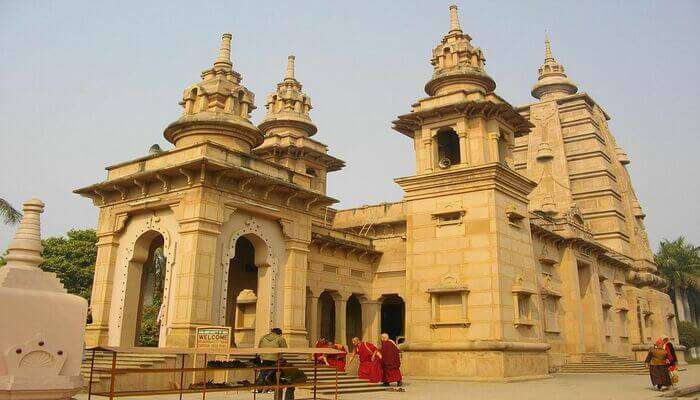 Painted soft and dark shades of yellow and red, this cute and calm temple is a must-visit place in Sarnath. if you are tired with your tour or suffering from the heat (if visiting during summers), this temple and its surroundings will immediately put you at peace.
The temple is decorated with beautiful Chinese designs and heart-winning Chinese lanterns. Outside it, there is a small garden where you can relax and watch idling pigeons after visiting the temple.
8. Try The Local Food

After the soothing visit at the Chinese Buddhist temple, treat yourself to a sumptuous and tasty meal at Vaishali Restaurant. This is one of the best restaurants offering delicious local cuisine in the city. It is situated close to the temple. The colourful restaurant is on the 1st floor and serves mouth-watering Indian and Chinese dishes.
Suggested Read: 7 Guest Houses In Varanasi To Enjoy A Calm & Serene Stay In 2022
9. Visit The Thai Temple And Monastery

Though you will have to do some walking around the Thai Temple to view all the statues, it strangely won't tire you. The place has a peaceful feel brought on by its beautiful look, serene surroundings and enchanting and enlightening Buddha statues.
Also known as Wat Thai, it is filled with alluring Buddha statues, including the Laughing Buddha and Buddha teaching his disciples. Outside the temple, there is a scenic fountain with blooming lotus and lots of greenery that serves as a good relaxation spot.
Suggested Read: 5 Airports In Varanasi That Offer Some Amazing Services To Its Guests!
10. Relax At The Garden Of Spiritual Wisdom

Nature with its best colours and beauty comes together at the Garden of Spiritual Wisdom. This is the place to unwind after a long and tiring trip in the city. This garden, situated just behind the Chaukhandi Stupa, offers bliss of the mind, body and soul to the visitors. The place is alive with beautiful plants and flowers spread across a vast, well-kept landscape.
This place is, undoubtedly, a heaven for nature lovers. They will be delighted to spot many Ayurvedic herbal plants here. Visitors can also enjoy education exhibits imparting knowledge about Buddha, spirituality and the various plants and herbs in the garden.
Further Read: 6 Hotels In Varanasi In 2022 To Spend A Few Days In The 'Land Of Gods'
These were some of the best and unique things to do in Sarnath. No matter whether you are visiting this place for the first time or tenth, it never fails to surprise its tourists. This sacred place has a lot to offer to its visitors in terms of rich history, spiritualism, and plenty of calm. Plan your Varanasi trip today with TravelTriangle and get ready for a surreal, enjoyable, and memorable experience in the holy city of Sarnath.
Disclaimer: TravelTriangle claims no credit for images featured on our blog site unless otherwise noted. All visual content is copyrighted to its respectful owners. We try to link back to original sources whenever possible. If you own the rights to any of the images, and do not wish them to appear on TravelTriangle, please contact us and they will be promptly removed. We believe in providing proper attribution to the original author, artist or photographer.
Please Note: Any information published by TravelTriangle in any form of content is not intended to be a substitute for any kind of medical advice, and one must not take any action before consulting a professional medical expert of their own choice.
Frequently Asked Questions About Things To Do In Sarnath
Why Is Sarnath a Famous Tourist Spot?
Sarnath, a city in Varanasi, is a place of great significance. It is the place that the revered Buddha chose for the awakening of his disciples by imparting his first ever sermons here. Places like Dhamek Stupa, Mulgandha Kuti Vihar and Chaukhandi Stupa are the city's highlights and attract tourists from all over the world because of their connection with Buddha.
Why is Sarnath Important to Buddhist Followers?
Apart from the fact the Lord Buddha meditated and gave his first sermon here, and even was buried here, Sarnath also holds importance to Buddhist followers because the original Buddhist Sangh was formed here. The world-famed mantra 'Buddham Sharanam Gachhami' originated in Sarnath. While breathing his last, Buddha also said to his followers to consider Sarnath, Lumbini, Bodh Gaya and Kushinagar as sacred places.
Is Sarnath Worth Visiting for a Non-Believer?
Although Sarnath is a spiritual land, non-believers shouldn't give this place a miss because of that. Believer or not, this city has a lot to offer you. Peace, quiet, serenity, bliss, loads of history and beauty. And this city is also a paradise for food lovers with its offerings of rich, North Indian and Chinese cuisine!
What Can I Buy in Sarnath?
Sarnath being a holy city doesn't offer all the usual fancy things a visitor wishes to take away home. Here, you will find beautiful statues and idols of Lord Buddha. Ashtadhatu statues, made from eight sacred metals, are most popular here. You can also buy mini versions of stupas, temples, etc. and saffron robes.
What are the Top 5 Things to Do in Sarnath in 3 Days?
3 days are also enough to cover important sites in the city. Top 5 things to do in Sarnath are-
1. Meditate at Chaukhandi Stupa
2. Visit the Bodhi Tree and listen to monks chanting Buddha's first sermon at Mulgandha Kuti Vihar
3. Feel the spiritual energy at Dhamek Stupa in Deer Park, the place where Buddha gave his 1st sermon
4. Get a dose of Buddhist culture and history at the Archaeological Museum
5. Visit the Thai or Wat Temple
Who Built Dharmarajika Stupa?
This ruined wonder at Sarnath was originally built by Emperor Ashoka in 3rd century B.C. This place houses mortal remains of Lord Buddha and is counted amongst the sacred pilgrimage sites of Sarnath.