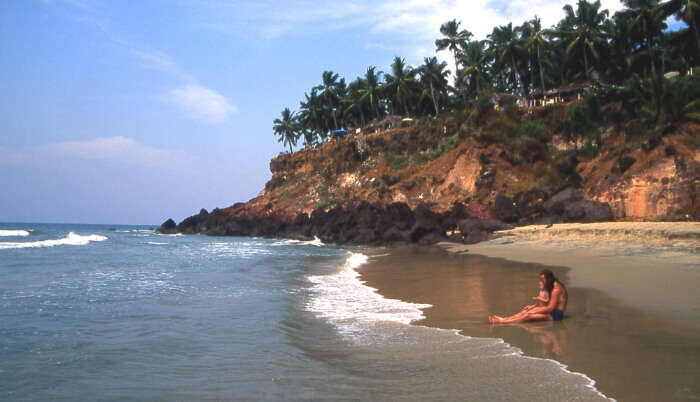 Varkala is the town at the Southern Kerala coastline of the Indian subcontinent. You cannot visit Kerala without experiencing the wide array of the cultural and historical marvels and the natural beauties at Varkala remain at the paramount. It has several forts and ancient buildings beside a picturesque lighthouse. They are a number of islands around the Varkala region that will give you a glimpse into a society untouched by the modern way of life even to this day.
10 Incredible Things to Do in Varkala
There are just so many offbeat things to do in Varkala. It has beaches that will make you feel as though you are in the Caribbean. Varkala is a town which is in touch with its past but also doesn't lack in the modernity. It has trendy cafes and restaurants and also has the wonders of nature and culture. It is certain that Varkala augurs you to involve in many things.
10 Things To Do In Varkala
Here are 10 of the top things to do in Varkala to cherish your trip to this city of Kerala throughout your lifetime.
1. Try Out Water Sports
Water sports are the best things to do in Varkala near beach. As this region has many beaches, it means water sports are among the best things to do in Varkala for unlimited fun, entertainment and adventure. It is the only place in the entire South India where the sea is accompanied by the towering mountains that literally mesmerise each and every visitor. These rocky cliffs are the perfect one for water sports activities. It is truly a haven for the adventure junkies. Jet skiing, banana boat rides and parasailing are some of the most exciting things to do in Varkala for a lifetime experience.
Timings: Opens from 10.00 AM to 6.00 PM
Price: Depends on the activity you choose and it usually ranges from INR 300/- to INR 1000/-
Must Read: 20 Places To Visit In Varkala For A Perfect Coastal Vacation In 2019!
---
Kerala Holiday Packages On TravelTriangle
---
2. Varkala Culture Center For An Enriching Experience
Varkala has both the traditional and modern culture that maintains its individual authenticity distinctively. Therefore, exploring this culture is one of the most interesting things to do in Varkala, Kerala. The traditional art forms represent the history of the state. At the Varkala Culture Center through dance performances of the Kathakali style and performed every evening along with Kalaripayattu to other notable interesting performances keep the visitors hooked. The entire experience will transport you to a world you have never known before!
Timings: Open from 6.00 AM to 9.00 PM every day of the week
Price: INR 250 per person
Suggested Read: Kerala New Year Celebration: 8 Exotic Places To Bring In 2020!
3. Witness The Serenity Around Lighthouse
The lighthouse is a significant 18th-century structure with the signature architectural style of the Europeans. The bird's eye of the surrounding vistas, Arabian Sea and the coastline is breathtaking and makes it among the most ideal things to do in Varkala near beach. It is one of the main tourist attractions of the place.
Timings: Open from 8.00 AM to 5.00 PM every day of the week
Price: There is no entrance fee
Suggested Read: 35 Amazing Things To Do In Kerala For An Incredible Holiday In 2020!
4. Explore Wildlife In Ponnumthuruthu Island
It is one of the most beautiful islands of Kerala and is uninhabited too. It has an area of about 5 hectares. Relaxing by turquoise waters and lakes is perfect for the quiet souls. Moreover, its exotic migratory birds, rare water birds and other wildlife make it enchanting and you must count it in your list of top things to do in Varkala. It is the ideal spot for the bird watchers and nature enthusiasts.
Timings: Open from 6.00 AM to 6.00 PM every day
Price: There is no entry fee
Suggested Read: Winter In Kerala: 6 Best Places To Visit For A Blissful Vacation In 2020!
5. Enjoy The Calm Waters Of Varkala Beach
One of the ideal things to do in Varkala is definitely enjoying the serenity of the beaches here. The Varkala Beach runs for 20 km and it is believed by the locals that it has the areas of the holy waters that can cure many ailments. You can swim and involve in fishing in the pristine water of the beach or take a dip in the natural spring which is nearby to offer you unlimited excitement and fun. It truly has the serene surroundings that will calm your mind and relax your body.
Timings: It is open 24 hours.
Price: There is no entry fee.
Suggested Read: Kerala In November 2020: Places And Events Not To Be Missed Out
6. Relish The Views At Kappil Beach
There is no dearth of unique beaches and the amazing things to do Varkala, Kerala, especially in those finest beaches. And, Kappil Beach is one such place where you can involve in multifarious activities. It is the perfect place to watch the day roll by. And, you are only limited by your imagination here. Take a dip in the glittering water, take a soothing walk, or have some fun picnic time. It has white sands and a hill close by, from where you can enjoy the spectacular views. You can involve in unlimited fun activities here.
Timings: Open from 12.00 AM to 12.00 PM every day of the week, except Sundays.
Price: There is no entry fee.
Suggested Read: Kovalam In December 2020: Explore This Touristy Seaside Town In Kerala
---
Planning your holiday in Kerala but confused about what to do? These Kerala travel stories help you find your best trip ever!
---
7. Rejuvenate Yourself With Yoga
Perhaps, you want to try offbeat things to do in Varkala on your vacation but still in dilemma what to do and how to proceed? Try Yoga! Remember that Yoga and dabbling are very much popular activities in Varkala in Kerala. There is the presence of several popular ashrams here that let tourists attend to their yoga sessions. In fact, they offer avenues for the tourists to get the best of the Yoga sessions. You can, therefore, learn a lot from these masters here. Meditation in the lush greenery surrounded by the palm trees is simply revitalizing. Experience it for a lifetime memory.
Timings: Depends on the ashram or studio you choose.
Price: Varies with the respective schools.
Suggested Read: 5 Amazing Zoos In Kerala To Witness The Captivating Wildlife In God's Own Country!
8. Shopping
The perfect place for the shopaholics is the winding streets of Varkala. The shops in the lanes sell everything imaginable. From perfumes to clothing, bamboo products, funky jewellery and soaps, you find ample varieties of such kinds of stuff there. But the most famous items to buy at Varkala are the Tibetan handmade products like the flutes, Dorjee and conches. If you are not a shopaholic, even then you would find yourself coming here to gaze upon the beautiful local art. You can have a unique shopping experience at Varkala for sure!
Timings: Open from morning to late at night.
Price: None whatsoever.
Suggested Read: Munnar In December: A Pocket Guide For A Tour Down This Charming Kerala Town
9. Try The Local Cuisine
The two places to experience the cuisines of Varkala are the Café Del Mar and God's Own Country Kitchen. Café Del Mar is an interesting place where you can try international cuisines with some Varkala twists. The café is ideal for enjoying unique seafood, filter coffee and romantic dates et al. Whereas for the South Indian cuisine and complete Kerala cuisine experience you have to head to God's own Country Kitchen. It is so authentic that you are served food wrapped in the banana leaves here. It serves every Keralite dish possible and, therefore, is the place to experience the exquisite Keralite cuisine during a visit. Simply try some.
Timings: Café Del Mar – 8.00 AM to 11.00 PM
God's Own Country kitchen – 8.00 AM to 10:30 PM
Café Del Mar – Ranges from INR 190/- to INR 400/- for two people
God's Own Country Kitchen – Ranges from INR 150/- to INR 450/-
Suggested Read: Kerala Cuisine: What Makes The State The King Of Culinary Art
10. Visit Anjengo Fort And Lighthouse
Once a settlement for the British, this is another fine historical monument of European architecture. It is a perfect spot for picnics and sightseeing. You can catch awe-inspiring views of the sea, hills and greenery from the lighthouse. The fort is known for its minimal use of material yet had a grand look about it.
Timings: Open from 8 AM to 5 PM
Price: Entry is free
Further Read: 6 Unusual Yet Exciting Things To Do In Ernakulam On Your Next Kerala Trip!
Trying out some of the above-listed things to do in Varkala will make your Kerala trip memorable and all the more interesting. Varkala is a really small land of paradise in South India. With its varied and pristine beaches, scenic hills, and a plethora of attractions, make it a perfect place to spend a refreshing and relaxing vacation away from the hustle and bustle of everyday life in the urban cities.
Frequently Asked Questions About Things To Do In Varkala
Q. What is the best time to visit Varkala?
A. It has a tropical climate, so winters and summers are best times to visit Varkala because in the rainy season the place receives heavy rainfall.
Q. Can I take a flight to reach Varkala?
A. There are no direct flights to Varkala. The nearest airport is at the Thiruvananthapuram Airport which is mere 40 km away. You can take a train or bus from there.
Q. How can I reach Varkala from Chennai?
A. Trains are most comfortable and there are lots of them that go to Varkala from Chennai. You can also opt a bus or consider renting a car.
Q. Is Varkala a safe place?
A. Definitely, it is. With crime rates as low as it can be, just take the basic precautions and you are good to go!
Q. Do all the beaches in Varkala have good swimming conditions?
A. Well, no. Most of them are not fit for swimming because of their powered rollers and undertows. Only some select beaches are good for swimming.
Q. Are there any restrictions on clothing in Varkala?
A. Absolutely not! Any western attire is acceptable but only of course not in or around the religious sites.
Q. Is alcohol allowed in Varkala?
A. Varkala is regarded as a holy site, so not many options for alcohol are available on the beach. Only a shack or two at remote beaches might be able to sell alcohol at the beach. But alcohol is available at the resorts and restaurants.
---
Looking To Book A Holiday Package?
---
Comments
comments