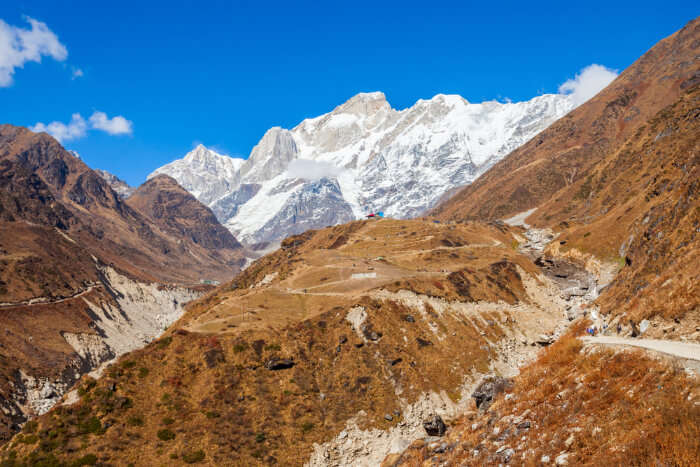 North is always exciting! The places, people, adventures, and vibes in the air make India's northern frontier exciting. Rishikesh is one of the many places in North India that tends to every diehard adventurer. Among all the other adventures, trekking in Rishikesh is certainly one of the most exciting things to do.Meandering through those green meadows and walking those steep pathways one can find their way to the exciting destinations. These destinations in the foothills of the Himalayas are special in their own way.
While the glorious Ganga epitomise the appearance of most of these beaten Rishikesh trekking routes, the legends associated with these places only make them popular among devotees for various reasons. As you set foot on the holy land of Haridwar/Rishikesh you can actually plan a perfect day out living in those fancy swiss tents and going for the moderate level trekking in Rishikesh.
Table Of Content
Best Time To Go Trekking In Rishikesh

October – March is the perfect time to plan a trekking in Rishikesh. Summer months (May – June) is slightly hotter and only good to plan a river rafting in Rishikesh. However, winters are exciting in Rishikesh with perfect weather conditions to charge you up for an amazing trek.
Must Read: Rishikesh In December: 10 Experiences You Need To Have For Embracing The Chill
About Trekking In Rishikesh

Rishikesh, by the banks of river Ganga, is studded with temples, yoga ashrams, meditation center, and wonderful campsites by the river. These camps are special because of the fact that they are nestled right in the heart of nature. Apart from offering the magnificent nature views, these camps organize wonderful treks in and around Rishikesh.
From a few hours to a few days, there are a lot of trails to choose from. From enabling travelers to reside in the camps or hotels located in the vicinity of the banks to allow them to make their own tents, trekking throws in plenty of opportunities for discerning travelers. Rishikesh trekking and camping go hand in hand, therefore one must make the
Average Rishikesh camping price: INR 2500-3000 for 2 nights
Suggested Read: The Ultimate List of Adventure Holidays In India For Summer
Popular Routes For Trekking In Rishikesh
Looking for the best experience of trekking in Rishikesh? Mostly located in the heart of the heart of the city these trails make for some of the most scenic treks in Uttarakhand. The trails, mostly thronged by pilgrims and adventurers, are a treat to the eyes and soul.
1. Waterfall Treks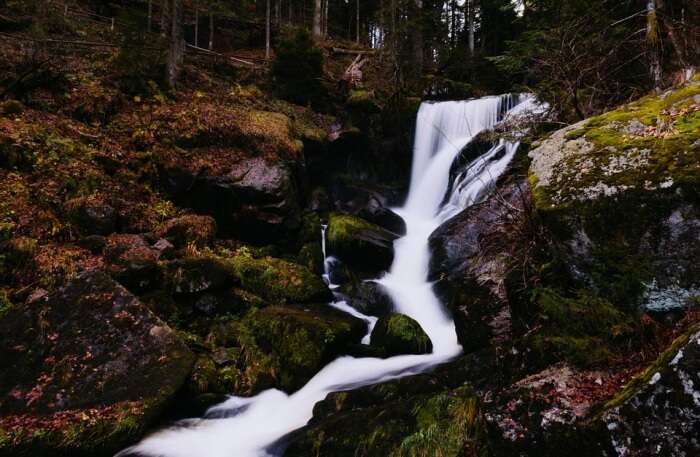 Some of the finest treks in Rishikesh lie under the thick cover of the jungles in Rajaji National Park. It is the perfect example of jungle trekking in Rishikesh. These forests have exciting trails that lead travelers to the hidden waterfall shrouded in the embrace of the Rajaji National Park. If you are someone who loves to go on a hike more often, then a waterfall trekking in Rishikesh is just the perfect exercise to pump you up. Some of the popular waterfalls in the national park are:
A. Neer Garh Waterfall Trek

A short walk from Lakshman Jhula (3 km) and around 6 km from Tapovan, Neer Garh is the perfect hiking exercise to spend a quiet morning in the pious land of Rishikesh. The trek is a bit more challenging as compared to other waterfall treks located in its vicinity. This is amongst the most popular Rishikesh trek.
Suggested Read: 30 Places To Visit In India In April: Beat The Heat This Summer Like A Pro
B. Garud Chatti And Phool Chatti Waterfall Trek

This waterfall is around 5 km far from Lakshman Jhula on the Neelkanth Road. It is one of the most popular tourist spots in Rishikesh. The waterfall falls on the road as you start walking towards the North of Lakshman Jhula. There are a few tea joints and restaurants en route. There are a few stalls that serve tea and some fast food nearby. You can also take your swimwear along if you want to go diving into the water or try your hands at swimming.
3 km from Garud Chatti on the Neelkanth road lies Phool Chatti. This one is another of the scenic waterfalls in Rishikesh in the vicinity of Laxman Jhoola. The trail to this waterfall is slightly slippery so one must be mindful of the steps while trekking tour in rishikesh there. 15 minutes from the city.
Suggested Read: Long Weekends In India: Ways To Enliven Your Vacay Vibes Safely In The Post-Lockdown Era!
C. Patna Waterfalls Trek

It is another short hike from the town of Rishikesh. The hike takes 30 minutes to complete and makes for a perfect walk in the park with plenty of amazing scenery awaiting you, peeping from the thick jungles.
Suggested Read: 42 Places To Visit In Rishikesh On Your Religious Getaway
2. Kunjapuri Temple Trek

Another private hike located right in the heart of the city, the Kunjapuri trekking in Rishikesh, is a popular half-day tour in Rishikesh. The trek to the temple located atop 1645 meters presents some of the most stunning spectacles of the Himalayan peaks, Haridwar, Doon Valley. To take this trek one has to take the road from Narendra Nagar up till Hindola Khal from where the temple is another 5 km trek.
This one, being a sacred place for Hindus, see a lot of devotees round the year and more especially during the Navratra. The trek is special because one can also watch the beautiful sunrise from behind the mountains. Live the moments as you cross the green fields and sleepy villages to reach the temples.
Suggested Read: 19 Amazing Places To Visit In Uttarakhand In Winter
3. Neelkanth Mahadev Trek

The Nilkantha Mahadev Temple perched atop 1330 meters is dedicated to Lord Shiva. Reaching this temple is a wonderful experience in itself as it makes for a wonderful hike in the Rishikesh. The total length of this trek is 14 km and the surroundings of the temple encompass a wonderful mix of flora and dense forests.
Suggested Read: Top 12 Summer Festivals In India You Must Plan Attending
Popular Places To Go Trekking Near Rishikesh
Here is a list of some of the best trekking places in Rishikesh that will give you a surreal experience. Take a look!
1. Kuari Pass Trek

Discovered by the erstwhile Viceroy Lord Curzon, Kuari Pass trek in Rishikesh is special for various reasons. The trek, also known as Lord Curzon, encompasses Auli – a popular ski resort in India. Winter is the ideal time to take this trek that touches an altitude of almost 4425 m. The trek length is almost 38 km and takes close to 5 days to complete.
One must reach Joshimath from Rishikesh/Haridwar to begin the trek. Brace yourself to catch the surreal views of views of Mt Kamet, Mt Chaukhamba, Mt Trishul, & Nanda Devi as you walk through the picturesque mountain path of Garhwal Himalayas.
Suggested Read: 10 Best Adventure Sports In Uttarakhand That Will Make You Skip A Beat
2. Chandrashila Trek

Considered as one of the most popular Uttarakhand treks, Chandrashila Trek is certainly not for the beginners. The 6-day trek, located in Chopta-Chandrashila-Deoriatal Trek presents the best of Himalayas. This one is known worldwide as the winter trek, however, winter could be absolutely fun snowy peaks peeking right into you as you walk the daunting trail at 4000 meters above the sea level.
Suggested Read: 15 Things To Do In Auli To Make Your Uttarakhand Vacay Exciting And Productive
3. Valley Of Flowers Trek

Combined with Hemkund Sahib, Valley of Flowers makes one of the most mesmerizing treks in the Himalayan region. The trek starts with Ghangaria base camp and takes to the valley covered with hundreds of flora species. The trek takes almost 4 days from Govindghat and back. At 3200 meters, this is a once in a lifetime kind of trek.
Suggested Read: A Guide To Uttarakhand In March: Plan Your Exploration For Unlimited Memories
4. Trek To Surkanda Devi Temple

Surkanda Devi Temple is located at a distance of 87 km from Rishikesh and is one of the most scenic places nearby. Perched at an altitude of 9500 feet, Surkanda Devi Temple is located in Tehri District of Uttarakhand and is a wonderful short trek. Even for those looking forward to a religious outing, this temple is a perfect trek. Led by stairs this is a 2.5 km uphill trek decorated with lush green outdoors and wonderful surroundings.
Suggested Read: A Detailed Post-Covid Travel Guide To Uttarakhand: Your Pocket Buddy For Traveling Safe
Popular Rishikesh Trekking Camps
Trekking in Rishikesh area can be experienced at its best when you plan a stay in a camp. The camps located by the mighty Ganga river right in the foothills of the glorious Himalayas is just perfect for every adventurer. As you go camping in Rishikesh you can actually take up plenty of adventure activities along with one-day trekking in Rishikesh, India. River rafting in Rishikesh is certainly the most popular activity that you can take up in Rishikesh.
1. Camp Aquaforest

At Camp Aquaforest, the travelers get to experience the best of the outdoors of Rishikesh. The wonderful environs all enveloped in nature and their swiss tent lying amidst it; you won't find a better place in Rishikesh to camp. Along with the camp stay, they organize trekking, rappelling, rock climbing, cliff jumping, and river rafting.
Tariff: INR 2500 per night per person onwards
Website | Reviews
Suggested Read: 16 Best Monuments In Uttarakhand: The Best Sites You Must Visit
2. Camp Rapidfire

Treat yourself to some amazing hospitality by the banks of the mighty Ganga river. Here you can't feel the bustle of the city and spend absolutely peaceful moments. Buffet dinner and campfire only add to the memorable experience here.
Tariff: INR 4500 per person per night onwards
Website | Reviews
Suggested Read: Camping In Uttarakhand: 25 Best Spots To Treat The Adventure Junkie In You
3. Camp Gold Coast

Continental breakfast, free private parking, and organized tours make the highlight of the exceptional stay here at Camp Gold Coast. Ranked as one of the best camps in Rishikesh by the river Ganga, this is one of the places to stay.
Tariff: INR 6500 per person night onwards
Website | Reviews
Further Read: 19 Best Places Near Rishikesh: Popular And Offbeat Weekend Escapes From Delhi
God wants you to establish a connection with the outdoors and you must act now! You cannot have a better experience that will thrill you up from head to toe. So, don't think too much and plan a holiday with TravelTriangle to Rishikesh without wasting a moment and make the best memories of your life. Also, do not forget to share it with your friends and folks.
Frequently Asked Questions About Trekking In Rishikesh
What is the best time to plan an adventure trip to Rishikesh?
Winter months, i.e. October – March, make the best time to plan an adventure trip to Rishikesh. Weather remains cold during this time and one can witness the exquisite beauty of Rishikesh during this time.
What are the major adventurous things to do at Rishikesh?
Rishikesh is hub for daring minds as it offers numerous mind blowing experiences! River rafting, bungee jumping, cliff jumping, and rock climbing are some of the major adventurous things to do in Rishikesh.
What are the best places for trekking in India?
Himachal Pradesh, Uttarakhand, and Ladakh in the north, and Karnataka, Maharashtra, and Tamil Nadu in the South India make popular places to trek.
What is the best time to visit Rishikesh for camping?
Though adventure lovers and nature enthusiasts visit all year round the best time to visit Rishikesh for camping is early summer and post monsoon i.e. February to mid-May and September to November.
Where to camp in Rishikesh?
Places like Shivpuri, Brahmpuri, Marine Drive and Kaudiyala offer the most wonderful camping sites, where you may enjoy quality time with family and friends while enjoying the scenic beauty and reconnecting with nature.
Which are the best places to Visit near Rishikesh?
Explore these places near Rishikesh to spend your weekend with family and friends,
1. Haridwar: 20 km from Rishikesh
2. Dehradun: 46 km from Rishikesh
3. Kanatal: 81 km from Rishikesh
4. Dhanaulti: 103 km from Rishikesh
5. Mussoorie: 77 km from Rishikesh
What are the budget-friendly activities to do in Rishikesh?
Explore the best activities in Rishikesh with discounts of up to 50% off.
1. River Rafting
2. Bungee Jumping
3. Flying Fox
4. Giant Swing
5. Camping
6. Trekking
People Also Read: