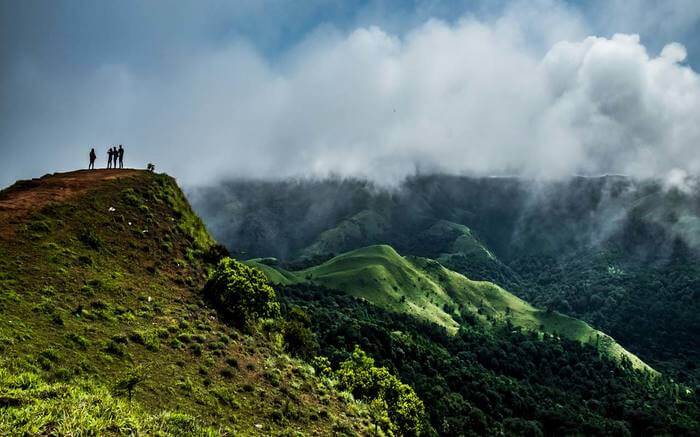 With nature flourishing all around, Coorg is a year-round destination for every travel enthusiast. The picture-perfect town in Karnataka is endowed with exceptional views and make for a wonderful place to explore. If you are in the pursuit of some exciting activities, try trekking in Coorg! This is the best way you can get around exploring the vastness of the famed outdoors of the Ghats. A range of coffee and tea plantation, farms, and national parks constitute the best of nature that Coorg has to offer!
Go exploring the trails leading to Abbey waterfalls, Nagarhole National Park, and Iruppu Falls, walk up to Kumara Parvatha or take a village trail, Coorg has plenty to offer to the curious wanderers! As you walk these trails, most of which are flat and covered with lush greenery, you concur that they constitute unmatchable experience for every nature devotee.
Coorg is the prized possession of the Western Ghats with some of the daunting peaks and nature reserves making it more special. Club your adventures with some more endearing activities and you get the excitement you've been looking for all this while.
Here are some of the most popular trails where you can go trekking in Coorg!
1. Tadiandamol Trek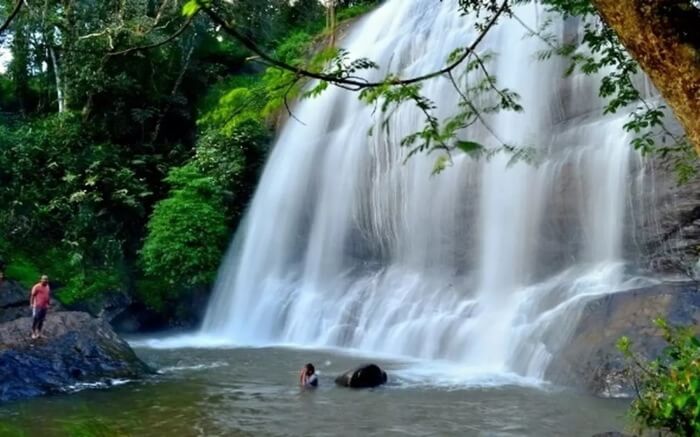 Image Source
Make the best of the opportunity to go trekking in Coorg! Head to Tadiandamol – the highest peak in Kodagu. At 5735 feet, the peak offers some of the magnificent vistas in Southern India and is just perfect for a day out in the mountains of the Ghats. Kakkabe town – 32 km from the city center, acts as the base camp of the trek!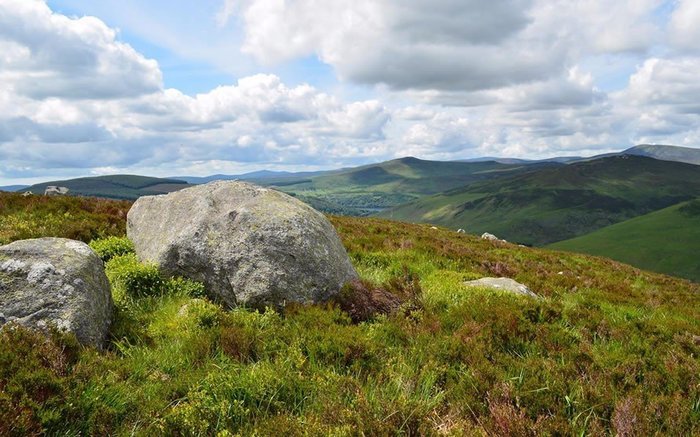 Image Source
So if you are planning a hike in Coorg or Madikeri this is where you must be headed. Nalknad Palace, 4 km from the main road, acts as the starting point of the trek. This place is perfectly weaved amidst coffee farms. While walking the trail, you will come across plenty of refreshing streams, flora, and scenic vantage points. The fluffy clouds and azure sky complete the settling; good enough to raise your soul.
Big Rock acts as the camping ground for the trek. It is from here that you get uninterrupted views of the Western Ghats. November to February is the best time to take this trek.
Route: Bangalore – (bus) – Mandya – (bus) – Srirangapatna – (bus/jeep/other private vehicle) – Kakkabe
Trek distance: 4.5 km
Difficulty level: Easy
Additional attractions: Homestays, camping, and grassland views
---
South Weekend Holiday Packages On TravelTriangle
A trip to South India has a lot to offer – from tranquillity of forests to charm of sizzling beaches and from lost kingdoms to chills of a hill station. Visit Kerala, Coorg, Ooty, Mysore, or Kodaikanal. Book holiday packages inclusive of airport transfers, cab, resort, sightseeing, and meals.
---
2. Iruppu Falls Trek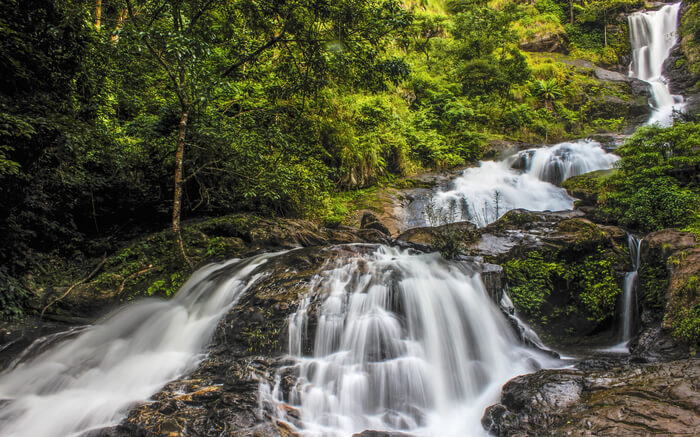 The trek to Iruppu Falls is quite endearing and makes for a comprehensive fun activity on a leisure day. The waterfalls make for a magnificent spectacle and are home to some of the endangered wildlife species because of the fact that this waterfall encompasses the best of Brahmagiri Wildlife Sanctuary.
The waterfalls to Brahmagiri Peak is 9 km and takes around 5 hours to complete. Narimale forest camp acts as the base camp of the trek and is visible after 30 minutes into the trek. The Brahmagiri Peak is located 9 km from the waterfalls and is stationed 1600 meters above sea level.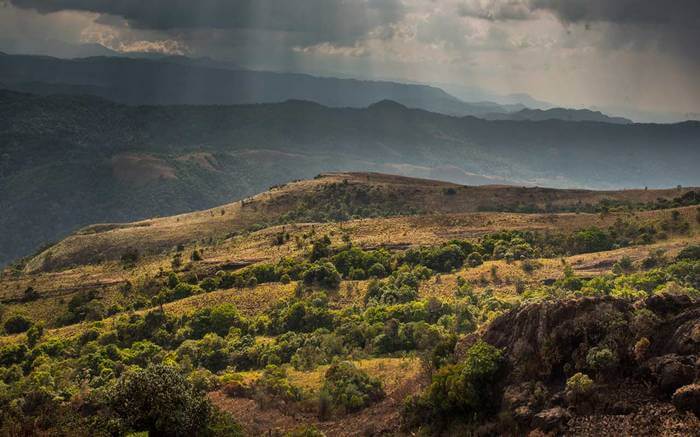 Image Source
Located in the vast surroundings of Brahmagiri Hills, this place is a must visit for every trek enthusiast. If you want to experience trekking in Coorg at its best, head to Iruppu Falls. The tropical rainforest is full of greenery and quite a few leeches, therefore, be mindful of the surroundings. You can also try out some adventure activities at the waterfalls.
Route: Bangalore – (6 hours by bus) – Gonikoppal – (1 hour by bus) – Srimangala – (30 minutes by bus) – Iruppu Falls
Duration of trek: 4-5 hours
Difficulty level: Easy – moderate
Additional activities: Adventure activities and camping
Must Read: 5 Silvery Waterfalls In Coorg That Are Waiting To Be Explored
3. Galibeedu to Subramanya Trek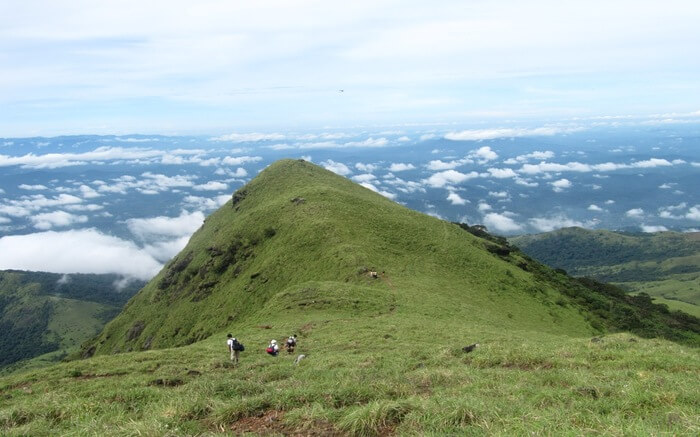 Image Source
The stunning village trek in the heart of Karnataka is such a wonderful trail for a memorable day in the hills of the Western Ghats. The trek begins at Galibeedu village in Coorg which also happens to be a lesser known but popular trek in the vast outdoors of Coorg. This one is regarded as the perfect nature trekking in Coorg which presents all the myriad of colors in the beautiful outdoors of Coorg.
During the entire stretch of the 30 km trek, you will be able to view the different forms of nature. Consider it tough because of the fact that the trails are tricky and confuse a lot. Hence, it is suggested to move under the guidance of a local or trek leader.
Route: Bangalore – (bus) – Madikeri – (bus) – Galibeedu village
Trek distance: 30 km approximately
Difficulty level: Moderate
Additional attractions: Elephants, Gaur and leopards sighting, sprawling greenery, highlands and mountain views
4. Subramanya – Kumara Parvatha Trek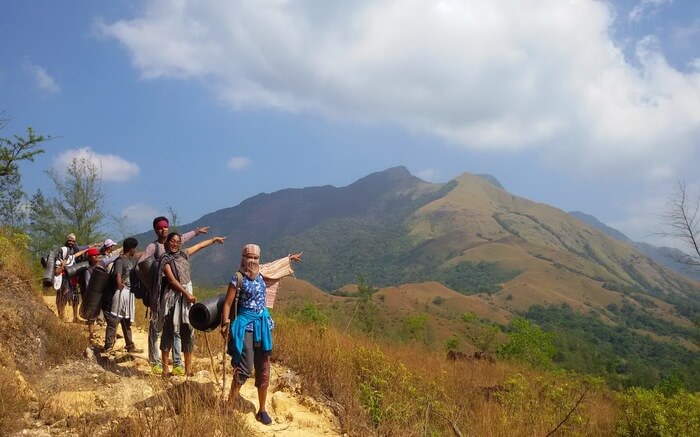 Image Source
Take excitement to a whole new level as you go scaling the Kumara Parvatha Peak in Coorg. Walking the peak is considered as one of the toughest and exciting things to do in Coorg. The trek route falls in the Pushpagiri reserve forest area quite close to Kukke Subramanya. And it is easily accessible from Karnataka.
You can camp near Bhattrumane region but the campfire is strictly prohibited by the forest dept. Reach the campsite, camp for overnight and then start for the Kumara Parvatha Peak early morning, that's the best suggestion by the trek experts. The lightning strike at the Kumara Parvatha peak is frequent, especially during monsoon. So avoid visiting the region during the rainy season.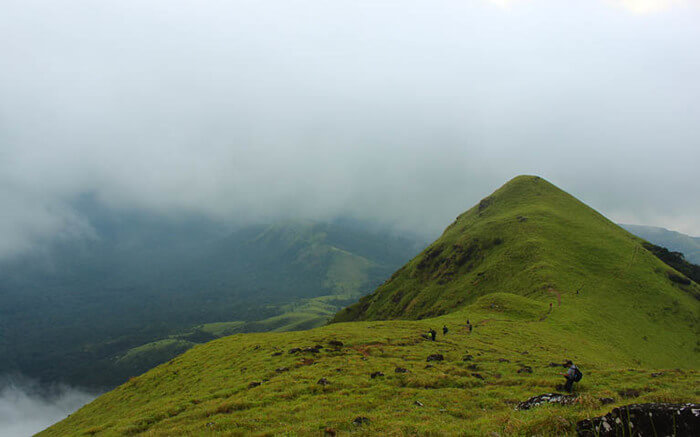 Image Source
Subramanya – Kumara Parvatha Trek can be accessed by two routes – Somwarpet & Kukke Subramanya. The trek via Somwarpet is a one day hike with more waterfalls and thick forests en route. Total hike distance to the peak is around 7 Kms. While the trek via Subramanya is slightly longer. Total hiking distance to Kumara Parvatha peak is 16 Kms approximately.
Route: Bangalore – (bus or train) – Subramanya
It is advised to reach the Subramanya Temple region early in the morning and start the trek as early as possible. The place around the temple region has the facility to freshen up and buy some breakfast.
Trek distance: 14 km
Difficulty level: Easy
Camping is not permitted at Kumara Parvatha Peak!
Must Read: 10 Homestays In Coorg That Will Bring You The Exact Feel Of A Sweet Home
5. Pushpagiri Trek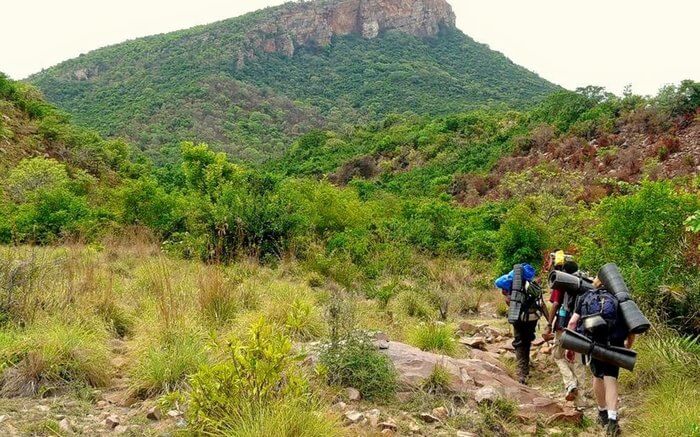 Image Source
Pushpagiri also referred as Kumara Parvatha, is located at an altitude of 5626 meters above sea level. A trek here is so fulfilling in itself, and the fact that Pushpagiri is the second highest peak of Kodagu District makes it a coveted place to explore. The peak is placed 36 km from Somwarpet and 1.5 km from Kumaralli and makes for an exciting journey for every trekker.
With forest all around and enchanting views of mountains visible at a distance, you couldn't have asked for anything more. Pushpagiri sits towards the northern frontier of Coorg!
The peak can be accessed through Beedehalli through the Heggademane Temple. For your information, there lies the check-post of Somwarpet Wildlife Range. So you can spare a moment to just explore the colors of nature.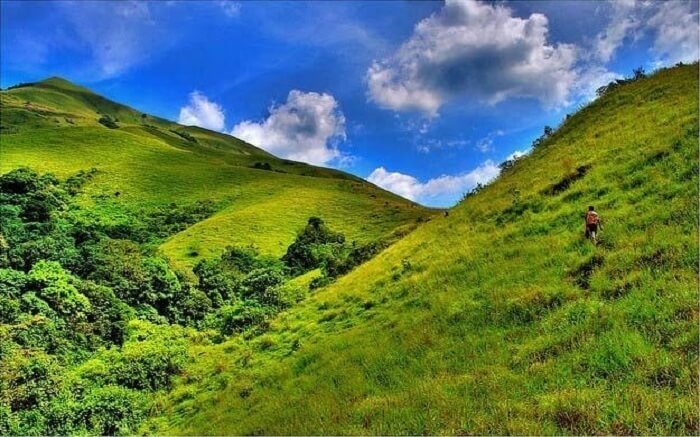 Image Source
The trek is doable in 4-5 hours. Also, you can access Beedehalli by road from Coorg. Somwarpet a Madikeri at a distance of about 30 km. You could explore the wide expanse of the Pushpagiri Wildlife sanctuary upon your visit here, and can be accessed from Madikeri town. A perfect trek it is when you are in Coorg or Madikeri.
Route: Bangalore – (KSRTC bus) – Somwarpet – (Jeep to the temple) – Heggademane temple (starting point of the trek)
Note: Entry fee is INR 75 and an additional fee for camping. Also, carry enough water that would sustain you through the trek & walk in the company of a guide. It would be easy negotiating the trails that way. Carry your own tent & sleeping bag or if you are looking for a private accommodation you may find it in Girigadde. It's known as Bhattara Mane.
Trek distance: 12 km
Difficulty level: Easy to moderate
Additional attractions: Mallalli waterfalls (a short detour from Somwarpet)
Suggested Read: Coorg Trip From Bangalore: A Pocket Guide For Your Next Getaway!
6. Kotebetta Trek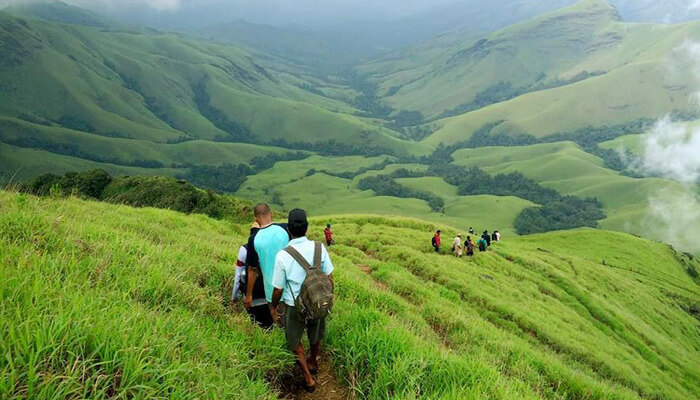 Image Source
Kotebetta Peak is popularly recognized as the Fort Hill in the Coorg region. It happens to be the third highest peak in the Coorg making for a perfect trekking spot for the nature lovers. Madhapur marks as the starting point of the trek which happens to be a small municipality located some 15 km from Madikeri. The trek begins at the village and takes through the plantation trails, forest, and further open grasslands. October to March is the perfect time to go on the Kotebetta Trek. Take a guide along, it is highly recommended.
Trek distance: 20 km
Difficulty level: Moderate
Additional attractions: Spice and coffee plantation
Image Source
It is highly recommended that you carry your own tent & sleeping bag for the trek routes that include 2 days of walking. Also, before you start for the trek from the base camp do carry packed lunch and enough water. There aren't too many hotels or homestays in the course of the treks.You may also have to seek permission from the Forest Department before starting most of these treks.
Things to pack for the trek
1. CLOTHES SHOES & SOCKS
i) Proper trekking shoes
ii) Sports socks – 2-4 pairs (depending upon the length of the trek)
iii) Thermal innerwear
iv) Comfortable tee-shirts, tracks or trousers
v) Windproof jacket
vi) Woolen head-scarf/muffler & Mittens
vii) Light towel
viii) Raincoat or Poncho
2. MEDICINES
Disprin, Crepe bandage, Band-aid, Digene, Gauze cloth, Leukoplast, Cotton, ORS, Betadine or any antiseptic cream, Volini spray
3. OTHER ACCESSORIES
i) Water bottle
ii) Hot water bottle/bag
iii) Trekking pole/ walking stick
iv) LED Torch/ headlamps
Average trip cost: INR 3500 – 5000 per person
Average duration: 2-3 days
If trekking in Coorg is on your mind, think no more! Take any of these exciting trails and be prepared for a lush green treat because the grass is green this side, always!!
Further Read: 10 Hill Stations in Karnataka To Rejuvenate Yourself
---
Looking To Book A Holiday Package?
Book memorable holidays on TravelTriangle with 650+ verified travel agents for 65+ domestic and international destinations.
---
Comments
comments