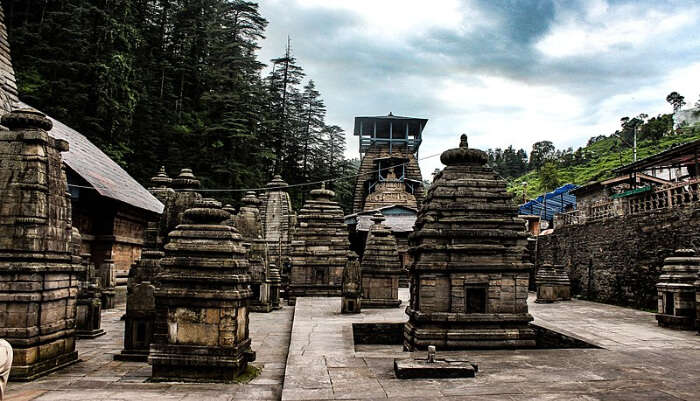 Uttarakhand is a well-known pilgrimage centre in India due to the presence of numerous Hindu temples.. Also known as "Deva Bhumi" or the Land of Gods – this region is equally popular for preserving the leaflets of history. There are some popular monuments in Uttarakhand that remain the region's special attractions for visitors as well as travellers from all categories – be it a business, solo or family trip.
The Archaeological Survey of India (ASI) lists as many as 44 historical monuments in Uttarakhand that can be visited for a 'knowhow' of the glorious past of the region. Steeped in the rich heritage dating back to the prehistoric times, the natural environment of this state makes it an attractive tourist destination for domestic and international travellers. Read on to find out the 9 top monuments in Uttarakhand which you must visit during your lifetime.
1. Badrinath
Perched in the Himalayan region at about 11,000 feet above ground level, Badrinath is the most visited heritage monument in Uttarakhand. The place is one of the quartets of the famed Char Dham or the four shrines. Named after Lord Vishnu—the Preservator, Badrinath is also home to traditional and astonishing Garhwali wooden architecture.
The main temple is set against the backdrop of a hillock, and presents a picturesque view for the connoisseurs while offering bliss and peace for the devotees. Since Badrinath is located at a high altitude in a comparatively colder region, it is open only for six months in a year i.e. from April to November. It makes for a truly spiritual destination to re-energize your spiritual leanings.
Key Places to See: The main temple is subdivided into three main areas namely
1) Garbhagriha (Sanctum Sanctorium)
2) Darshan Mandap (Worship hall)
3) Sabha Mandap (Meeting hall).
How to Reach: Rishikesh is the nearest railhead. Visitors can ride for around 300 km to Badrinath via Joshimath town either by bus or in the shared or private cars. The nearest airport is located in Dehradun, merely 20 km away from Rishikesh. Buses and cab services are also ply from the airport to Badrinath.
Places to Stay: Joshimath town has several lodging and boarding places which provide dining facilities and are quite affordable & decent
Weather: Warm and moist weather with average day temperature during April to November hovering around 18 to 26 Degree Celsius make for pleasant stays.
Must Read: 10 Best Places To Visit In Uttarakhand In December 2019 For A Refreshing Escape
---
Uttarakhand Holiday Packages On TravelTriangle
---
2. Dwarahat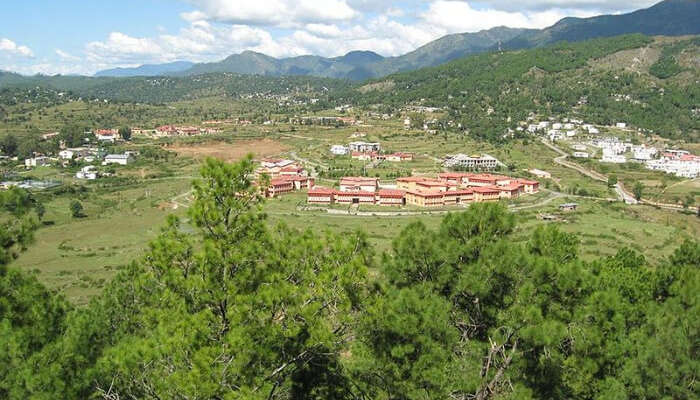 Dwarahat is home to some of the most impressive historical monuments in Uttarakhand. Steeped in the middle of the Kumaon Mountains, Dwarahat serves as an ideal retreat spot in the district of Almora. More than 50 ancient temples adorn this medieval town reflecting the region's past and its magnificent architecture. Glorious views of popular Himalayan peaks, especially Manasarovar enthrals every visitor. It is one of the few hill stations that provides you with a very laid-back environment and remains an ideal location for full rejuvenation.
Key Places to See: The nearby town of Ranikhet has several idyllic and serene spots which include the following:
– Chaubatia Orchards (renowned for Apples, Peaches, Plums etc)
– 9-hole Golf Course (the 2nd largest in the country)
– Jhula Devi Temple
– Majhkali (an ideal gateway to catch the glorious Himalayan Mountains)
How to Reach: This place is well connected with the Airways, Railways and Roadways. While the nearest airport at Pant Nagar is nearly 6 hours by road, Kathgodam Railway Station is about 150 km away from Dwarahat. Public and private buses are also available from various parts of the state and are available at regular intervals.
Places to Stay: Being a remote place, a solitary Ashram is available for tourists to find decent accommodation. The nearest town of Ranikhet which is 37 km away has several accommodations at reasonable rates.
Weather: Ideal time to visit Dwarahat is during March to July when the weather is relatively tolerable with the day temperatures ranging between 24 to 29 Degrees Celsius.
Suggested Read: 10 Things To Do In Uttarakhand For Adrenaline Rush & Soul-Stirring Thrills In 2020!
3. Katarmal Sun Temple at Almora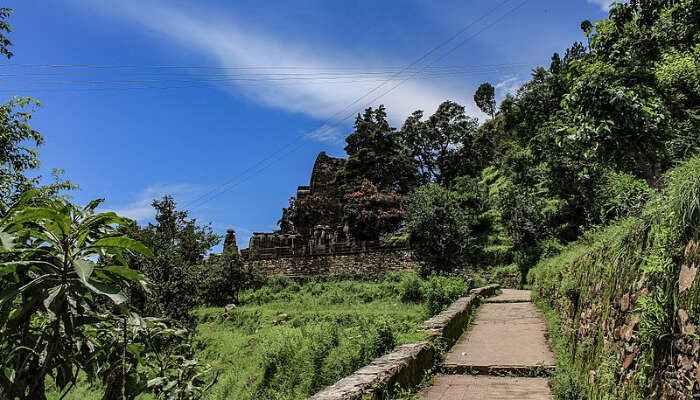 This 800-year old place of worship is the 2nd biggest Sun Temple in the country flocked by devotees throughout the year. One of the famous monuments in Uttarakhand, it is hemmed in by a host of smaller temples numbering 45, therefore, it can also be denoted as one of the holiest sites in the region.
This temple is a living example of architectural integrity and the richness of the bygone era. Its glimpse is still witnessed by hundreds of thousands of visitors each day and throughout the year. Apart from the idols of the Sun God, the deities of Lord Siva, Parvathi and Vishnu are also worshipped by the devotees.
Key Places to See: Idyllic viewpoints like the Zero Point in the thick of the wildlife sanctuary is a major piece of attraction. The place provides a 300 km stretch view of Kedarnath, Shivling and Nanda Devi. Jageshwar is another place known to be one of the Jyothirlingas of Lord Shiva. It is obviously popular with the worshippers of Shiva.
How to Reach: Being a hill station, no Railways or Airways route is available. Pantnagar Airport is the nearest airport at a distance of 115 km. Good network of private and public bus transport services are available here that keeps this area well connected to other places.
Places to Stay: Reasonably good quality hotels in the price range of Rs 1500 to Rs 4000 per night per person are available here.
Weather: Best period to visit here is between March to May. Mean day temperatures are between 23 and 31 degrees Celsius.
Suggested Read: 12 Places To Visit In Haldwani On Your 2020 Trip To This Gem In Uttarakhand
4. Baijnath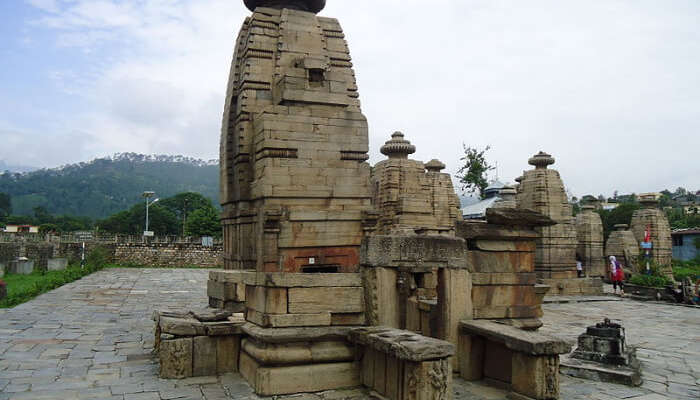 Situated on the banks of the Gomti River, Baijnath is one of the select few popular monuments in Uttarakhand echoing spirituality and religious environment. Baijnath temple is among the important religious places in Bageshwar district of the State. One of the select few monuments that appeal to a large chunk of domestic and international visitors, Baijnath is famous as a historical monument of national importance. This famous pilgrimage centre for the devotees of Lord Siva witnesses people flocking every day and throughout the year except during the months of winter.
Key Places to See: The temple of Brahmri Devi, at a distance of about 2 km from here happens to be a famous monument in Uttarakhand. Aadi Guru Shankaracharya was known to have rested at this temple on his way to Badrinath.
How to Reach: Kathgodam Railway Station is located at a distance of approximately 144 km from here. Likewise, Pantnagar Airport, situated 175 km away links this region with other parts of the country through Airways. Regular bus services are available here from various nearby areas.
Places to Stay: Budget hotels are available in plenty, though the facilities are very basic. The nearest town of Kausani offers better accommodation options to travellers looking for a genuine and affordable stay.
Weather: Months of May and September are the best times to visit Baijnath. Day temperatures vary between 20 and 25 degrees Celsius.
Suggested Read: 15 Places To Visit In Uttarakhand This Winter 2020
5. Jageshwar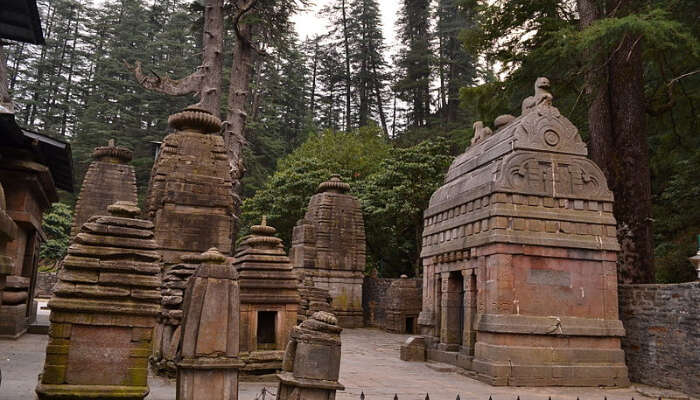 Jageshwar is a hub of nearly 125 temples that makes it another holy place for one to visit at least once. It is one of the few monuments in Uttarakhand that keeps you at peace, religiously. From the oldest Mrutyunjaya Temple to the biggest Dandeshwar Temple, the city of Jageshwar reverberates during the two popular festivals of the year in March and August. The temples of Chandika, Nanda Devi, Kuber and Surya are known for their exquisite sculptures and architectural richness which make them worth visiting for ultimate exploration.
Key Places to See: Apart from several historical and mythological temples, the caves of Airavat or Airavat Gufa is a major tourist attraction around this place.
How to Reach: Kathgodam Railway Station is located at a distance of just 125 km from here. Pantnagar Airport is 150 km away and connects this area with other destinations through Airways. Buses ply from various routes regularly.
Places to stay: Numerous guest houses with decent facilities are available and so are the many home-stay inns around the vicinity.
Weather: Sombre weather throughout the year barring the winter period of December to March makes it a great place to explore.
Suggested Read: 10 Best Cottages In Uttarakhand Ideal For Your Next Vacay In Mountains!
6. Lakhamandal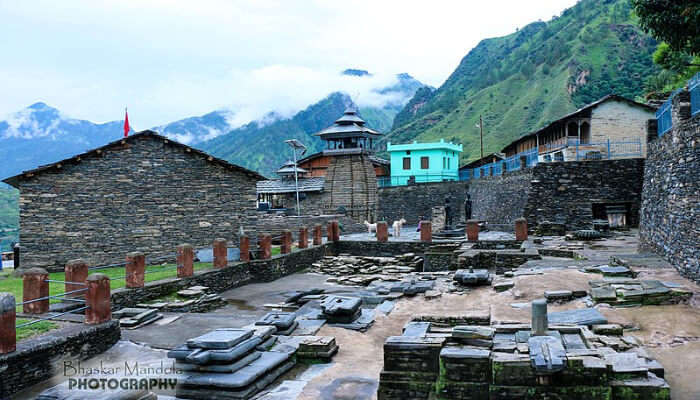 Lakhamandal, out of all the monuments, stands out due to its sheer antiquity and rich mythological significance. Located in the Chakrata region of Uttarakhand, this monument is believed to be a place where Duryodhana of Mahabharata fame tried to burn the Pandavas in their wax house.
The main temple here has the deity of Lord Siva. Uniqueness of this temple is the appealing Shivling made up of graphite, which shines when water is poured on it.
Key Places to See: The place is popular for steep peaks and enthralling waterfalls.
How to Reach: Lakhamandal is about 100 km away from Chakrata while Dehradun Railway Station is located at a distance of nearly 107 km. The Jolly Grant Airport at Dehradun is located at a distance of 130 km connecting it with the rest of the destinations by Airways.
Places to Stay: Lodges, hotels, and dream resorts in Chakrata provide decent and convenient accommodations at affordable rates. Prices range from Rs. 600 to Rs. 2,000 per night per person..
Weather: Barring the months of December to February, this place is ideal to visit in the remaining months. An average day time temperature of 20 degrees Celsius usually surrounds the place.
Suggested Read: 5 Best Water Sports In Uttarakhand For A Perfect Adventurous Trip This Summer
7. Rudranath Temple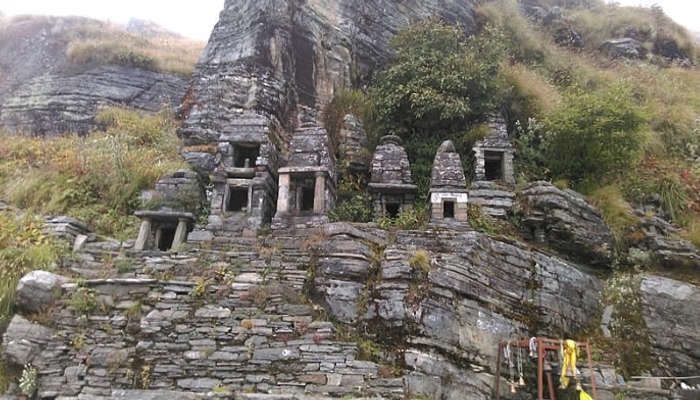 Rudranath is one of the five Kedar pilgrimage temples located in the peaceful Garhwal area of the Himalayas. Rudranath is home to the highly worshipped Siva temple of the country. This celestial place of worship is ensconced amid the dense forests and alpine meadows. The trek to this temple is the most exhilarating part of the journey as it takes the visitors through wild woods and steep rocks.
Key Places to See: The wonderful Nandikund Lake is a major draw for the tourists. It is located at about 4,500 metres above sea level.
How to Reach: This place is a trekker's paradise. It takes about 3 days of trekking from Sagar village. It is located about 260 km away from Dehradun airport and 241 km away from the nearest railway station in Rishikesh.
Places to Stay: As the temple is located at a high altitude, accommodation availability is limited. Although, a few home-stay options are available but most pilgrims usually carry tents and sleeping bags to rest.
Weather: Best time to visit this place is between May to November.
Suggested Read: 6 Haunted Places In Uttarakhand That Will Give You A Chill Down Your Spine!
8. Jagatram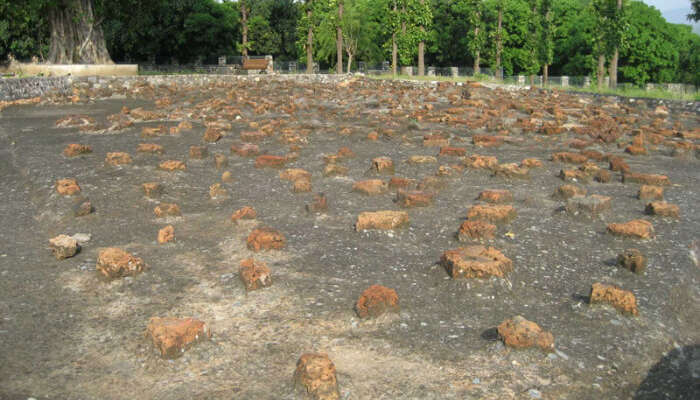 Jagatram is located near Dehradun in the Garhwal region. It is historically significant and is replete with its rich heritage dating back to the 1st Century AD. That is why, it remains to this date, one of the most popular heritage monuments, renowned for an ancient horse sacrificing ritual.
History has it that one of the ruling kings of the Verman Clan performed Ashwamedha Yaga or the sacrifice of horses, to attain mystical powers at the four sites in this area. Currently, 3 out of 4 sites were founded and maintained by the ASI.
Key Places to See: Being only 30 km away from Dehradun, several natural edifices and caves like Robbers Cave, Asan Barrage, Sahastradhara or thousand-fold spring are in the vicinity.
How to Reach: Dehradun Airport is just 65 km away while Dehradun Railway Station is located at a distance of 8 km only. Being close to Dehradun, many State and Private Transport buses operate from neighbouring states as well.
Places to Stay: Budgeted 5-star hotels and resorts are abundantly available for accommodation purposes. Costs could vary from Rs 800 to Rs 7,000 per night per person, depending on one's budget.
Weather: Dehradun is a hill resort; therefore, its weather is ideal to visit any part of the year.
Further Read: 8 Best Places Near Uttarakhand That You Should Add To Your Itinerary Right Now!
Uttarakhand is a heavenly land. The land where divinity meets tourism. If you are looking for peace, then there can be no better place than Uttarakhand. There is something for every traveller there. Looking for a break? Pack your bags for Uttarakhand today as there can be no better time than now.
Frequently Asked Questions About The Monuments In Uttarakhand
Q. Which part of the year is best to visit the monuments in Uttarakhand?
A. Being a predominantly hilly area, Uttarakhand is ideal to visit during the bright summer months. Best to avoid during the rainy season as landslides are common during that period.
Q. Are the monuments well connected with the conveyance facilities?
A. All the monuments of Uttarakhand are well serviced by rail and road routes. The nearest airports to most of these areas are mere few hours' of drive by road.
Q. Is accommodation available abundantly?
A. Every monument has accommodation in the maximum vicinity of 50 km.
Q. Are tourist guides available at the sites of the monuments?
A. Most of the monuments of Uttarakhand are maintained by the ASI that has tied up with the tourist guides and have their package tours in collaboration with the travel agents.
Q. What artefacts or souvenirs can we buy at the monuments?
A. As most of the monuments are religious, images and pictures of gods and goddesses are ideal souvenirs to buy.
---
Looking To Book A Holiday Package?
---
People Also Read:
Monuments In Colombo Monuments Near Bali Monuments In Singapore
Comments
comments