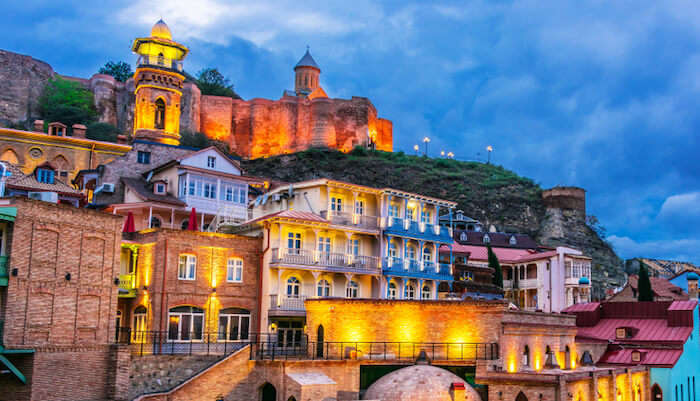 Azerbaijan and Georgia have distinct geopolitical, linguistic, ethnic, religious, and cultural identities that have indurated over a millennia-long history. Despite the differences between these two countries, what's common between them is a confluence of Turkish, Persian, Russian and other influences. A circle trip to Azerbaijan and Georgia will uncover the astonishing natural beauty and architectural splendor that these destinations are famous for.
5 Interesting Facts About Azerbaijan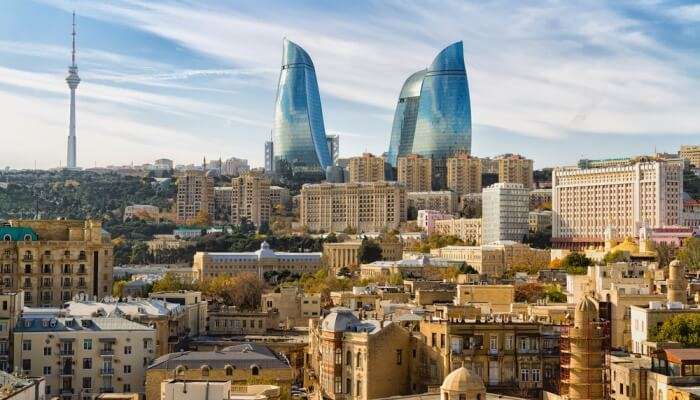 Did you know that Azerbaijan is the largest country in the Caucasus?
For more such information that will inspire you to take a circle trip to Azerbaijan and Georgia, read on:
1. Azerbaijan has a city built on stilts. Neft Daşları started out as an oil rig in 1949, and is now a bustling community full of bakeries, hotels, shops, and a plethora of cultural areas.
2. Azerbaijan's national sport Chovkan, which resembles the English game Polo, is accompanied by live music. It is mandatory for all the players to wear the national costume while playing.
3. Azerbaijan's capital Baku will almost remind you of Dubai, thanks to its appetite for gold and outlandish architectural structures that defy gravity.
4. You can skip the gondola and get around Azerbaijan on a boat! Baku has a man-made waterway that flows between restaurants and shops lined up on the streets.
5. Azerbaijan has one of the last collective farms. This farm, in the Soviet days, was run by the entire community.
5 Best Places To Visit In Azerbaijan
Here is a rundown of 5 of the most interesting places to visit in Azerbaijan that travelers need to check out:
1. Bilgah Beach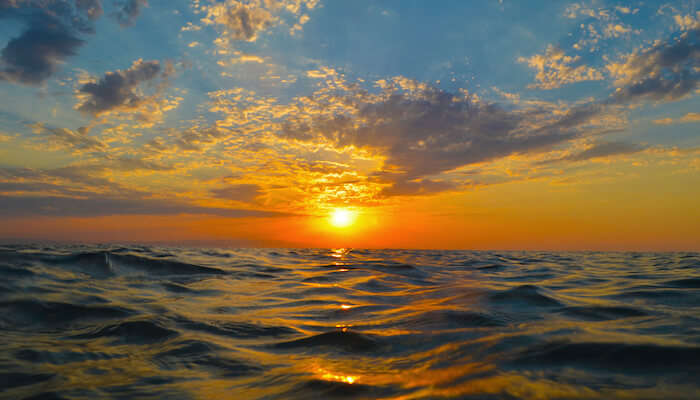 Bilgah Beach is one of the most popular public beaches in Azerbaijan. It is located 25 kilometres away from Baku. Sitting on Absheron Peninsula's northeast tip, it is that tropical paradise you always dreamed of. You can take a stroll here along the one-kilometre stretch of sand and destress without paying any admission fees on your holidays to Georgia and Azerbaijan. However, if you want to use the loungers, you will have to shell out extra.
Must Read: Nightlife In Azerbaijan: 15 Places To Not Miss On Your Next Dusk Escapade!
2. Shikhov Beach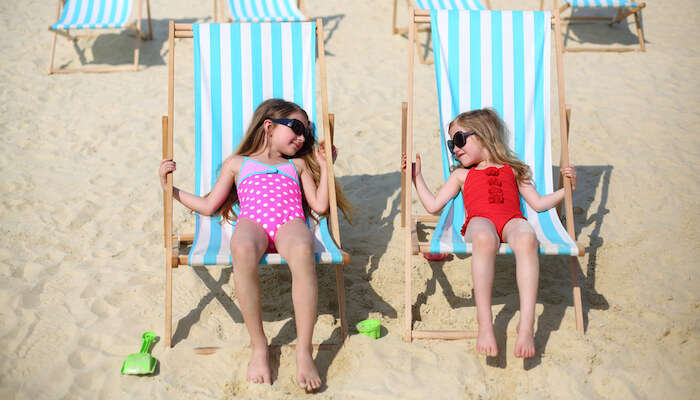 Shikhov Beach is only a 15-minute bus ride away from Baku's main city centre. It is easily accessible by public transport. You may face difficulty if you take your personal vehicle because of parking-related issues. It is considered as one of the cleanest beaches in Azerbaijan. The beach club offers guests a range of facilities, including loungers, umbrellas, access to changing areas and more.
3. Azerbaijan Carpet Museum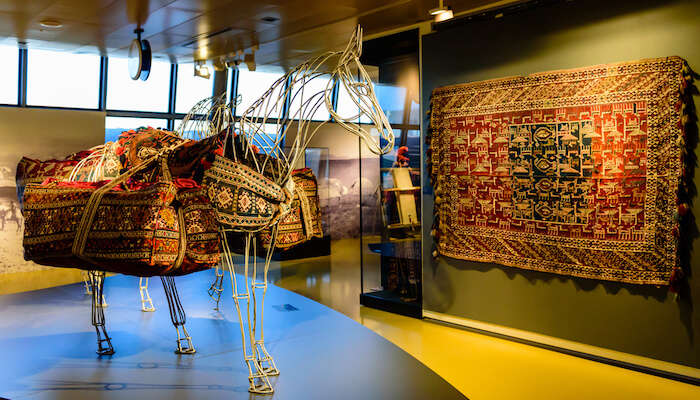 Azerbaijan Carpet Museum was established in 1967. The museum used to be called the Azerbaijan State Museum of Carpet and Folk Applied Arts. It stores curiosities related to the Bronze Age, the Ancient Period, and the early Middle Ages, while the greater part of the collection dates back to the 17th to 20th centuries. The museum vault houses 10,139 exhibits and includes seven collections.
Suggested Read: Museums In Azerbaijan: 8 Historical Places Depicting The Stories Of Art And Antiquity!
4. Absheron National Park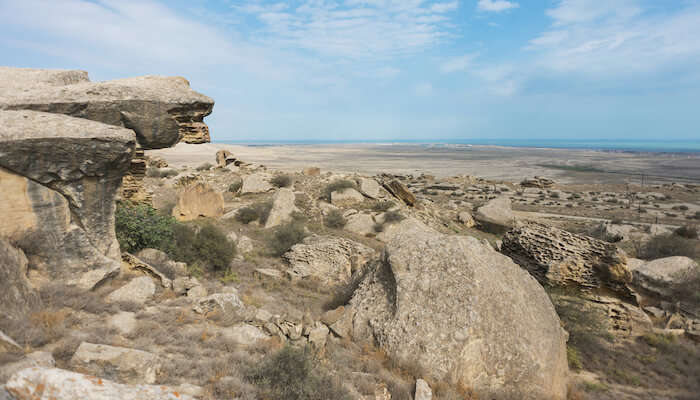 If you want to experience the natural landscape of Azerbaijan, make a beeline for Absheron National Park. The park houses more than 50 kinds of flora and fauna. Its mission is to protect endangered wildlife and develop the semi-desert terrain into a tourist hotspot. This may sound like a far-fetched plan, but the officials have witnessed a boost in the number of tourists over the past 10 years.
5. Goyazan Mountain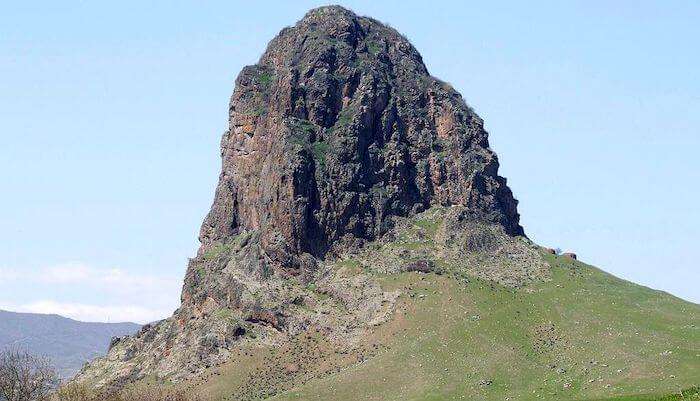 Goyazan Mountain is located in the vicinity of Abbasbayli and Alpout, and rises 857.9 metres above sea level. It is in the northwestern Qazakh district of Azerbaijan. The mountain stands alone against a flat background of rolling fields and plains. This unique feature gives it a prominent appearance in the landscape. The strange beauty of the mountain includes it in the list of places to visit in Azerbaijan.
Top 5 Things To Do In Azerbaijan
Discover 5 unusual and off-the-beaten-track things to do in Azerbaijan on your circle trip to Azerbaijan and Georgia:
1. Do A Walking Tour Of Baku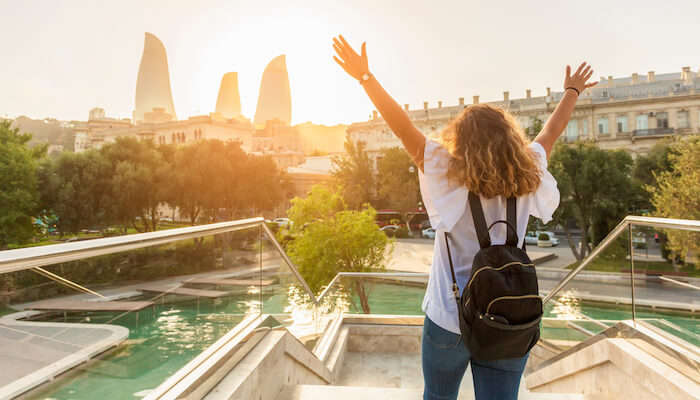 Baku, like almost all cities around the world, has free walking tours. You can join a historical tour and embark on a journey through different eras of Baku or go on a food tour where you can sample the local cuisine. If you land in Baku at night, there are plenty of night tours that you can be a part of to engage with the culture and heritage of the city. The Baku Night Tour includes a trip to the top of the Baku Funicular.
Suggested Read: 8 Restaurants In Azerbaijan That Will Give Foodies An Amazing Experience!
2. Attend Azerbaijan Grand Prix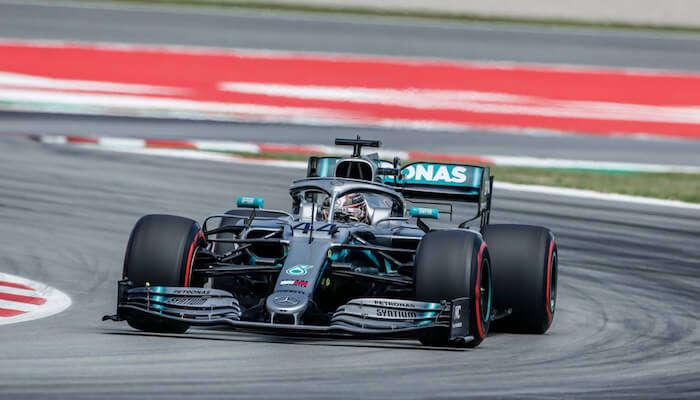 The Azerbaijan Grand Prix is held on the Baku City Circuit, a street circuit in Baku. The first Formula One race at the circuit, in 2016, was named the European Grand Prix. Lewis Hamilton participated in the 2018 Azerbaijan Grand Prix, and won. The Grand Prix after-parties are quite popular with the who's who of the city.
3. Savour Azeri Food

Azeri food refers to the cooking styles and dishes of Azerbaijan. It features a spread of different dishes such as plov (saffron-covered rice, which also happens to be the national dish), a variety of kebabs, filling soups, an array of seafood dishes, fresh-fruits and vegetables, and lots of other dishes cooked using fresh, aromatic herbs and spices. Plan a trip to Georgia and Azerbaijan to hog on all this food!
4. Celebrate The Festival Of Colours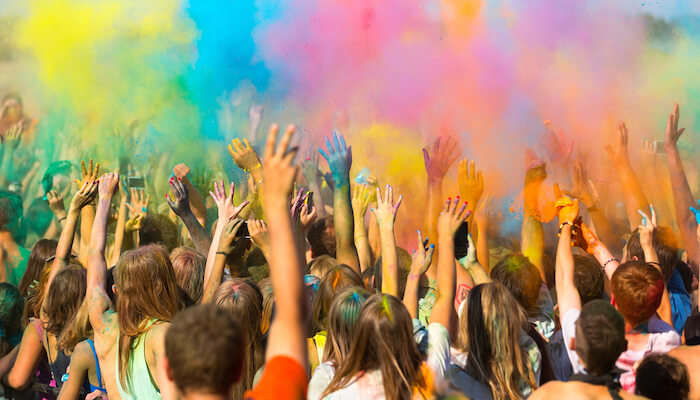 Tons of colorful powder, thousands of happy faces and entertainment for every taste await you on your combined Georgia and Azerbaijan tour. The Festival of Colors is an open-air event modelled on one of India's most ancient and colorful customs – the Hindu Holi festival. The underlying premise of the event is the triumph of good over evil. The colorful festival features competitions, disco parties and fireworks. The key ritual is throwing and applying colored water and powder on friends and family,
Suggested Read: 5 Exciting Festivals In Azerbaijan That Will Add All Those Festive Vibes To Your Trip
5. Climb Up The Maiden Tower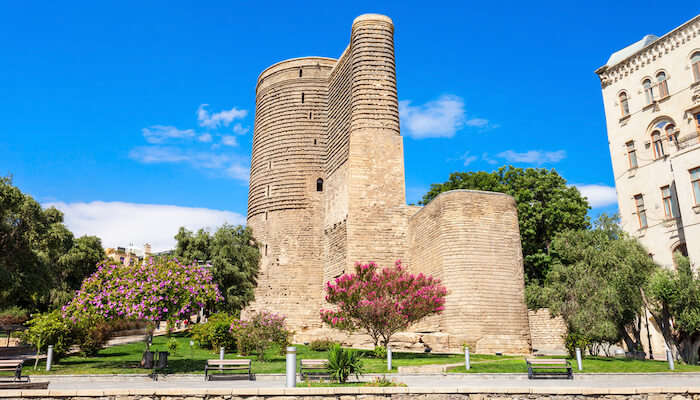 The Maiden Tower is a unique 8-floor structure with majestic 4-5 meter thick walls built on a promontory. It overlooks the beautiful Caspian Sea. It has been included in UNESCO's World Heritage List. The top of the tower offers panoramic views of the city. The tower was damaged in various battles and was gradually rehabilitated and in the Middle Ages.
Suggested Read: 8 Magnificent Places To Visit In Azerbaijan One Must Definitely Visit While In Russia!
5 Interesting Facts About Tbilisi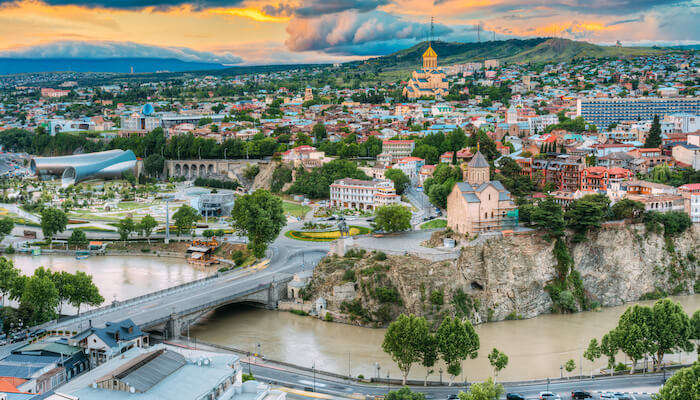 Did you know that legends from Tbilisi are now read as famous tales?
For more such information that will inspire you to take a circle trip to Azerbaijan and Georgia, read on:
1. Chiakokonoba is a Georgian folk ritual that used to be held every Fat Thursday. It was believed that on this day, fiends would ride wolves and take to the streets harming civilians.
2. According to archaeological expeditions, the warm climate of Tbilisi led the early settlers to inhabit this region in the 1st century AD. Interestingly, the word 'tbili' in Georgian means warm.
3. European architectural elements, like stained glass windows and circular stairs, were added to the buildings in Tbilisi much later, which were originally influenced by elements in Russian architecture.
4. Konka was the first public transport to be introduced to the residents of Tbilisi in 1883. It was a horse-drawn tram on a narrow railroad.
5. Tbilisi was the capital of the independent Republic of Georgia for 4 years post the debacle of the 1917 Revolution in Russia.
5 Amazing Places To Visit In Tbilisi
From antique castles and mosques to churches, towers and excavations, here are the 5 places you can visit in Tbilisi:
1. Narikala Fortress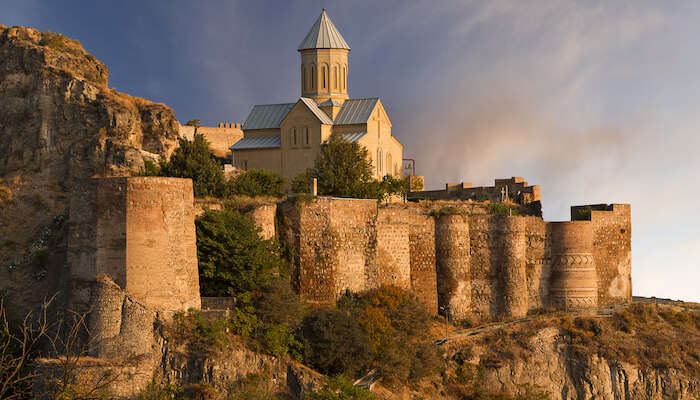 The Narikala Fortress is a must-see place in old Tbilisi. It was built in the 3rd century. Due to invasions, the castle was destroyed and rebuilt several times. The fortress is located on an uphill and looks over the city. Before visiting Narikala, visitors should observe the Metekhi Virgin Mary Church and the monument of the king Vakhtang Gorgasali, the founder of Tbilisi.
Suggested Read: 7 Best Castles In Georgia That Show The Glorious Past Of The Country
2. Presidential Palace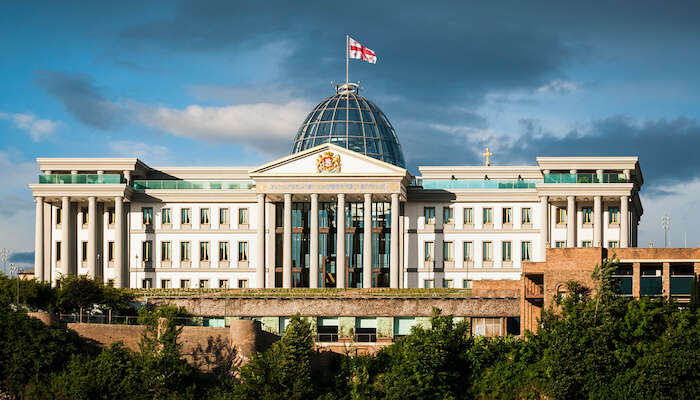 It has been reported that the President's Palace in the Avlabari district of Tbilisi may be turned into the National Museum of Georgian Culture. The building was the presidential residence until the new President Salome Zurabishvili decided to reside in Orbeliani Palace near Alexandrouli Park. The palace is a sight to behold, so make sure to visit it on your circle trip to Azerbaijan and Georgia.
3. Rike Park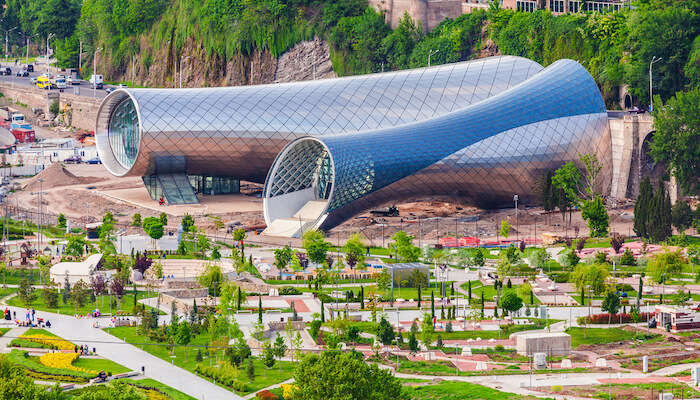 Rike Park is a public recreation area in Tbilisi. It is immensely popular with families, tourists and residents. You can stroll in the park along the Mtkvari River and watch the kids play in the grass. From the park, you can also take a cable car to Narikala Fortress. How convenient is that? The park's north end are home to an exhibition centre and a concert hall.
4. Museum Of Georgia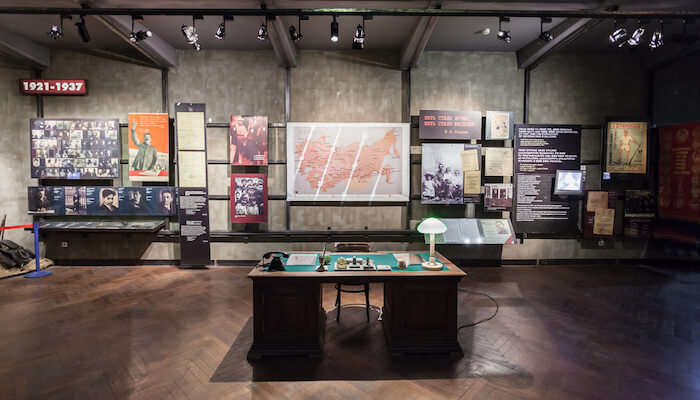 An institution of innumerable treasures, the Museum of Georgia plays host to the Georgian Archaeological Treasury. Within, an entire nation's history comes to life through ancient artifacts, Medieval treasures and a study on Caucasus biodiversity. One exhibition hall, referred to as the Museum of Soviet Occupation, offers insight into the nation's history.
5. Metekhi Church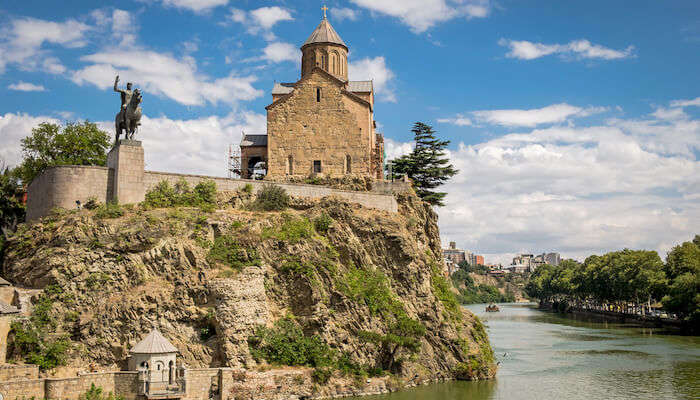 Tbilisi wears its multi-ethnic history with pride. The famous Metekhi Church, which dates back to the 13th century, sits close to the Narikala Fortress. The church was built by King Demetre Tavdadebuli between 1278 and 1289. It has been reconstructed many times since and continues to remain a sight to behold.
5 Best Things To Do In Tbilisi
Shop, eat, go sightseeing, and become familiar with the culture of Tbilisi on your trip to Azerbaijan and Georgia:
1. Try The Local Cuisine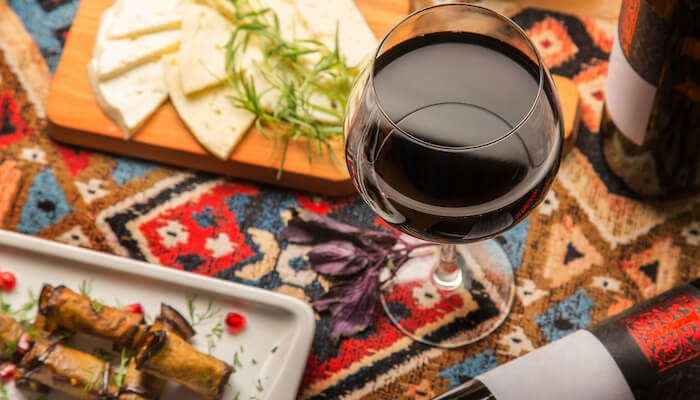 Georgian cuisine is one of the top reasons why one should visit the country. Most meals in Georgia include more food than can physically fit on the table! A must-try is khinkali, Georgian dumplings. Only a two-hour drive away from Tbilisi you will find Sighnaghi, a picturesque, small town in Kakheti, the wine region of Georgia. Sighnaghi is a cobblestoned village and the perfect place to try some of the famous Georgian qvevri wine.
2. Do A Walking Tour Of Old Town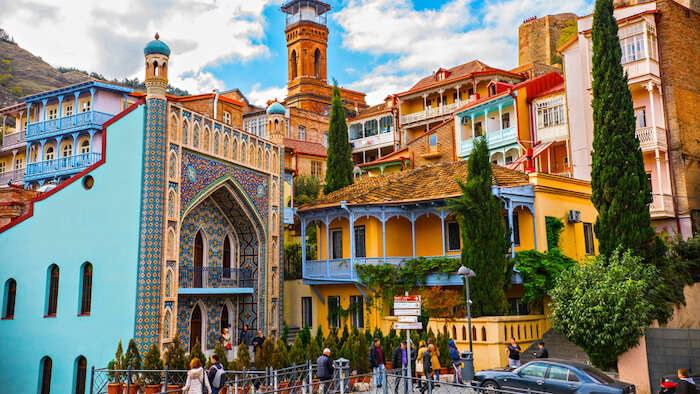 The scenic Old Town of Tbilisi is where you'll spend your sightseeing hours. Its charming streets are filled with all types of shops and boutiques, galleries, and restaurants, with small, old balcony-draped buildings sandwiched alongside modern construction. It is inspiring and picturesque in equal measure.
3. Take A Sulphur Bath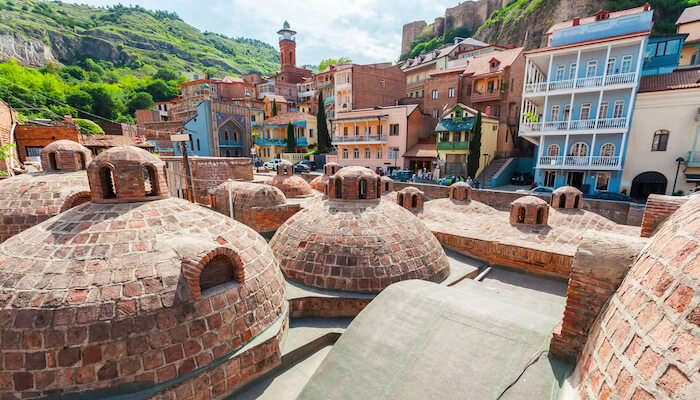 In the Abanotubani neighborhood in Old Tbilisi, several different sulfur bathhouses are clustered together. They are all below ground level with semi-circular domed ceilings that allow natural light to stream through. Moreover, the ceilings function like little chimneys for sulfur steam in the baths. They also aid fresh air circulation.
4. Check Out The Nightlife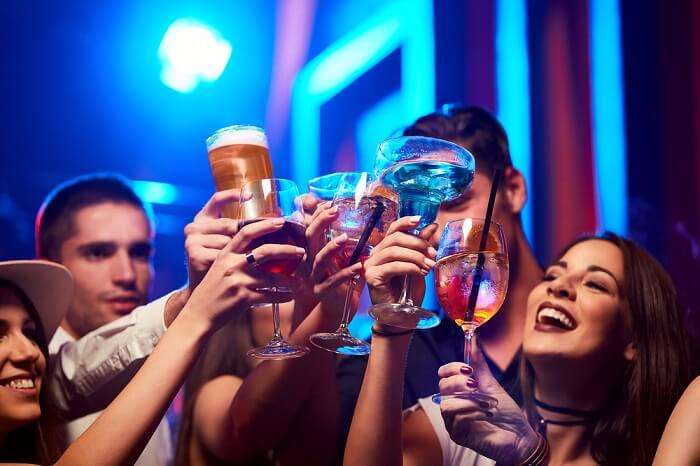 Tbilisi's growing bar and pub culture cannot be ignored. New bars are popping up here and there on the nightlife map all the time. On weekends you'll find an increasing number of venues with local or international DJs spinning the tunes. Travel to Azerbaijan and Georgia to revel in the nightlife!
5. Watch The Puppet Show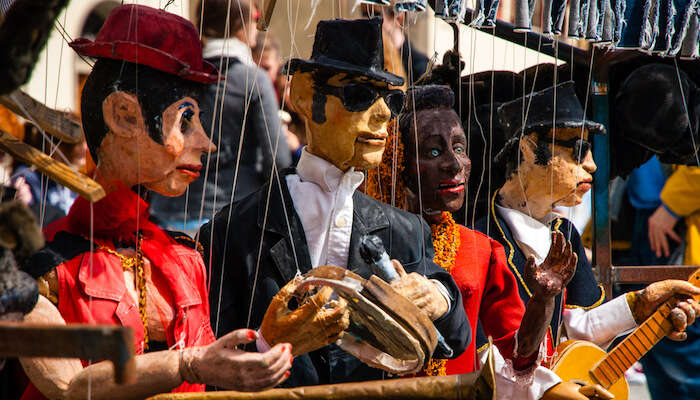 In 2010, Rezo Gabriadze built a unique clock tower next to marionette theatre in Tbilisi Old Town. Every hour an angel comes out with a small hammer to ring the bell. There is a small puppet theatre inside the tower and twice a day at noon and at 7pm you can see a show – "The Circle of Life".
How To Get There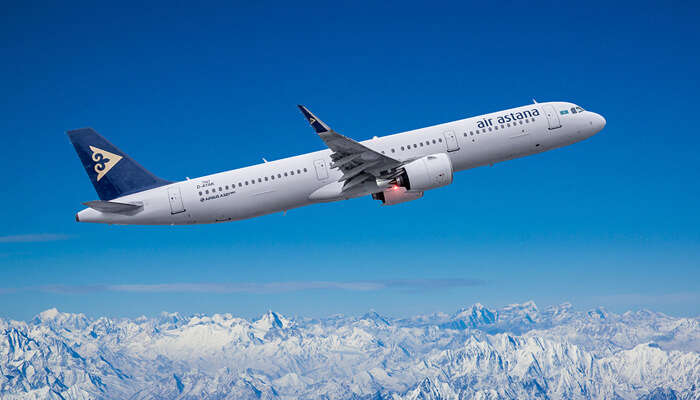 Air Astana has resumed daily operations, and with the launch of 2 additional flights starting 2nd September 2019, they will now be operating 11 times a week offering even more onward connections. You can now make the most of this special offer by Air Astana and plan your trip to the biggest metropolitan city of Kazakhstan. Transit passengers can also visit Nur – Sultan and Almaty hassle – free in their journey with Kazakhstan's 72-hour transit visa-free regime. You can now also apply for an e-visa before traveling to Kazakhstan. The process is very simple!
Explore Two Countries In One Trip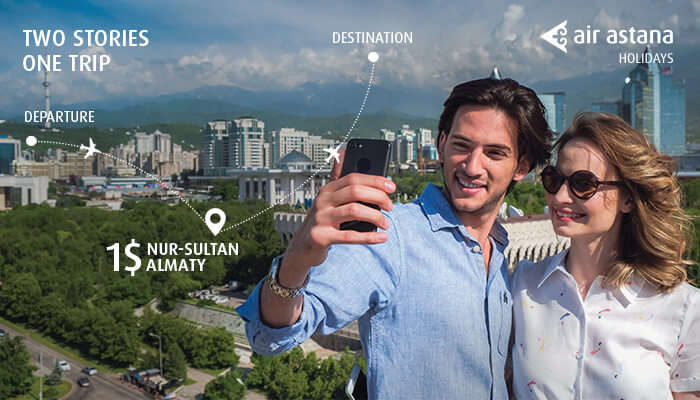 There is good news for all transiting passengers. With Air Astana's 1$ Stopover Holiday Package, you can enjoy a one-night stay in Almaty or Astana starting at just 1$ for the first night. Simply pay online and you will receive instant confirmation for your Stopover Holiday Package with Air Astana. The package includes a one-night stay in 3-4 star hotel, buffet breakfast, and airport transfers. What more could you possibly need!
Further Read: 10 Best Festivals In Georgia That Will Let You Gel Up With The Country's Culture
Your experience of  Europe is incomplete without a trip to Azerbaijan and Georgia. Explore the best of these destinations and the fusion points of East and West on your international trip with TravelTriangle. You can avail exciting deals and discounts and at the same time, customize the trip according to your requirements. It doesn't get any better than this, readers!