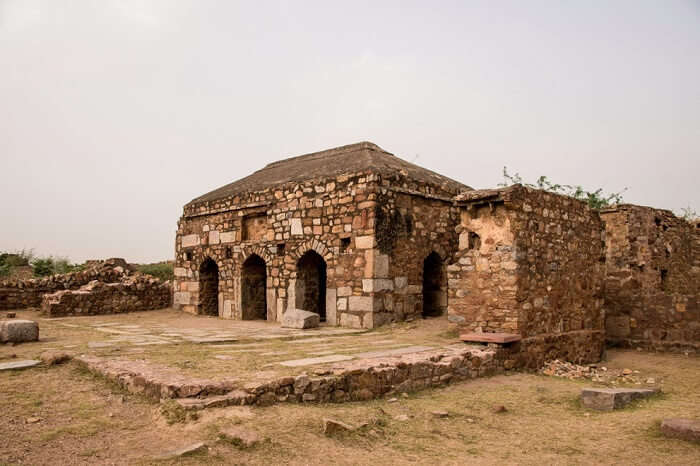 The Tughlaqabad Fort reflects the unique and grim style of the Tughlaq dynasty that reigned in Delhi for almost a hundred years. The architectural marvel is a symbol of bolstering defence and dynastic pride. It is one out of the two forts left behind by the Tughlaqs. The other fort, named Jahanpanah, is only 5.5 km away from this formidable structure and is as arguably as magnificent as Tughlaqabad.
Quick Links For Navigation
Tughlaqabad Fort History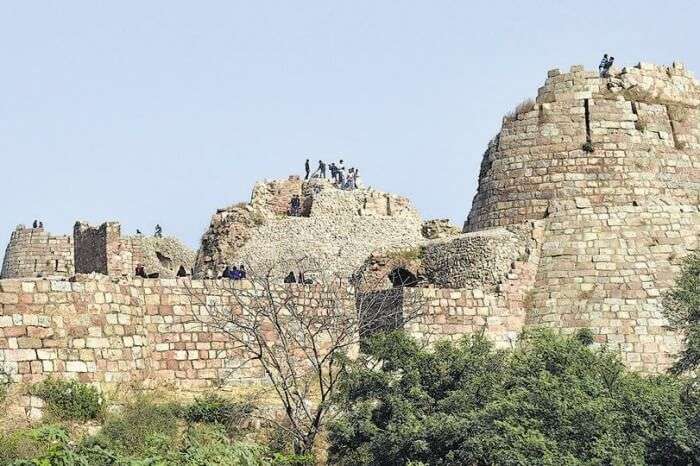 Tughlaqabad Fort's history is as rich, varied and complex as any other architectural marvel's in Delhi. Ghiyasuddin Tughlaq, the first king of the Tughlaq dynasty who ruled in 1320 AD, chose Tughlaqabad's rocky site to build the fort so that it could be defended easily from invaders, like the marauding Mongols. In 1327, the sultan uprooted all the settlers in Tughlakabad when he shifted the capital to Devagiri. His action wreaked havoc on the city.
Tughlaqabad Fort timings: 7 AM – 6:30 PM
Tughlaqabad Fort entry fee: INR 5/- (for Indian nationals), INR 100/- for tourists
Famous for: Walking tours, photography, sightseeing
Visit duration: 2-3 hours
Best Time To Visit Tughlaqabad Fort

The best time to visit Tughlaqabad Fort in Delhi is during the cool, dry season. You can choose to go sightseeing anytime between November and March. During this period, the weather remains pleasant. The temperature of Delhi ranges from 20 to 25 degrees in October. In November, the temperature falls from 15 to 20 degrees. We suggest you wear light clothes along with sunglasses and a hat.
Must Read: 22 Super Awesome Places To Visit Near Delhi In Monsoon (2022)
Tughlaqabad Fort Architecture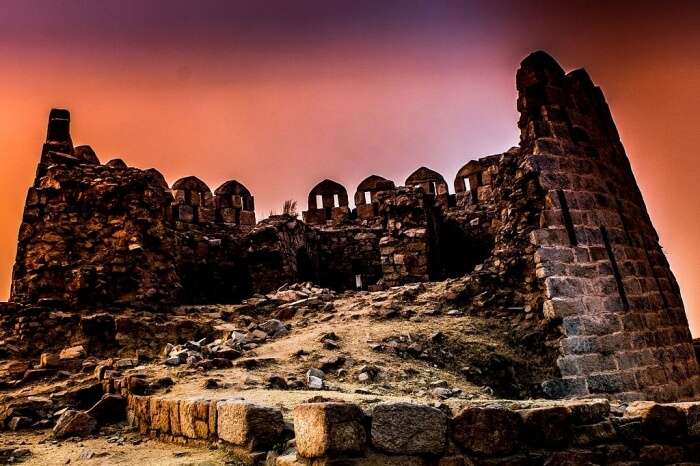 Tughlaqabad's fort double-storied bastions and the tapered rubble-filled walls surfaced over with Delhi quartzite are simply a sight to behold. The huge slanting slopes served to buttress the higher walls. Ghiyasuddin's son, Muhammad bin Tughlaq, built Adilabad, a small fort linked to Tughlaqabad through a causeway, which mirrored the bigger fort in style and substance. This causeway, which has now been pierced by a road, originally stood in a vast water reservoir created by erecting bunds between the hills. The water has now dried up.
Suggested Read: A Boat Ride From Delhi To Taj Mahal Is On The Cards & We Can't Keep Calm!
Interesting Trivia About Tughlaqabad Fort

Tughlaqabad fort is a testimony to the city's grandeur and gives an interesting peek into Delhi's glorious past. Read on to learn mind blowing historical facts and trivia about this marvel. Are you prepared to be amazed?
It took 4 years to build Tughlaqabad fort, but it was never fully populated, and 15 years later, it was abandoned. Some say this was due to a shortage of water in the area.
A popular legend is that a saint cursed Tughlaqabad to punish the arrogant Ghiyasuddin. The curse reads: May this fort be inhabited by herdsmen or remain unoccupied.
Another legend is that Ghiyasuddin Tughlaq had made it mandatory for all the workers in Delhi to be employed in the construction of his fort.
The grand stairs constructed at the entrance were made for the elephants to tread on as they carried royalty inside the fort.
The fort is allegedly haunted by Djinns.
Suggested Read: 19 Extraordinary Destinations Around Delhi That You Ought To Check Out In 2022
Places To Visit Near Tughlaqabad Fort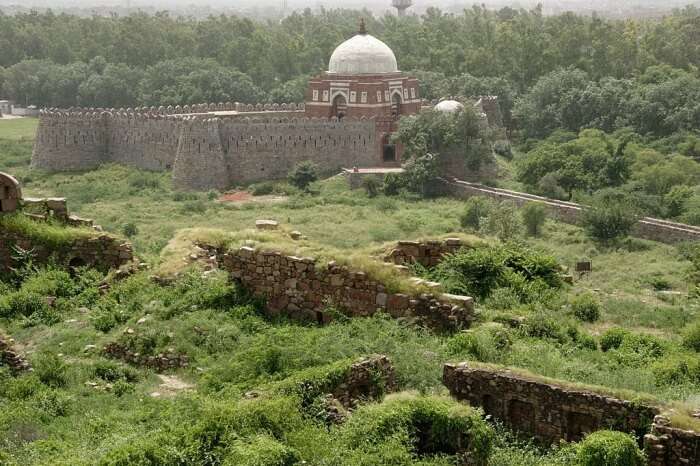 Though hard to spot, Adilabad Fort (pictured above), another forgotten jewel of Delhi, lies only 2.3 km away from Tughlaqabad Fort. It is a 2 minutes drive from the citadel. Adilabad was built by Muhammad bin Tughlaq with the intention of imitating Tughlaq's fort. Another attraction that you must visit at all costs is Nai ka Kot. It is a fourteenth century building said to be built by Muhammad bin Tughlaq for his favourite barber. Wildlife photographers and enthusiasts can head to the adjoining Asola Bhatti Wildlife Sanctuary.
Suggested Read: 20 Historical Places In Delhi To Explore In 2022 For A Walk Through Time
Traveler Tips

From underground passages and tombs to sloping walls and archaic wells, each and every corner of Tughlaqabad Fort deserves to be explored. Make sure you keep these tips and pointers in mind if you plan on visiting the monument:
Make sure to wear a sturdy pair of shoes as the terrain is mostly uneven and thorny.
Paying for a local guide is highly recommended if you wish to gain in-depth knowledge of the history of the fort.
Don't forget to carry a water bottle to keep yourself hydrated.
There are no places to eat in the vicinity, so we advise you to carry your own snacks.
Suggested Read: 30 Reasons I Would Rather Be In Delhi Than Anywhere Else
How To Reach Tughlaqabad Fort
Tughlaqabad Fort is situated on Mehrauli-Badarpur road. It is easily accessible by road. As Delhi is well connected to all major cities by air and rail, you can easily visit the monument by one of the following means:
Via metro: Govindpuri metro station is 5km away from the fort. From the station, you can hail an auto for the nominal price of INR 50/-.
Via bus: The bus stop is within walking distance from the fort premises. The following state buses will drop you at your destination: 414, 511, 525, 544, 874 LTD, 714 and 717.
Via air: It is 20 km away from Delhi airport. You can take a direct cab to reach Tughlaqabad Fort.
Via rail: It is 25 km away from Delhi railway station. You can avail public transport from the station to reach the fort.
Further Read: Getting Married? These Are The 17 Best Locations For A Pre Wedding Shoot In Delhi & NCR
Tughlaqabad Fort lures visitors, especially locals, with its beautiful remnants of a bygone era. Nestled in tranquil surroundings away from the hustle-bustle of the metro city, it offers spectacular views which are best seen at sunset. If you're feeling adventurous, climb the fort to get an excellent view over the plains. It may not strike you as a well-maintained structure, but it still holds a charm of its own. Make sure to drop by here on your trip to Delhi to make your visit one to remember!
Frequently Asked Questions About Tughlaqabad Fort
Why was Tughlaqabad fort built?
Ghazi Malik built this fort in the year 1321 in order to keep the Mongol marauders away and named it Tughlaqabad Fort.
Why is the Tughlaqabad Fort known as a haunted place?
Apparently, this fort was cursed by a Sufi Saint and therefore people are scared to spend a prolonged time over here.
How many forts are there in Delhi?
There are 8 forts in Delhi and each of them is quite prominent, providing a glimpse of the beautiful past that is essentially known for the dominating emperors.
Which fort in Delhi is known to be the oldest?
The oldest fort in Delhi is known to be Purana Qila or Old Fort. This fort was built by Sher Shah Suri who was a well-known Afghan King during the time when Delhi was called Indraprastha.
People Also Read