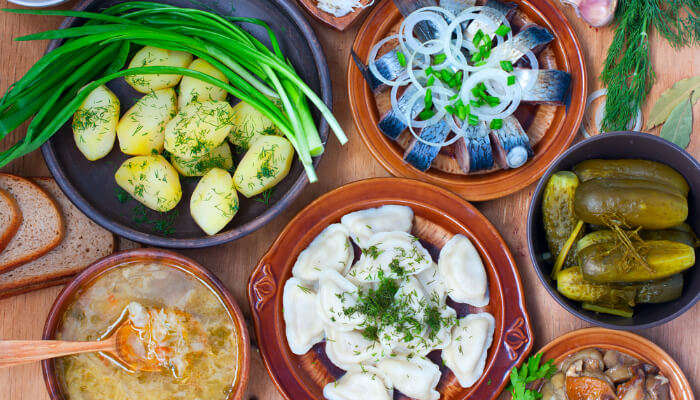 Ukraine is not just famous for vodka and having the world's deepest metro station underground. Ukrainian Cuisine has put this country on the European continent on the gastronomical map. The country is so vast that you will get a variety of indigenous dishes to taste on your vacation. Despite having the third busiest McDonalds in the world, the people of Ukraine are attached to their roots and have preserved their culture in food.
One thing about Ukrainian food culture is that people here love sour cream which is why you will find it being served with most of the Ukrainian dishes. So, blame the food is you gain a few pounds by the end of your trip because this place will pamper you with its food and hospitality.
Ukrainian Cuisine: Best Dishes To Try
Here are some of the most famous dishes from Ukraine that you should definitely try on your holiday in this part of Europe.
1. Chicken Kiev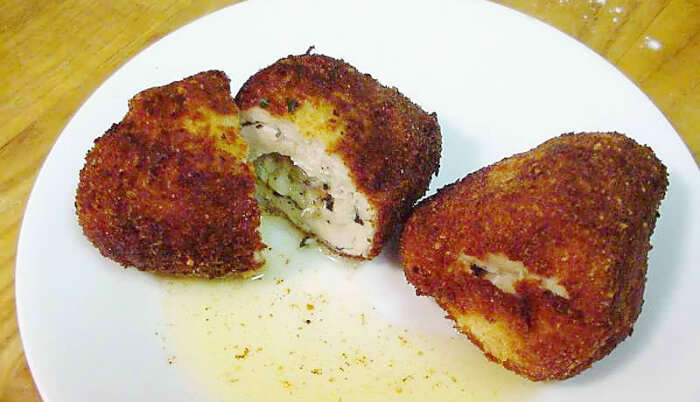 Chicken Kiev is what put Ukraine on the map in terms of cuisine. The famed Ukrainian dish is famous in all households. It is made from chicken fillet and a lot of butter. You put a block of butter between the chicken fillet and fry it. Avoiding butter from flowing outside requires a lot of patience that comes with expertise. If you are in Ukraine, then you must definitely try this succulent dish. It is mainly served as an entre at most restaurants.
Must Read: 12 Best Things To Do In Ukraine That Will Let You Have An Enticing Vacay
2. Potato Pancakes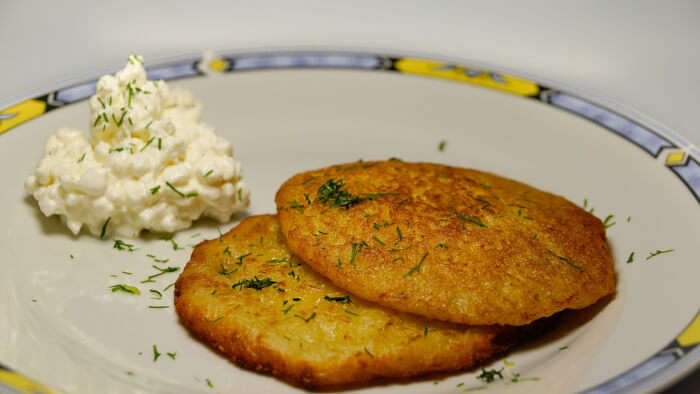 In this Ukrainian dish, it is two of your favorite things combined; potato and pancakes. The crispy, golden pancakes made from finely grated potatoes can be had in either breakfast or dinner. In Ukraine, it is called deruny. So, now you know what to order when you are in a Ukrainian cafe. You may even add slices of meat, chopped onions, mushrooms, herbs, and spices to diversify the flavor. Though it tastes best when simple. You can easily make it at home if you wish to try. It is one of the most staple Ukranian breakfast foods of locals.
Suggested Read: Top 12 Places To Visit In Ukraine For A Journey Through Its Past And Beauty
3. Stuffed Cabbage Rolls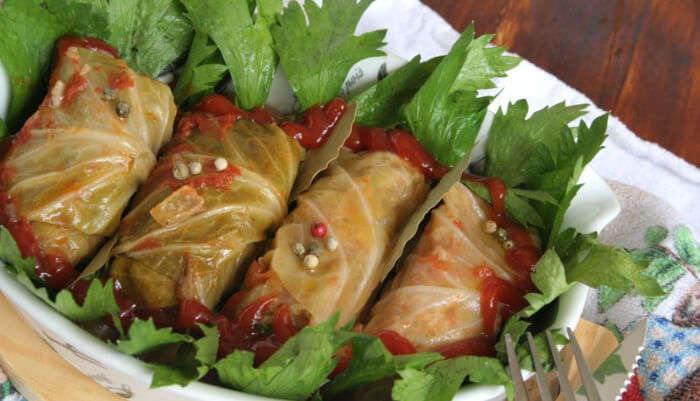 Stuffed Cabbage Rolls or golubtsi are another scrumptious traditional dish in the Ukrainian cuisine. A great choice for dinner, it takes hours to prepare mouthwatering cabbage rolls. There are mainly two ways of how cabbage rolls are made in Ukraine. One the minced meat is wrapped in cabbage leaves, it is either baked in the oven or stewed in a pan. The succulent roll is then topped with a dollop of sour cream and served. Drooling already?
Suggested Read: Ukrainian Food: 12 Popular Mouthwatering Dishes You Must Try
4. Vareniki

If the Chinese have their dumplings, Ukrainians have Vareniki. Like momos, vareniki are also made from dough but these dumplings are thicker. Vareniki have all kinds of filling depending upon the imagination and preference of guests. However, cabbage, meat, potato, mushrooms, and cheese are typical Vareniki fillings. Just like most of their dishes, Ukrainians serve vareniki with sour cream. You must try these succulent Ukrainian dumplings on your holiday. You won't have enough of them.
Suggested Read: Indian Restaurants In Vienna: A Taste Of Home In The Heart Of Europe
5. Banush

Ukraine cuisine is so diverse that some of the dishes are unique to western and eastern parts of the country. Banush is a western Ukrainian legendary dish that was considered a poverty dish not long ago but now it is served in cafes in different renditions. Banush is made from corn grits, pork meat, and cottage cheese. It is so filling that you will not feel hungry for hours after having it. Sometimes, mushrooms are also added in it to make it more flavorful. It is traditionally cooked on fire which imparts a smoky flavorful to the dish.
Suggested Read: Head To San Marino Now: The Fastest Growing Travel Destination In Europe
6. Borscht With Garlic Fritters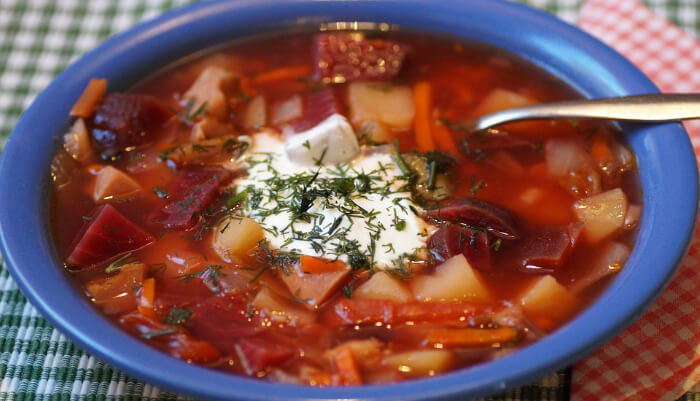 Ukrainian food culture makes use of a lot of ingredients in the dishes and Borscht is proof of that. Originally, it was made using 30 different ingredients but the numbers have decreased with time. Borscht is a beef dish where a piece of beef is put on cold water to make meat broth. The meat is then taken out and cooked with other ingredients in a covered saucepan. Instead of bread, the dish is served with garlic fritters called pampushki by locals. If girls in India learn to cook halwa before getting married, Ukrainian girls learn to make borscht.
Suggested Read: 7 Of The Best Winter Airbnbs In Europe Where You'll Enjoy A Snug Stay
7. Okroshka

Okroshka is a refreshing soup for summers to give you a break from the sultry weather. It uses kvass or kefir as the base which is responsible for the sour taste. Sausages, carrots, cucumbers, and other greens are cut in large chunks and added to the soup to give it texture. After you have tastes okroshka, it will become your favorite soup and you will forget all about others.
8. Nalisniki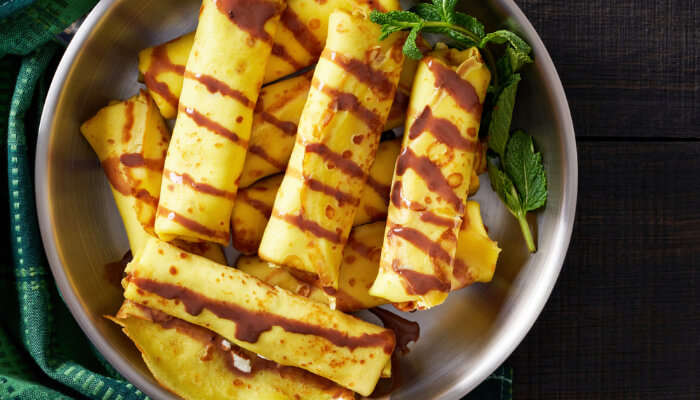 Nalisniki is one of the famous Ukrainian desserts that look similar to French crepes only there is a rich filling inside this Ukrainian dish. Traditionally, it is filled with cottage cheese and raisins, but anything can be filled inside these crepes. Nalisniki is cooked with patience on a slow fire. You may even add jam or sugar as filling. It is the filling that overpowers the taste in this dish.
Further Read: Malta Travel Guide: All You Need To Know For A Unique Yet Exotic Vacation In Europe
Your holiday in Europe is incomplete if you don't try these dishes from Ukrainian cuisine. The people of Ukraine like to eat. So, you will be spoilt with choices and taste. Don't mind if you gain some weight on your vacation. The food is so great that you won't be able to control yourself.
People Also Read