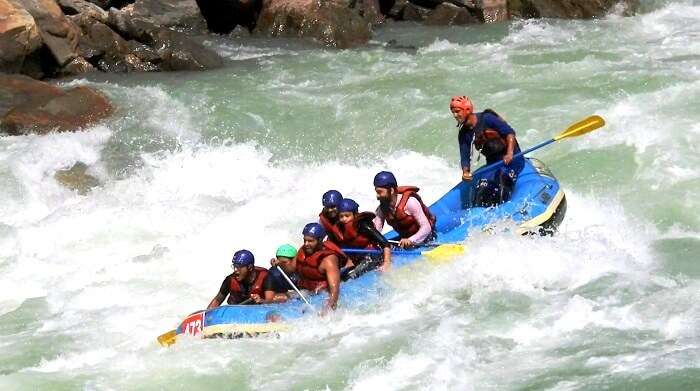 Vishal's yearning for an adrenaline rush took him to the Himalayas on a weekend adventure trip to Rishikesh. His short weekend stint had everything ranging from open jeep safaris, river rafting to cliff diving as he came back with an energizing tale for readers and fellow travelers.
With a fearless attitude and a desire to experience places with a cooler climate, every year my travels start from September and go up until March. Having grown up in Bhubaneshwar, where the beach was always just a short walk away, contributed a lot in my urge to witness the fascinating hilly areas of Himachal and Uttarakhand. I had never been to Rishikesh and river rafting was something that was pending on my bucket list for long.
Suggested Read: Luxury Adventure Camping On A Weekend In Rishikesh
Details of our adventure trip to Rishikesh
Trip Cost: INR 3,399 per person on quad-sharing basis
Trip Duration: 1 night 2 days
Inclusions: Accommodation, sightseeing, river rafting, meals, transfers from Delhi, and taxes
Exclusions: Medical expenses and additional expenses (if any)
Month of Travel: October 2017
When I started scouring the internet for information on Rishikesh, I got to know about TravelTriangle Weekend Getaways. I had already subscribed to their Facebook page which I was regularly following them for the past few months. The trip prices were competitive and the itinerary for an adventure trip to Rishikesh looked very exciting.
As I booked my package with TravelTriangle and told my friend about it, he couldn't resist a weekend filled a bucket-load of adventure activities and decided to tag along with me on this adventure trip to Rishikesh. The more the merrier!
Day 1: Immersed in nature at Rajaji National Park!
Our adventure trip to Rishikesh began from Akshardham in New Delhi, where we boarded our bus at 10 pm. The next morning, we arrived at Rajaji National Park at 5 am where we had to wait for an hour for the entry gates to open. That small stoppage gave us the perfect opportunity to come alive to the morning freshness with a crisp morning tea!
As the gates to the tiger reserve opened, we checked into the Adventure Paradise Resort and had some breakfast. Afterwards, we decided to play volleyball and enjoy within the resort premises for a few hours.
Suggested Read: Relaxing On A 2-Day Weekend Getaway In Rishikesh
Post lunch, we got ready for the first activity of our adventure trip to Rishikesh- an open-jeep safari into the Rajaji National Park. We weren't so lucky with spotting tigers on our safari tour but overall, the experience was great as we witnessed wildlife in its purest form. On top of that, the weather during the safari made all the effort coming to the national park worthwhile.
We had a slightly prolonged safari ride because we took a long break at the midpoint of the safari where there was a temple- an ideal location to relax, breathe in some fresh air, and even meditate.
We returned to the hotel in the evening and enjoyed the starry skies with a bonfire and a lovely dinner. While sitting around the bonfire, I got to interact a lot more with the fellow travelers who began the day as strangers, but by late-night became friends.
Day 2: River rafting through fierce rapids and an intense river flow!
The second day of our adventure trip to Rishikesh started slowly with a late breakfast and then checking out of the resort to head for river rafting. We met our rafting guide in Shivpuri who briefed us about the steps we needed to take to ensure that we go through the rafting experience as safely as possible.
Despite not knowing how to swim, I thoroughly enjoyed the thrill ride that is river rafting. The adrenaline rush went to a completely different level when at the midpoint of our rafting course, I took part in cliff diving. On the completion of our rafting, it felt amazing to have accomplished something that took me completely out of my comfort zone.
Suggested Read: Adventurous 1N/2D Friends Trip: River Rafting In Rishikesh
After we completed our rafting, we quickly changed into drier clothes and boarded the bus which was waiting for us at the rafting finish point, thus ending our incredible adventure trip to Rishikesh.
How river rafting felt for a first-timer on an adventure trip to Rishikesh
For long I wanted to go on an adventure trip to Rishikesh where I would partake in river rafting. My love for adventure had made me fearless and proud to a point that I never considered the what-ifs for a non-swimmer streaming through fierce rapids of Ganga. The waters at the cliff-diving spot were calm, but even then it felt like a faith of leap to jump into the water not knowing how I would float above water.
Suggested Read: Adventure Sports On A 1N/2D Weekend Trip To Rishikesh
I guess what helped me truly enjoy this weekend was that I just decided to live in the moment. I blocked out all the noise and concentrated on the voice inside of me that urged me to complete this thrill ride. After such a beautiful experience with TravelTriangle, I had made up my mind to go with them on a paragliding adventure to Bir Billing in the upcoming months.
High points of our adventure trip to Rishikesh:
Lighting a bonfire at night under a beautiful sky with light music, good food, and awesome company.
River rafting and cliff diving in Rishikesh are somethings I would never forget purely because of how it pushed me beyond my limit and got the best out of me.
Low point:
TravelTriangle should create a portal where travelers should be able to see the profile of the fellow travelers who will be joining them. It helps to close the trust factor even further where the agent and travelers don't meet.
Rishikesh is the perfect place for serenity and adventure for travelers. Book your Weekend getaway package and live life on the edge!
---
Long Weekend Trips Starting @ Rs 3299/-
Take a trip to spend the upcoming long weekend with your buddies.
✓ Stay at 4 star rating hotels with local sightseeing, meals and transfers.
✓ Travel in AC coach round trip (from Delhi).
✓ All Inclusive Deal– Camping, Jeep Safari & Trekking as per itinerary
✓ Sign up NOW to celebrate the long weekend out of town!
---