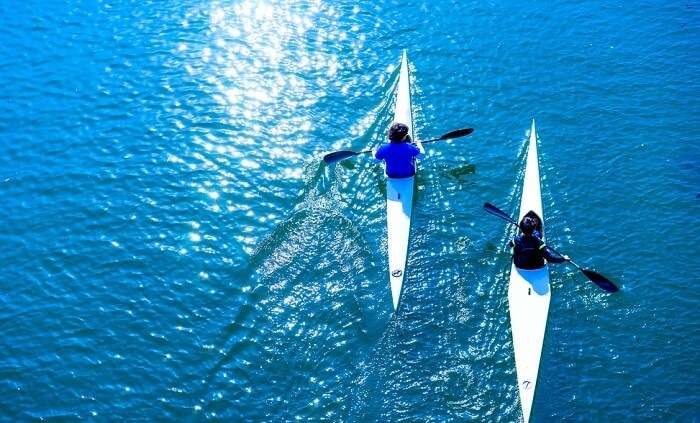 Japan is one of the most beautiful places to visit in the world. It offers unique tourist attractions that will leave you spellbound. But, if you want to see the thrilling side of the country, then head to the islands. Japan is home to several spectacular islands. These islands offer breathtaking water sports of all kinds: from snorkelling to sea kayaking, scuba diving, canoeing, and surfing. The water sports in Japan will make you fall in love with it and compel you to visit it again and again.
10 Best Water Sports In Japan
Due to the numerous islands, there are various options for water sports in Japan. Some of them are listed below with all the details. These water activities in Japan are quite popular.
1. Snorkeling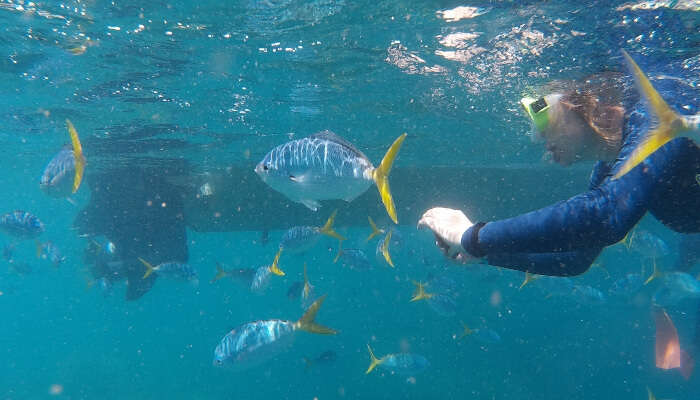 This water sport is one of the swimming practice on or through a water body with the help of a diving mask, a breathing tube known as snorkel and swim fins. Those places where the temperature is quite low, wetsuits are preferred. These equipment help the snorkeler to breathe for an extended time underwater. It engages relatively less effort while swimming face-down at the surface also. In tropical resort locations, it is one of the most known recreational activities. Ogasawara is one of the most happening places for water sports in Japan.
In the Take nature academy, a veteran diving instructor will act as a guide for you. You can choose from various beaches such as pearly white beaches, pretty coral or sunken boats. This is done in the Ogasawara Ocean. You just need to make the most of the snorkelling experience in the Ogasawara Ocean. This is one of the main water sports activities in Japan.
Location – Take nature academy, Azaazumatyou, Chichijima, Ogasawara-mura Tokyo, Kantō 100-2101, Japan
Timing – 8:30am to 15:30pm
Price – Around Rs.7170 per person for full-day
Must Read: 7 Japan Hill Stations That Are More Than Just Picturesque Landscapes
2. Scuba Diving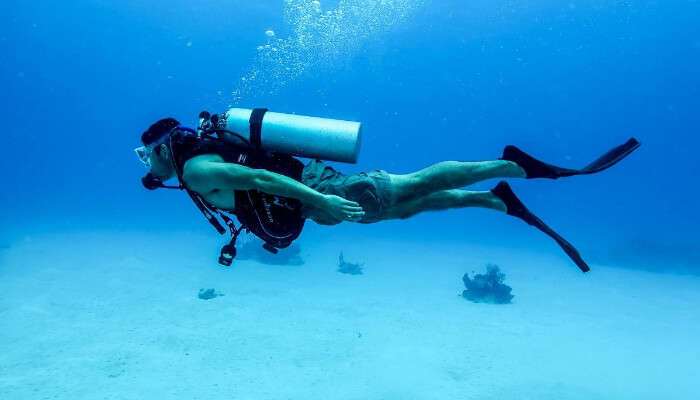 Image Source
It is the mode of underwater diving where the divers use special self-contained breathing equipment known as scuba, which has its air supply apart from the surface.
Japan has some of the best and breathtaking scuba diving points which has a mesmerizing sea life and dramatic corals. You can book your scuba diving beginners expedition with Izu Oceanic Park, which is a world-class scuba adventure expedition provider. You can discover the top diving points also. You can opt for different spots for scuba diving, one of which is Izu Oceanic Park which has lots of features and the other one is Osezaki which is known as the Mecca of diver.
Location – Izukaiyo Park, 841-1 Futo, Itō, Shizuoka 413-0231, Japan
Timing – 11.5 – 12 hour(s) from 6:30am
Price – Around INR 13258 per adult
Restriction – You must be a C license cardholder to join this program.
Suggested Read: Solo Travel In Japan: 10 Tips To Remember Before You Pack Your Bags
3. Parasailing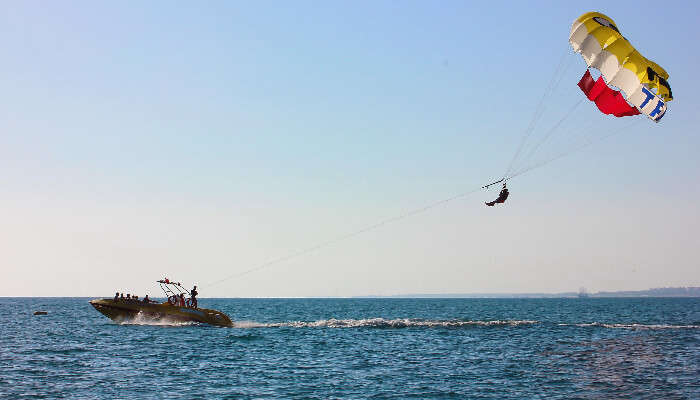 Image Source
Parasailing is a recreational water activity where a person is attached behind a vehicle which is usually a boat, which is attached to a special canopy wind that resembles a parachute which is known as a parasail wing. The manned kites anchor can be a vehicle. The pilot is attached to the parasail through a harness towing the boat remains connected.
Cruising out over with the winds which give mesmerizing and thrill-packed experience over the surface of the water. Get an amazing bird's eye view of the shining blue waters of Okinawa where you can glide over the waves. Parasailing in Japan is water sports which are preferable for the whole family whether children or adults. The site for these water sports located near the Churaumi aquarium where you can parasail easily.
Location – Naha, Japan
Timing – 09:00am – 16:00pm
Price – Around INR 4655 per person approx. for 40-80 min
Suggested Read: 8 Japanese Desserts That Will Get You Swooning!
4. Sea Kayaking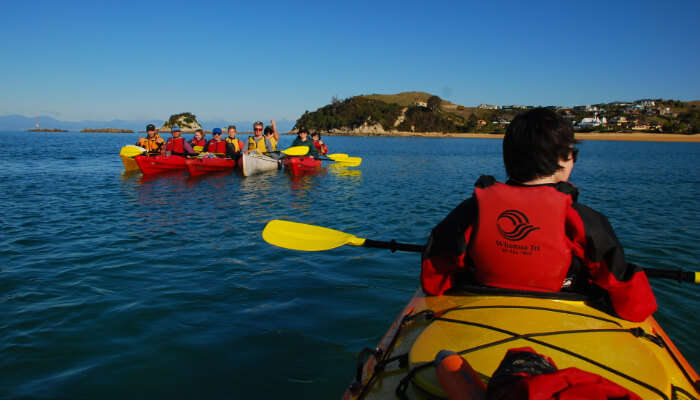 Image Source
This water sport is filled with adrenaline. When a kayak is produced for the paddling game on lakes, narrows and the sea filled with untamed waters is known as an ocean kayak or visiting kayak. Ocean kayaks are secure little vessels with a secured deck and the capacity to consolidate a splash deck.
Discover extraordinary kayaking visits to investigate Japan's seascapes and coasts. From half-day outings to entire day undertakings, you make certain to locate the ideal kayak experience. For a bend on this marine top pick, look at clear kayak visits, where you can see the sea depths underneath you for a genuinely vivid encounter.
Bicycle around the Shiwaku Islands, Shimanami Kaido, Tobishima Kaido or Shodo Island! Investigate the delightful Seto Inland Ocean by kayak, for an entire day of fun.
Location – 246-29 Kuroyama Tosadomariura Narutocho, Naruto, Tokushima 772-0053, Japan
Timing – From 9:00 am for 5hrs
Price – Around INR 8050 per adult
Suggested Read: Camping In Japan: 5 Super Gorgeous Spots For All Future Campers!
---
Planning your holiday but confused about where to go? These travel stories help you find your best trip ever!
---
5. Flyboard/Hoverboard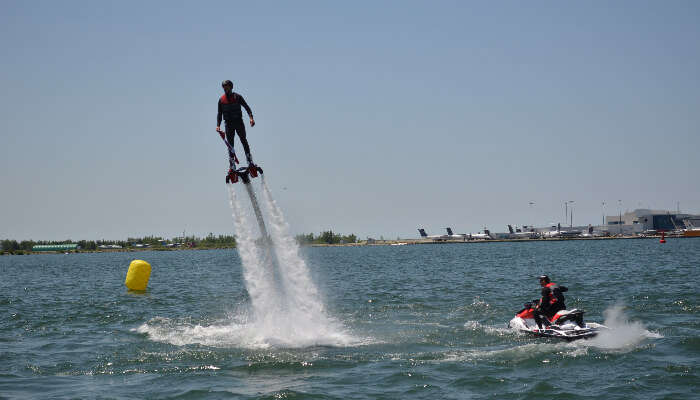 Image Source
A Flyboard is a brand of hydroflighting gadget which supplies impetus to drive the Flyboard into the air to play out a game known as hydro flying.
The rider of Flyboard tries to remain stable on a watercraft by loading up associated by a long hose to a watercraft. A push to the rider to fly up to 70 ft (21 m) can be upheld by Water which is constrained compelled to a couple of boots with stream spouts underneath remains noticeable all around or to plunge fast through the water down the extent that one is eager to go. This is one of the best water sports in Japan.
Fly over the water with these adrenaline siphoning hoverboarding plans. From rentals to full exercises, this marine game is huge amounts of fun. Why not give it a shot during your visit to Japan? Only an hour from Tokyo you can lift off into the air on a Flyboard! Race above and plunge under the waves in this hit new game.
Location – 6-16-43 Zaimokuza, Kamakura-shi, Kanagawa Prefecture
Timing – 09:00 – 15:00pm
Price – Around INR 3314 per adult
Suggested Read: Japan In January: Take A Trip To This Winter Wonderland In 2022 For A Snowy Vacay!
6. Surfing / Bodyboarding
Image Source
Japan has bunches of incredible surfing spots, with plans accessible for everybody from rookie to master riders. Have some good times on the waves and book in English with this experienced supplier. Lease a board or bring your own, and discover the arrangement that suits your needs and level. You can appreciate surfing all year in Tokushima. Join an exercise custom-fitted to your level, and figure out how to ride the waves at the best spot of the day.
Surfing school at southern wonderful sea! Calm contrasted with the city, yet at the same time apprentice benevolent. Decent waves come normally. Delightful cafés and prevalent tourist spots are flawless after the exercise.
Location – Surf Shop Thursdays, Address:33-1 Omichi, Tokushima City, Tokushima
Timing – 07:30am to 13:00pm
Price – Around INR 3350 per person
Suggested Read: 7 Best Indian Restaurants In Japan Serving The Authentic Flavors
7. SUP (Stand Up Paddle Boarding)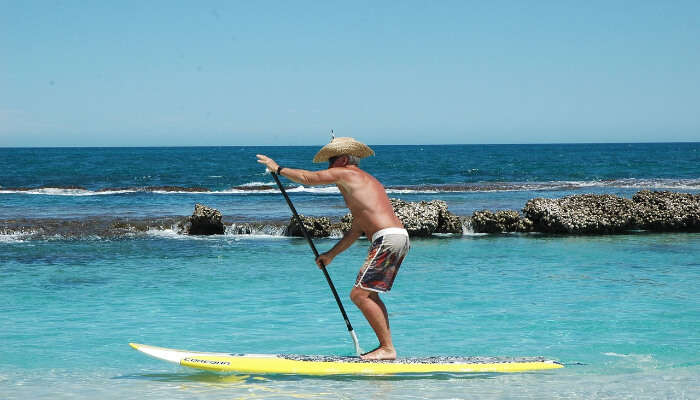 Image Source
Stand up paddleboarding (SUP) or Stand up oar surfing is a branch of surfing that started in Hawaii. Dissimilar to conventional surfing where the rider sits until a wave comes, stand up paddle visitors remain on their sheets and use an oar to move through the water. Stand up on a wide surfboard and set out on the water by paddling. Ideal for novices to specialists, this fun visit is an incredible method to sneak in some activity while having a decent time.
Skim over the water on a steady SUP board, and find out why this fun game is quickly developing. Regardless of whether you need to unwind, do some SUP yoga or investigate the perfect seas of Japan, locate the correct arrangement for your needs.
Location – 1621, Moroso, Misaki-machi, Miura City, Kanagawa 238-0224, Japan
Timing – From 9:10 am to 4:00 pm
Price – Around 4350 INR per person
Suggested Read: 8 Japan Zoos To Experience Wildlife On Your 2022 Trip To The Archipelago
8. Windsurfing/ Kitesurfing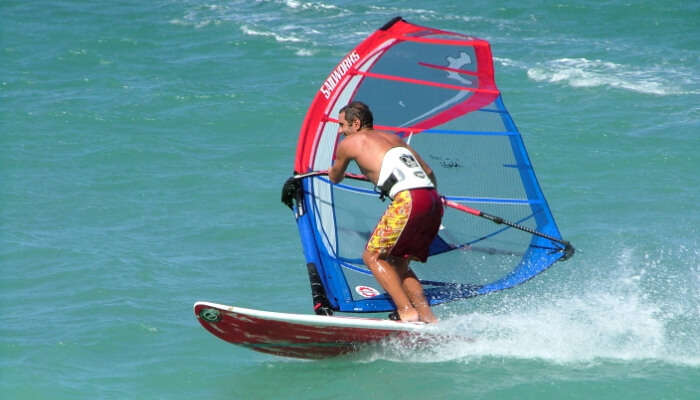 Image Source
Windsurfing is a surface water sport that combines elements of surfing and sailing. It consists of a board usually 2 to 2.5 meters long, with displacements typically between 45 and 150 liters, powered by wind on a sail.
Windsurfing and kite surfing are popular in Japan, not surprising for a country surrounded by water. Have fun on sailing on the waves, and book your next day out with ease. Get onto the waves and feel the rush of the wind with this one-day trial lesson. Additional staff is here to support you so you can refresh yourself as you skim the waves.
Location – 5-12-8, Zaimokuza, Kamakura 248-0013 Kanagawa Prefecture
Timing – from 10:30 am to 4:00 pm for 5 hrs
Price – Around INR 5100 per person
Suggested Read: Know The Best Ways Of INR To Yen Conversion Before Planning A 2022 Trip To Japan
9. Yacht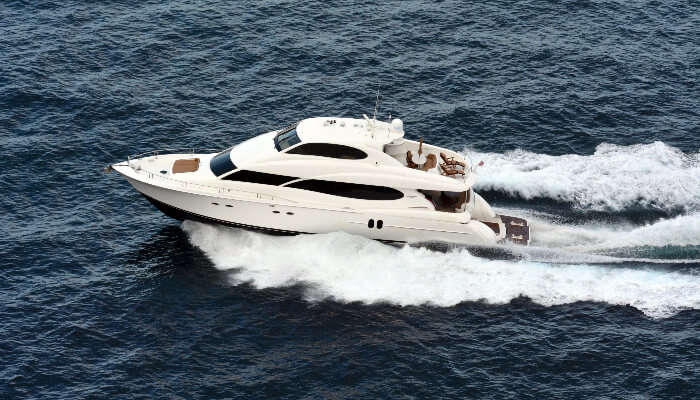 Image Source
A yacht is a watercraft utilized for delight or sports. The term begins from the Dutch word yacht and initially referenced light, quick cruising vessels. A yacht is any sail or power vessel utilized for joy, cruising, or hustling. The word frequently implies extravagance; be that as it may, extravagance is anything but a quality important to meet the definition; nor is it constantly attractive.
Appreciate yachting in Japan, with plans that range from solo smaller than normal yachting experiences to full contracts. Figure out how to cruise ship around the Zushi Inlet, and get a genuine vibe for life on the ocean! Rookies are welcome, as our educators will show you the ropes.
Location – Ever resort, 1-4-28, Shinjuku, Zushi-shi, Kanagawa, 249-0007, Japan
Timing – 10:00am to 11:30am
Price – Around INR 5760 per adult
Suggested Read: 7 Japanese Temples: Marvel At The Architectural Beauty Of These Ancient Buildings
10. Wakeboarding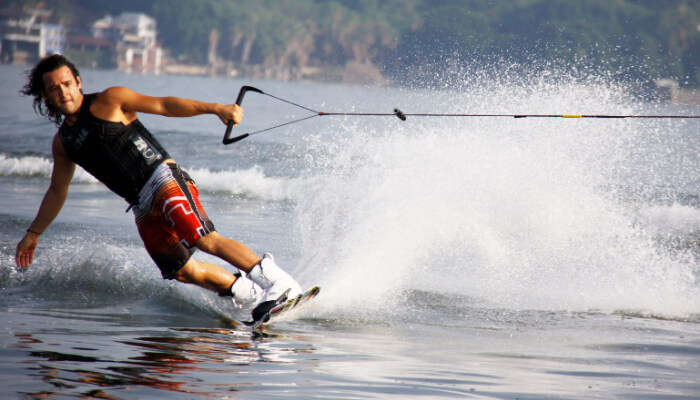 Image Source
Wakeboarding is a water sport in which the rider, remaining on a wakeboard, a shortboard with foot ties, is towed behind a speedboat over its wake and particularly up off the peak to perform flying moves. A sign of wakeboarding is the endeavored exhibition of midair stunts.
Catch some genuine air when wakeboarding in Japan! From learners to master visitors, book your following day on the waves with water sports provider. Head out to the ocean and coast over the reasonable waters on a wakeboard. Feel the rush as you get towed by a fast boat. Novices can become familiar with the nuts and bolts and specialists can adopt new methods.
Location – Japan, 905-0008 Okinawa, Nago, Yamanoha, 247-1, Resonex, BF1
Timing – 09:00 – 15:00pm approx. for 0.5 hours per activity
Price – Around INR 4050 per adult
Further Read: 15 Airports In Japan For A Safe Touchdown In The Land Of The Rising Sun!
Having these many options can boggle your mind. Look for those sports which appeal to you. The above list will provide you with some interesting destinations as well as thrilling sports which can make your holiday exciting. So, plan a trip to Japan and indulge in these experiences for an enthralling experience.
Disclaimer: TravelTriangle claims no credit for images featured on our blog site unless otherwise noted. All visual content is copyrighted to its respectful owners. We try to link back to original sources whenever possible. If you own the rights to any of the images, and do not wish them to appear on TravelTriangle, please contact us and they will be promptly removed. We believe in providing proper attribution to the original author, artist or photographer.
Please Note: Any information published by TravelTriangle in any form of content is not intended to be a substitute for any kind of medical advice, and one must not take any action before consulting a professional medical expert of their own choice.
Frequently Asked Questions About Water Sports In Japan
What are the additional restrictions while opting for any water sports?
Some water sports has safety issues regarding children, some have the restrictions of basic training. Some of them need the medical certificate as well, but do not worry about the water sports which are given here has a recreational approach, so you can opt these without any stress.
What is a C class license for scuba diving?
This is a certification usually a wallet-sized plastic card that gives certification to an individual that the bearer has completed a basic course of diver training as required by the agency or service provider.
Do we need to bring any types of equipment of our own?
No, you do not need to bring any gears of your own, the service provider gives all these but you need to pay for it. We suggest that to prefer paying them as these gears come costly.
Is all the water sports are kids friendly?
Some of them are kids friendly, but some are too dangerous for kids. For example, scuba diving is not for kids, but they can enjoy parasailing
Does anyone need to get medical supervision before opting for any water sports?
Getting medical supervision for some of the water sports is mandatory like scuba diving and wakeboarding but other than those water sports do not need any preferential medical supervision.
How should we communicate in japan if it doesn't know Japanese?
No worries, all the service providers are equipped with professionals who are fluent in English.
Is there any insurance provided by the service providers?
Yes, some of the complex water sports such as scuba diving need license and insurance both. In parasailing, a consent form is also been given to customers.
What is the arrangement for spending a day or two while opting for these water sports?
Most of the service providers are resorts and oceanic parks. You will easily get a room or two according to the need.
---