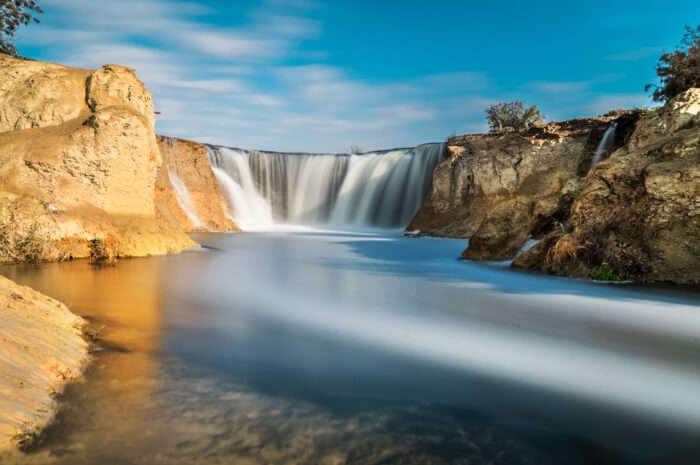 The valley of Wadi El Rayan, in Egypt is 65 km southwest of Fayoum city. It is home to two substantial lakes made to redirect abundance water from Fayoum desert spring. If you are searching for the Egyptian waterfalls you will be surprised to know that Wadi El Rayan is the country's only waterfall.
As the primary lake overflows to limit, a stream drops towards a more profound territory, where another lake is shaped. As the stream drops, natural rocks were uncovered and cascades at that point are shaped.
About Wadi El Rayan
There are a few falls on the stream, none of them are much high so one can easily enjoy some refreshing time by diving from the top. The place has pulled in the significant number of neighborhood Egyptians all because many of them have never witnessed cascades in the country. The cascade has additionally been highlighted in numerous Egyptian movies and pop videos.
The falls, nonetheless, won't keep going forever as the lower lake's level is constantly rising and the waterfall will survive just until the point when the extending surface zone permits a rate of evaporation equivalent to the measure of water streaming into it.
It is now completely capped by two enormous freshwater lakes; the two lakes both of which have different elevations. Thus, a waterfall was formed where they congregate. There appears to be no limit to this water plus its level has reached up to minimum 5 or 6 meters.
The shorelines of the lakes are thickly vegetated making them an impeccable breeding spot for some fishes and wintering habitat spaces for migrating birds. The region is currently a nature reserve in 1989 and is home to the world's sole populace of Slender-horned Gazelles, and also 13 species of birds as well as 8 other animal species.
Must Read: 9 Most Magnificent Egyptian Monuments That Will Put You In A Trance On Your 2022 Trip
History Of Waterfall In Egypt
Wadi El Rayan has an entrancing history that has its birthplaces in the water projects succeeded by the notable pharaohs of Egypt – Ptolemy I and Amenenmhet I to create a waterfall in ancient Egypt. The pharaohs really took water back to the dried lake surface and changed over the Fayoum Oasis into the Garden of Egypt.
The waterfall was earlier formed by a stream of drainage water from the farmlands in Fayoum. It was not until the twentieth century when the real endeavors were made to guarantee that the water in this stupendous desert region was fit for utilization, for touring, and additionally for horticulture.
Suggested Read: A 4000 Year Old Tomb In Egypt Has Just Been Opened For Public & It'll Leave Your Mind-Boggled!
How To Plan A Tour To Egyptian Waterfalls – Wadi el Rayan?
Wadi el Rayan an oasis full of the lake will leave you mesmerized by the beauty and scenery of the location during the whole trip in and around this waterfall. Tourists can take a two-hour vehicle ride out from Cairo and down to the waterfall.
Suggested Read: 20 Things To Do In Egypt In 2022 That No Travel Guide Will Ever Tell You About
Directions To Reach Wadi el Rayan Waterfall
You can begin the trip to the waterfalls in Egypt from Wadi Hitan which is a natural reserve known as Valley of the Whales – around 90 km a long way from Fayoum. Valley of the Whales or Wadi Hitan is situated in the Protected Area of Wadi El Rayan and it is also recognized by UNESCO as a World Heritage Site as an acknowledgment of the 40 multi-year.
Further, head to the Lake Qarun which is found while in transit to Wadi El Rayan. Qarun Lake is believed to be the oldest natural lake on the planet, also the third biggest lake in Egypt. The lake furnishes you a stunning view, as well as the opportunity to view a lot of intriguing fauna and greenery. It is a bird watcher's paradise, they will really feel delightful here as this area around the waterfalls in Egypt is a safe house for migrating birds. The lakes of Wadi Rayan and to especially Qarun in Fayoum itself gets a huge number of water birds in winter, ducks, waders, terns, and gulls.
After the lake, the street ahead goes over into the desert, where rising dunes and the great view will be all fascinating as you venture to every path of the voyage which takes you to the main spot of Wadi El Rayan. Remember to complete the rest of your voyage by walking to make the most of the tour around the waterfall.
As you reach into Wadi El Ryan Waterfalls to see one of the only waterfalls of Egypt in the western desert, spend some rejuvenating time around the two lakes to explore Wadi El Rayan. You can take a ride on a popular wooden sailing boat which is recognized as a felucca in Egypt and wander around to click some awesome photos. The close by Wadi el Rayan area is also famous for sand boarding and bird watching.
Since Wadi El Rayan is such a well-known zone for both vacationers and natives, you will also find a couple of cafeterias available here. There are additionally a few merchants selling pleasant souvenirs as well, which you can buy at some good deal. You must likewise interact with local fishermen there, a lot of them will be glad to sell you their catch of the day. It will really be relishing to eat freshly caught grilled fish on an open fire all by yourself or even fishermen can cook it for you for a couple of additional money.
Suggested Read: 17 Mystical Places To Visit In Egypt In 2022 That Will Make You Pack Your Bags Right Away!
Details About Wadi El Rayan Waterfall In Egypt
Location: It is found in the midst of the Fayoum desert which is around 140 Km from Cairo, Egypt.
How To Reach Wadi El Rayan: In case you need a private transfer to Wadi el Rayan
cascade, tour agencies can arrange that for you by AC modern vehicle from anywhere in Giza or Cairo.
Duration Of The Trip: 9 hrs. approximately
Further Read: 10 Best Honeymoon Places In Egypt For A Romantic Stint By The Pyramids In 2022
While in transit from Wadi el Rayan Waterfalls, if you want you can also visit Mudawara Mountain. So, get past the Cairo scenes on a full-day of the private tour to one and only waterfalls in Egypt – Wadi el Rayan, which rewards you with history, nature, and wildlife and all of it on a single trip to Egypt, and make sure you book with TravelTriangle to enjoy a hassle-free experience.
---
People Also Read:
Waterfalls In Istanbul Waterfalls In Germany Waterfalls In Israel
Comments
comments