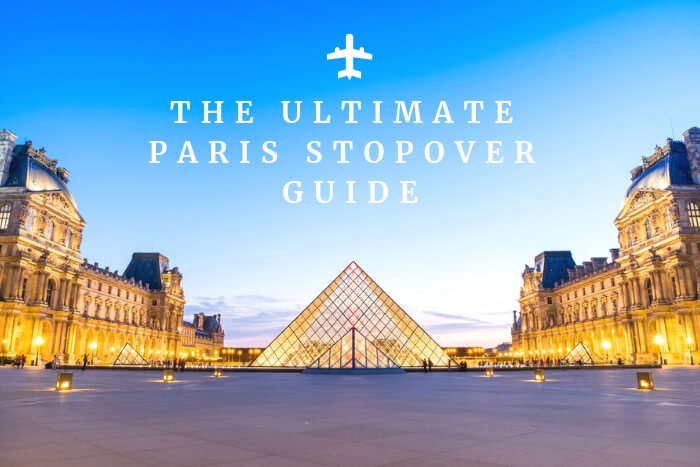 There's nothing better than a stopover in Paris, and those who've been to Paris will certainly nod in agreement. Paris—home to the iconic lattice tower, the world's largest art museum, and the biggest arch in the world—is a dream for many. Paris is close-packed and it's easy-to-navigate by its different metro lines, which makes it easier for even first time travelers to explore it using public transport.
And to make your Europe vacation as smooth as possible, we've prepared an extensive stopover guide that'll let you spend the best 2 days in Paris. You are free to choose/leave any tourist attractions based on your interest and how much time you have in the city.
How to get into Paris from Charles de Gaulle Airport: The easiest way to get into Paris is to take the RER B train, which goes straight into the heart of Paris.
FYI: A layover refers to a journey broken at a certain point to change from one plane to another, whereas a stopover means staying in a city longer than 24 hours while traveling internationally.
Day 1 In Paris
1. Morning: Musée d'Orsay
Image Credit: Google Maps
On the left-back of the Seine, lies the marvelous museum which mainly holds French art dating from 1848 to 1914. Internationally renowned for its rich collection of paintings, sculptures, photography, etc, Musée d'Orsay is one of the places you must include on your 2-days-in-Paris itinerary and one of the most beautiful museums in France.
If you want to grab a bite, you can stop at The Café Campana, Café de l'ours, and Restaurant, located inside the museum.
Opening hours: 9:30 am to 6:00 pm | Tue, Wed, Fri, Sat, Sun
Nearest metro station: Solférino
Entry fee: Approx €12 per person
2. Afternoon: Le Louvre
Image Credit: Google Maps
A former fortress and royal palace, Le Louvre is undeniably one of the finest art galleries in the world. A trove of 7th century B.C. to the mid-19th century, the museum has masterpieces by Leonardo and Vermeer. It takes 2-3 days to explore every room in the Louvre since you don't have that long you can see the most popular masterpieces.
Visit Denon Wing to witness French history in pictures and The Mona Lisa; Sully Wing for Hellenistic masterpieces, Egyptian antiquities collection, Great Sphinx of Tanis, and Venus De Milo; Richelieu Wing for Napoleon III apartments.
Fun facts:
For the first time, Louvre opened in 1793, during the French Revolution, with a collection of just 537 paintings.
Napoléon decided to rename the Louvre Musée Napoléon under his reign and increased the collection.
After being stolen in 1911, the famous Mona Lisa portrait is framed and covered with bulletproof glass and protected by guards at all times.
Opening hours: 6 pm to 9:45 pm | All days of the week
Nearest metro station: Louvre Rivoli and Palais Royal Musée du Louvre
Entry fee: Approx €24 for skip-the-line entry
Have you got a growling stomach? Grab a delicious lunch at Restaurant Kei (€60 to €70) or Relais du Pont Neuf (€25 to €30)
3. Afternoon: Catacombs of Paris
Image Credit: Google Maps
Creepy, yet interesting, Catacombs of Paris is a 20-meter-long underground maze that let you experience Paris' dark history and architecture. Nobody exactly knows how many tunnels or chambers there are; the part that's open to the public is known as Catacombs of Paris. Underneath, in those dark tunnels, you'll see bones arranged in a macabre display. It's an eerie, dark, and depressing network of narrow passages. There are bones from 6 to 7 million bodies, some of the oldest are more than 1,200 years old. France tourism doesn't promote Catacombs as much as its other tourist attractions, but it certainly is a unique experience.
Opening hours: 10:00 am to 08:30 pm | All days of the week | Ticket window closes at 7:30 p.m
Nearest metro station: Denfert Rochereau
Entry fee: €30 for skip-the-line entry
Still dreaming of that perfect vacation in Paris? Let our travel experts help you create a picture-perfect and experience-rich trip!
4. Evening: Eiffel Tower
Image Credit: Google Maps
Eiffel Tower needs no introduction, and it goes without saying that it should be on your list if you're going to spend 2 days in Paris. Soaring above the city, this magnificent and massive iron structure stands on the south bank of the River Seine. Eiffel Tower has three levels with observation platforms, all of them are connected by elevators and stairs. The tower is illuminated every day from sunset until 1:00 am, and 2:00 am during summer, and that's when it looks most spectacular.
It may take you a while to get up there but the view and the experience are worth the wait. You must do it. There's a reason 7 million people visit Eiffel Tower every year.
Opening hours: 9:00 am to midnight from mid-June to early September | 9:30 am to 11:00 pm the rest of the year
Nearest metro station: Champ de Mars / Tour Eiffel on line RER C
Entry fee: If you're over the age of 25 and willing to take the 704 stairs to the second floor, you'll have to pay €7 euros. Admission tickets with elevator access to the second floor cost €11.
5. Evening: Seine Boat cruise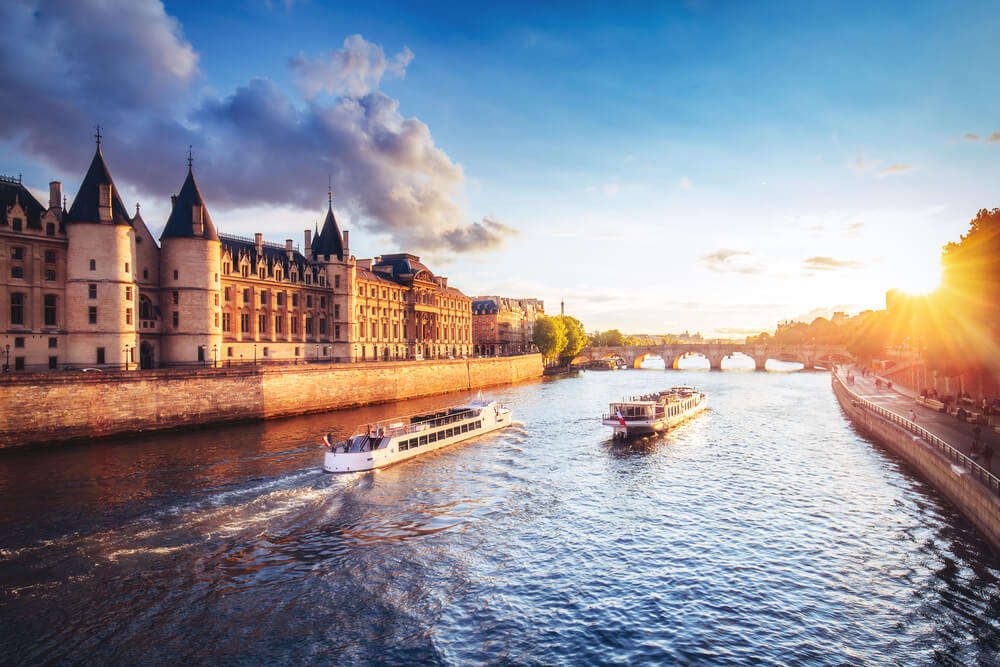 Image Credit: Google Maps
Cutting through the heart of Paris, River Seine lets you explore the romantic and picturesque city on a cruise tour. From Bateaux Mouches Seine Cruise and Bateaux Parisiens Seine Cruise to Batobus Seine Cruise and Canauxrama Seine Cruise, there are several options to choose from. Tourists can also choose from lunch, brunch, champagne, dinner cruises. You can also go for a hop-on/hop-off cruise tour, which lets you explore the city comfortably and at your pace. There are a total of eight stops, including the one near Eiffel Tower, Notre Dame Cathedral, and the Louvre.
Cost per ride: €10 per person for a basic boat tour to upwards of €200 for a candle-lit dinner cruise at night.
Want to have a delicious dinner? Le Cinq (€35 to €40 ) or Firmine (€11 to €20) are the best options near your location.
Day 2 In Paris
1. Morning: Notre-Dame de Paris
Image Credit: Google Maps
One of the most famous Catholic churches in Paris, Notre-Dame de Paris is known for its antiquity and marvelous architecture. Its elaborate stone carvings adorn the three entrances: the Last Judgment portal, the South portal or portal of Saint Anne, and the portal of the Virgin. Some of the magnificent details of the cathedral include Gargoyles, Rose Window, Great Organ, Relics, Tower & Crypt. To see the Gargoyles and the panoramic views from the tower, one has t climb 387 steps, so it's important to know your physical limits.
Opening hours: 8:00 am to 6:45 pm from Monday to Friday | 8:00 am to 7:45 pm from Saturday and Sunday
Nearest metro station: St-Michel Notre Dame – RER B | St-Michel Notre Dame – RER C
Entry fee: Entry is free, but visitors will need tickets to enter the tower (€8.50) and the crypt access (€6).
2. Afternoon: Sainte Chapelle
Image Credit: Google Maps
About a block away from Notre-Dame de Paris, Sainte Chapelle is one of the incredibly beautiful places to visit in France. Stained-glass windows make up a large part of the church's upper level, which gives worshipers the impression of standing inside a colorful crystal goblet. This is the reason why the best time to visit Sainte Chapelle is either morning or late afternoon when the sun is at a lower angle shimmering through the stained-glass windows and making it look breathtaking. One of the most romantic cities in the world, Paris, is home to some of the most gorgeous architectural wonders.
There's a little tip from us for you; if you're running out of time and want to skip an attraction, you can skip Notre-Dame de Paris but not Sainte Chapelle.
Opening hours: Usually 9:30 am to 5:00 pm
Nearest metro station: Cité, line 4
Entry fee: 10 € for adults
You can have your lunch at either L'Annexe Cafe or Shiso Burger.
3. Late Afternoon: Luxembourg Gardens
Image Credit: Google Maps
The city of Paris is dotted with lush green and beautiful gardens, and Luxembourg Gardens is the city's most prized parks in Paris. If you're visiting Paris during summer or spring season, you'll see a riot of colors overshadowing the green of the garden, but the garden looks wonderful throughout the year. Throughout the garden, there are more than 100 statues dating from the 19th century to the present.
Opening hours: 8:30 am – 9:30 pm | All days of the week
Nearest metro station: Luxembourg RER
Entry fee: Free entry
We hope our Paris stopover guide helps you explore the most popular landmarks of Paris within a limited period of time. Get a customized trip to France and travel the way you like it.
Disclaimer: TravelTriangle claims no credit for images featured on our blog site unless otherwise noted. All visual content is copyrighted to its respectful owners. We try to link back to original sources whenever possible. If you own rights to any of the images, and do not wish them to appear on TravelTriangle, please contact us and they will be promptly removed. We believe in providing proper attribution to the original author, artist or photographer.