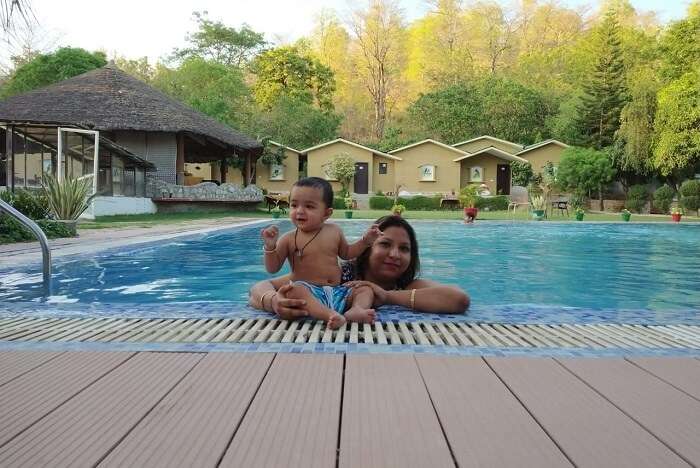 An ordinary office trip or enthralling family vacation? Definitely, the latter sounds more riveting! But what if we tell you that you can combine both and turn your mundane office trip to an extraordinary vacation with your family. Enticing enough? If not and you need more motivation to plan yours, then Mohit will surely give you some major travel goals in life. Go through all that he has to say about his 3 days in Clarissa resort Jim Corbett vacation. And if his vacation leaves you dreaming about yours, then your wanderlust-stricken soul won't let you sleep till the time you are on your way to a fun-packed holiday with your fam bam!
Family comes first but can we really ignore an important educational trip? The obvious answer is 'No' but I believe in seeking every opportunity where I can spend time with my family, This is what I did recently, I combined my educational trip to IIM Kashipur with a memorable vacation in the lush green forests of Jim Corbett National Park. My family vacation was all about relaxing amidst nature, an adventurous jungle safari and getting pampered at our marvelous resort! A blissful escapade with your family to Jim Corbett National Park is the perfect way to make them feel special and this is what I did!
Details Of Corbett Trip From Delhi
Trip Type: Family Trip
Cost: INR 14250
No. Of People: 2 Adults, 1 Child
Duration: 3 Days 2 Nights
Inclusions: Accommodation, Breakfast, Lunch, Dinner, Snacks, Drinks, Morning Jungle Jeep Safari, All Taxes
Exclusions: Entry Fees, Elephant Safari,
11 Places To Visit Near Jim Corbett National Park For An Extended Vacation In 2022
Weather In Jim Corbett National Park
We planned our 3 days in Clarissa resort Jim Corbett trip in the month of May. The temperature varied between 35 to 40 degrees Celsius as we visited in the summer season. But to my surprise, the weather was pleasant and we felt cold because we were surrounded by jungle. We had a great time on our vacation though we visited Jim Corbett National Park at the peak of the summer season.
12 Wallet-Friendly Resorts And Hotels In Jim Corbett National Park In 2022!
How We Came Across The Clarissa Resort Corbett?
I wanted to plan a family vacation for many months and finally got a chance in May. I had to visit IIM Kashipur for some work and as Jim Corbett National Park was in close proximity to Kashipur, it was the perfect destination for our much-awaited vacation. I came in contact with TravelTriangle and told them all that I wished for and wanted my trip to be like. The agent suggested to us Clarissa resort and we agreed for it as all the services which we needed were available at this resort. From its location to the stunning swimming pool, Clarissa Resort was the best choice for our Delhi to Jim Corbett National Park vacay!
Getting To The Clarissa Resort
Jim Corbett National Park is located 250 kms away from Delhi and easily accessible by train or by car. Due to its proximity, you can also head for an enticing Delhi to Jim Corbett road trip with your family. We went to Kashipur first and from there we took a train to Ramnagar Railway Station which is just 14 mins drive away from Clarissa Resort. Our agent arranged a car for us which took us to the Clarissa resort.
Accommodation At Clarrisa Resort
Tucked away in the heart of the emerald green forest, the Clarissa Resort won our hearts as soon as we entered its premises. Astounding lawns, chic rooms, and an amazing in-house dining area left us speechless and we didn't want to get out of the property the whole day. We stayed at the tusk room which had incredible views of the nearby lake and we even had access to their beautiful private lawn. There were other options also available like the Wings room, Jungle Cottage, and Nest room but we wanted a spacious room with picturesque views and our room has it all!
A Short Trip Exploring Best Places In And Near Jim Corbett
Dining At Clarissa Resort
One of the best parts of our 3 days in Clarissa resort Jim Corbett was that we didn't have to look for restaurants in Jim Corbett or even had to go out of our resort. Clarissa Resort has this spectacular restaurant named the Isle and the food served at the restaurants is heavenly. From the grand buffet to the jaw-dropping view from the restaurant and from the top-notch services to the classy interiors, the Isle in Clarissa Resort was undoubtedly one of the best restaurants we ever dined at!
Activities And Experiences We Enjoyed The Most
Clarissa Resort is one of the most popular resorts in Jim Corbett with swimming pools and the day we arrived at this resort after relaxing at our room we straight away went to the swimming pool. An evening spent while having fun with my family at the swimming pool amidst nature is a memory which we will cherish forever!
Our 3 days in Clarissa Resort Jim Corbett vacation's highlight was definitely the Jungle Safari. The weather was perfect, we were surrounded by dense forest and an adventurous jungle safari awaited us on the second day of our vacation. On the second day we got up early went and left for the thrilling Jungle Safari at the Jim Corbett National Park. Our Jungle Safari experience was all about fresh air, vibrant flowers, and wild animals. Jim Corbett National Park is home to 500 species of flora, 600 species of birds, and numerous species of wild animals that you can easily spot on a Jungle Safari. I will surely suggest every future traveler go on a Jungle Safari as it is an amusing experience that every nature lover should have once in their life!
Venturing Into Jim Corbett Wildlife For A Thrilling Escape Was The Best Decision Ever!
Tips For Future Travelers
Book your jungle safari in advance.
The best time for Jungle Safari is in the morning and you must wake up early to enjoy it to the fullest.
Do carry a pair of binoculars or rent one at the national park.
Our Experience With TravelTriangle
Overall it was a nice experience as not only our TravelTriangle took care of every minute detail but the company planned our vacation in such a way that we were quite impressed by its services. Kudos to the whole team!
Jim Corbett National Park: Walk Through The Wilderness In 2022!
Taking a respite from our daily lives and heading on a family vacation is something which we all crave for! Mohit and his family's 3 days in Clarissa Resort Jim Corbett vacation will surely compel you to plan a getaway with your familia! Its time for you to slide away into the wilderness of Jim Corbett National Park and have fun while spotting the Bengal Tiger in their natural habitat. So, think no more plan your Jim Corbett trip right away and get ready to experience the utmost luxury in the laps of nature at the Clarissa Resort!
Common Queries You May Have About Jim Corbett National Park
What is the best time to go to Jim Corbett?
We went to Jim Corbett National Park in the month of May and our trip turned out to be amazing! You can visit Jim Corbett National Park all around the year but the best time to visit it is between the months of November and February as you can easily spot a lot of animals in the winter season!
Are there Tigers in Jim Corbett?
Yes, there are around 215 tigers in the Corbett Tiger Reserve.
Is Jim Corbett open in August?
Yes, Jim Corbett is open in august. There are 4 zones in the national park and two of them are opened in the month of August.