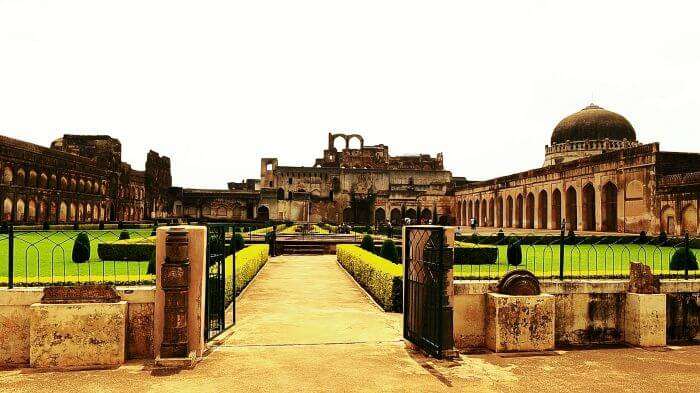 Are you running out of excuses to ask for a leave at your office? Has the allotted leave quota expired? Did your boss refuse your leave application for that trip you were planning with your visiting cousin? Are you in Hyderabad? Do I hear a yes to all the above?
Well, if you are in Hyderabad and have been cursing your job for not being able to go out, dude the problem is with you not the job. So, let's fix the problem by planning your visit to the places near Hyderabad — from most popular ones to lesser known gems. And yes, you don't need to take an off from your work!
17 Awesome Places Near Hyderabad
Listed below are some of the best places near Hyderabad that you must consider visiting to make the most of your travel experience around the popular city.
1. Warangal

Beautiful lakes, heritage sites, rich flora and fauna – Warangal is a complete package for a family outing. The student crowd due to the colleges in town has made it a very happening place. This is the place that will give you a chance to travel back in time and learn all about the glorious history of the numerous kings and queens. The city of Warangal is also considered to be the 5th largest city in the state of Telangana.
Major Attractions in Warangal: Thousand Pillars temple and the Ramappa temple; Warangal fort; Ghanpur group of temples; Ramappa and Pakhal lake; Musical Garden and Rock Garden; Regional Science Centre; Van Vigyan Kendra; and Eturnagaram Wildlife Sanctuary.
Distance from Hyderabad to Warangal: 144 km
Must Read: 20 Best Restaurants In Hyderabad That Are Bound To Turn You Into A Foodie
2. Kurnool

With its ancient relics and tranquil ambiance, Kurnool offers you a laid back weekend among the marvels of history. The city of Kurnool is essentially famous for palaces and forts and is referred to as the Gateway of Rayalaseema. Beautifully depicting the historicity, Belum Caves are known to be one of the best attractions here. You can also observe the awe-striking Ketavaram rock paintings to learn about the beautiful historical aspects of the city.
Major Attractions in Kurnool: Belum Caves; Mantralayam town; Kondareddy Burz; the Tomb of Abdul Wahab (AD 1618); and Summer Palace of the Rulers of Kurnool.
Distance from Hyderabad to Kurnool: 213 km
Suggested Read: 37 Best Road Trips From Hyderabad That Will Make You Fall In Love With South India!

3. Papikondalu

The hills of Papikondalu are often compared to that of Kashmir's. The aerial view of the area resembles the partition of a woman's hair, and even name means the same. The Papikondalu mountain range is located alongside the Godavari River, in Rajahmundry. This place in Andhra Pradesh is popular for its various attractions and one such attraction is the waterfalls of Munivaatnam.
Major Attractions in Papikondalu: Balachandram Temple; Perantalapalli Lake; Papikonda; and Kinnerasani Wildlife Sanctuary; and Pattisam Island.
Distance from Hyderabad to Papikondalu: 396 km
Must Read: 15 Mesmerizing Hill Stations Near Hyderabad Waiting To Be Explored
4. Nalgonda

This ancient city from the times of Paleolithic age — Nalgonda, offers a splendid time out with history. Nagarjuna Sagar dam is an added adventure. It, undoubtedly, is one of the best option to chose from the list of awesome places near Hyderabad. This place too is located in Andhra Pradesh and will be an ideal place to hang out for those looking for a culturally rich experience.
Major Attractions in Nalgonda: Ethipothala Waterfall; Gautama Buddha Museum; Bhuvanagiri Fort; Jain Shrine at Kolanupaka village; and steamboat ride.
Distance from Hyderabad in Nalgonda: 83 km
Must Read: 14 Gorgeous Waterfalls Around Hyderabad That Will Make Your Jaw Drop
5. Nizamabad

Nizamabad, a city in Telangana is an epitome of the Nizam royalties. Having seen the ages of Chalukyas and Golkondas, it has curated itself against the morbid changes of world. This city is known to be the third largest city in Telangana and is dotted with various interesting tourist sites that are worth exploring. This is also one of the most popular districts in the state.
Major Attractions in Nizamabad: Alisagar; Nizamsagar; Pocharam Wildlife Sanctuary and Medak Lake; Mallaram Forest; Neelkantheshwar Temple; and Medak Fort.
Distance from Hyderabad to Nizamabad: 170 km
Suggested Read: 55 Fascinating Places To Visit In Hyderabad To Witness The Rich History And Glory!
6. Bidar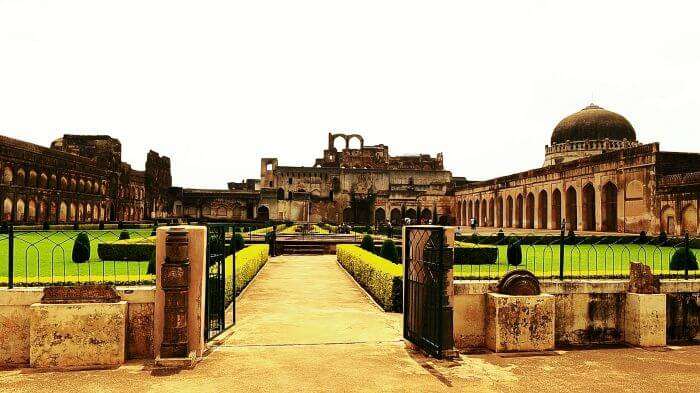 Located in Karnataka, Bidar one of the most chosen weekend destinations from Hyderabad. It is another historical gem, which has richly preserved the traces of all the dynasties that ruled it. The city of Bidar is also known for its architectural wonders that again reflect the richness of its history. Apart from the historical as well as architectural aspects, people must come to this city to witness how beautifully flora and fauna coexist here.
Major Attractions in Bidar: Bidar Fort; Papnas Temple; Basavakalyan; Diwan-I-Am; Gumbaz Darwaza; and Baridi Tombs.
Distance from Hyderabad to Bidar: 150 km
Suggested Read: 20 Exhilarating Things To Do In Hyderabad: The City Of Pearls Has A Lot To Offer
7. Mahbubnagar

An ancient city with traces in the Old and New Stone Ages, Mahabubnagar is a place for history lovers. It is also known as Palamuru or the land of the Chola Dynasty. This city in Telangana was named after the sixth Nizam, Mir Mahbub Ali Khan and is famous for having the largest area in the district. It is also is a home to the seventh largest population in the state of Telangana.
Major Attractions in Mahbubnagar: Diamond mines; Jama Masjid; Medina Masjid; Mecca Masjid; and Uma Maheshwaram; and the 700 years old Banyan Tree at Pillalamarri.
Distance from Hyderabad to Mahbubnagar: 140 km
Suggested Read: 10 Wonderful Places To Visit Near Telangana That Will You Back To The Old Age!
8. Srisailam

Image Credit: Wikimedia Commons
This is a hill station in the district of Kurnool in Andhra Pradesh. One of the most famous attractions here is Malikarjuna Jyotirlinga. Moreover, the town is known for its wildlife sanctuary and dam. Established on the banks of Krishna River, the town is home to various temples that will surprise you with their architectural and religious significance.
Major Attractions in Srisailam: Srisailam tiger Reserve, Mallikarjuna Swamy Temple, Akkamahadevi Caves, and Srisailam Dam Distance from Hyderabad to Srisailam: 214 km
Suggested Read: 6 Wonderful Things To Do In Telangana That Will Complete Your South Trip!
9. Laknavaram Lake

Also known by the name Laknavaram Cheruvu, this lake is one of the most beautiful attractions you can find at a close distance from Hyderabad. This lake is situated in Govind araopet Mandal in the district of Jayashankar Bhupalpally. The lake covers an area of more than 10,000 acres. It is believed that the clan of Kakatiya formed the lake during the time when Warangal was their capital. Distance from Hyderabad to Ajanta and Ellora Caves: 187 km
Suggested Read: 5 Airports In Telangana For A Hassle-Free Journey To This Gem In South India
10. Rollapadu Wildlife Sanctuary

Image Credit: Wikimedia Commons
If you love to witness the majestic wildlife, then you must plan a visit to this wildlife sanctuary located at a close distance from the city of Hyderabad. This is one of the best places where you can witness the flora and fauna peacefully coexisting. This sanctuary was established in 1988 and is a great refuge for endangered species like The Great Indian Bustard as well as Lesser Florican.
Major Attractions in Rollapadu Wildlife Sanctuary: witness a variety of animals, including the Great Indian Bustard, migratory birds, and reptiles Distance from Hyderabad to Rollapadu Wildlife Sanctuary: 253 km
Suggested Read: 33 Regal Forts In India That Are Popular Tourist Attractions Today!
11. Vemulawada

Image Credit: Wikimedia Commons
This region in Telangana is known for various temples that are known all around the country of India. These temples are well known for their awe-striking Dravidian architecture. The temples receive worshippers from all over the world. These temples are also famous for their historical significance and therefore history buffs are assured a memorable experience here.
Major Attractions in Vemulawada: Rajanna Temple, Sri Raja Rajeshwara Swamy Temple, and Sri Bhimeshwara Swamy Temple Distance from Hyderabad to Vemulawada: 127 km
Suggested Read: 21 Best Places To Visit In Warangal That Prove It's A Hidden Gem Down South!
12. Bhadrachalam

Image Credit: Wikimedia Commons
A visit to this place is a must if you are looking for an invigorating experience. This is where you will get an opportunity to witness the essence of Ramayana. There's an awe-striking palace as well as a beautiful river here that make this place worth visiting. This place too is known for its beautiful temples. Established on the banks of River Godavari, you will definitely have a memorable time here.
Major Attractions in Bhadrachalam: Sita Ramachandraswamy temple, Amba Satram Temple, Bhadrachalam Temple, and Abhaya Aanjaneya Swamy Temple Distance from Hyderabad to Bhadrachalam: 319 km
Suggested Read: 30 Temples In South India: The Perfect Amalgamation Of Art And Divinity
13. Oravakallu Rock Garden

Image Credit: Wikimedia Commons
This is just the right place for a picnic and therefore those who are traveling with family can definitely consider visiting this place. The awe-striking formation of igneous rocks makes this place one of the best attractions you can plan to visit out of the city of Hyderabad. You can even come to this place for boating and can visit the amazing cave museum that is a part of this place.
Major Attractions in Oravakallu Rock Garden: Sculpture Garden, Museum Distance from Hyderabad to Oravakallu Rock Garden: 192 km
Suggested Read: 10 Haunted Places In Hyderabad With Real Ghost Stories For Spooky Trips!
14. Gandikota

Image Credit: Wikimedia Commons
Gandikota is famous by the name the 'Grand Canyon of India'. This village is established on the banks of Pennar river and is enveloped within the fascinating Erramala Hills. The valleys adorned with streams make for a pleasing scenery. This is an ideal place for you to enjoy a memorable walk in nature. From the fort, you can always enjoy a great view of the village.
Major Attractions in Gandikota: Gandikota Fort, Gandikota River View Point, and Madhavaraya Swamy Temple Distance from Hyderabad to Ganidkota: 287 km
Suggested Read: Delve Into The Nightlife In Hyderabad At These 21 Exquisite Clubs And Bars
15. Hampi

This is one of the most prominent UNESCO World Heritage sites in the country. Located within the awe-inspiring hills of Karnataka, Hampi is admired for its numerous temples that are known for their history as well as architecture. The history of Hampi dates back to 1500 AD and everything at this place is worth exploring. History buffs shouldn't miss a chance to visit this region of Karnataka.
Major Attractions in Hampi: Matanga Hill, Vijaya Vitthala Temple, Virupaksha Temple, and Hemakuta Hill Temple Distance from Hyderabad to Hampi: 375 km
16. Badami

This is one of the most breathtaking locations lying at a close distance from Hyderabad. As a part of the valley, Badami is admired for its red sandstone cliffs. There are various points of interest at this place, including a waterfall, a vast lake, and fortresses. Located in the district of Bagalkot in Karnataka, this site is an architectural wonder. It is also counted amongst UNESCO World Heritage Sites.
Major Attractions in Badami: Bhootnath Temple, Agasthya Lake, Badavi Cave temples, and Banashankari Amma Temple Distance from Hyderabad to Badami: 419 km
17. Nelakondapalli

This is an amazing place for those who want to explore the architectural, historical, and cultural aspects of a tourist attraction. Nelakondapalli is known to be home to some of the oldest Buddhist stupas as well as holds a significant connection with the famous epic of Hindu religion, Mahabharata. This is just the best place to explore when looking for an archaeologically rich spots near Hyderabad.
Major Attractions in Nelakondapalli: Bogatha Waterfall, Ramalayam Temple, Arlagudem Pond, Dhanavayi Gudem Park, and Palair Reservoir Distance from Hyderabad to Nelakondapalli: 169 km
Further Read: 26 Reasons Why I Would Rather Be From Hyderabad Than Anywhere Else
Folks in Hyderabad, stop being clichéd about going out in lieu of work and step out of your comfort zone. Do visit these fabulous places near Hyderabad that have the traces of history and culture and kick your boring weekends away. For those, who have already been there, do share your experiences with us. If you are someone enjoying your Hyderabad trip and want to make it more interesting, then don't forget to keep the list of amazing places handy.
Frequently Asked Questions About Places Near Hyderabad
What are the popular heritage sites near Hyderabad?

There is no dearth of heritage sites located near Hyderabad and some of the popular ones are Hampi, Alampur, Warangal, and Badami.

Which are the best places to spend 2 days around Hyderabad?

You will find several places near Hyderabad where you can spend 2 days like Kuntala Falls, Srisailam, Bidar, Nagarjuna Sagar, and more. These places can be explored with friends, family or your spouse.

Are there any offbeat getaways near Hyderabad?

The options for offbeat getaways near Hyderabad might be less but they are worth it. You can opt for camping at Laknavaram Lake with your friends or you can trek to Ananthagiri Hills.

Which is the nearest city to Hyderabad?

The nearest city to Hyderabad is Secunderabad which is located at a distance of 8.6 kilometers and can be reached easily in half an hour.

Which river is near to Hyderabad?

The nearest river to Hyderabad is Musi River. The famous Osman Sagar and Himayat Sagar dams are built on this river. This river serves as the major source of water in Hyderabad.

What are the top tourist places to explore in Warangal?

Some of the best tourist attractions that one cannot miss out in Warangal are Thousand Pillar Temple, Warangal Fort, and Bhadrakali Temple.

Is Nizamabad a must-explore place?

Yes, Nizamabad is home to several tourist places like Medak Lake & Fort, Alisagar, Neelkantheshwar Temple, and Pocharam Wildlife Sanctuary which makes it a must-visit place near Hyderabad.

What are the top places to visit in Papikondalu?

If you are planning to explore Papikondalu that is located near Hyderabad then make sure that you visit these places - Kinnerasani Wildlife Sanctuary, Balachandram Temple, Pattisam Island, and Perantalapalli Lake.
---
Looking To Book A Holiday Package?
---
People Also Read:
Places Near Trivandrum Places Near Dehradun Places Near Indore