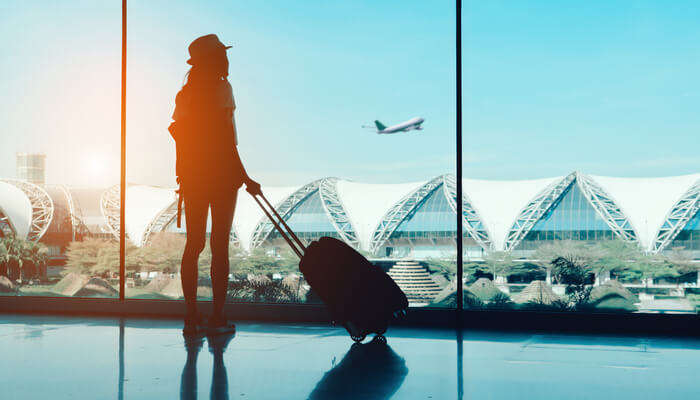 Telangana is a beautiful state in southern India. The famous and magnificent Charminar, Golconda Fort and Qutb Shahi Tombs which are included in the UNESCO World Heritage Site are resting graciously in the beautiful soil of Telangana. There are a lot of places to explore here and to give easy access to visitors, there are many airports in Telangana that will let you reach your respective place without any hassle.
5 Airports In Telangana
Here is a list of the airports in Telangana that will give you an easy-peesy experience of traveling to the places that it offers. Take a look!
1. Rajiv Gandhi International Airport, Hyderabad

This is one of the famous airports located right in the beautiful city of Hyderabad. It is situated in Shamshabad about 20 km south from the Hyderabad city. Speaking of its features, it includes a single passage terminal which has a 12 million boarding capacity (Including domestic and international flights). It has 46 immigration counters and around 96 check-in desks for the convenience of travellers. Almost every airline like SpiceJet, Air India, Gulf Airways, Jet Airways and Air Asia are known to operate regularly here. There are several shops and services like ATMs, restaurants, jewellery stores, lounges and spa right within the airport. It gives direct access to some of the nearest attractions such as Raja Rajeshwari Devi Alayam, Ayappa Temple, Dhanalakshmi Kshetra Temple, Mughal Garden and Horticulture Garden. The airport is also well connected with railways and the nearest railway stations are Budvel and Umdanagar about 7 km and 4 km respectively. There is also a luxurious shuttle service managed by the airport authorities and there are nearly 18 pick-up locations in the city. Speaking of the minimum fare, the minimum is INR 106 while the maximum is INR 256.
Location: Shamshabad, Hyderabad, Telangana 500409
Airport Code: HYD
Must Read: 26 Fascinating Tourist Places In Telangana That Are Worth A Visit In 2022
2. Begumpet Airport, Old Airport Hyderabad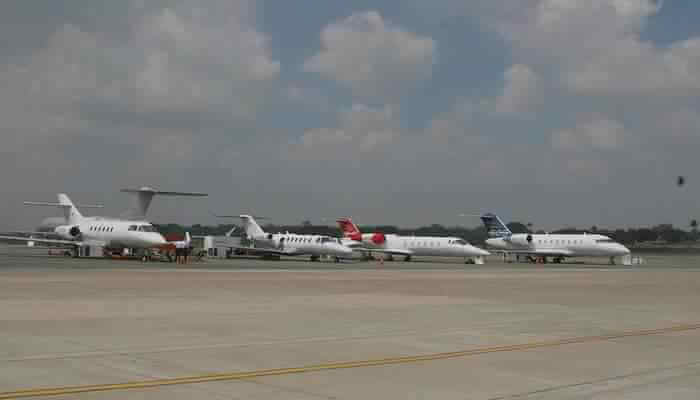 Image Source
It is known to be the old Hyderabad Airport which is located in Begumpet and it was known to be part public and part military. To explain further, it was shared by Rajiv Gandhi Aviation Academy and the Begumpet Air Force Station of the Indian Air Force. Back in the days, before it was shut down, the said airport hosted both domestic and international passengers until the inauguration of Rajiv Gandhi International Airport. In the present day, the airport functions as a military aviation training base and is often known for carrying VIPs. It was situated at the perfect location which gave access to the travellers those wishes to visit the nearby attractions. The nearest railway station is Begumpet Railway Station about 5 km from the airport. It is well-linked with roadways as well as the bus stands while saying that, the nearest bus stand is about 2 km away from the airport.
Location: Begumpet Airport Road, Prakash Nagar, Begumpet, Hyderabad, Telangana 500016
Airport Code: BPM
Suggested Read: 25 Mesmerizing Hill Stations In South India That Are A Must Visit In 2022
3. Warangal Airport

Image Source
Being located in Warangal, right in the beautiful state of Telangana, Warangal Airport was once widely known to be the largest airport in the pre-independence era. To make a note of, currently, there are no scheduled flights from this particular airport due to various reasons. It was in service until 1981. There are possibilities that the Telangana Government might come up with reviving the airport with some instate services. Speaking of Telangana, it is for sure an integral and economically very much valuable part of India and Hyderabad is a part of the mentioned state is known to be a hub for major business and many other activities. As a matter of fact, there are likely to be many airports here in Hyderabad which are underdeveloped including the Warangal airport however the global airport known as Rajiv Gandhi International Airport is the only active commercial known airport in the city. However, whenever we list out the names of the airports in Telangana, it's for certain to add the Warangal Airport to the list
Location: Warangal, Telangana 506166
Airport Code: WGC
Suggested Read: 15 Offbeat Places In South India 2022 That Will Make You Go 'WOW' With Natural Beauty!
4. Dundigal Air Force Academy

Image Source
This magnificent airport is located in Dundigal about 23 km from the twin cities known as Hyderabad and Secunderabad. It was initially set up to train cadets from all given streams under the safe roof. It is said to be an establishment which is known for training the Flying, Technical and Ground Duty Branches and the list further includes the officers of the Army and Navy. It is considered to be home to the trainee officers in their respective field with a motive to enhance their skill set. Speaking of the major skills taught and trained here, we can start with the Flying training, Air Traffic Control Officers training, Joint Service training and Ground Duty Officers training. It gives access to the nearest railway station, which is nearly 32 km away from the airport. As a sign of respect, there is a separate bus stand dedicated in the name Dundigal Air Force Academy and a direct bus service can be availed from here which leads to several prominent places within the city.
Location: Medak-Hyderabad Road, Dundigal, Telangana 500043
Suggested Read: Mahabalipuram Temples: Visit These 10 Breathtakingly Beautiful South Indian Souls In 2022
5. Ramagundam Airport

Image Source
This airport is known to mainly function in the city of Ramagundam and is infrequent use after 2010. To be precise, only the VIPs carrying flights are seldom using the airport in pursuit of an emergency landing.
Location: 21-6-91/A, FCI Main Rd, Fertilizer City, FCI Rd, Fertilizer City, Gouthami Nagar, Ramagundam, Telangana 505210
Further Read: 38 Romantic Honeymoon Places In South India For 2022 That Cast Utter Magic
As mentioned above, there are almost half a dozen airports located right here in Telangana out of which most of them are in frequent use currently. Saying that, Telangana is a state known for its beauty in Diversity and to reach here, the visitors may approach the given airport which currently in operation as per their convenience. So, don't think too much and plan a trip to South India and visit Telangana.
Frequently Asked Questions About Airports In Telangana
Where is Rajiv Gandhi International Airport?
It is located in Shamshabad, Hyderabad, Telangana 500409.
Which was the old airport before the inauguration of Rajiv Gandhi International Airport?
Warangal Airport is known to be the old airport before the inauguration of Rajiv Gandhi International Airport.
How far is the Charminar from Rajiv Gandhi International Airport?
It is about 20 km away and takes nearly 50 minutes (approx.).
What is Dundigal Air Force Academy known for?
The major skills taught and trained here includes Flying training, Air Traffic Control Officers training, Joint Service training and Ground Duty Officers training.
Which airport is currently in operation for commercial flights?
Rajiv Gandhi International Airport is the only commercial airport in operations currently in Telangana.
---
Looking To Book A Holiday Package?
---