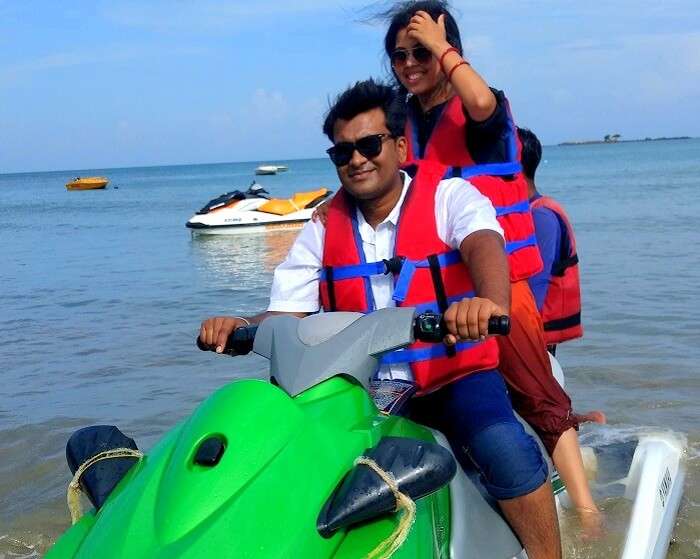 Asit Poddar talks about his honeymoon trip to Andaman. Calling it a destination that offers peace, romance, and adventure, he elaborates on their experiences at the beautiful islands. He booked his honeymoon package to Andaman from TravelTriangle and included their transfers, hotels, sightseeing, and meals – all for a cost of INR 21,800. Let us hear their story!

This was our honeymoon trip and needless to say, a very special one! It was my first vacation with my wife and I really wanted everything to be perfect.
We had chosen Andaman as our holiday destination since we knew it would offer us peace, serenity, romance, and beauty that we so needed after a busy wedding! And we were right!

I booked our honeymoon package to Andaman via TravelTriangle which I found on the internet. After filling in relevant details, I was soon contacted by their representative who connected me to various travel agents after taking in my requirements.
These travel agents then gave me various competitive quotes and itineraries as per my needs and I selected the best one from Andaman Emerald Holidays.
Now that we were done with the travel package, all we had to do now was to wait for our holiday to begin!
Day 1: Witnessing the beauty in Andaman

We took our flight from Kolkata and arrived at the Savarkar Airport in Port Blair on time. Upon our arrival, we soon found the travel representative from our chosen travel agency and he welcomed us warmly. We were soon transferred to our hotel – Hotel S.L. International had a simple yet beautiful ambience. Both my wife and I liked the hotel and post our check in, we decided to take a nap to refresh our senses.
At around 2 PM, we got ready for our sightseeing tour and set off for the Corbyn Cove Beach. This was a simple, tidy and a small beach that offered breathtaking views of the ocean and also numerous water activities.
Water activities here included Jet Ski, Speed boat ride, Banana boat ride among many and we tried Jet Skiing here. This ride was an awesome experience for us and also added an adventurous flavor to our honeymoon. But since, we were running short on time, we decided to move on.

Next on our list was the Cellular Jail which was a historic experience since it showcased the struggles of the past in the area. The light and sound show in the evening here was fascinating and told us haunting stories of people behind the bars.
Post the tour, we returned to our hotel and called it a night.
Andaman In September: 15 Thrilling Experiences On The Island For Monsoons In 2022
Day 2: Visiting the islands

This day, we were to visit the North Bay island and the Ross island. Upon our arrival at the North Bay Island, we got complimentary snorkeling from our travel agent and it was a very surreal and romantic experience. Although, we could also do Scuba diving, my wife and I chose to avoid it since I was asthmatic. Nonetheless, Snorkeling was an amazing experience and holding hands with my wife underwater exploring its beauty was absolutely fantastic. Our lunch at the island included the famous Surmayee fish post which we started for Ross island on a small boat.

Ross Island was a private island for Britishers and still had the whole buildings, signposts and other remains (Church, bakery, powerhouse, pond and many more remnants). Post our sightseeing in Ross island, we returned to our hotel, only to find a wonderful honeymoon cake courtesy our agents – Andaman Emerald Holidays.
Happy and excited, we retired for the night.
14 Secrets That Andaman Has Been Keeping To Itself
Day 3: Soaking in the beauty of Havelock

This day, we woke up to beautiful weather and post a delightful breakfast, proceeded on for Havelock island. We were to go to Havelock on a luxury cruise – H.M. Makruzz and it was an awesome experience. The journey was smooth and we were offered food and refreshments among many other things.

At Havelock, we were also taken to Radhanagar beach which was so beautiful that our camera and words, both cannot do justice to it. The turquoise waters, white sand, greenery, blue sky, and creamy clouds all mixed up beautifully to form sceneries that refreshed our minds and souls.
Unfortunately, we could not spend a lot of time here since we had to take a ferry back to Port Blair.
The ferry ride on the way back was a rough one.
His 20 Heavenly Images From Andaman Will Completely Sweep You Off Your Feet
---
Planning your honeymoon in Andaman but confused about what to do? These Andaman honeymoon stories help you find your best honeymoon trip ever!
Real honeymooners. Real stays. Real opinions to help you make the right choice.
---
Day 4: Witnessing the best of Port Blair

This was our last day and to make the most of it, we got up early in the morning and visited the Wandoor beach. Since only we were present there at that point of time, it felt romantic to be there in the serene and tranquil background of the ocean and beach.

From here, we went to the Redskin island on a glass bottom boat which was once again a beautiful experience. This island is famous for its exquisite marine life and a session of snorkeling introduced us to its various sea cucumbers, colorful fishes, corals and many more sea creatures and attractions.

In the evening, we returned to Port Blair and went for some souvenir shopping at the local market. We also ate a lot of delicious sea food here.
47 Most Amazing Things To Do In Andaman
Day 5: Farewell Andaman

We got up early this morning for our flight and were dropped to the airport by our driver, Bikash ji – who also did a great job during the whole tour.
Andaman was an amazing experience for us. It was full of adventure, nature, and peace. One of the most beautiful places in the world, Andaman offered us the perfect beginning for a new start in life.

High Points:
Swimming and time spent at Radhanagar beach.
Time spent in seclusion at Wandoor beach.
There were a lot of Bengalis there and we had a great time interacting with them.
Low Points: The ferry ride from Havelock to Port Blair was rough.
Tips for future travelers:
Minimum time that one should spend in Andaman to explore its beauty should be 7 days.
Must try local cuisine
Now that you know what Andaman has to offer, you must give a thought to planning your Andaman vacay. So, plan your honeymoon in Andaman and make the most of it amidst the lush green sceneries by including all these experiences just like this couple did!
Frequently Asked Questions About Andaman Honeymoon
What is famous about Ross Island?
Ross Island was once known to be the headquarters of the British colony. Today, it features ruins of the buildings that were built during the British time. There are numerous trees that are century-old which captures the attention of various tourists.
Which are the best restaurants in Andaman?
These are the top restaurants in Andaman where you can gorge on a wide range of delicacies:
1. Annapurna Restaurant
2. New Lighthouse Restaurant
3. The Bayview at Sinclairs Bayview Port Blair
4. Amaya Lounge Bar
5. Bonova Cafe And Pub
6. Mandalay Restaurant
7. Restaurant at Barefoot At Havelock
How far is Ross Island from Port Blair?
Ross Island is approximately 3 km away from Port Blair. This is one of the most famous islands in Andaman where you can enjoy a fantastic time.
Which are the best places to visit in Andaman on a honeymoon?
These are some of the best places in Andaman for honeymooners:
1. Cellular Jail National Memorial
2. Mount Harriet And Madhuban
3. Havelock Island
4. Rajiv Gandhi Water Sports Complex
5. Museum Circuit
6. Mahatma Gandhi Marine National Park
7. North Bay Beach
8. Ross Island
9. Diglipur
10. Chidiya Tapu
Which island is best for scuba diving in Andaman?
The areas in and around Havelock Island are ideal for indulging in scuba diving. There are various operators offering you reasonable packages along with all the safety measures.
Is June a good time to visit Andaman?
Yes, June is a great time to plan a trip to Andaman. During this time, the crowd is comparatively lesser and the flights are cheaper along with accommodations.
Which are the top places to witness the nightlife in Andaman?
These are the best places where you can see the nightlife of Andaman:
1. Feel good restaurant
2. Amaya
3. Alto Espirito
4. Venom Bar
5. Havelock
6. Ink Fly lounge bar
7. Full moon cafe
8. Nemo Cafe
How long does it take to explore cellular jail?
It takes about 1 hour to thoroughly explore the intriguing cellular jail. Also, the light & sound show in the evening takes an additional 1.5 hours that includes waiting time.
---
Looking To Book Your Honeymoon Package?
Book memorable honeymoon on TravelTriangle with 650+ verified travel agents for 65+ domestic and international destinations.
---