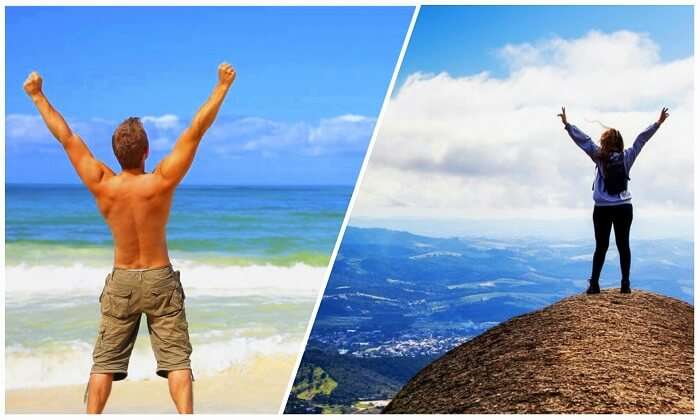 The depths of waters, or the might of mountains? The sound of waves, or the peace and quiet of mountains? A lovely laid-back beach vacation, or a serene and tranquil mountain retreat? The choices may differ for every traveler but it is unbelievable to witness how certain characteristics of a traveler leads them to make a choice between a beach or mountains. The traits have been crafted to capture the true essence of a traveler. Don't believe us? Scroll down and decide for yourself whether you're a beach person or a mountain person based on these 10 personality traits.
Pick Between Beach Or Mountains
Are you a beach person or a mountains person? Classify yourself in the below mentioned list to take a side. Each trait has been carefully designed to define the characteristics of the traveler in you. Between beach or mountains, which one would you pick? Browse through this blog and make a decision for yourself:
Extroverts Vs Introverts
High On Energy Vs High On Nature
Social Butterfly Vs Self-Centered
Naturally Restless Vs Naturally Reserved
Go-Getter Vs Creative
Likes Association Vs Prefers Alienation
Conversationalist Vs Listener
Materialistic Vs Romantic
An Entertainer Vs A Thinker
Adventurers Vs Peace-Lovers
1. Extroverts Vs Introverts

A study carried out in University of Virginia has revealed that being an extrovert or an introvert does have an association with the geographical location of their choice of destination as well. Based on a total of 613,000 personality surveys, the reports suggests that extroverts are the beach people who are more prone towards the hip and happening beach life. On the other hand, introverts are the mountain people prefer the peace and quiet of mountains and natural surroundings where they can just be themselves.
Must Read: 10 Best White Sand Beaches In The World To Leave You Speechless
2. High On Energy Vs High On Nature

Given that the beach life is totally upbeat and lively, beach people are generally active and highly energetic in their daily lives. Whereas people who love mountain vacations, are more of balanced travelers who love to be around nature. They believe in living in the moment and dealing with one thing at a time.
Suggested Read: Top Travel Trends That Have Completely Revamped The Definition Of 'Travel'!
3. Social Butterfly Vs Self-Centered

As far as the virtual world is concerned, a beach person is observed to be more of a social butterfly. Clicking selfie every now and then, sharing it across all social media platforms, replying to each comment, and getting glued to the phone are more likely to be the traits of a beach person. On the contrary, a mountain person wouldn't mind ditching the virtual world to get connected to the real world around them. Trying their best to stay away from people's focus, and shying away from the camera, is the person who chooses to be a mountain monk when it comes to beach or mountains.
Suggested Read: Best Airlines Of The World: Checkout The Airlines That Will Redefine Your Flying Experience!
4. Naturally Restless Vs Naturally Reserved

Both beach and mountains people are happy in their own way. Though the beach person may be very carefree and cheerful in nature, a mountain person may appear to be very calm and composed, and still be happy at the same time. Hence, the degree to which they express their happiness and excitement is what makes them prone towards either beach or mountains.
Suggested Read: 10 Offbeat Trekking Spots In The Himalayas
5. Go-Getter Vs Creative

Beach and mountain people differ a lot in their professional lives as well. While the highly active beach people are more of go-getters who believe in getting the job done, mountain people are more of visionaries. They are a bunch of creative heads who believe creativity is not bound to a time limit. Finding beauty in simplicity is their forte.
Suggested Read: Pick From Hottest Honeymoon Trends To Explore Offbeat Themes & Unique Ideas Of Romance
6. Likes Association Vs Prefers Alienation

Getting along with people with similar or different interests is also one aspect which differentiates whether a person prefers beach or mountains. While the beach people like to make new friends on the go and are ever ready to mingle, staying secluded and finding peace amidst isolation is more of a mountain person's jingle.
Suggested Read: 20 Mysterious Places In India To Visit More Bizarre Than The Bermuda Triangle
7. Conversationalist Vs Listener

Striking a conversation with anyone, anywhere, and anytime is something a beach person is excellent at. Be it at the beach, in the city, a club, movie, or a restaurant, they can chatter away to glory. On the contrary, if a mountain person gets along with you, then you have got a friend for life who can be a great listener. Mountain people like to talk less, and observe more which reflects in their choice when it comes to a beach or mountains.
Suggested Read: A Compilation Of 59 Weirdest Places Across the World You Should Stop By
8. Materialistic Vs Romantic

In a world of beach people, it is very rare to find a person with the capability of romancing the nature. Having said that, a beach person is materialistic when it comes traveling than the mountain person. While the beach person yearns for, and can indulge in luxury anytime, a mountain person wouldn't mind collecting more experiences with basic amenities or without luxury. This personality trait, not only differentiates whether a person love beach or mountains, but also whether that person is a traveler or a tourist.
Suggested Read: 10 Scariest Roads In India That Are A Driver's Nightmare
9. An Entertainer Vs A Thinker

There can never be a dull moment when people are around a beach person. From their way of talking, to the way they keep everyone entertained with their sense of humor, is truly infectious. On the other hand, a mountain person can be a great company only if you share similar interests with them. Being a thinker by nature, mountain people give a lot of thought to their words and action. However, whether the person loves beach or mountains, they are great to be with!
Suggested Read: Reminiscence Of A Past Life : 10 Mysteriously Abandoned Places In India
10. Adventurers Vs Peace-Lovers

The saying of "danger is real but fear is a choice" suits the adventure-filled souls of beach people. Ever-ready to take on any kind of challenge, the beach bums are sporty in nature and adrenaline junkies by heart. Talking about the mountain people, they are both peace-lovers and peacemakers as well. They'd rather sit on a mountain top and relish the breathtaking views alone or with their close friends rather than hitting a club any day. Living in a bubble is their ideal way of living which also is beautiful in a way.
Suggested Read: Zodiac Signs And Their Travel Traits: Let The Stars Guide You To Your Next Holiday Destination
Common Traits
Though there may be differences in the personality traits of someone divided between beaches vs mountains, but here are some common characteristics that unites wherever they go!
1. Independent Souls

Being dependent is something which neither a beach person and a mountain person enjoys. They love their freedom more than anything else, and it's not a matter of beach or mountain anymore when their freedom is at stake!
Suggested Read: 28 Offbeat Honeymoon Destinations In The World For Trip You'd Have Never Heard Of!
2. Affectionate Personalities

A beach person may be more expressive than the mountain person but the sense of caring towards others or fellow travelers is inculcated in both the characters. Be it beach or mountains, the affection comes straight from the heart! Choosing between a beach or mountains vacation doesn't have to be so hard.
Suggested Read: 15 Offbeat Destinations In Europe That Are Straight Out Of Fairy Tales
3. Gastronomes By Heart

The way to a human's heart, is via stomach indeed which years for delicious food and authentic flavors whichever the destination may be. Whether you love beach or mountains, food is a factor which a beach person and mountain person cannot compromise on. Taste buds have to be treated with the best!
Suggested Read: Top 8 Bollywood Locations In India That Will Ignite The Wanderlust In You
4. Music Lovers

Though the taste of music may differ for a beach person and a mountain person, none of them can stay without a set of headphones or earplugs on the journey. Being a friend in need and a friend in deed, music strikes a perfect balance for both the personalities while embarking on all their adventures.
Suggested Read: 17 Spots For Snorkeling In Europe Every Underwater Enthusiast Must Visit
5. Bitten By The Travel Bug

Irrespective of whether you choose to stay on a beach or mountains, nothing can satiate the wanderlust that the beach bums and the mountain junkies are filled with. This never-ending love for travel, is something that can neither subside nor be substituted for both the personalities. In this battle of beach vs mountains, who wins?
Further Read: Discover And Relish These Best International New Years Destinations On Budget!
So which personality traits were you able to relate to in the debate between beach or mountains? Plan an international trip with TravelTriangle today. Whether you feel you're a beach baby or a mountain monk, let us know in the comments below! You will have the time of your life, irrespective of whether you embark on a mountain vacation or a beach retreat.
Disclaimer: TravelTriangle claims no credit for images featured on our blog site unless otherwise noted. All visual content is copyrighted to its respectful owners. We try to link back to original sources whenever possible. If you own the rights to any of the images, and do not wish them to appear on TravelTriangle, please contact us and they will be promptly removed. We believe in providing proper attribution to the original author, artist or photographer.
Please Note: Any information published by TravelTriangle in any form of content is not intended to be a substitute for any kind of medical advice, and one must not take any action before consulting a professional medical expert of their own choice.
Frequently Asked Questions About Beach Or Mountains
Are you a beach or mountain person?
Depends on whether you prefer gazing at lofty mountain ranges or dipping your feet in the warmth of the golden sand.
What states have mountains and beaches?
Florida, Oregon, Michigan, Colorado, Hawaii, Arizona, Utah, and Alaska have both mountains and beaches.
What are some of the best mountains in the world?
There are a wide array of mountains that can be classified as best. On a general note, Swiss Alps, Mount Logan, Mount Fuji, Mauna Kea, Mount Everest and so much more are some amazing mountains.
What are the most beautiful beaches for a traveler?
Some beautiful beaches are as follows:
– The Blue Beachin Puerto Rico
– Seagrass Bay, Fiji
– Bathsheba Beach, Barbados
– Temae Plage Publique, French Polynesia
– Psarou Beach, Mykonos
– Elafonísi, Crete
– Gouverneur, St. Barts
Are there any destinations where I can enjoy beach and mountains together?
Yes. There are some amazing places where you both, can enjoy beach and mountains:
– Majorca, Spain
– St. Lucia, Caribbean
– Oahu, Hawaii
– Makarska, Croatia
– Sabah, Borneo
– Harris, Scotland
---