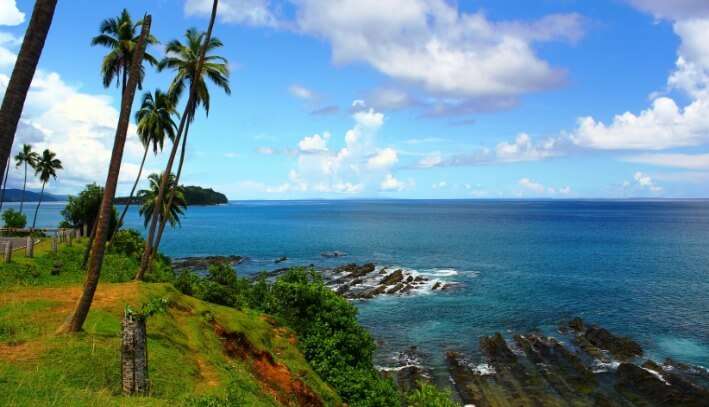 "We travel not to escape life, but for life not to escape us." This quote accurately describes a journey to Port Blair where time freezes and you can just enjoy the beauty of the present. This capital of Andaman and Nicobar Islands is located on the eastern bank of the Southern Andaman Island.
There are plenty of things to do in Port Blair from discovering a rich tribal culture to exploring shorelines and islands and picking up coral artifacts at Aberdeen Bazaar. Water sports activities like snorkeling, scuba diving, deep sea diving and ocean walks are also aplenty here and make for a great holiday adventure in Port Blair. Following is a list of top things to do in Port Blair, Andaman.
Cellular Jail
Light And Sound Show
Museum Tou
Chidiya Tapu
Seafood Restaurants
Nightlife
Aberdeen Bazar
Gandhi Park
Ross Island
North Bay Island
Jolly Buoy Island
Munda Pahar Beach
Mahatma Gandhi Marine National Park
Mount Harriet
Barren Island
Sightseeing In Port Blair
From shimmering beaches to anthropological museums and colonial jails, there is plenty to keep you busy in Port Blair. Here are some of the places where you can go sightseeing in Port Blair:
1. Cellular Jail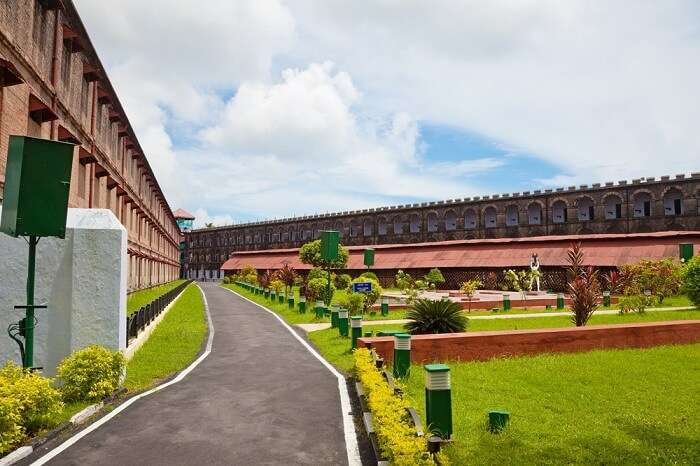 The Cellular Jail or Kaala Paani is one of the most popular places to visit in Port Blair. Take a trip around the jail blocks of the Cellular Jail where Indian freedom fighters were once imprisoned. Take a guide along to know about the history of Kala Pani and the British used to treat the freedom fighters.
Key attractions: Veer Savarkar's cell, oil mills, gallows, Netaji Gallery, Library on Freedom Movement
2. Light And Sound Show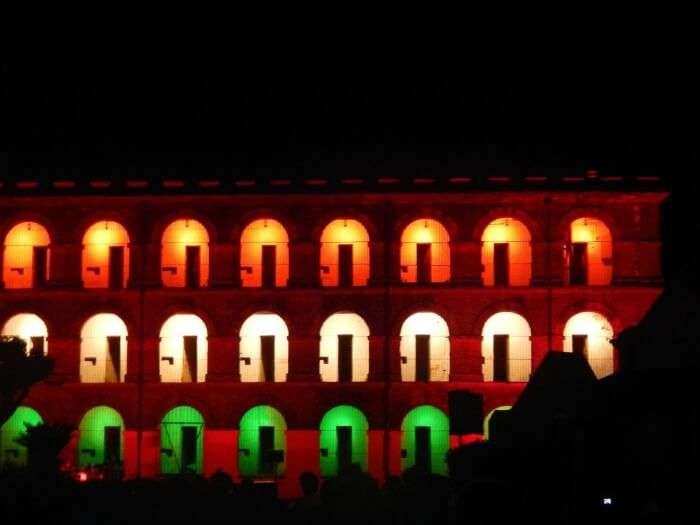 One of the most famous things to do in Port Blair, attending the light and sound show, will leave you with a tear in the eye and a gush of patriotism. It's the saga of the heroic struggle of the revolutionary men in the history of India's freedom struggle.
The history of Kala Pani is brought alive by a soulful narration from the viewpoint of an old peepal tree in the complex that witnessed all the tragic events in this cellular hell. The voice of the Peepal tree is that of one of the most famous Bollywood actors Om Puri.
Timings: Two shows daily at 18:00 and 19:15 in Hindi except for on Monday, Wednesday, and Friday when the second show is in English.
Must Read: 7 Top Sea-Facing & Beach Resorts In Port Blair, Andaman
3. Museum Tour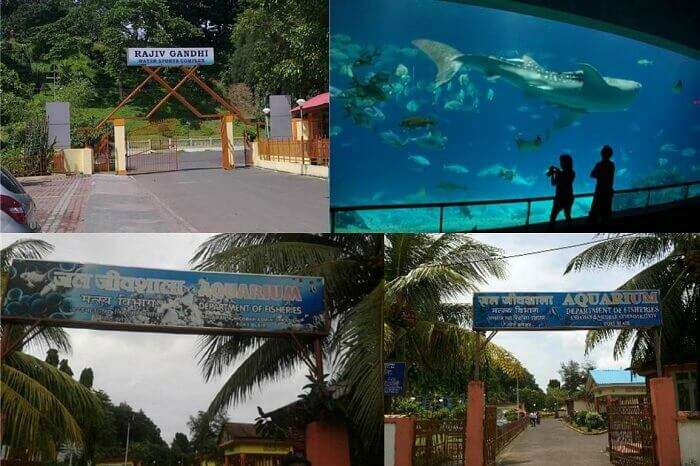 Taking a half-day museum tour is one of the most interesting things to do in Port Blair, Andaman. Museums in Port Blair uncover city's tribal history, marine life and more. From a plethora of island artefacts at Samudrika Marine Museum to lively tribal murals at Anthropological Museum and endemic marine species at the Fisheries Museum – there's a lot to see and learn. And it's all the more fun if you are on an Andaman family holiday.
4. Chidiya Tapu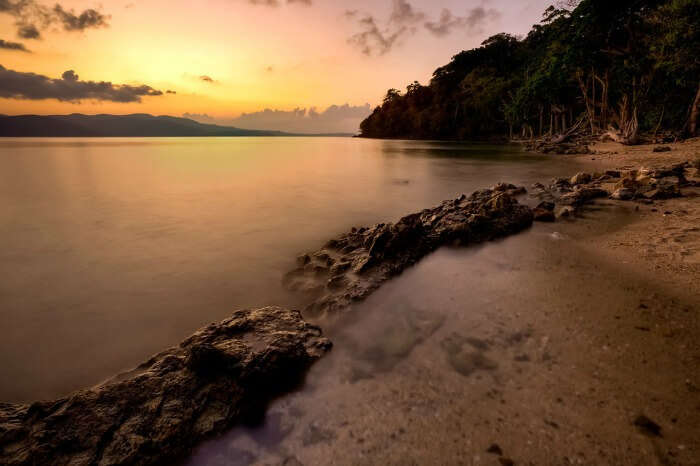 Besides grand sunsets, Chidiya Tapu is also a good spot to go birdwatching. Different kinds of birds from all over the world flock here and are a spectacle to witness. The best time to go birdwatching here is during the morning when they are highly active. To enjoy the beautiful sunsets, stay till around 4 pm.
Distance: 17 km from Port Blair
How to reach: 45 minutes by car from the main Port Blair city
Suggested Read: His 20 Heavenly Images From Andaman Will Completely Sweep You Off Your Feet
Fun Things To Do In Port Blair
Port Blair has many interesting and fun things to do for all kinds of travelers. So check out what all you can do on your holiday on this island:
5. Seafood Restaurants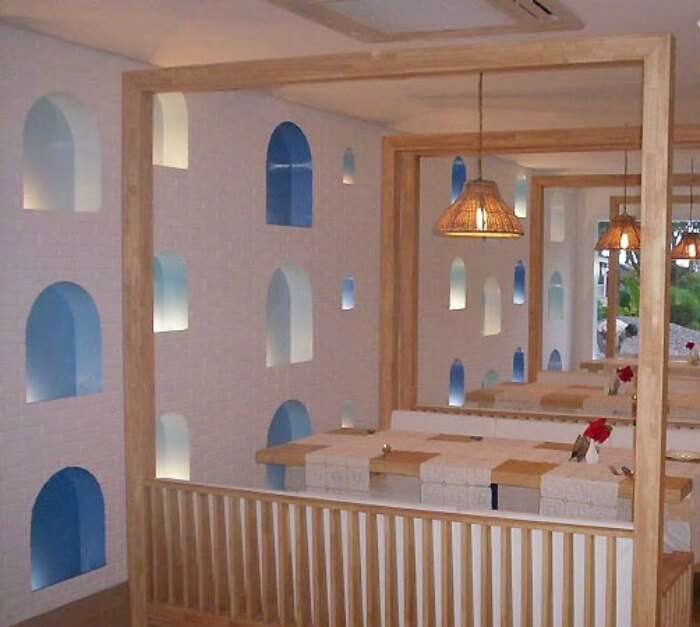 Port Blair is a haven for any food lover as there are plenty of seafood restaurants as well as international restaurants serving some delicious fare. Sumptuous red snappers, tiger prawns, barracudas, lobsters and squids will delight your taste buds at the Lighthouse Residency located at MG Road.
Blue Marlin at Maulana Azad Road is another popular restaurant that not only has one of the most interesting decors but also has a special seafood menu you will love. For some of the tastiest Bengali fare like Nicobari fish, crab curries and coconut chicken, you should try the local favorite, the Gagan Restaurant.
Excel restaurant at Hotel Lalaji Bay View is one eating joint that serves up some of the best international dishes. Their Israeli dishes are definitely worth a try on a trip to Port Blair.
If you are craving a fun night out, stroll over to the Sea Sip bar that is open at night. There are plenty of tasty cocktails and mocktails you can sip on throughout the night. Friendly staff, customized drinks and tasty food will keep you entertained all night long. This is one of the best things to do in Port Blair at night.
6. Nightlife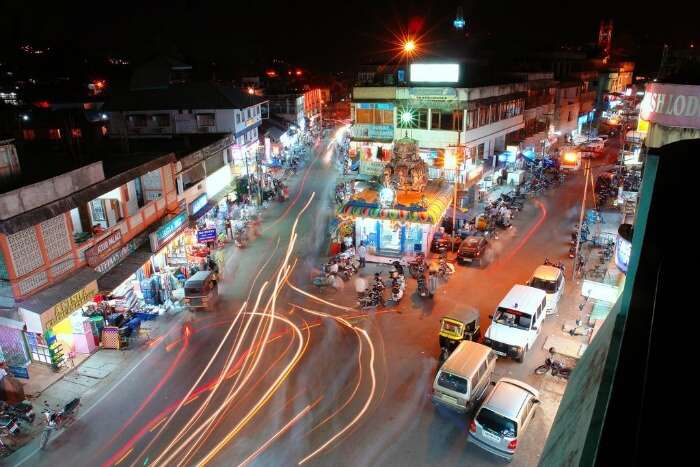 For a night out in the city, the luxury hotels offer the best kind of entertainment with live bands, a delectable mix of cocktails, sumptuous food and scintillating views of the sea. Some good options are Peerless Beach Resort, Sinclairs Bay View at South Point, Fortune Resort Bay Island at Marine Hill, Corbyn's Cove and Hotel Shompen at Middle Point. At Nico Bar, your drinks are served in coconut shells.
Suggested Read: Best Things To Do On A 6 Day Honeymoon Trip To Andaman
7. Aberdeen Bazar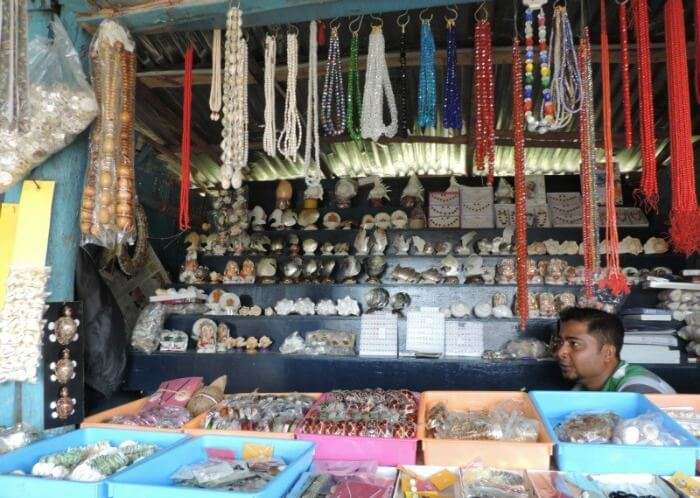 If bargaining is your expertise, head to the Aberdeen Bazaar where you can pick up a number of items from the roadside stalls as well as government emporiums. Colored fabrics, wood artifacts, jewelry, Port Blair T-shirts much more are aplenty here. After a good shopping extravaganza, you can enjoy a delicious meal at the Lighthouse Residency in the market itself.
Best things to pick from the Sagarika Government Emporium are pearl jewellery, home decor accessories made from shells, coconut lampshades and bangles and paper mache tribal masks.
Suggested Read: Port Blair Honeymoon Guide 2019: For An Experience As Unique As Your Love Story!
8. Gandhi Park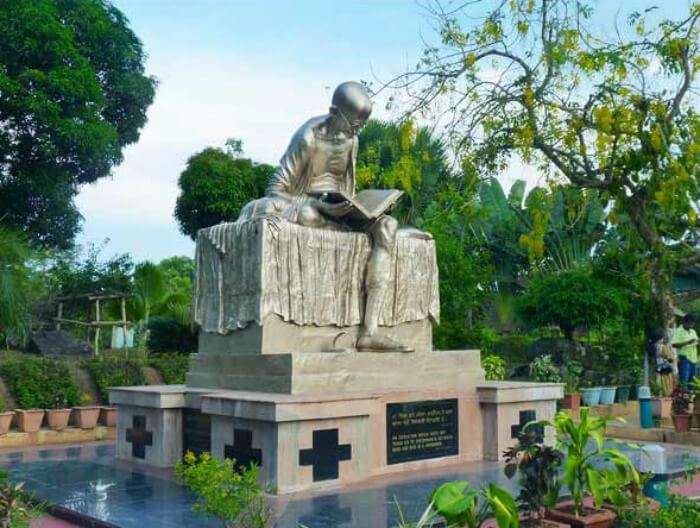 If you are wondering what to do in Port Blair in the evening, visit Gandhi Park where you can enjoy the beautiful sunsets while reading a book or just gazing at the endless ocean. There are also plenty of food stalls here where you can munch away on Chinese fast food, paani puri and ice cream!
Suggested Read: Srinagar And Port Blair Crowned The Most Pocket-Friendly Holiday Destinations
Adventurous Things To Do In And Around Port Blair
Holidaying on an island brings to you a plethora of adventurous opportunities. Here are some of the thrilling activities all the adventure junkies can indulge in on Port Blair island:
9. Ross Island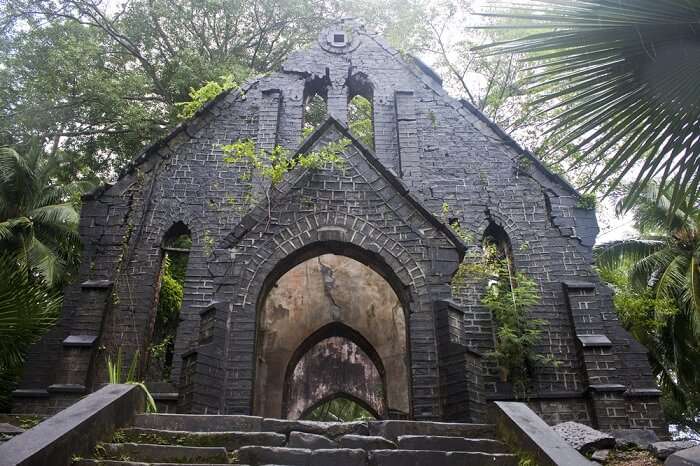 One of the most famous things to do in Port Blair is to visit Ross Island – once the colonial capital of the British. It takes you to another world with its British vestige places – you will come across an old church and a bakery from colonial times.
Key attractions: Friendly deers, the beautiful Ferar beach, Japanese bunkers, and the museum
How to reach: Travel by road to Aberdeen Jetty and then take a ferry to Ross Island. Ferries are available at 08:30, 09:30, 10:30, 12:30 and 14:30 hours and the fare costs INR 75.
10. North Bay Island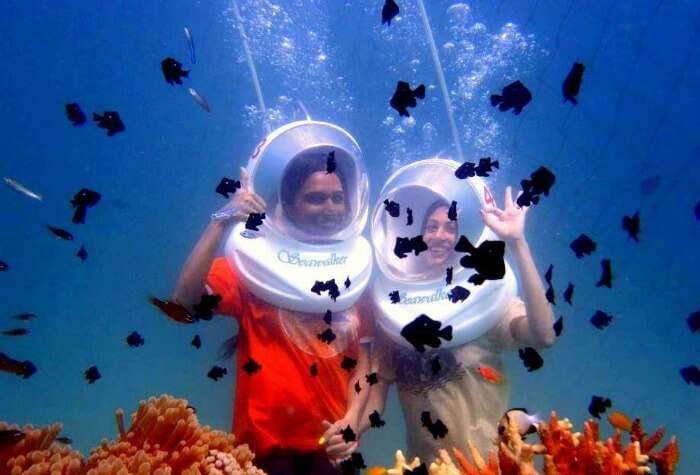 Watch time fade away on an underwater sea walk at North Bay Island where you can experience the amazing marine life of the Andamans. Spot fishes, see coral reefs up close, watch lobsters in action while walking on the seabed of this exciting island. Besides, there are plenty of fun activities in Port Blair like snorkeling and scuba diving you can try here.
Maximum depth: 15 – 25 feet deep
Suggested Read: 11 Thrilling Water Sports In Andaman: No Swimming Required!
11. Jolly Buoy Island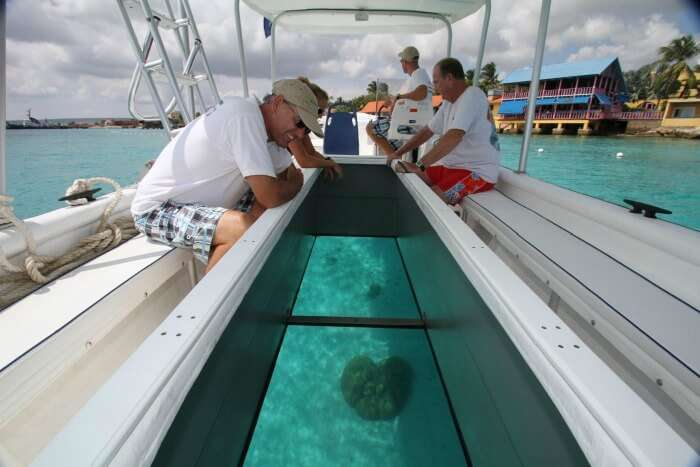 Jolly Buoy Island is an adventure lover's delight where you can watch the coral reefs and underwater sea life as you go along in a glass bottom boat. The island is only open for seven months to protect the reefs and the rates for the boat ride varies from INR 300 to 1000. Besides this you can also try snorkeling and scuba diving that are fun activities in Port Blair you should try out.
12. Munda Pahar Beach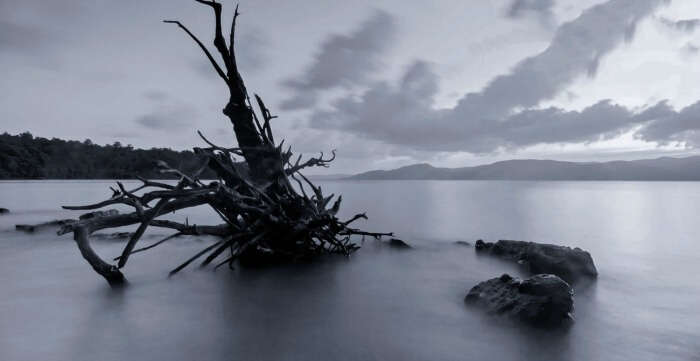 One of the best things to do in Port Blair is to trek your way to the shimmering waters of the Munda Pahar beach that lies around 2-3 km from Chidiya Tapu. The water here is absolutely clear and there are no waves at all. Stroll along the shore or relax on the white soft sands of this grand beach. There are patrolling boats all around the beach to ensure that you are safe.
Distance from Port Blair: 25 km
How to reach: 29 minutes by car via NH4
Suggested Read: 16 Places To Visit In Port Blair In 2019: The Best Of History, Nature, & Beauty
13. Mahatma Gandhi Marine National Park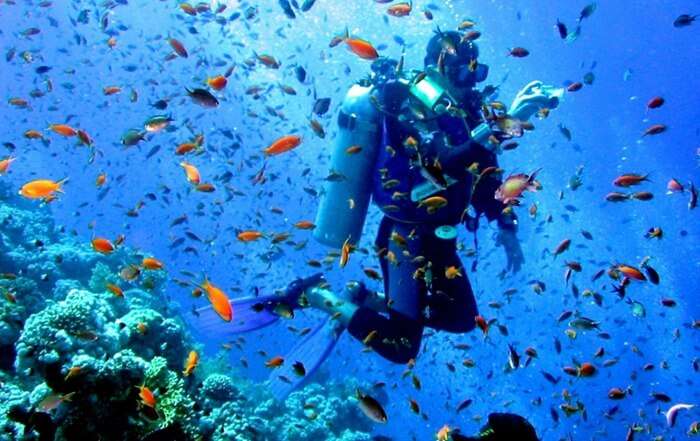 One of the best things to do in Port Blair is to visit the Wandoor beach and the Mahatma Gandhi Marine National Park that lie side by side and offer a glimpse of Andaman vibrant marine life. The man made Mahatma Gandhi park has a number of flora and fauna that are maintained under specific climatic conditions – from models of saltwater crocodiles to turtles, starfishes etc.
The coral reef is a delight and so are the variety of birds here – you can spot birds like White-Bellied Sea Eagle, herons and parakeets. Besides, the park is famous for adventure sports like scuba diving, snorkelling and glass bottom boat rides. There are also regular treks and camping trips that are top things to do in Port Blair.
Distance from Port Blair: 18 km
How to reach: 30 minutes by car via NH4 and SH8. State transport buses also run regularly.
14. Mount Harriet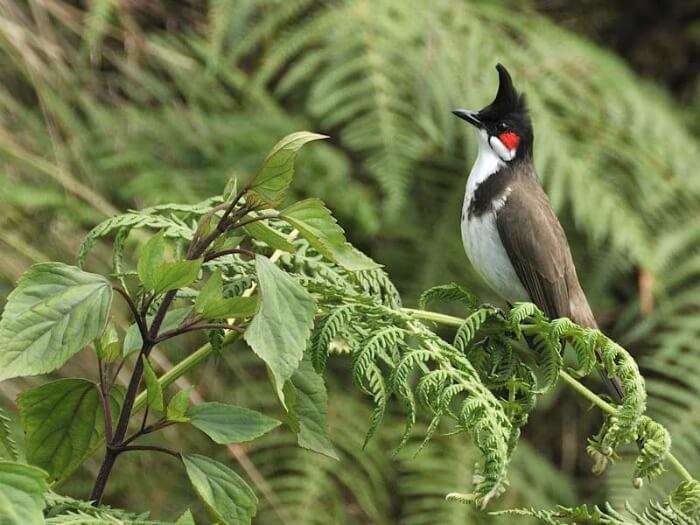 Go for a birdwatching tour at Mount Harriet National Park on your trip to Port Blair whilst surrounded by over 393 plant species, 90 species of birds, mammals and more. There are a number of unique species of moths and reptiles here as well as marine turtles and elephants. There are also grand sunsets and sunrises you can enjoy while relaxing at this park.
Distance from Port Blair: 42.5 km
Entry Timings: 7 am to 5 pm
Suggested Read: Hotels And Resorts In Port Blair: From Nature To Modern Luxury, Staying Here Is Definitely Worth It!
15. Barren Island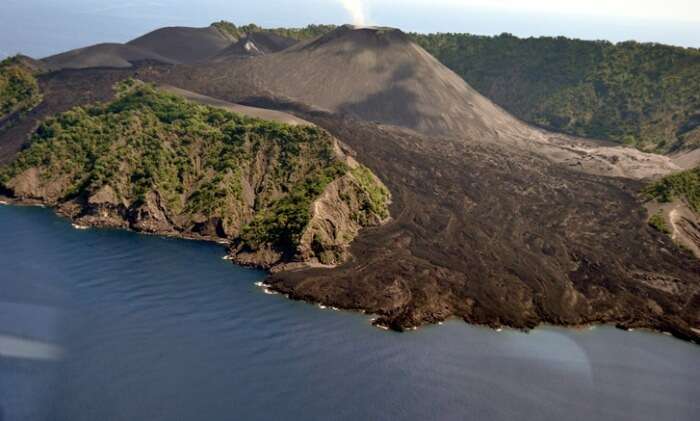 Witness one of nature's greatest feats at Barren island where a chartered boat will take you past South Asia's only active volcano. The volcano has erupted only twice, once in 1991 and then in 1994-5. The entire island is barren as its name suggests with the exception of a few goats and rodents. It is a day trip, and you will not be permitted to set foot on the island.
Distance from Port Blair: 135 km
How to reach: Chartered boats from Port Blair to Barren Island
How To Reach Port Blair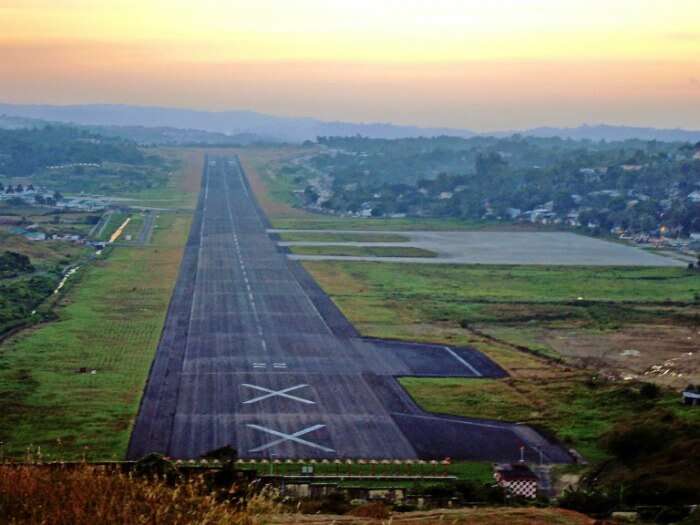 Port Blair is well-connected by flights and there are regular direct flights from Kolkata and Chennai. Foreigners and NRIs need to get a Protected Area Permit (PAP) on arrival which is valid for 30 days in Port Blair.
You can also travel here by boat from Visakhapatnam (56 hours), Chennai (60 hours) and Kolkata (66 hours) and the tickets can be booked at the Shipping Corporation of India (SCI)'s headquarters.
Further Read: 15 Best Hotels And Resorts In Andaman That Fit Under Every Budget
Did you see the variety of options you have to make your Andaman vacations a huge hit? Did the list manage to get you excited? If yes, plan a trip to the Andaman and head to Port Blair for indulging in all the above-listed things to do. Take your family or friends along and make your island vacation a memorable one.
Frequently Asked Questions About Things To Do At Port Blair
Q. Which of the following sport is Port Blair famous for?

A. Snorkeling and Scuba diving are some of the popular water activities in Port Blair.
Q. How do I get from Port Blair to North Bay Island?

A. To reach the North Bay Island one has to take a boat from Port Blair.

Q. Is Andaman a coral island?

A. There are small and patchy coral at the inner-tides region located at the center of the island in Andaman.
People also read:
Things to do in Andaman Romantic things to do in Andaman Andaman family tour
Comments
comments