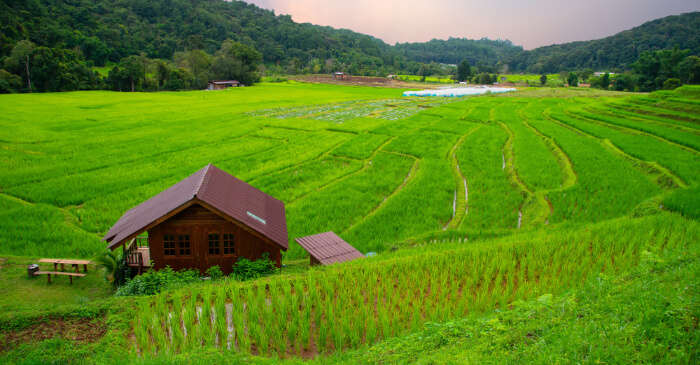 Situated at a height of 1500m above sea level, Kohima is serene, peaceful and beautiful in every sense. Kohima is an abode to the Kulkis and Naga tribe who are known for their independence and colorful culture. During the time of World War II, there was an intense 64 day-long battle against the Japanese army in Kohima, thus, this city has a special place in history. The Commonwealth War Cemetery which is home to thousands of dead soldiers of World War II is one of the most preferred places to visit in Kohima. Adorned with emerald forests, quaint hills and picturesque landscapes, Kohima is a go-to place for all the adventure enthusiasts who love trekking, hiking and camping.
9 Best Places To Visit In Kohima
Besides this, Kohima city offers a lot more to the visitors and there a series of places to visit in Kohima that will surely make your trip memorable.
1. War Cemetery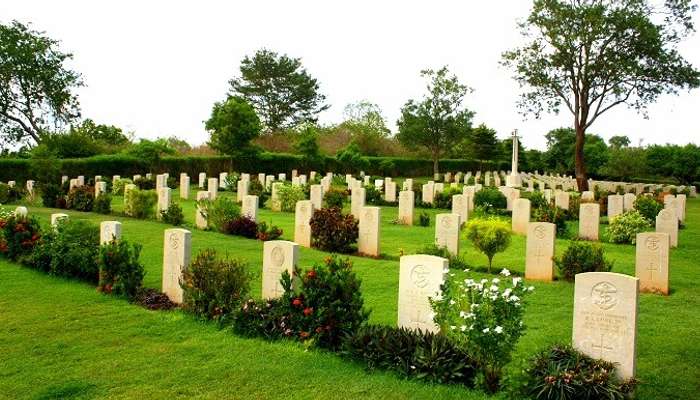 All the history lovers wouldn't want to miss the chance to visit the Kohima war cemetery that was built in the year April 1944. Well-kept with lush greenery, groomed flowers, and lawns, this cemetery is dedicated to the 10,000 Allied soldiers who lost their lives during the invasion of Japnese during World War II. Trekking can be much more adventurous and fun to reach this place which makes it one of the preferred places to visit in Kohima Nagaland.
The cemetery preserves 2 prominent crosses – the 1st states 'Here, around the tennis court of the Deputy Commissioner lies men who fought in the battle of Kohima in which they and their comrades finally halted the invasion of India by the forces of Japan in April 1944'. The 2nd states 'When you go home, tell them of us and say for your tomorrow, we gave our today'.
Best time to visit: Winters
Location: Garrison Hill, around 1km from Kohima
Must Read: Foreigners Can Now Travel To Nagaland, Mizoram & Manipur Without A Permit!
2. Japfu Peak and Dzukou Valley
The Japfu peak and Dzukou valley are top tourist attractions in Kohima and are part of the landscape that gives Nagaland the name 'Switzerland of the East'. The Japfu peak which is standing tall at 3048m is the second largest peak of Nagaland that offers scenic views with a touch climb for adventure seekers. The charm of this peak is the Rhododendron tree of 109 ft which is the tallest in the world (as per the Guinness Book of Records). Interlocked with adjoined cities and villages, the Japfu looks like a canvas of emeralds with an added treat of subtropical vegetation and chirping hill birds.
The adventure lovers can climb this peak and admire the beauty of the Dzukou Valley – also known as the 'Valley of Flowers'. When in complete bloom, the sight from here is truly heavenly to behold. At 2600m, the highest point of Dzukou valley, the tourists can enjoy panoramic and enchanting views of the valley in front.
Best time to visit: June to September
Location: Around 25km from Kohima
Suggested Read: It Took 10 Years, 2000+ Workers & About 36 Crores To Build Asia's Largest Church In Nagaland
3. Intanki Wildlife Sanctuary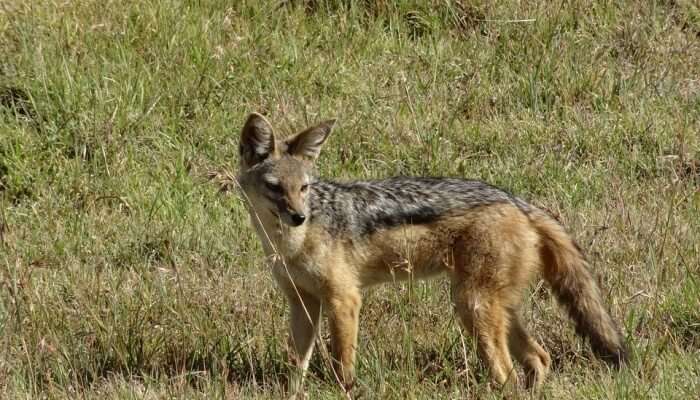 Sprawling over an area of 202.2km square, this home to varied species of wildlife is one of the best places to visit in Kohima. The vast area of equatorial forest is famous for semi-tropic vegetation, natural beauty, gorgeous valleys, camping sites, mountains is a treat to watch. You can experience the natural resplendence and see rare hoolock gibbon, monitor lizard, sloth bear, python, hornbill, golden langur and more in this sanctuary.
Best time to visit: November and February
Location: Approximately 111km from Kohima
Suggested Read: 15 Captivating Honeymoon Destinations In North East India
4. Touphema Village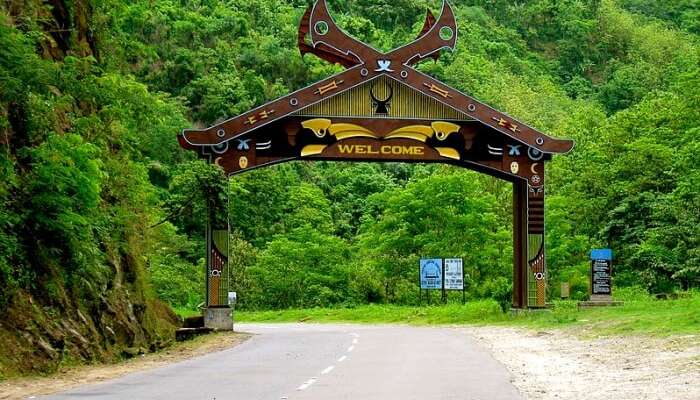 One of the most beautiful places to visit in Kohima city, this village allows you to experience and relax amidst the natural confinements of scenic beauty. This village is built in the Naga style by the local community which represents the rich cultural heritage of Nagaland in collaboration with the Tourism Department of Nagaland.
You can book a hut here in advance and explore the lifestyle and culture of Nagaland. Therefore, if you have the zeal of adventure in you, Touphema is one of the most exciting and beautiful places to visit in Kohima.
Best time to visit: All round the year
Location: Approximately 34km from Kohima
Suggested Read: North East Trip: Explore The Seven Sisters, One Brother, And A Neighbor In 2020
5. Heritage DC Bungalow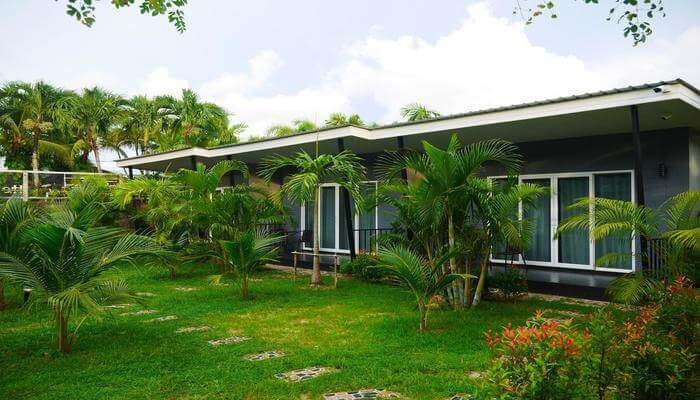 Another top tourist attractions in Kohima is the Heritage DC Bungalow which is known for its complaisant location. It was the Home of the Deputy Commissioner's since bygone British era. Featuring only 3 rooms, this is one of the most ancient buildings in Kohima and is famous for its luxury and sheer resplendence. Peaceful and serene ambience with picturesque landscape and mesmerizing view of Kohima Town will make your stay a memorable one.
Best time to visit: October and May
Location: Approximately 3.5km from Kohima at the Officers' Hill
Suggested Read: Choose The Best Travel Insurance In India In 2019 With Our Guide
6. Mary Help of Christians Cathedral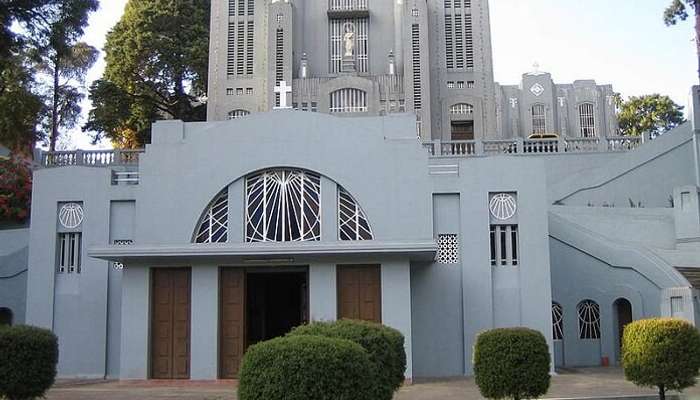 Known for its architectural beauty, this church is truly a wonder and the center of the Catholic Church of Nagaland, a semi-circular structure, it's religious value is held very close by the people of Nagaland. Upholding the Naga culture, this church is popular and is home to the Diocese with the Armature Hill on one side. Also, the crucifix that stands tall at 16 feet is the biggest in Asia which makes this beauty one of the best places to visit in Kohima.
Best time to visit: October to May (when the temperature is between 16-35C)
Location: Approximately 4.2km from Kohima
Suggested Read: 25 Gorgeous Places To Visit In India In December 2019 With Your Loved Ones
7. Nagaland State Museum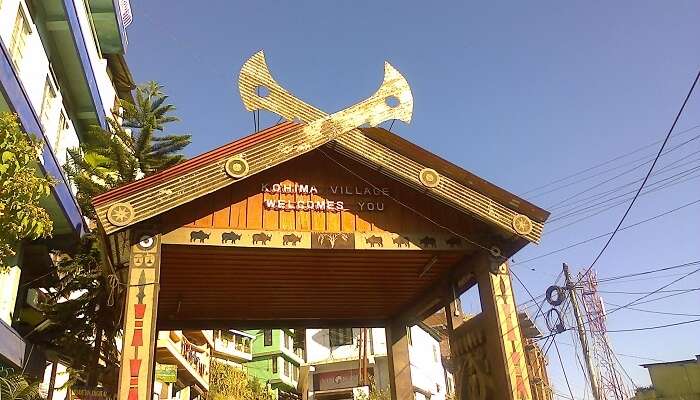 Worth watching the evolution of Naga culture, the Nagaland State Museum is one of the major attractions of Kohima. This museum portrays the culture and traditions of the 16 tribal groups of Nagaland and holds many unique artifacts related to the same. The exhibited artifacts like clan motifs, dialect, colorful traditional dresses, and displays of practices and traditions makes it one of the perfect places to visit in Kohima.
Best time to visit: Winters
Location: Approximately 1.5km from Kohima, on the Bayou Hill
Suggested Read: 7 Impeccable Food Trucks In India That Serve Scrumptious Food With A Twist!
8. Shilloi Lake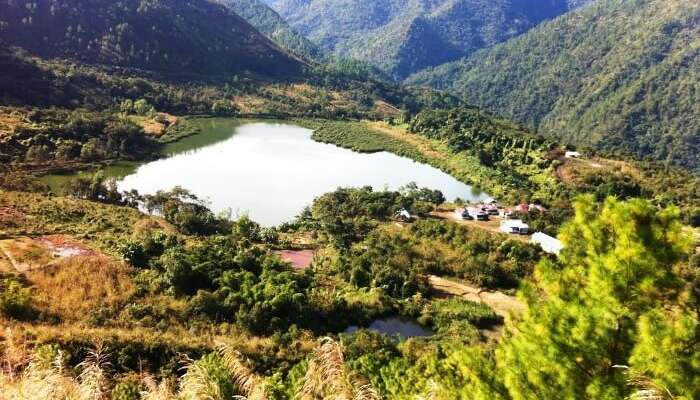 Offering splendid views to the visitors, this beauteous lake is located in the core of the Patkai range. Surrounded by a verdant valley from all sides, the foot-shaped Shilloi lake is 4 meters deep. The folks of the Latsum village consider this lake very holy and important, it is believed that the spirit of a holy child rests in the bottom of the lake. Therefore, fishing is not practiced here and the water is not used for irrigation and drinking. Don't miss the opportunity of experiencing the beauty of the largest natural lake in Nagaland.
Best time to visit: November and April
Location: Approximately 69km from Kohima
Suggested Read: Go Karting In India: A Thrill Ride Awaits At These Exciting Venues Across The Country In 2020
9. Zoological Park or The Kohima Zoo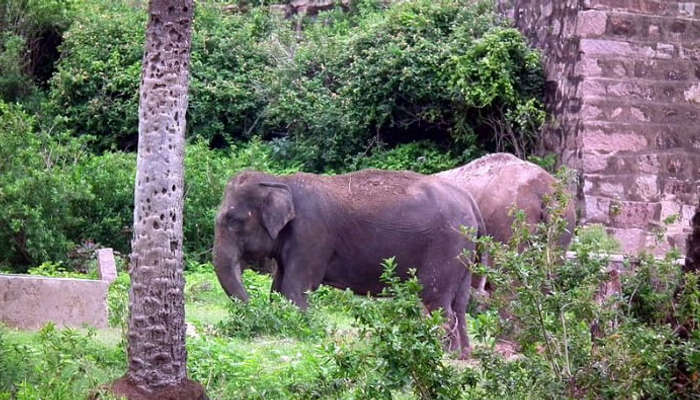 Home to prominent species of flora and fauna, this zoo is a great point of interest in the district of Kohima and visited by a large number of tourists every year. Spread over vast acres of green land, this zoo is home to the rare tragopan bird, wild buffalo, golden langur, and more. Interestingly, every animal in this zoo roam freely and is not caged.
The adventure lovers can also enjoy a number of activities here like bird watching, nature trips, jungle safari, camping and trekking. Located on the slope of a hill this zoo also serves as the best picnic spot and definitely one among the most liked tourist places in Kohima.
Best time to visit: All round the year
Location: Approximately 6.5km from Kohima
Further Read: 71 Places To Visit In India Before You Turn 30 – 2020
If you are planning a holiday to someplace than usual where you can feel at home away from home, then, Kohima is the one. Relive the elegance of simplicity and admire the natural beauty in Kohima that is far from the hustle-bustle of the city. Here are the best places to visit in Kohima on your next trip to Nagaland to get lost in the beauty of this picturesque northeastern state.
Frequently asked questions About Places To Visit In Kohima
Q. What is famous in Kohima?
A. Kohima is known for many beautiful sites, one of the most famous ones is the Commonwealth War Cemetery, the final resting place of soldiers killed during World War II.
Q. Why is Hornbill festival celebrated in Nagaland?
A. Held at Naga Village, the Hornbill festival is celebrated to protect and revive the rich culture of Nagaland and also display its traditions and extravaganza.
Q. What should I buy in Kohima?
A. Basketry, woodcraft, woven crafts, pottery, beadwork, metal work, jewelry, traditional attire and Naga jewelry are a few famous things that you can take away from Kohima.
Q. How do I get to japfu peak?
A. You can reach Japfu Peak from the closest transit points or via cabs or via taxis from Dimapur. Another way of reaching here is via trekking from Kohima.
Comments
comments