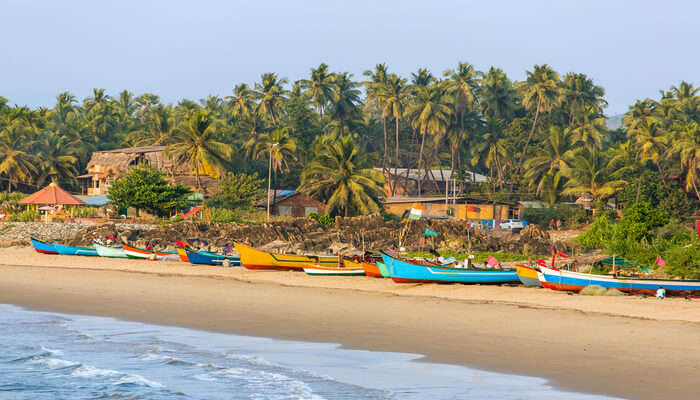 Could there possibly be a better feeling than the one experienced while watching the sun set upon the vast ocean. And if you find yourself in Bangalore craving that feeling, then we have you covered! There are plenty of beaches near Bangalore that will give you the rejuvenation and break you need.
Bangalore is a city famed for its IT sector and work opportunities. Hundreds of people come here in search of jobs and settlements. After a week of hard work, enjoying a weekend getaway is just what you need to blow off some steam. So pack your bags and make your way to any of these spectacular beaches.
Top 10 Beaches Near Bangalore
For those who seek a low-key and peaceful break, the beach is the perfect place to be. And while Banglore itself is not by the ocean, a short drive from the city will land you ate some of the most beautiful and tranquil beaches.
Gokarna Beach
Tannirbhavi Beach
Malpe Beach
Auroville Beach
Varkala Beach
Marina Beach
Mahabalipuram Beach
Kovalam Beach
Karwar Beach
Elliots Beach
1. Gokarna Beach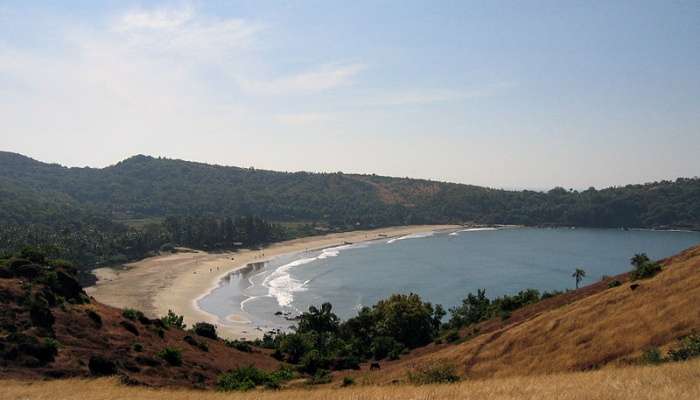 Chances are if you live in Bangalore, you have already heard of Gokarna from your friends and family. A small town dotted with ancient temples, pilgrimage sites and of course, the breathtaking beaches. Both local and international travelers flock to the beaches for a much needed break. You can visit the main Gokarna beach or explore other lesser known areas like Paradise Beach and Om Beach. If you live in the main city, then gather some friends and hop into a car for a fun-filled road trip to this little town.
Distance from Bangalore: 480 km (8 hour drive)
Must Read: The 10 Best Illuminating Museums To Visit In Bangalore
2. Tannirbhavi Beach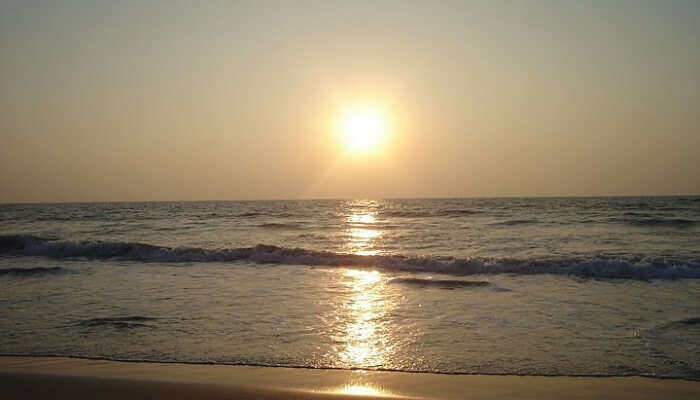 This is one of the nearest beaches to Bangalore and one of the most underrated one as well. It is in Mangalore which is 6 to 7 hour drive from the main city. Apart from the famous Panambur Beach in Mangalore, make sure to stop by at this beach. It is less crowded and perfect to enjoy a relaxing evening along with some refreshing drinks. While there may not be beaches near bangalore within 100 km, this is one of the closest ones.
Distance from Bangalore: 357 km (7 hour drive)
Suggested Read: 10 Most Popular Temples In Bangalore To Visit For A Spiritual Retreat
3. Malpe Beach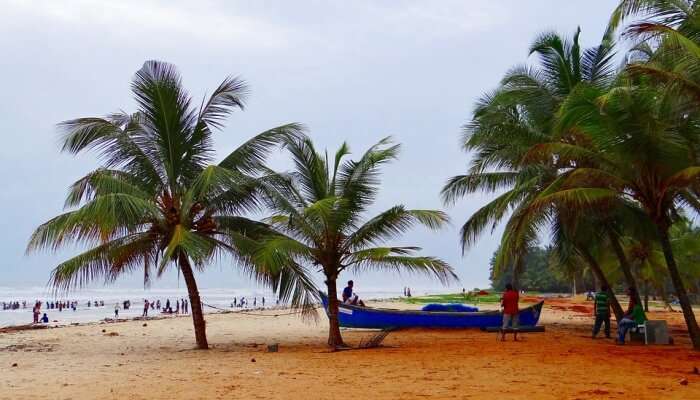 One of the most famous beaches near Udupi, the Malpe Beach is one of the most scenic one that you will ever come across. Make sure to visit the St. Mary's Island from where you can enjoy some mesmerizing views of the ocean. Indulge in some exciting water sports or go for a camel ride, there are a plethora of fun things to do on this beach!
Distance from Bangalore: 407 km (8 hour drive)
Suggested Read: Street Food In Bangalore: 15 Delicacies You Can't Miss
4. Auroville Beach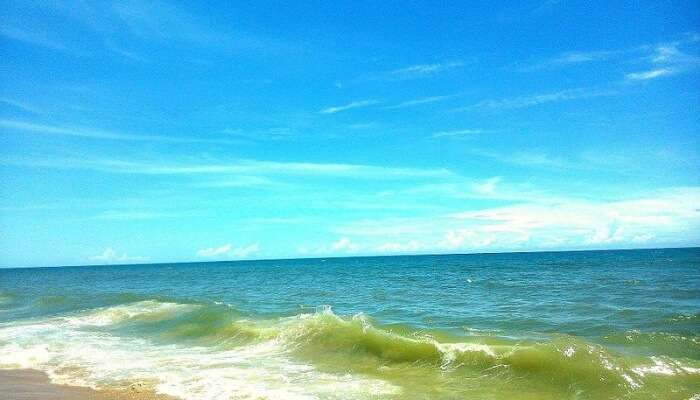 More commonly known as Auro Beach, this little gem in Pondicherry is another great place to spend your weekend. You can go in for a swim and simply enjoy a walk by the beach. This is also a popular beach among surfers, both professionals and those starting out. There are many shacks, restaurants and food stalls around the beach that you can explore as well. This is one of the beaches near Bangalore within 300 km and is great for a family and friends trip.
Distance from Bangalore: 313 km (6.5 hour drive)
5. Varkala Beach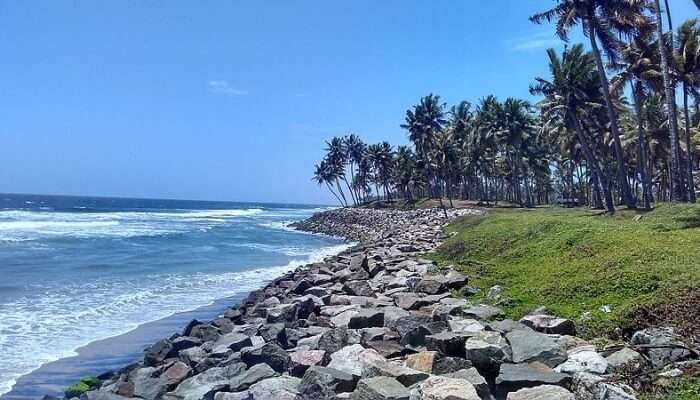 Another one of the best beaches near Bangalore is the famous Varkala Beach. With cliffs right next to the Arbian sea, this place is a sight to behold. There is a temple right next to the beach as well that you must surely visit. Take part in adventure activities like horse riding, parasailing and much more at this wonderful place. Situated in Kerala, this beach is quite the road trip from Bangalore.
Distance from Bangalore: 685 km (13 hour drive)
Suggested Read: 20 Monsoon Getaways Near Bangalore For A Scenic Escape
6. Marina Beach
One of the most popular places in Chennai, this is one of the longest natural and urban beaches in our country. It runs about 6 km and attracts a large number of tourists every month. The beach itself is dotted with little stalls selling jewelry made of seashells, little trinkets and souvenirs that you can shop. Food stalls also surround the shore and you will also come across some quaint cafes and eateries nearby.
Distance from Bangalore: 350 km (6.5 hour drive)
Suggested Read: 25 Enthralling Spots For Camping Near Bangalore That Are Worth A Visit In 2020
7. Mahabalipuram Beach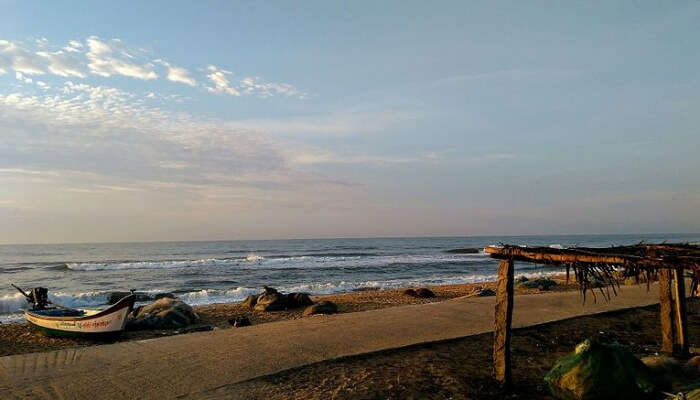 Surrounded by beautiful hills, the Mahabalipuram Beach is a true scenic beauty. The pleasant weather further adds to the beauty of this beach making your holiday so much more memorable. If you want to enjoy a laid back vacation with a breathtaking view, this is certainly the place to be. This secluded yet friendly place makes for the perfect holiday retreat with your special one.
Distance from Bangalore: 350 km (6.5 hour drive)
8. Kovalam Beach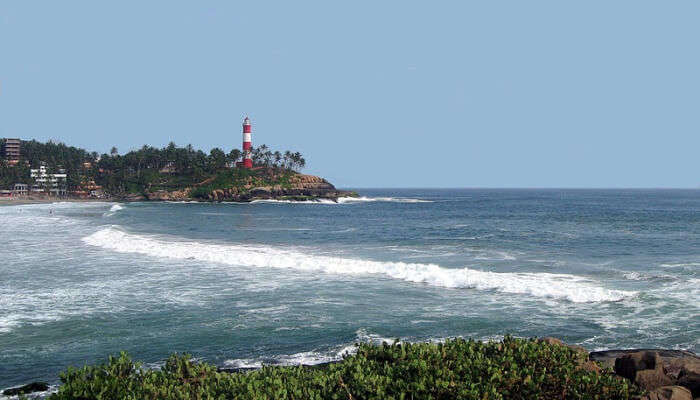 Kovalam is a small yet famous coastal town in Kerala known for its scenic lakes, mesmerizing beaches and lush greenery. Kovalam beach itself is simply ravishing with its vast stretch of black sand and contrasting blue sea. In the early morning you can go for a boat ride while reserve your evenings for the splendid sunset that you can witness.
Distance from Bangalore: 725 km (11 hour drive)
Suggested Read: 12 Amusement And Water Parks In Bangalore That Are Ideal For 2020 Summer Vacay
9. Karwar Beach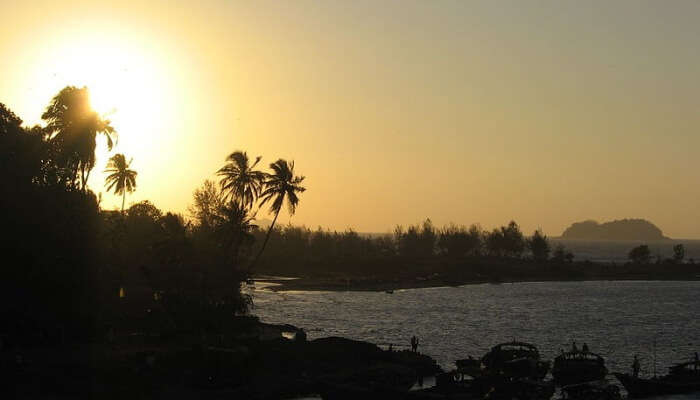 Found right beside the national highway, this is another underrated beach near Bangalore. Less crowded, you will surely find this beach a great place to relax. There are a few museums nearby that you can explore as well during your stay. Food will not be a problem either, as the main city is only a mile away where you will find a number of great restaurants and bars.
Distance from Bangalore: 520 km (9 hour drive)
Suggested Read: 26 Road Trips From Bangalore You Must Plan With Your Friends In 2020
10. Elliots Beach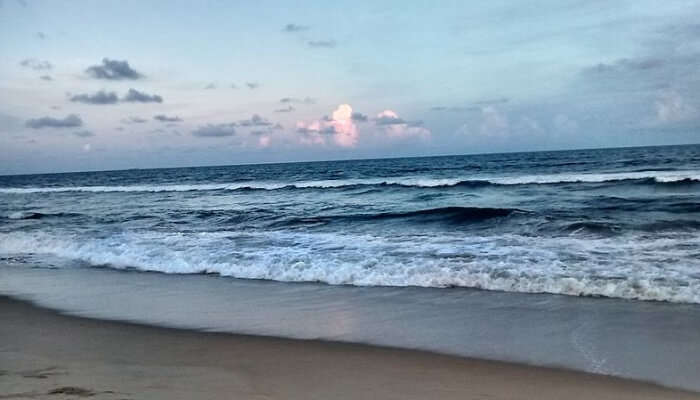 Edward Elliot's Beach i another beach that can be found on your way to Chennai. It is actually one of the ends of the famous Marina Beach but still has a significance of its own. It is one of the cleanest as well as safest beaches in Chennai. Both tourists and locals admire the beach and find it a great place to enjoy with loved ones.
Distance from Bangalore: 350 km (6.5 hour drive)
Further Read: 10 Top Things To Do In Bangalore That You Must Tick Off Your Bucket List
If these pictures have you dreaming of the cool blue sea and beautiful sandy beaches, then you have a case of the beach-fever! Head to any of these beaches near Bangalore for an exciting getaway with your family and friends. Plan a trip to Bangalore with TravelTriangle and enjoy a hassle-free experience in the city!
Frequently Asked Questions About Beaches Near Bangalore
Q. Are there any beaches in Bangalore?
A. No, Bangalore is a landlocked city and there is no beach here. Some beaches near Bangalore are Tannirbhavi Beach, and Gokarna Beach. One can head to these beaches on a weekend trip. They are in Mangalore and Gokarna respectively.
Q. Is there any beach in Mysore?
A. No, Mysore does not have a beach, but there are a lot of other wonderful places to visit in Mysore.
Q. Which are the best beaches in Mangalore?
A. Some of the beaches in Mangalore that one should visit are Panambur Beach, Tannirbhavi Beach, Someshwara Beach, and Ullal Beach.
Q. How can I go to Gokarna from Bangalore?
A. The distance between Bangalore and Gokarna is around 448 km and there is one direct train that runs between the two cities, Karwar Exp. One can either take this train, or take a taxi/self drive to Gokarna.
Q. Is Gokarna safe?
A. Yes, Gokarna is a small hippy town in Karnataka which is totally safe for travelers.
Q. How can I go to Hampi from Bangalore?
A. The distance between Hampi and Bangalore is around 342 km. There are no direct flights, buses or trains between the two cities. So, the best way is to self drive or hire a cab to go to Hampi from Bangalore.
Q. How far is the sea from Bangalore?
A. The Arabian Sea is around 842 km away from Bangalore. Otherwise the nearest that Bangalore is to a water body and a beach is around 350 km both towards Chennai and Mangalore.
Q. How many beaches are there in Karnataka?
A. There is no fixed number to the beaches in Karnataka but some of the most beautiful ones here are in Gokarna, Udupi and Mangalore. Plan a weekend trip from Bangalore to visit these beautiful beaches.
People Also Read
Beaches In Sri Lanka Beaches In Mangalore Beaches Near Kerala
Comments
comments