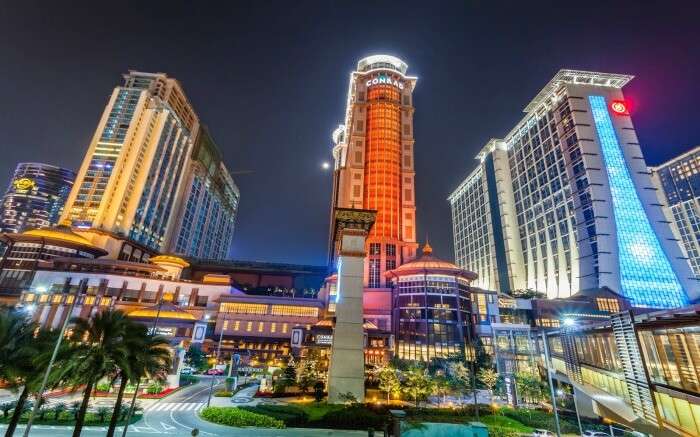 Macau is one of the most thrilling and bustling travel destinations in the world with seamless amalgamation of glories of past and charms of contemporary world. This island city is a home to many significant heritage sites, cultural and entertainment zones as well as many fascinating hotels – both lavish to affordable ones.
To make your Macau holiday a complete pleasure, here are some recommendations of Macau's best hotels. From stylish luxurious ones to decent budget ones- the list includes everything for all budgets.
Luxury hotels in Macau
1. The Ritz-Carlton- For a pampered holiday

Image Source
Ritz Carlton, one of the best hotels in Macau is a luxurious all-suite hotel with stylish d-cor, lavish rooms and word class facilities. Located in Macaus Galaxy Entertainment complex, this extravagant hotel with chic suites, world class fine dining, luxury full service spa and most appealing hospitality is meant for a trendy holiday.
Whats special: Lai Heen for awesome Chinese cuisine and private dining, Ritz Carlton Caf- for sumptuous seafood, French wine and freshly brewed beer, the stunning pool bar and the rejuvenating WSPA experience.
Suggested suite: Premiere Club Suite
Tariff: 4888 HKD per night onwards
Must Read: 36 Spellbinding Places To Visit In Macau For A Wow Holiday
2. Banyan Tree- Invigorating and tranquil stay

Banyan Tree in Macau is an entrancing premium hotel located near Galaxy Casino. This classy hotel offers best in class amenities and hospitality, spacious rooms and villas, city view indoor plunge pools, lavish spa and well-appointed gym. Do not miss the delectable cuisines at the Banyan Lounge.
Whats special: State of the art health club with breathtaking view of the city, lavish spa and Banyan Tree Gallery.
Suggested suite: Pool Villa
Tariff: 3959 HKD per night onwards
3. Four Seasons, Cotai Strip- All-embracing luxury and comfort

Image Source
Four Seasons, known for excellent amenities, modern rooms, exquisite location and world class hospitality is one of the top class luxury hotels in Macau. Heritage cuisine, private spa suite and vitality pool, and signature spa are all elements of charm that have made Four Seasons a perfect destination for luxury holiday and one of the top hotels in Macau.
Whats special: Dining at Zi Yat Heen, Belcancao and Splash, spa offering wide range of signature massages and healing therapies, and lagoon pool at the lobby level with hot tub for a complete relaxation.
Suggested suite: Ambassador Suite
Tariff:-2194 HKD per night onwards
4. The St. Regis, Cotai Central- The royal abode

St Regis is a fabulous and most popular luxury hotels in Macau with impeccable facilities to boast of. With the alluring location on the bank of Pearl River Delta, this luxurious signature hotel offers all modern and trendy facilities.
From a refreshing and invigorating health club to private cabanas; from lavish rooms and suites to fine dining and pool bar – the list includes all.
Whats special: Iridium Spa located on the 38th floor, offering breathtaking view of the city, global cuisine at The-Manor and the stunning Athletic Club
Suggested suite: Empire Suite King and Queen
Tariff:-2488 HKD per night onwards
Suggested Read: Make Your Honeymoon In Macau Extra Special For Your Significant Other
5. The Venetian Macao Resort Hotel- For a dream come true family vacation

Image Source
Venetian! The name says it all! This Venice themed and Vegan style hotel is an ultra-luxurious, super famous and one of the best hotels in Macau. The spectacular d-cor, ipeccable maintenance, incredible facilities and upscale services have made it not only a famous hotel but also a popular tourist destination.
Situated on Cotai Strip, this is one of the world class 5 star hotels in Macau and boasts of its lavish lounge, royal rooms and exquisite suites, Japanese, Indian and Italian fine dining restaurants, expansive and bustling food court, incredible live shows, stunning shopping malls and thrilling games and entertainment area.
Whats special: Gondola Ride through resort canals under painted sky ceiling, premium cabanas for a lavish poolside experience and Manchester United Flagship store and Worlds biggest casino.
Suggested suite: Royale Suite
Tariff: 1443 HKD per night onwards for standard rooms.
Along with these, Macau also has some other premium hotels like Pousada de S-o Tiago, Wynn Macau, Mandarin Oriental Macau, Grand Lisboa Macau, Galaxy, J W Marriott, and Okura. All of them have well-appointed modern rooms, services and hospitality of the top class.
Suggested Read: Top 16 Things To Do In Macau For A Glamorous Holiday
Affordable hotels in Macau
6. Grand Hyatt- For a cosy and comfortable stay

Image Source
Grand Hyatt is one the most popular affordable hotels in Macau. Located at the hub of City of Dreams, the hotel has 791 guestrooms including suites and many of them offer mesmerising view of coastal Coati and Pearl River Delta; undoubtedly the best location to stay in Macau. Grand Hyatt also boasts of spa and fitness facilities, shopping centres, thrilling entertainment and fine dining services.
Whats special: Pamper yourself at Isala Spa and fun and leisure at Grand club
Suggested suite: Grand Suite King
Tariff: 1699 HKD per night onwards
7. Sofitel Macau at Ponte 16- Hand-picked by Avid Travellers

With a picturesque location – right at the waterfront, Sofitel is one of the best hotels in Macau with all modern facilities and warm hospitality. The highlights of the hotel are 408 lavish rooms, suites and villas overlooking the harbour and the sparkling sea; in-house dining catering sumptuous global cuisines; and spa offering rejuvenation therapies.
Whats special: Lavish stay at Mansion at Sofitel and delectable French cuisine at Mistral. Try Cantonese delicacies at Le Chinois at the top floor.
Suggested suite: Prestige suite
Tariff: 950 HKD per night onwards
Suggested Read: 13 Festivals In Hong Kong That Best Showcase The City Culture
8. Studio City- A sizzling retreat

Studio City is a 3 star, one-of-its-kind hotel and casino resort. This is Asias first leisure resort with television and film production facilities and retail gaming. As one of the glamorous and best hotel to stay in Macau, it consists of 1600 elegant and stylish rooms including Celebrity Tower and all suite Star Tower. Either you can relax at the poolside deck, drift in meandering indoor lagoon, and chill out in amusement shows or try various cuisines at different fine dining options- well the choice is yours!
For those who are young at heart, check out amusement shows like The House of Magic, Golden Reel, Batman Dark Flight and Warner Bros. You can also chill out at Pacha Macau- the sizzling nightclub or try luck at Fortune.
Whats special: Zensa Spa, retail therapy at Boulevard, global cuisine at Spotlight and Cabana Bar.
Suggested suite: Any suite at celebrity tower for a red carpet experience.
Tariff: 1970 HKD per night onwards
9. Hard Rock Hotel- The best affordable hotel

Image Source
Hard Rock is a pleasant and one of the affordable hotels in Macau located near popular Galaxy casino. As the name goes, this hotel offers elegant yet dazzling stay experience with bustling nightclubs, bars like Flame Bar and R Bar, pubs and complete party mood. If anyone is looking for a relaxed stay with super fun activities, this is the perfect place to be.
Whats special: House of Dancing Water- stunning aquatic extravaganza, Wave Pool Bar, Club Cubic and Hard Rock Caf-.
Suggested suite: Rock Star Suite
Tariff: 1233 HKD per nightonwards
Suggested Read: 15 Exhilarating Experiences In Macau You Just Can't Miss
10. Sheraton Grand Macao Hotel- Grandeur at its best

Sheraton Grand is one of the most popular hotels and best places to stay in Macau- offering utmost luxury in an unbelievably affordable rate. The hotel is situated on the sands of Cotai Central and in close proximity to important tourist sites and shopping destinations.
From deluxe rooms to presidential suites, all are well-appointed, luxurious and spacious. Sheraton Grand is also known for its plethora of dining options starting from sumptuous seafood to Italian cuisine; from refreshing lobby to invigorating bars. All of these make Sheraton Grand deserve to be called one amongst the best 5 star hotels in Macau.
Whats special: Sheraton Club, Palms- The Lounge, Feast for international cuisine, Bene for tasty Italian dishes and Xin for mouth-watering seafood. Try one of the rejuvenating therapies at Shine Spa.
Suggested suite: Terrace Suite
Tariff: 831 HKD per night onwards
In the list of affordable hotels in Macau, it will be unfair to miss the names of MGM and Altira. Both are equally charming, lavish and reasonable.
Budget hotels in Macau
11. Holiday Inn Macau Cotai Central- Refresh your senses

Image Source
Holiday Inn is a serene, modern and decent hotel in Coati Central – one of the most popular and best location to stay in Macau. Known for superb internal d-cor and peaceful ambience, this hotel has 1,224 modern guestrooms in three categories – deluxe, superior and suites. All the rooms are stylish and has contemporary furniture. The hotel also has some amazing dining options and well equipped health club for a refreshing holiday.
Whats special: Pool deck and Poolside bar
Suggested suite: Premier Suite
Tariff: 959 HKD per night onwards
Suggested Read: 10 Restaurants In Macau That Guarantee A Gastronomic Experience
12. The Rocks- Elegant Victorian hotel

Situated in Fishermans Wharf, The Rocks is a Victorian style hotel with all modern amenities and hospitality, which make it the best place to stay in Macau. It has incredible d-cor with marble structures, crystal chandeliers, and Victorian paintings reflecting old world charm. The hotel boasts of its 72 well-appointed guest rooms with elegant d-cor, subtle colours, classic furniture and sea facing balconies.
Whats special: Vics Caf- and Sky Lounge
Suggested suite: Luxury Room
Tariff: 1880 HKD per night onwards
13. Pousada De Coloane- Best within the budget

Image Source
Originally built as a Manor House, Pousada De Coloane is a marvellous resort at the Cheoc-Van Beach in Coloane Island and one of the best hotel to stay in Macau within a limited budget.
Along with 28 spacious guest rooms, the hotel has basic amenities like swimming pool and in-house restaurant. The colonial ambience, homely hospitality fascinate and allure tourists throughout the year.
Whats special: Al Fresco dining on the terrace for super cool ambience and awesome view
Suggested suite: Portuguese vintage style Family Suite with private balcony and Jacuzzi
Tariff: 652 HKD per night onwards
14. Grand Coloane Resort- Surrounded by serenity

Image Source
Grand Coloane Resort is an upscale and trendy resort known for chic rooms and breathtaking view of Hac Sa view. Situated over sprawling 150 acres of land, this serene and charming resort offers a perfect retreat away from hustle and bustles of the city. Be it 208 newly refurbished rooms or five in-house dining options- the resort offers complete solace and happiness during a holiday. The 18 hole golf course by the South China Sea is an additional charm.
Whats special: Fitness Studio with sauna and Jacuzzi facilities, Nirvana day Spa, Caf- Panorama, Poolside bar, Panorama Lounge and Porto Bar.
Suggested suite: Presidential Suite
Tariff: 653 HKD per night onwards
15. Regency Hotel: The enchanting retreat

Image Source
Located on Taipa Island, Regency Hotel is a Mediterranean-themed hotel, committed to deliver best hospitality and world-class facilities for those travelling with a limited wallet size. Along with all other basic amenities, the hotel has 326 cosy and comfortable guest rooms, aesthetically designed with subtle colour schemes and classy furnishing.
Whats special: Swanky swimming pool, fabulous tennis court, fitness centre, Pousada Caf- and Green House Bar,
Suggested suite: Deluxe Suite
Tariff: 838 HKD per night onwards, including breakfast
Further Read: Finding Our Shangri-La: A Memorable Honeymoon Trip to Hong Kong & Macau
With this hand-picked list of best hotels in Macau- everything from grand and exclusive to cheap hotels in Macau , I am sure you will have an unforgettable stay on your vacation.