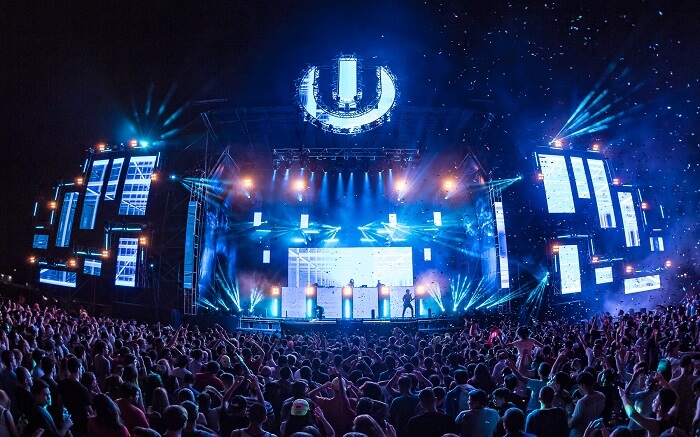 A symphony of glamour, gaming, and gastro pubs, Macau is a hot favorite party destination in Asia. A night out in Macau is a fusion of traditional culture and contemporary lifestyle, which promises a soulful experience to the curious traveler. We bring to you a Macau nightlife guide, covering the best spots and activities in the city, taking into account the needs of diverse travelers.
Best Casinos: Star attraction of Macau nightlife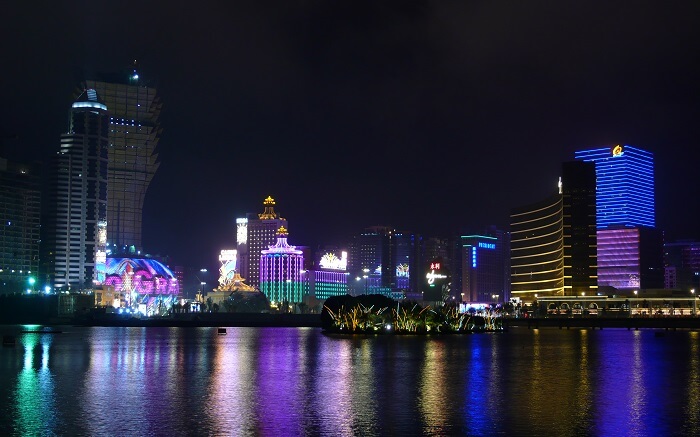 Home to over 40 casinos, Macau has well established itself as Asia's gaming capital. Open 24×7, there is never a dull moment at the gambling tables as the rooms are always buzzing with life. In fact, the income from Macau gambling is also one of the main sources of revenue and keeps the tourism industry thriving. Given below is a list of the best Macau casino hotels. Read on.
1. The Venetian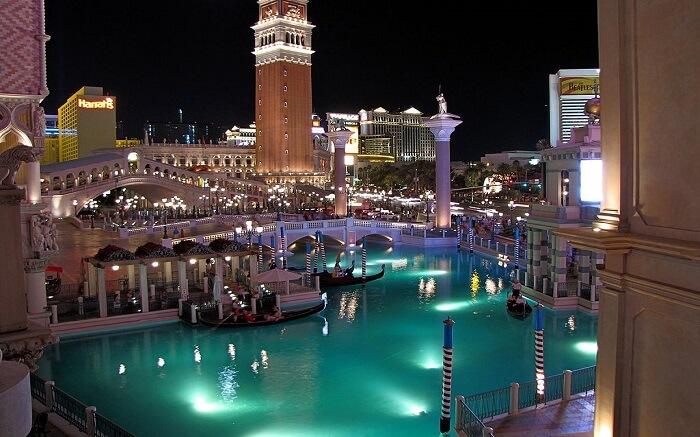 The biggest casino in the world, The Venetian is the hub of Macau casino hotels. It is divided into four gaming areas: Golden Fish, Imperial House, Red Dragon, and Phoenix and consists of over 3400 slot machines and 800 gambling tables. Trying your luck at this renowned casino is probably one of the best things to do in Macau.
2. City of Dreams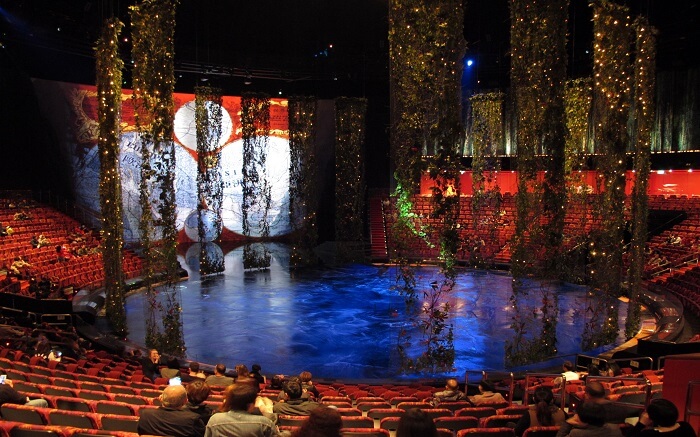 True to its name, the City of Dreams is an extraordinary gaming destination. With over 1000 machines and 350 gambling tables, which offer games such as three-card poker, casino war, fan tan, baccarat, and craps; City of Dreams is one of the best casinos in Macau.
3. Hard Rock Casino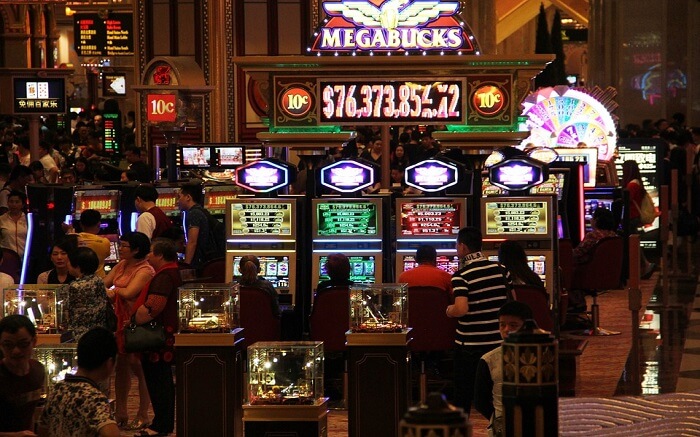 A favorite among Rock 'n' Roll lovers, The Hard Rock Hotel along with Crown Towers and Grand Hyatt collectively run the casino. There are two VIP high stacks table where one can try their luck grooving to the beats of some peppy music.
4. Lisboa Casinos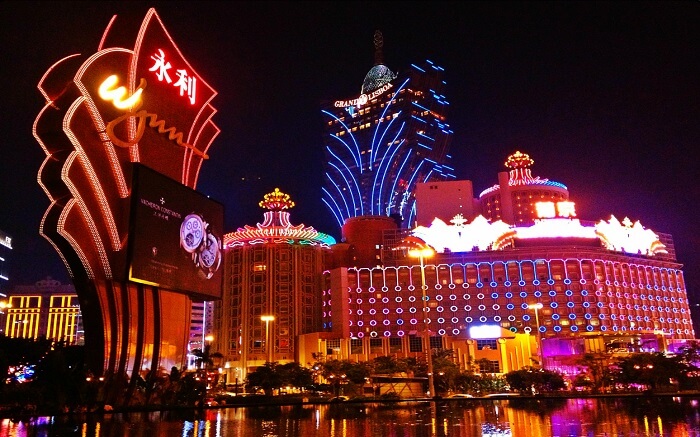 Located in Central Macau, the casino at Lisboa Hotel is among the oldest casinos in Macau. There are more than 700 slot machines and gamblers can start their bets at as low as two cents. The popular games include American roulette, Caribbean stud poker, baccarat, and blackjack.
Suggested Read: Crazy Adventures You Need To Try At The Great Wall of China
5. Pharaoh's Palace Casino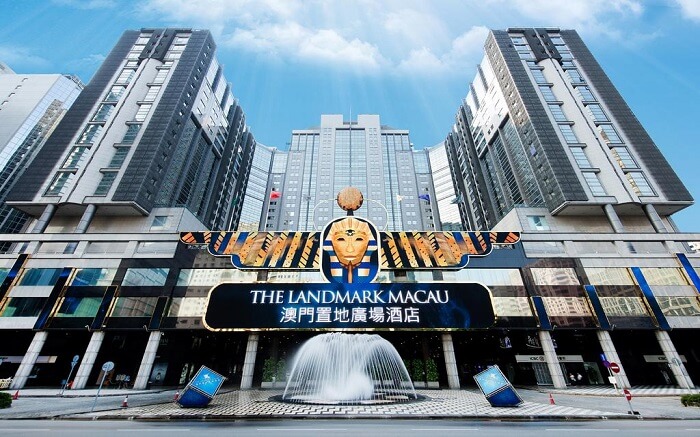 Situated inside the heritage Landmark Hotel, the Pharaoh's Palace Casino is among the foremost Macau gambling options. The elegant and historic décor which include paintings and carvings of sphinxes and Egyptian figurines, international cuisine, and shopping arcades add to the gaming experience.
6. StarWorld Hotel & Casino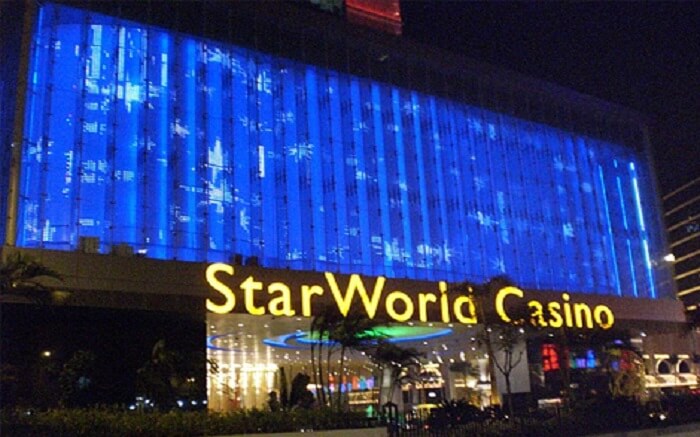 Located in the heart of Macau's gaming district, the StarWorld Hotel & Casino boasts of over 140,000 square feet of gaming area. The popular games at the casino include blackjack, craps, baccarat, and Caribbean stud poker.
7. The Sands Macau
The Sands Macau offers free drinks and buffets to all their guests and is among the best casinos in Macau. It is located near the Hong Kong ferry pier, which also makes this one of the busiest casinos in Macau.
Suggested Read: 15 Best Honeymoon Destinations In Asia In Summer For Lifetime Memories
Best Clubs, Bars, & Pubs – Outer Harbour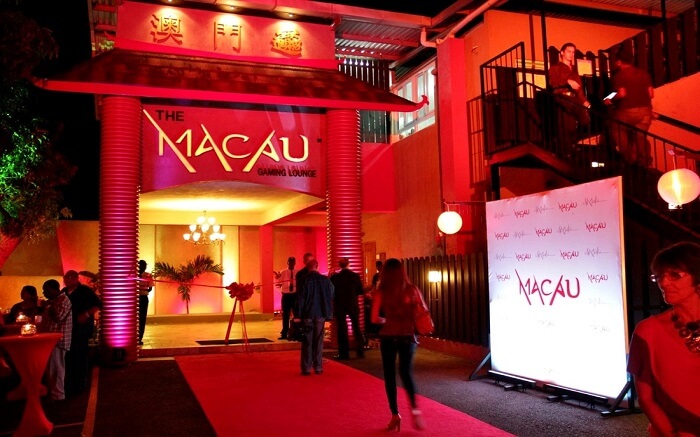 An amalgamation of nightclubs, jazz clubs, and karaoke bars; the party scene in Macau is just like its alcohol – diverse and classique. One night, stay out too late and experience this Asian powerhouse like never before at these best clubs, bars & pubs!
8.Moonwalker Bar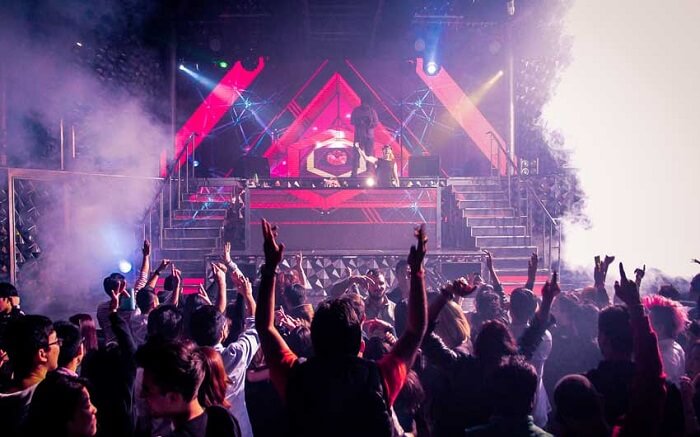 The Moonwalker Bar is where you should be headed if you enjoy your drinks with upbeat, live music, and classic covers. They have a long list of beer, wine, and cocktails to choose from.
9. Nicole Fashion Club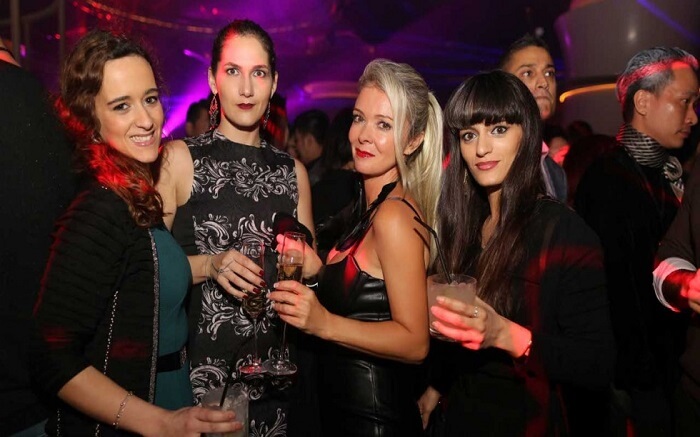 A popular karaoke venue at Fisherman's Wharf, the Nicole Fashion Club is ideal for Macau ladies night. The club plays an eclectic mix of tracks and hosts some of the most popular DJs.
10. Sky 21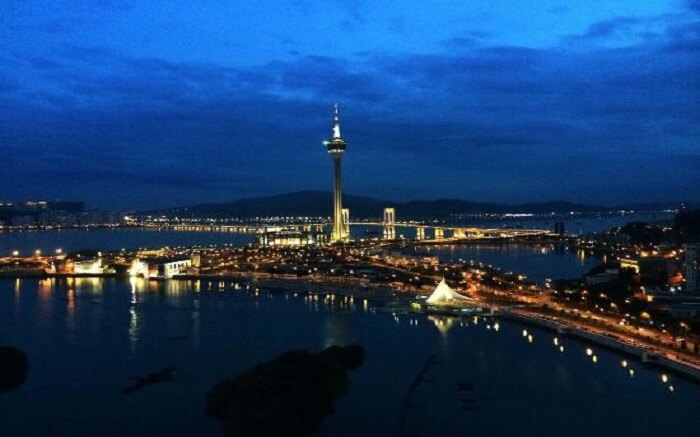 Located on the AIA tower, Sky 21 is among the premier nightclubs in Macau. The club plays all sorts of music ranging from jazz, hip hop, techno, and house.
11. D2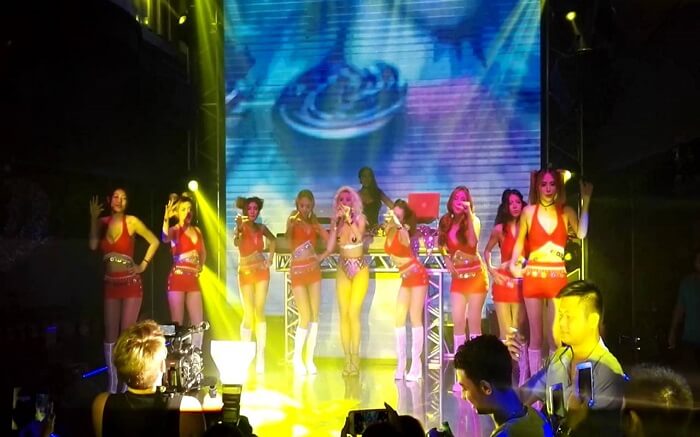 Offering an ultimate experience of Macau clubbing, D2 in Fisherman's Wharf is among the best Macau clubs and bars. Things go wild here pretty early and we recommend you come prepared for a night full of surprises.
12. Whisky Bar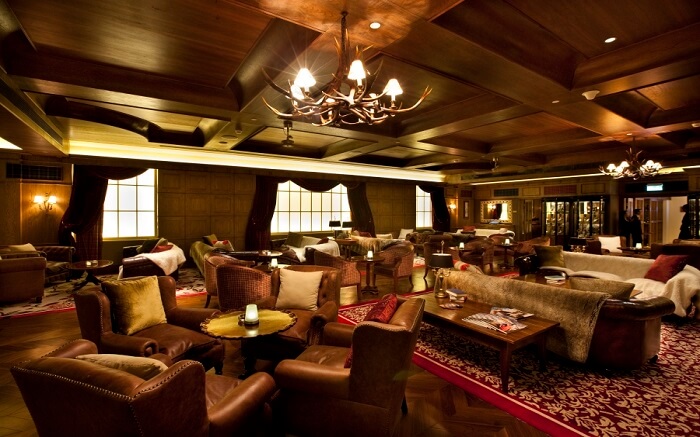 A chic place at the Star World Hotel, the Whisky Bar as the name suggests houses some of the oldest and finest whisky in the world. While here, enjoy a sprawling view of the Macau skyline over soothing numbers is one among the best experiences in Macau.
Must Read: Honeymoon In Macau: Here's How To Make It A Lavish Affair
Best Restaurants – Inner Harbour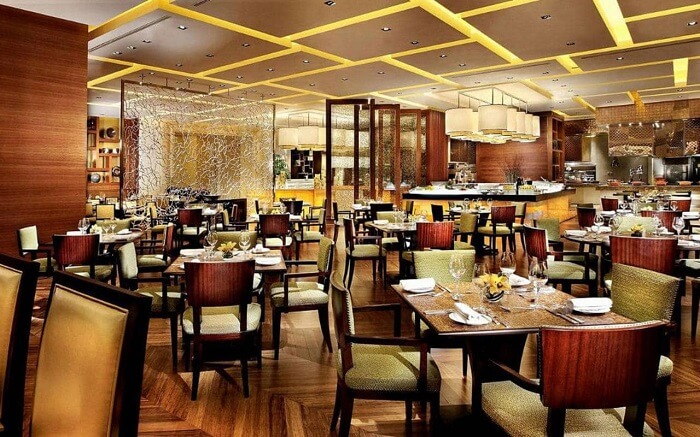 If dancing and gambling in the dark is not quite how you would like to spend your night in Macau, head to these restaurants in and around the Inner Harbour for a taste of local delicacies and delights.
13. A Lorcha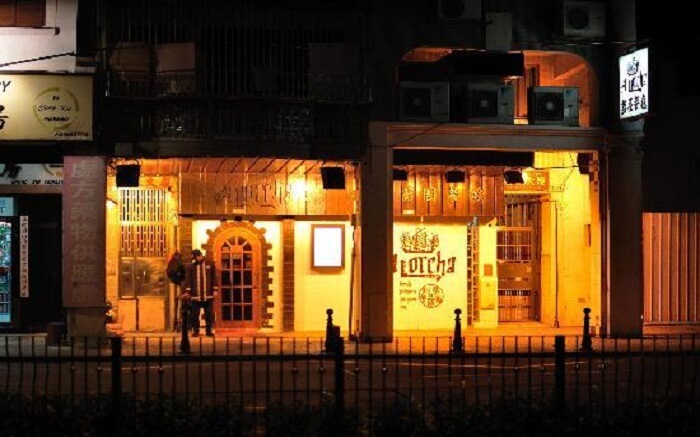 A popular restaurant located in Rua do Almirante Sérgio, A Lorcha specializes in Portuguese cuisine. The African chicken, clams, and grilled sardines are a must try.
14. Golden Flower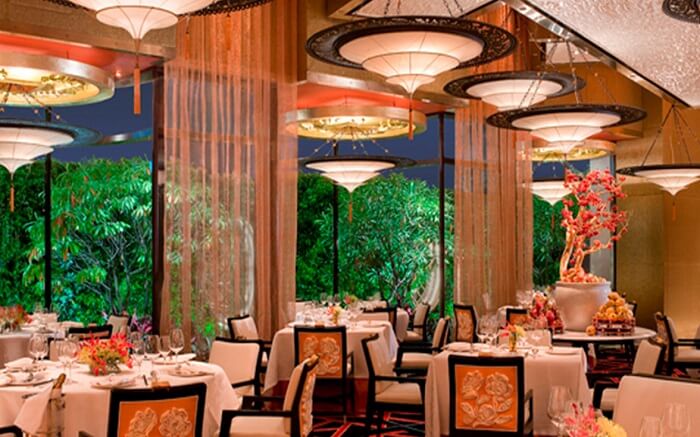 Image Source
Beautiful decor of a restaurant at night
Known for their quality of food, friendly staff, and serene ambience; The Golden Flower is one of the best places to experience a world class cuisine in Macau. The food is cooked to perfection and their dumplings, sweet and sour cabbage, mutton, and signature tea should be on your list.
15. Restaurante Litoral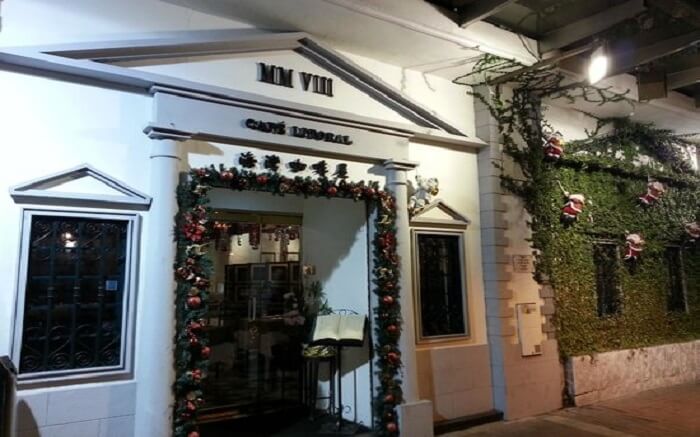 Honeymooners looking for a quiet night in Macau should head to Restaurante Litoral, which is known for its quirky décor and romantic lighting. They serve authentic Portuguese food and the curry crab, duck, and Portuguese sausages are mouth watering.
Suggested Read: 20 Top-Rated Things To Do In Hong Kong
Other things to do in Macau at night
The glitz and glamour of Macau is not limited to its casinos, clubs, and bars. Here is a list of other equally fulfilling ways to enjoy the nightlife in Macau Hong Kong.
16. By visiting the ruins of St. Paul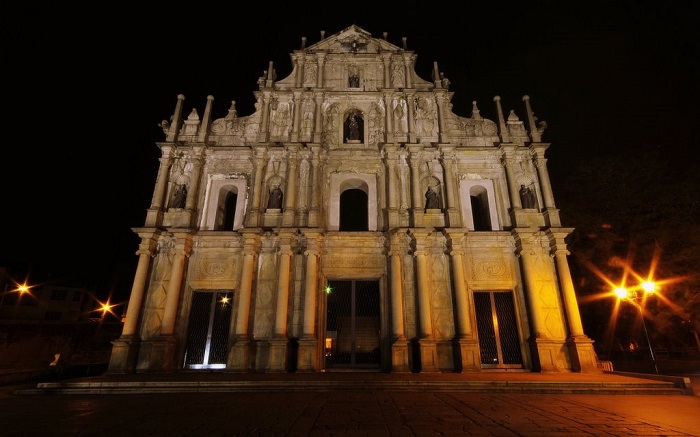 A walk around this 17th century Jesuit church is among the most serene ways to experience Macau at night. Not only is the façade less crowded during the night, but the street lights add to the aesthetic charm of the ruins.
17. By watching The House of Dancing Water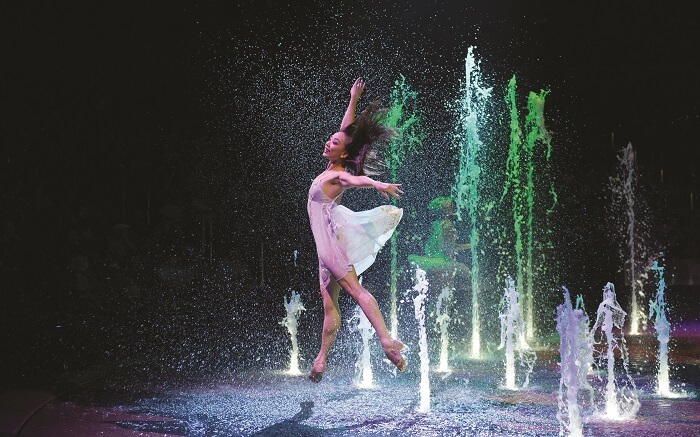 Among the best Macau shows, The House of Dancing Water is a cultural feast for art enthusiasts. The show makes use of dazzling costumes, special effects, and about 3.7 million gallons of water to narrate an epic love story.
18. By spending the night in Taipa village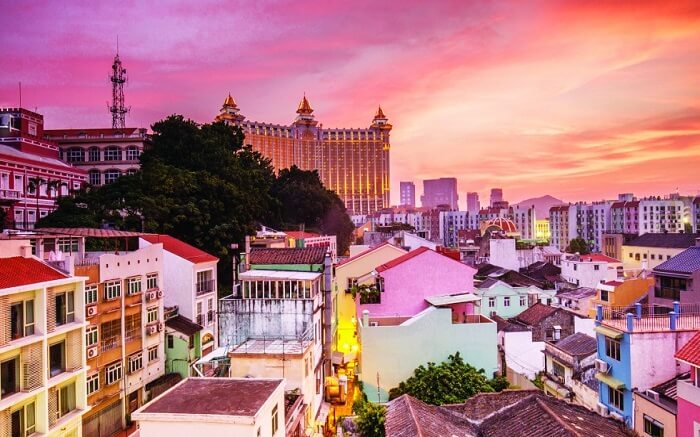 The historical Taipa village is best explored on foot at night. Located on the Cotai Strip, Taipa is full of temples, museums, souvenir shops, and good old bars. Head to the Old Taipa Tavern for live music and ballads along with draft beer. The Macau Jockey Club, which hosts nighttime races quite often is a great choice too.
The night is young and there can be no errors. Book a Hong Kong tour with us and have the time of your life in Macau. Don't forget to share your authentic travel experiences with us.
Frequently asked questions
Which are the big, mega dance clubs in Macau?
Club Cubic, China Rouge, and Lion's Bar are the most popular dance clubs in Macau.
What are the main places to see in Macau?
Ruins of St. Paul, Taipa Village, The A-Ma Temple, The Grand Prix Museum, Hac Sa Beach, and Macau City Tower are the main places to see in Macau.
What is the legal age of consumption of alcohol and gambling in Macau?
There is no legal drinking age in Macau and most people find it extremely easy to procure alcohol. However, one needs to be 21 years and above to gamble at the casinos.
Which are the famous Macau shows that one can watch at night?
The House of Dancing Water, Crazy Paris show, House of Magic, and Viva La Broadway are the famous Macau shows that one can watch at night.
Is VISA on arrival available in Macau to Indian citizens?
Yes. The Macau government provides a free VISA on arrival for 30 days to Indian citizens.
Further Read: 4 Days In Hong Kong: Your Ultimate Travel Guide!
Comments
comments