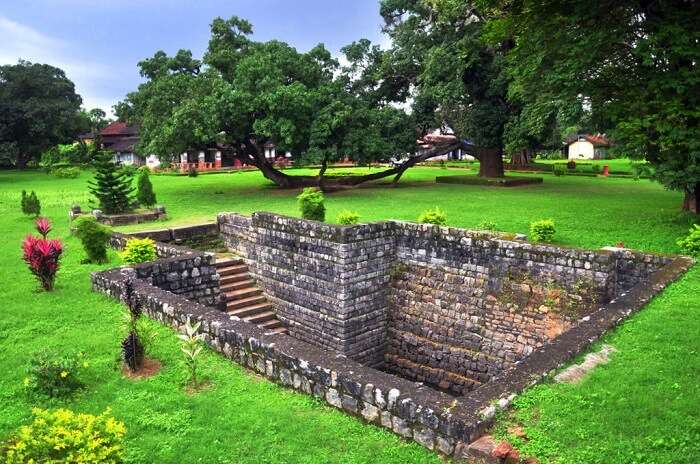 Palakkad or Palghat, situated in the foothills of the Nilgiris, is widely heralded as the gateway to Kerala. A natural break in the mountains, the Palakkad Gap connects Kerala to Tamil Nadu. It holds tremendous historical importance and with the blessing of the monsoons, magically turns fertile green. We bring you some of the best places to visit in Palakkad which include stunning natural wonders and ancient architecture.
20 Best Places To Visit In Palakkad
Enjoy a momentous vacation in Palakkad as you explore the best of lush-green landscapes of Kerala! These places will make your whole travel experience memorable. Check them out!
Palakkad Fort
Vadakkanthara Temple
Dhoni Waterfalls
Malampuzha Dam
Nelliyampathy Hills
Silent Valley National Park
Mangalam Dam
Kollengode Palace
Jain Temple Of Jainimedu
Kalpathy Heritage Village
Parambikulam Wildlife Sanctuary
Meenkara Dam
Meenvallam Waterfalls
Chulliyar Dam
Attappady
Siruvani Dam
Parambikulam Dam
Fantasy Park
Rock Garden
Chittur Kavu Devi Temple
1. Palakkad Fort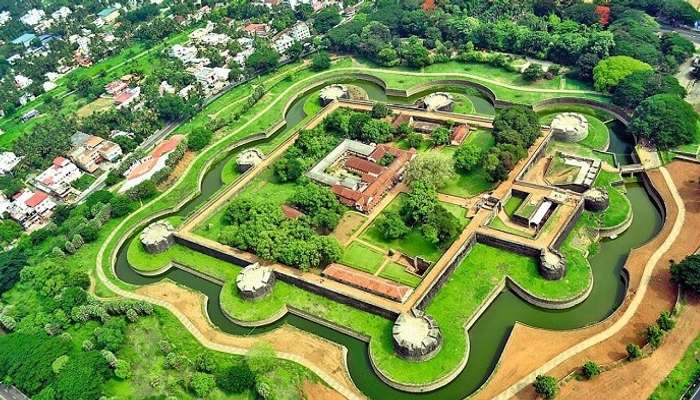 Image Source
The well-preserved Palakkad Fort features on all Palakkad sightseeing tours as it introduces guests to the history of Palakkad right from the rule of Zamorin to the Mysore Sultans and eventually the British. Built-in 1766 A.D by Hyder Ali, it is also known as the Tipu Sultan Fort and is among the highest visited Palakkad tourist places.
Location: Palakkad Highway, Kenathuparambu, Kunnathurmedu
Entry cost: INR 15 per person
Must Read: Kerala In Summer: 10 Serene And Scintillating Places To Visit In This Heaven
---
Kerala Holiday Packages On TravelTriangle
A holiday in Kerala will fill you with memories. Witness pristine backwaters with comfortable houseboats, lush green hill stations, waterfalls, and plantations of tea and spice. Indulge in an ayurvedic massage or taste exotic cuisines. Book a Kerela holiday on TravelTriangle. Best prices guaranteed.
---
2. Vadakkanthara Temple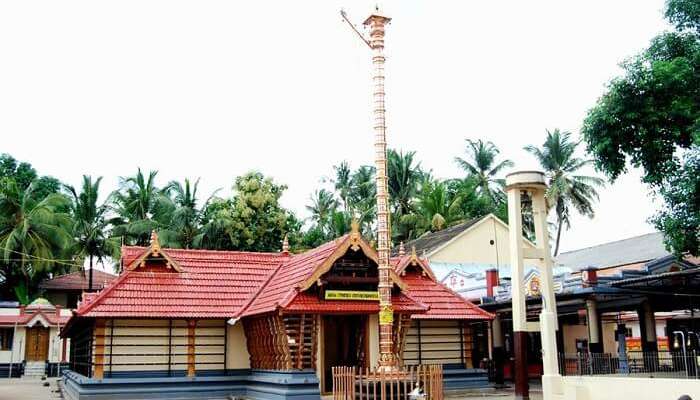 The Sree Vadakkanthara Bhagavathy Temple is a revered temple in Palakkad and even visited by devotees from neighboring states. The temple is based on the legend of Kannagi and a major festival 'Vela' is conducted here every three years, meaning the next one will be in 2021! It's one of the best places in Palakkad to observe Hindu rituals and festivities.
Timings: 5 AM to 8 PM
3. Dhoni Waterfalls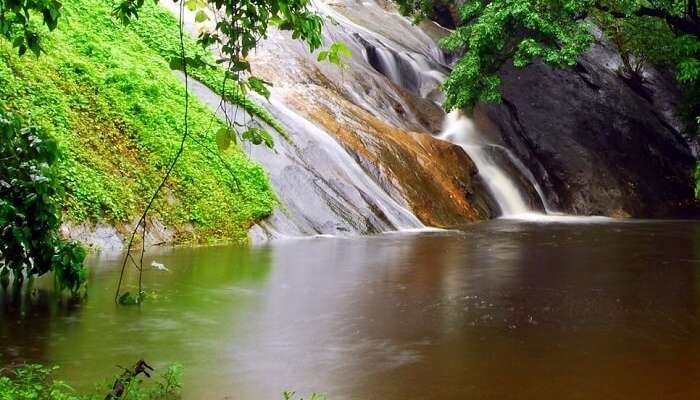 Dhoni is a tiny hamlet near Palakkad and best known for its natural wealth. The Dhoni waterfalls and the forest combined together offer a reprieve from the heat and humidity of Palakkad. It is one of the best places to visit in Palakkad for a day trip. The forest is a part of western ghats and is ideal for bathing.
Distance from Palakkad: 15 KM
Entry cost: INR 100 per person
Suggested Read: 15 Famous Temples In Kerala That Showcase Its Heritage
4. Malampuzha Dam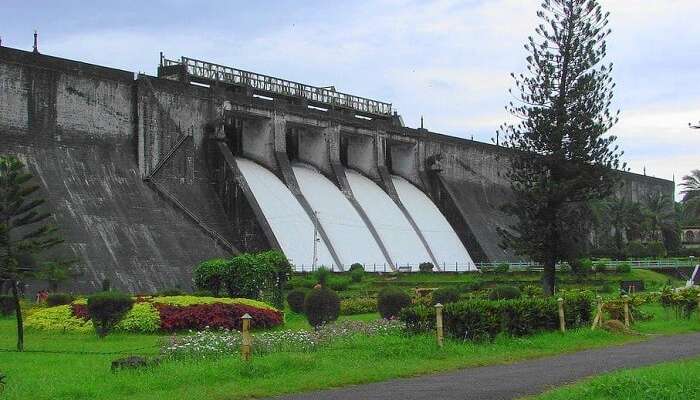 The Malampuzha Dam has become one of the best tourist attractions in Palakkad. Opened in 1955, this beautiful park and dam have manicured lawns and still waters perfect for a visit during the monsoons. It is the only one among Palakkad tourist places to have a functioning ropeway!
Distance from Palakkad: 8KM
Entry cost: INR 10 per person
Ropeway cost: INR 40 per person
Suggested Read: 15 Famous Temples In Kerala That Showcase Its Heritage
Book Amazing Munnar Tour Packages with TravelTriangle
5. Nelliyampathy Hills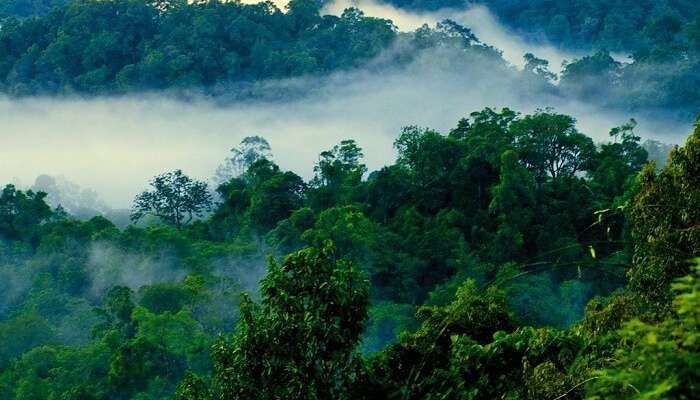 About 60 KM from Palakkad lie the Nelliyampathy Hills, one of the far-off places to visit near Palakkad whose cloud covered mountains are a delight! The well-laid road and beautiful scenery along the way including the Pothundy Dam and Palakkad Gap make it one of the best tourist places in Kerala for a one day trip.
Distance from Palakkad: 60 KM
Places to visit: Pothundy Dam, Palagapandi Estate, Seetharkundu
Suggested Read: 10 Gorgeous & Famous Churches In Kerala
6. Silent Valley National Park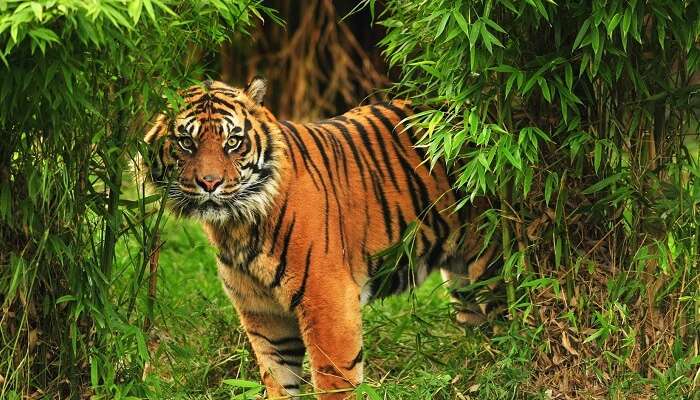 The Silent Valley is one of the best places to visit in Palakkad and a UNESCO World Heritage Site. The rich biodiversity can be observed all along the national park including animals like elephants, tigers, lion-tailed macaques, and Malabar giant squirrels. The park is among the best places to visit near Palakkad for an eco-friendly holiday.
Distance from Palakkad: 55 KM
Things to do: Bird watching, photography, trekking
---
Planning your holiday in Kerala but confused about what to do? These Kerala travel stories help you find your best trip ever!
Real travel stories. Real stays. Handy tips to help you make the right choice.
---
7. Mangalam Dam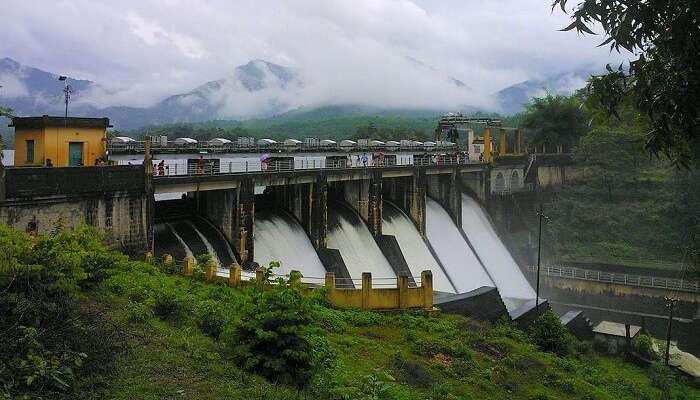 The Mangalam Dam with its serene water and the blue 'Nilgiri' hills in the background is one of the most beautiful places in Palakkad. The dam has been developed to be among the top Kerala Palakkad tourist places with boating facilities and mesmerizing views of the sunset.
Distance from Palakkad: 45 KM
Timings: 10 AM to 7 PM
Suggested Read: 15 Best Tree Houses In Kerala That Are Perfect For An Intimate Date With Nature
8. Kollengode Palace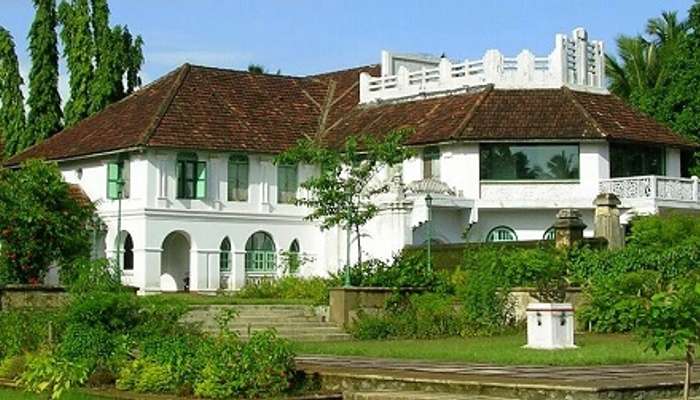 Image Source
An example of the unique Kerala architecture, the Kollengode Palace was built in 1904 by Raja Vasudeva for his daughter. This unique palace exhibits European influences considering its time period and has emerged as one of the top tourist spots in Palakkad. Department of Archaeology in collaboration with Palakkad Tourism maintains a museum inside these premises.
Note: Special permission is required to visit the museum and palace interiors.
9. Jain Temple Of Jainimedu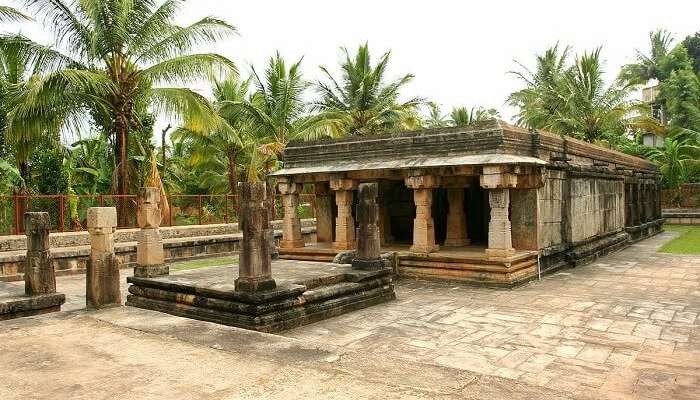 An unlikely feature on the Palakkad tourist places list is the Jain Temple at Jainimedu that reflects how Jainism has managed to thrive in this tiny section of Palakkad. The interesting granite temple is one of the best places to visit in Palakkad to pay respect to Digambara and learn about Jainism.
Location: Sri Chandraprabha Digambar Basti, Chunnambuthara, Vadakkanthara
Timings: 7 AM to 7 PM
Suggested Read: Kerala Cuisine: What Makes The State The King Of Culinary Art
10. Kalpathy Heritage Village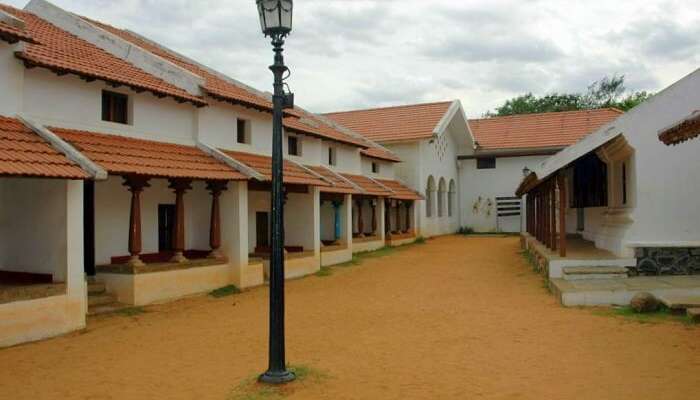 Image Source
Kerala has a rich heritage of temple towns and Kalpathy is one such among the tourist places in Palakkad and Thrissur famous for its temple. The village has been declared the first heritage village in the state and all its existing buildings are preserved to maintain its sanctity. The 14th-century village is among the finest places to see in Palakkad especially during the Kalpathy Ratholsavam festival.
11. Parambikulam Wildlife Sanctuary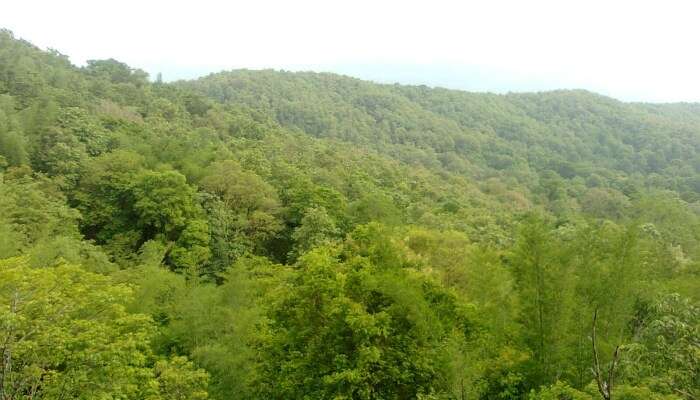 Though this sanctuary is not in Palakkad and is located at a distance of 91 kilometers from the city. If you want to make a visit to the neighboring areas, then this wildlife sanctuary will be a great idea. This sanctuary is well known around the world and therefore has been taken into consideration for getting selected as one of the UNESCO World Heritage Sites. Parambikulam Wildlife Sanctuary is lying next to the popular Indira Gandhi Wildlife Sanctuary in state of Tamil Nadu.
Timings: 7 AM to 6 PM
Suggested Read: 15 Best Ayurveda Resorts In Kerala That You Ought To Visit In 2019
12. Meenkara Dam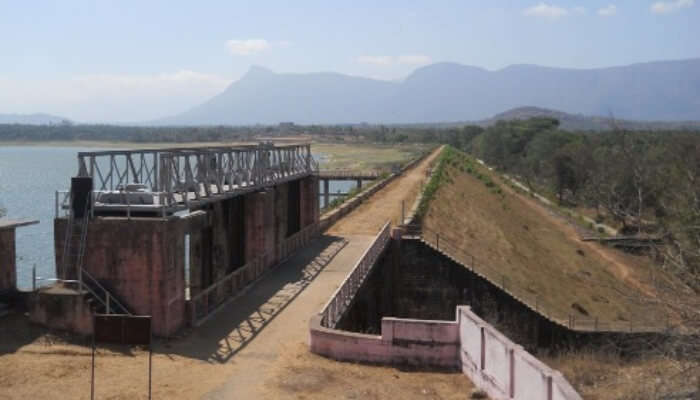 This dam is situated at a distance of 39 kilometers from Palakkad city. If you're traveling with your family, then this is one of the best places to visit near the town of Palakkad, as you can plan a great picnic at this place. This dam has been constructed over the Gayathri River that meets the Bharathapuzha River. You'll even get to witness the beautiful coconut and paddy fields.
13. Meenvallam Waterfalls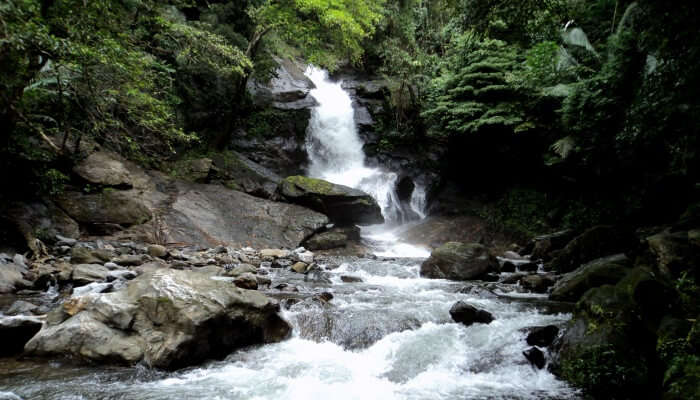 Palakkad is 30 kilometers from these waterfalls. This is a five-step waterfall that is located at a close distance to Karimba town in the district of Palakkad. You can only reach till two steps of the waterfall and each of the five steps are 20-25 feet away from each other. You can come to these waterfalls for a refreshing day, as one can enjoy a great swimming or bathing session here!
Suggested Read: Rivers In Kerala: A Pocket Guide To Add More Calming Vibes On Your Next Trip
14. Chulliyar Dam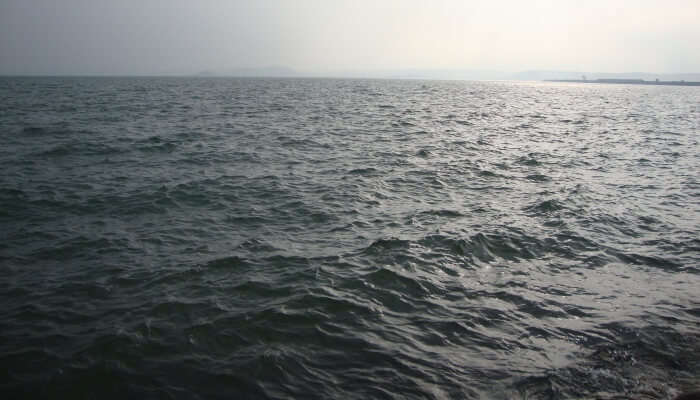 This dam is situated in a picturesque location and this is why it is one of the most-admired places amongst the tourists. You can visit the glorious Nelliyampathy Mountains from here – an added intriguing factor to your visit to this place. This dam was established in the year 1960 across the Chulliyar River, which is a tributary of Gayathripuzha River. This dam has been constructed nearby Meenkara dam and Kollengode.
15. Attappady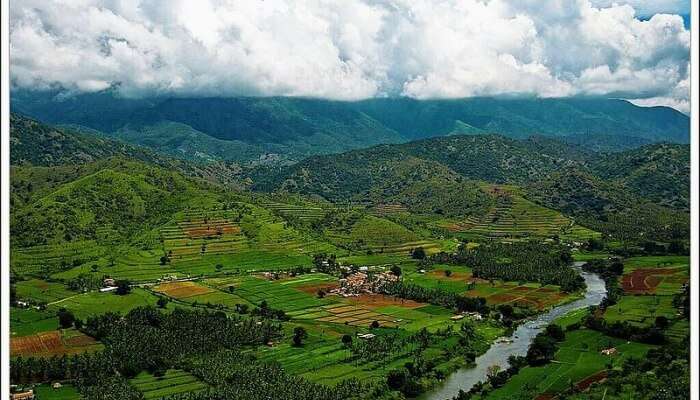 This tourist destination has been located at a distance of 66 kilometers from Palakkad and is considered to be the largest settlement in the state of Kerala. This area lies in the northeastern region of the district of Palakkad and features scenic highland terrains that are embellished with the tributaries of the Cauvery River. This place essentially has tribes as well as settlers that have come from Tamil Nadu as its inhabitants.
Suggested Read: Trekking In Coorg: 10 Trails In The Ghats For Adventure Enthusiasts In 2019
16. Siruvani Dam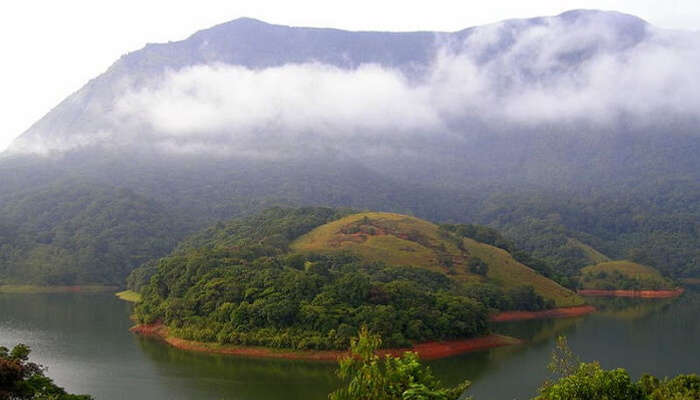 Siruvani Dam is constructed across the Siruvani River in the thick forests of Palakkad district in Kerala. This dam has been the main source of drinking water for the Coimbatore city since 1927. The water is popular among the locals for its sweet taste and thus they take some of it while going for traveling also. The panoramic beauty of this place is captivating for any nature lover and is one of the top Palakkad points of interest.
Location: Palakkad, Kerala 678014
17. Parambikulam Dam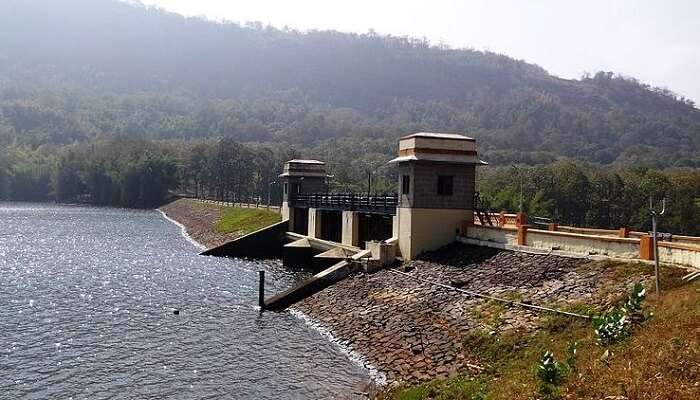 Parambikulam Dam comes in the top ten embankment dams in the world. Surrounded by lush greenery, this place is frequently visited by bird-watchers. Besides this, it is now popular as a picnic spot among the family and also provides the facility of boating. While exploring the Parambikulam Wildlife Sanctuary, one can easily explore this place and click some postcard-worthy photos.
Location: Muthalamada South, Kerala 678508
Suggested Read: Monsoon In Kerala: Explore The Coastal Gem Like Never Before In 2019!
18. Fantasy Park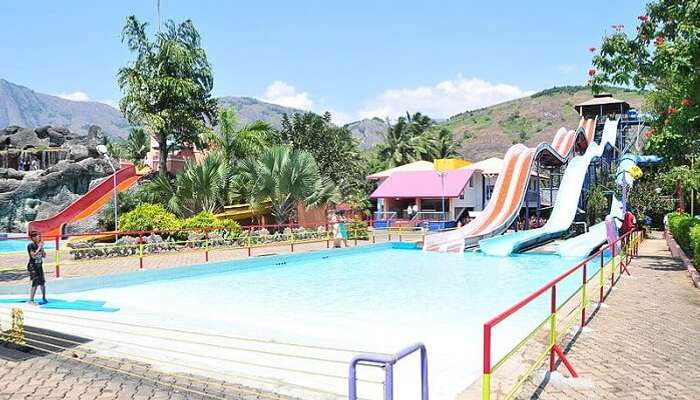 Just 6 kilometers away from the Palakkad Railway Station, Fantasy Park is a thrilling amusement and water park. One can enjoy rides like a pirate boat, jumping horse, striking car, caterpillar, and many more. After having an exciting day, one can relax at the restaurant and savor some ice creams.
Location: 8/585, Malampuzha, Palakkad, Kerala 678651
Timings: 10 AM – 6 PM
19. Rock Garden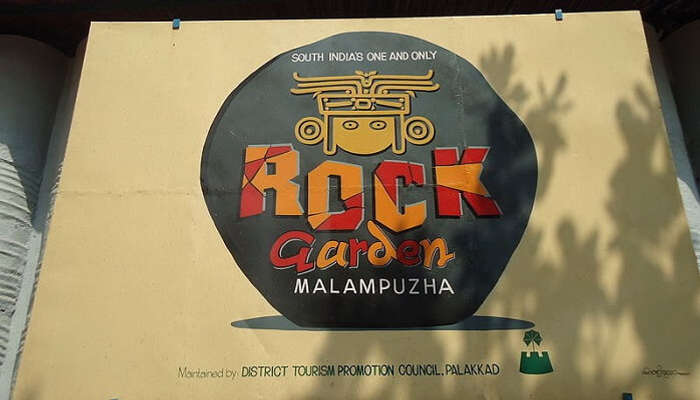 Alike Chandigarh, Palakkad also houses a Rock Garden in the Malampuzha garden. The garden is full of figurines and statues that are made with waste materials like electricity fuse carriers, tiles, broken bangles, dishware, and other things. If you are planning a visit with your family then do take your kids to this place.
Location: Malampuzha-I, Kerala 678651
Timings: 10 AM – 6 PM
Suggested Read: 20 Wildlife Sanctuaries In Kerala That Showcase South India's Exotic Fauna & Flora
20. Chittur Kavu Devi Temple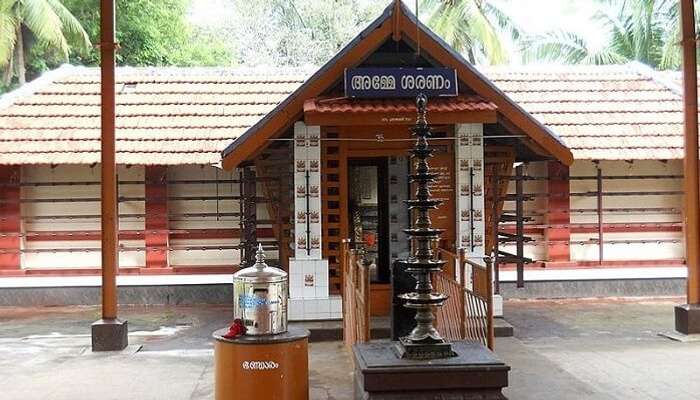 Situated just 6 kilometers away from the railway station of Palakkad, Chittur Kavu Devi Temple is a temple of Goddess Bhadrakali. It houses a Daruviraham that is 6 feet tall and is worshiped by devotees every day. The temple remains open on only two days – Tuesday and Friday. However, during the celebration of Navratri, it stays open for the devotees for 9 days.
Location: Palakkad Chittur Rd, Anikode, Chittur-Thathamangalam, Kerala 678101
Further Read: 15 Best Places To Visit In Thrissur That Would Make Your Kerala Holiday One Of A Kind!
Surprised at the number of best places to visit in Palakkad? We had told you Palakkad would be a great place to learn about Kerala's heritage and culture! Now book your trip to Kerala at once and experience this awesome destination firsthand.
Frequently Asked Questions About Best Places To Visit In Palakkad
Q. How did Palakkad get its name?
A.It is believed that the name of Palakkad is derived from Pala tree and kadu (forest). Palakkad became a part of Kerala in 1956.
Q. How populous is Palakkad?
A. According to the 2011 data, the population in Palakkad reached 130,955.
People Also Read:
Places To Visit In Udupi Places To Visit In Pondicherry Places To Visit In Coorg
Comments
comments