Backwaters, tea estates, spice plantations, and Kathakali recitals are terms often related to Kerala – God's Own Country. But the list seems incomplete unless we add one more imperative pointer, viz. Ayurveda. Almost every stay option here has their own spa and Ayurveda centers here, but there are some exclusive Ayurveda resorts in Kerala too.
Kerala has been gaining popularity as a holistic health destination that offers all kinds of healing therapies, spa, and treatments. With their all-embracing spa packages, massages, and healing therapies, these sprawling Ayurveda resorts in Kerala offer bountiful of facilities to refresh the mind and soul.
21 Best Ayurveda Resorts In Kerala
Sounds amazing, doesn't it? So, without further ado, let's check out these Ayurvedic health resorts in Kerala. Keep scrolling down and read along:
Carnoustie Ayurveda And Wellness Resort
Mekosha Ayurveda Spasuites Retreat
Kalari Kovilakom
Nattika Beach Ayurveda Resort
Somatheeram Ayurvedic Health Resort
ShinShiva Ayurvedic Resort
Ideal Ayurvedic Resort
Beach And Lake Ayurvedic Resort
Kandamkulathy Ayursoukhyam Ayurveda Health Resorts
The River Retreat Heritage Ayurvedic Resort
Perumbayil Ayurveda Mana
Ayurveda Yoga Villa
Kairali
Poovar Island Resort
Abad Harmonia
The Windflower Resort
Niraamaya Retreats Surya Samudra
The Athreya Ayurvedic Resort
Sarovaram Ayurvedic Health Center
Udayagiri Retreat
Nikki's Nest
1. Carnoustie Ayurveda And Wellness Resort
Located 8 km from the Alappuzha backwaters, Carnoustie is one of the most popular rejuvenating Kerala Ayurveda resorts. Awarded as one of the best luxury spa resorts of the country by Business Destination Magazine (UK), it boasts of premium well-equipped villas & a royal houseboat, world class dining, incredible traditional hospitality, and refreshing Ayurvedic spa in Kerala.
Location: Mararikulam, Kerala
What's special: Morning Yoga, a plethora of Ayurvedic programs like anti-aging, detox, weight loss, & stress control, and mouth-watering seafood at Chimaera and Ida
Tariff: INR 60,000 for summer season (April – September) | INR 75,000 for winter season (October – March)
Suggested Stay: Luxurious Houseboat
2. Mekosha Ayurveda Spasuites Retreat
Located 45 minutes away from Trivandrum International Airport by the backwaters of Kerala, Mekosha is the best affordable luxury ayurveda resort in Kerala that has brought a notable new concept to India — the "Spasuite". Each large 600sqft spasuite has its own private spa treatment area. With just 11 suites, Mekosha boasts the most authentic & personalized ayurvedic treatment for each guest in its intimate setting. One can learn ayurveda cooking with the use of fresh and local ingredients, and also chat with the other guests from around the world at the communal dining table.
Location: Trivandrum, Kerala
What's Special: Spasuites, a highly skilled doctor & medical team, personalized treatments, spiritual vibe, communal table, no minimum days for stay required, best value
Tariff: All-inclusive prices with treatments start from INR 10,710/ EUR 130/ USD 147 per night (Please note: Longer stays get further discount)
3. Kalari Kovilakom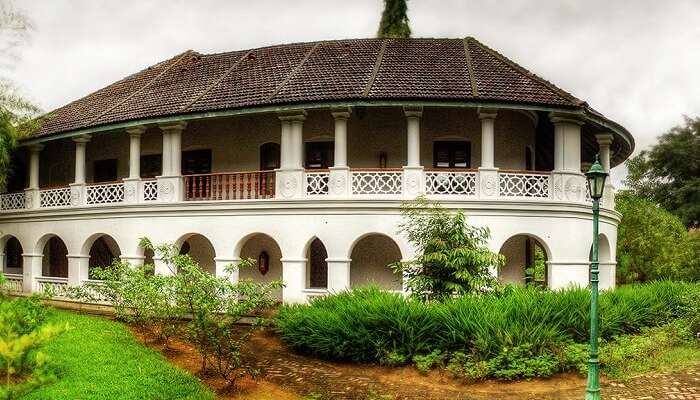 One of the best Ayurvedic resorts in Kerala, this all-vegetarian property is known for its serenity and tranquil yoga & meditation sessions. The wide list of invigorating Ayurvedic therapies & massages is customized as according to 14, 21, and 28 days' durations.
Note: The resort doesn't allow leather products, meat consumption, and alcohol consumption during the stay.
Location: Palakkad, Kerala
What's special: Refreshing and personalized therapies like Uzhichil with Swedanam, Sirodhara, Ellakithirummu, Kizhi, Pizhichil, and Njavarakizhi.
Tariff: Prices range from EUR* 6,600 – EUR 22,460 per person, depending on the duration and the type of accommodation.
*EUR 1 = INR 74.69 (as on 7th September 2016)
Suggested Stay: Vengunadu Suite
Suggested Read: Best Of Shopping In Kerala: What To Buy And Where
4. Nattika Beach Ayurveda Resort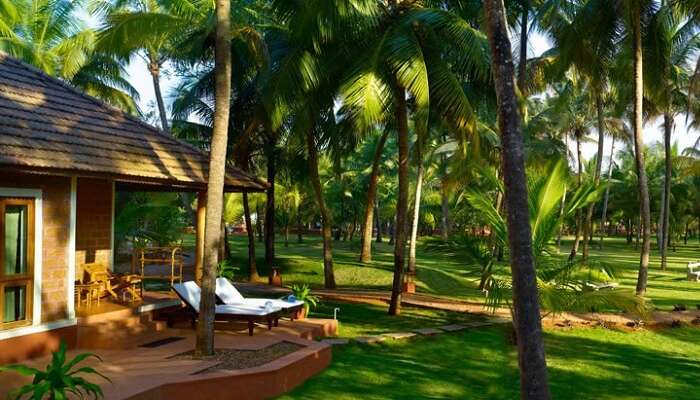 Located by the famous Nattika Beach of Thrissur, this is one of the most popular beach Ayurvedic resorts in Kerala offering unworldly yoga, meditation, and Kerala Ayurveda experiences. In addition to the well-designed villas and incredible hospitality, the resort has sea-facing lounge, indoor games facilities, swimming pool with Jacuzzi, tennis court, and souvenir shop. Packages are offered for 7, 14, 21, & 28 days.
Location: Thrissur, Kerala
What's special: The professional team that first analyses the problem area or Dosha that needs to be addressed for healing, then analyses the body composition, and finally suggests therapy & diet.
Tariff: Prices range from EUR 1,286 – EUR 9,555 per person, depending on the duration and the type of accommodation.
Suggested Stay: Deluxe Twin Villa
Suggested Read: 12 Things To Do In Kumarakom For A Chilled Out Holiday
5. Somatheeram Ayurvedic Health Resort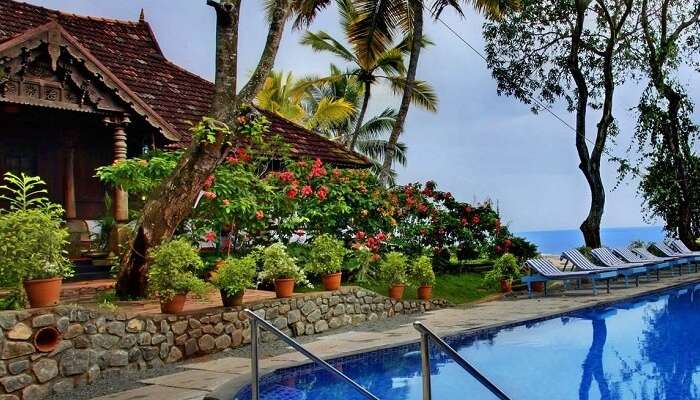 Somatheeram is the World's first Ayurveda resort and offers a wide range of Ayurveda, meditation, & yoga sessions. Along with shodhana chikilsa, rasayana chikilsa, anti-ageing, and weight loss program, it also offers a wide range of beauty care & anti-stress programs that help it live up to its reputation of one of the best Ayurvedic resorts in Kerala.
Location: Kovalam, Kerala
What's special: Kathakali Performances in the evening, Ayurvedic cuisine, Mehendi design classes, elephant ride, and boating
Tariff: To be disclosed on mailing the stay duration and dates
Suggested Stay: Kerala House Deluxe
Suggested Read: 10 Finest Resorts In Kovalam For A Revitalizing Vacation
6. ShinShiva Ayurvedic Resort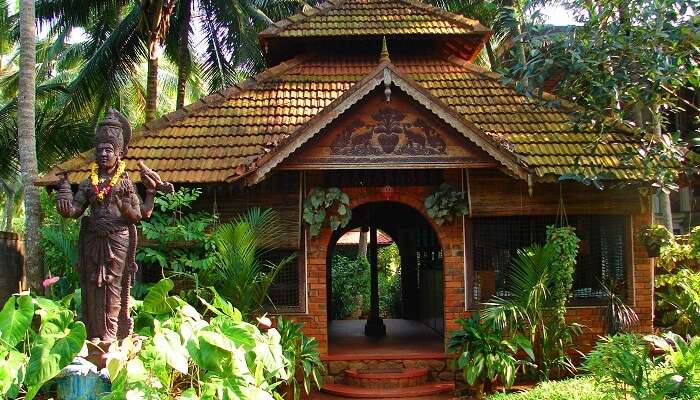 One of the most popular health resorts in Kerala, Shinshiva is known for its perfect serenity and absolute refreshing ambiance. The resort overlooks the crystal clear sea and is surrounded by invigorating palm plantations. It offers everything that is needed to make the holiday delightful & revitalizing with its world-class Ayurvedic treatments and all-embracing healing therapies, under the skillful guidance of Dr. V. Franklin. From mental disorder & arthritis to urogenital diseases & infertility, the list has it all.
Location: Kovalam, Kerala
What's special: Herbal facial, Udwarthanam, and de-addiction treatments.
Tariff: INR 87,000 per person for one week

Suggested Stay: Navaratna Bungalow
Suggested Read: Reconnect With Your Inner Self At These 10 Yoga Retreats In India
---
Planning your holiday in Kerala but confused about what to do? These Kerala travel stories help you find your best trip ever!
Real travel stories. Real stays. Handy tips to help you make the right choice.
---
7. Ideal Ayurvedic Resort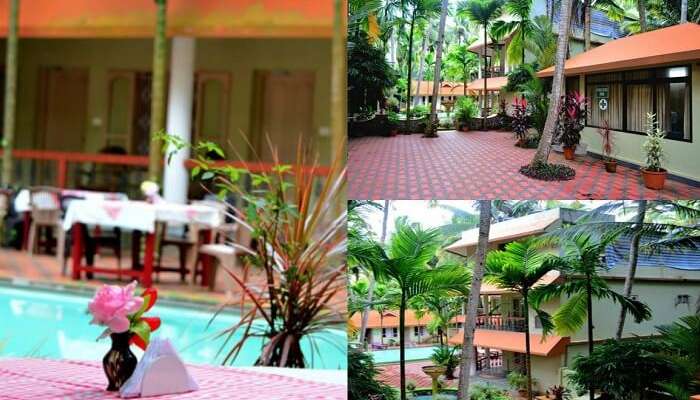 Ideal Resort, situated near Kovalam, is an idyllic option in the list of the budget Ayurveda resorts in Kerala for solemn rejuvenating spa therapies, modern accommodation, traditional warmth, and best-in-class amenities. It offers holistic wellness programs – Kizhi, Seerodhara, Thalapothical, Vasthi, Kativasti, Lepam, and Thalam – under the supervision and guidance of professional experts.
Location: Kovalam, Kerala
What's special: Specialty treatments like sports injuries, diabetes treatment, digestive problems, high cholesterol treatment, and muscle & skeletal disorders
Tariff: INR 1800 per night per person onwards
Suggested Stay: Pool View AC Room
Suggested Read: 5 Interesting Ways To Explore Kerala In January With Your Significant Other
8. Beach And Lake Ayurvedic Resort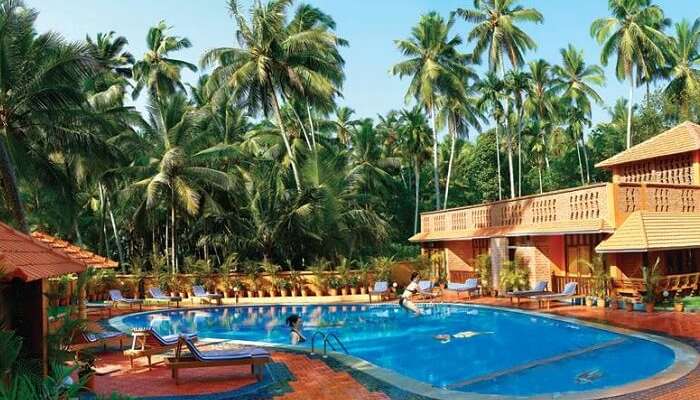 Known as a boutique health resort, this serene place is surrounded by charming blue water and lush green coconut plantations. The rejuvenating healing through the essence services of Kerala Ayurveda – massages and therapies – attract travelers from all over the world. The Beach and Lake Ayurvedic Resort also offers picturesque scenery and impeccable hospitality.
Location: Thiruvananthapuram, Kerala
What's special: Bahya-vasti, Brihmanam, Deha-dhara, Gandoosham, Janu-vasti and Kalaripayattu martial arts sessions.
Tariff: Find a detailed list of prices for various treatments here.
Suggested Stay: Kerala Deluxe Stay
9. Kandamkulathy Ayursoukhyam Ayurveda Health Resorts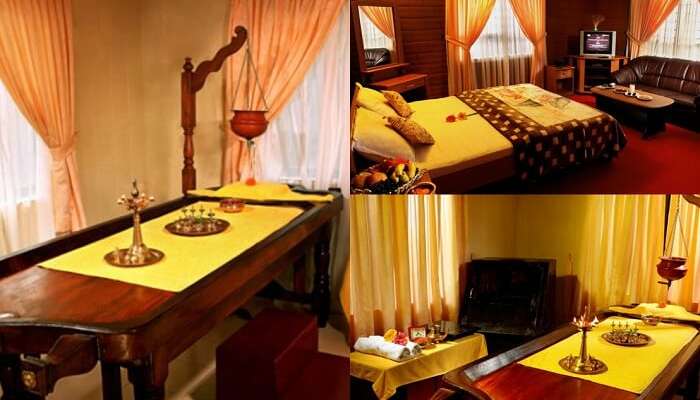 Kandamkulathy is a popular rejuvenating Kerala Ayurveda resort that showcases the perfect amalgamation of heritage and contemporary services & facilities. Located by the banks of the River Chalakkudy, this is one of the famous health resorts in Kerala and boasts of its 14 well-equipped cottages, serene ambiance, and revitalizing therapies. In addition to the sprawling Ayurvedic health resorts in Kerala, Kandamkulathy also has 5 Ayurvedic hospitals across Kerala.
Location: Athirappilly, Kerala
What's special: Exclusive therapies like Soothika & Vayodhika and the all-inclusive family wellness packages
Tariff: The resort offers both treatment and leisure packages. To know more click here.
Suggested Stay: Deluxe Cottage
10. The River Retreat Heritage Ayurvedic Resort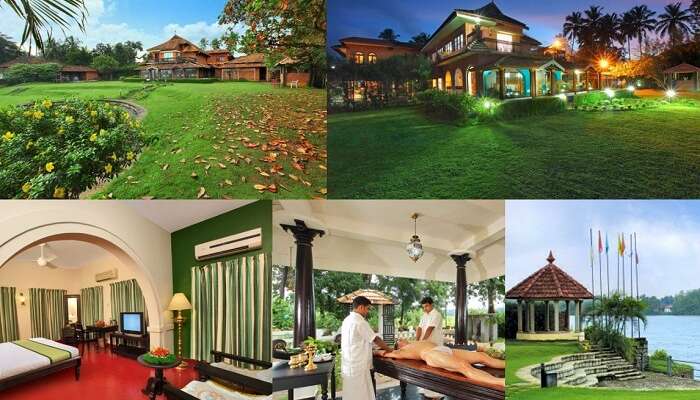 Popular as one of the vintage heritage Ayurvedic resorts in Kerala, the River Retreat is a luxurious 4-star property that was the former summer palace of the Maharajas of Cochin. It is loaded with all kinds of amenities needed for a leisure holiday. Holy Basil – the Ayurvedic spa center of the resort – offers all kinds of traditional healing therapies, facial treatments, and yoga & meditation sessions. It is one of the most relaxing Ayurvedic resorts in Kerala India.
Location: Cheruthuruthy, Kerala
What's special: Riveria restaurant, health club, and White Sand bar
Tariff: INR 3600 per person per night onwards
Suggested Stay: Royal Suite
11. Perumbayil Ayurveda Mana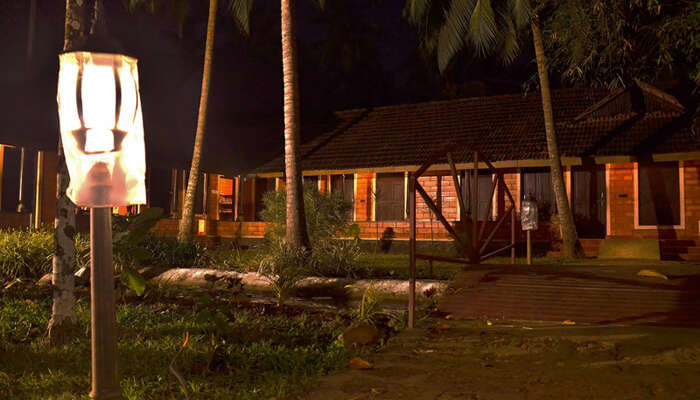 Counted among the best Ayurveda health resorts in Kerala, Perumbayil Ayurveda Mana is located in the property of the Perumbayil family whose several generations have been associated with Ayurveda. This resort follows all the rules of Ayurveda and if your suffering from a major health issue, you must pay a visit here. It is one of the most peaceful Ayurveda retreats in Kerala.
Location: Thrissur, Kerala
What's special: Morning Yogaa, library, herb garden
Tariff: Rs5,450 per person per night
12. Ayurveda Yoga Villa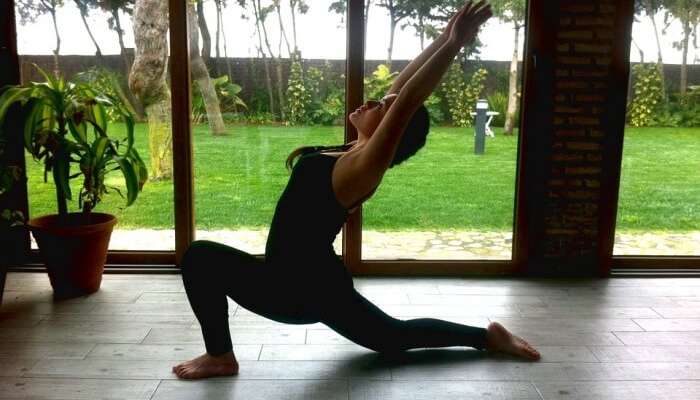 Looking for the most famous Ayurveda resorts in Kerala, India? Ayurved Yoga Villa will be a perfect choice for you. Known for its Kalari martial art classes, Yoga sessions, Meditation, and Ayurveda facilities, Ayurveda Yoga Villa is located in the lush green forests of Wayanad. There are 22 treatment rooms in this resort and people who are suffering from cancer and arthritis or are addicted to drugs and alcohol. People from all around the world have visited this resort and attained tranquility here. It is one of the best Ayurveda resorts in Kerala India.
Location: Wayanad , Kerala
What's special: Kalari martial art classes, Yoga sessions
Tariff: INR 1,39,000 per person for 21 days
13. Kairali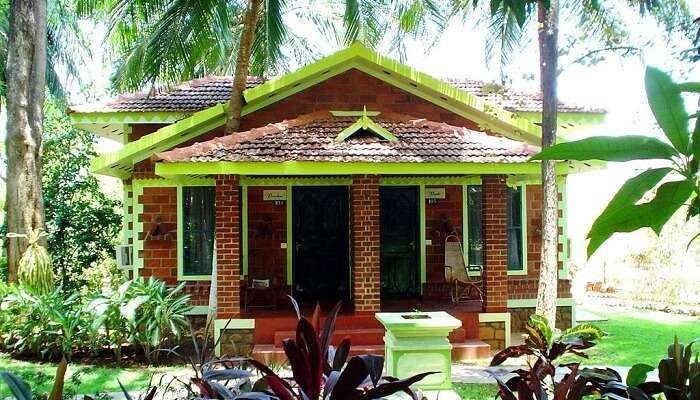 For all those who are thinking to visit Ayurveda retreats in Kerala, Kairali will make a great choice as it is one of the most frequented places in Kerala. Located in Palakkad district Kairali Ayurvedic Healing Village is one of the most popular resorts which is visited by a lot of people who are interested in Ayurved or who want spend some days amidst nature and practice yoga. It is one of the most peaceful Ayurveda retreats in Kerala.
Location: Palakkad, Kerala
What's special: Ayurvedic medicines, Yoga sessions, meditation
Tariff: INR 23,100 per person for a 3 days
Further Read: 12 Exotic Beach Resorts In Kerala
14. Poovar Island Resort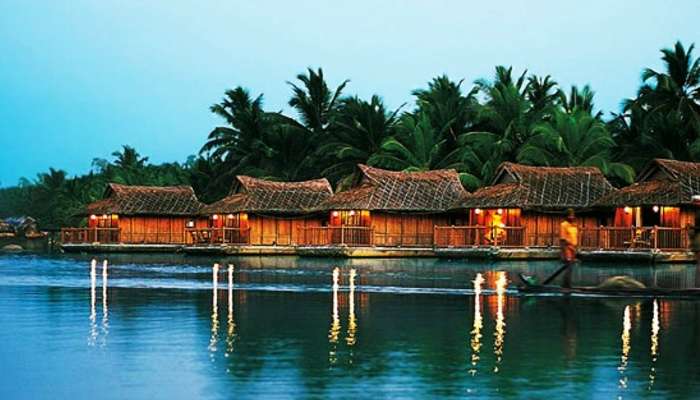 Located at the Poovar Beach, where backwater meets Arabian Ocean, this resort of a kind offers a variety of cottages to choose from. Disconnect from the world and spend quality time with your beloved engaging in the fabulous view and natural serenity. Relax with the resort's world-class ayurvedic massage. There are both male and female masseuses at the property.
Location: Pozhiyoor, Kerala
What's special: Ayurvedic massages
Tariff: INR 6,918 per person
15. Abad Harmonia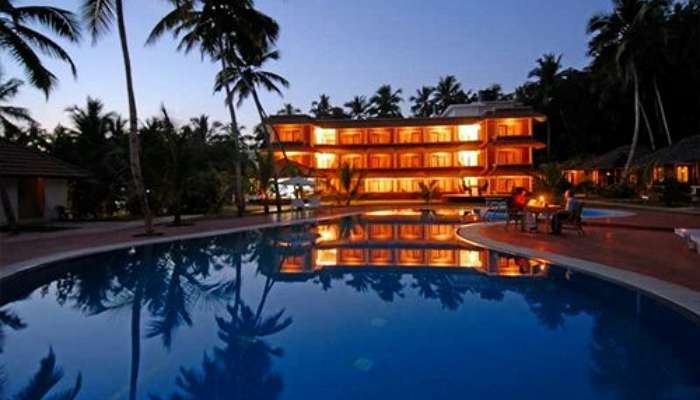 Located at a distance from the city, Abad Harmonia offers a comfortable and budget stay to its guests. Welcoming hosts, warm ambiance and a pool in the middle of the property surrounded by coconut trees gives it a refreshing feeling. Walk with your partner to the beach, indulge in the ayurvedic spa experience and sleep to the soft lullabies by the waves from the ocean.
Location: Kovalam, Kerala
What's special: Ayurvedic massages
Tariff: INR 4,697 per person
16. The Windflower Resort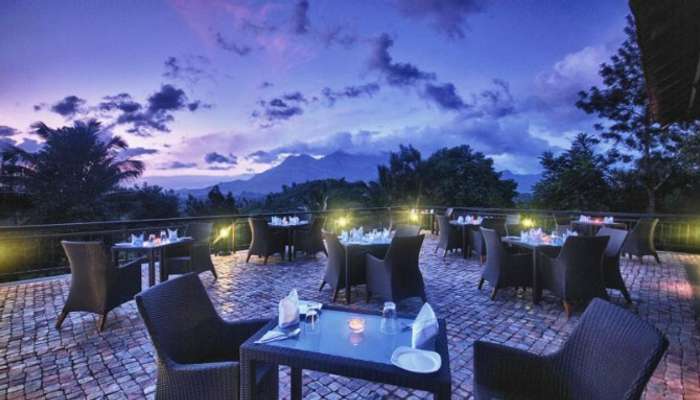 Image Source
Located in Vyrithi, Windflower Resort and Spa pampers you to the core. Experience the luxurious ayurvedic spa and savour the delicacies prepared by the world class chefs. Dwell in the serene nature and rejuvenate with your partner amidst the pleasant environment. The massages at this resort are out of the world and you will be treated very well by the staff.
Location: Achoornam, Kerala
What's special: Ayurvedic massages
Tariff: INR 9,584 per person
17. Niraamaya Retreats Surya Samudra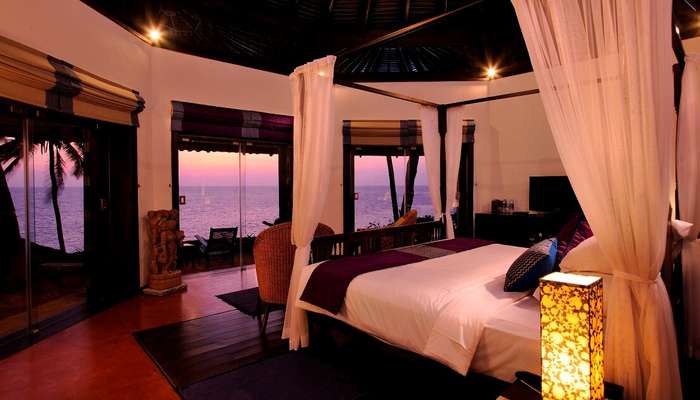 If you are looking for a stunning romantic gateway amidst the lush green ambiance of Mullur, then Niraamaya Retreat is a perfect choice for you. This gorgeous stay entices the visitors with its private beaches, spa sessions, and yoga routines. This resort gives you a chance to enjoy your private space. Located just 20 minutes from the mesmerizing Vizihinjam beach, the place is the hub for epicures as their in-house cafe, called Samsara serves scrumptious delicacies.  
Location: Po, Pulinkudi Rd, Mullur, Kerala 695521
What's special: Spa, live music, beach umbrellas, heated pool, and private beach area
Tariff: INR 14,935 – INR 37,622 
Suggested Stay: Any Room
18. The Athreya Ayurvedic Resort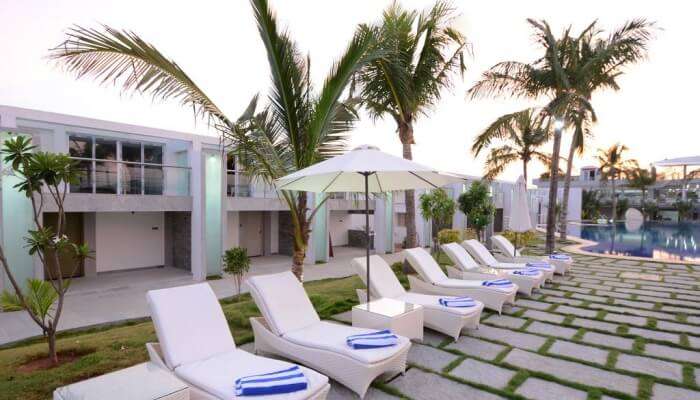 Athreya Ayurvedic Resort is located amidst the green paddy fields and beautiful gardens. The ethnic-style architecture of this property is something exclusive and lures visitors from across the country. They follow the traditional approaches of healthcare and their manner is healing is authentic and reviving. This accommodation exhibits an amazing amalgamation of traditional and modern living. 
Location: Pakkil.P.O, Pallom, Kottayam, Kerala 686012
What's special: Treatments, massage, yoga sessions, beauty services
Tariff: INR 13,446 – INR 18,640 
19. Sarovaram Ayurvedic Health Center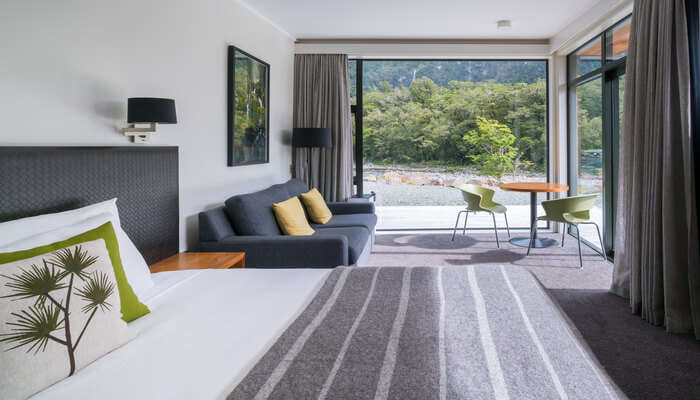 Sarovaram Ayurvedic Health Center in Killam is amongst the top ayurvedic resorts in Kerala. Located on the bank of Ashtamudi Lake, this beautiful accommodation features traditional cottages for the guests established amidst the tropical gardens of Kollam. Their healthcare center specializes in curing chronic issues including obesity, arthritis, asthma, and sleep disorders.    
Location: Kollam, Kerala
What's special: Massage center, fishing, kayaking, herbal garden, backwater cruise, Ayurveda center, etc.
Tariff: INR 5,605 
Suggested Stay: Executive cottages
20. Udayagiri Retreat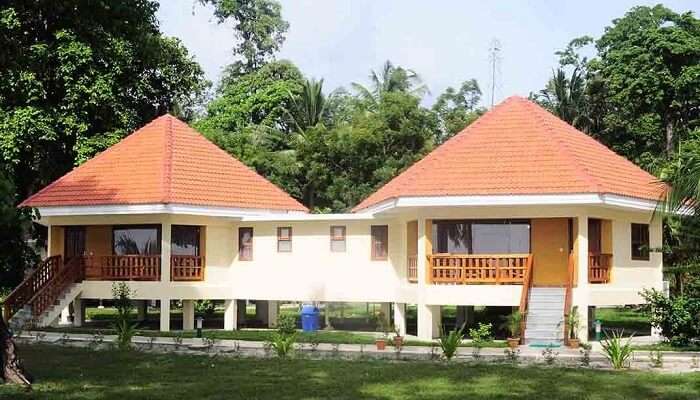 If you are looking for an Ayurveda retreat in Kerala India, then plan your stay here at Udayagiri Retreat in Wayanad. The mystic ambiance of this stay will surely make you fall in love with it. Located amidst the massive hills of Wayanad, you can witness rare species of birds, butterflies, and orchids here. One can also witness the mesmerizing views of sunset and sunrise here. 
Location: Udayagiri Cottage, Wayanad, Tholpetty, Kerala 670646
What's special: Spa, campfire, ayurvedic therapies, and herbal beauty treatment
Tariff: INR 2,700 
21. Nikki's Nest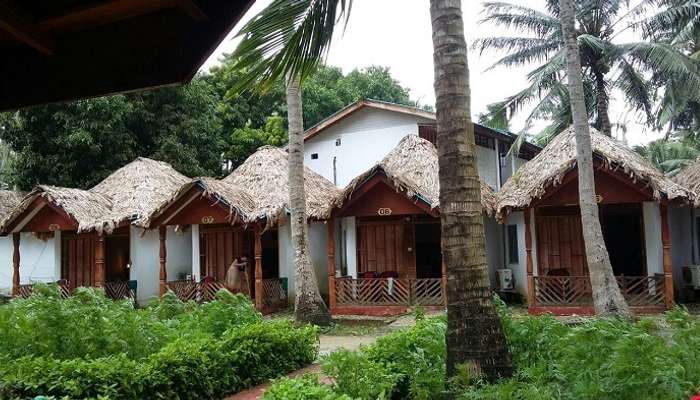 Nikki's Nest is a cozy ashram overlooking the sea and exhibiting a stunning environment. This beautiful resort is located nearly 18 km from Trivandrum and comprises 47 rooms each reflecting a unique architecture. You can enjoy having leisure time here by admiring the panoramic view of the Arabian Coastline.   
Location: Azhimala Temple Road, Thiruvananthapuram, Kerala 695521
What's special: Cultural programs, salon, yoga & ayurvedic center
Tariff: INR 9,885 – INR 15,859
Further Read: 10 Best Hotels In Thrissur For Both Budget And Luxury Travelers
These Ayurveda resorts in Kerala are fascinating and enchanting. Pick your dates, pack all that you can, take a few notes from this list, plan your vacation in Kerala with Travel Triangle and leave right away! Let us know your pick from the lot.
---
Frequently Asked Questions About Ayurveda In Kerala
Q. Did Ayurveda originate in Kerala?
A. According to the studies, Ayurveda originated in India almost 5,000 years back and Lord Parashuram assigned 8 branches of Ayurveda to 8 families of Brahmins who were brought to Kerala by Lard Parashuram himself. Currently, the state is a hub of Ayurveda and features interesting Ayurveda resorts. 
Q. Who is the father of Ayurveda?
A. Charaka was an Ayurveda Physician during BC 300. He is called the father of Ayurveda due to his contributions to the field. 
Comments
comments