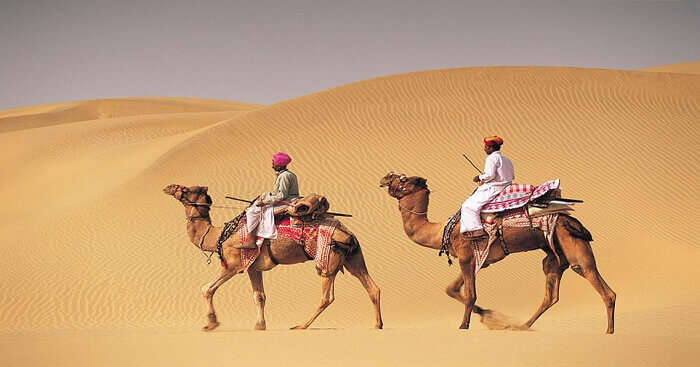 A culturally-rich town in Ajmer, Rajasthan – Pushkar is famous for its history, culture, legends, adventures, ancient temples, enchanting streets, noisy bazaars and beautiful ghats. The best things to do in Pushkar are extremely varied which makes it a preferred getaway for people with varied tastes, so that you don't have to think about what to do in Pushkar on your trip. From hot air ballooning to jeep safari, from trinket shopping to tasting local food, there's so much to do and experience in Pushkar. Here's are the top 10 things to do in Pushkar that let you plan your days in this vibrant town.
Adventure activities in Pushkar
1. A thrilling jeep safari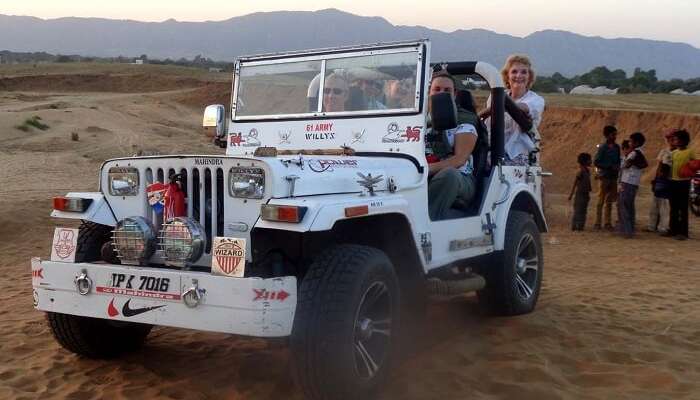 There is never a dull moment for adventure buffs in Pushkar. Among many activities, enjoying thrilling jeep safari is one of the best things to do in Pushkar. Driving through the desert and seeing remote villages, age old forts, palaces, and temples in and around Pushkar is a favourite activity among adventure enthusiasts and photography buffs. Pushkar Camel Safari is one of the largest safari organizers in Pushkar; they take you to offbeat trails and rugged paths that let you experience Rajastahn in its true sense. Jeep safaris are usually 3-6 hours long, and at the end of of the day you get to jump into the crystal clear and cool water of a small waterfall amidst trees.
2. A bumpy and exciting camel safari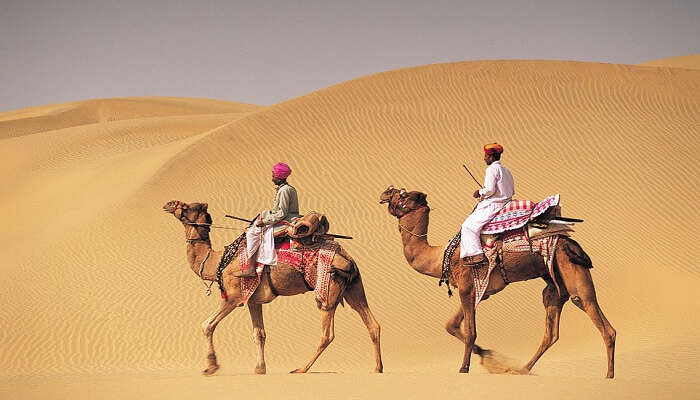 Taking a camel safari and exploring the dune is not only one of the most exciting things to do in Pushkar desert, but also among the most exciting things to do in Rajasthan. Camel safari, Pushkar takes you on a bumpy ride through the arid topography and desert hamlets. The camels travel up to the dunes, where the guests can witness a stunning sunset over the dunes. From overnight camel safari to sunset/sunrise camel safari, there's so much you can try in this little town.
3. Get ready for desert camping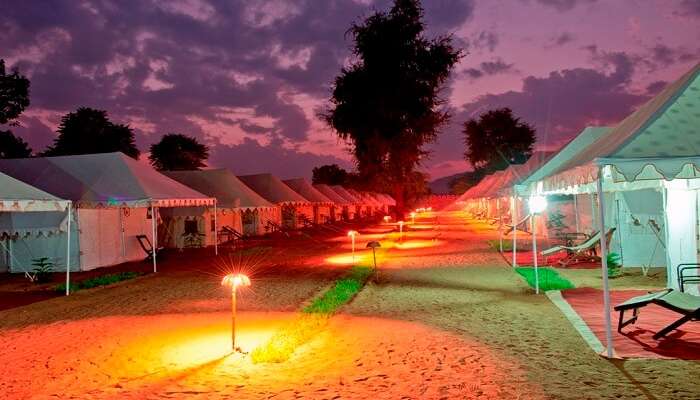 Staying overnight in a desert is another one of popular things to do in Pushkar. Camping in the desert while enjoying the musical performances post sunset, and sumptuous local dinner is something you must try. If you're someone who loves luxury, then there are luxury camps in Pushkar that offer a unique experience to each traveler.
4. Ride in a hot air balloon in the skies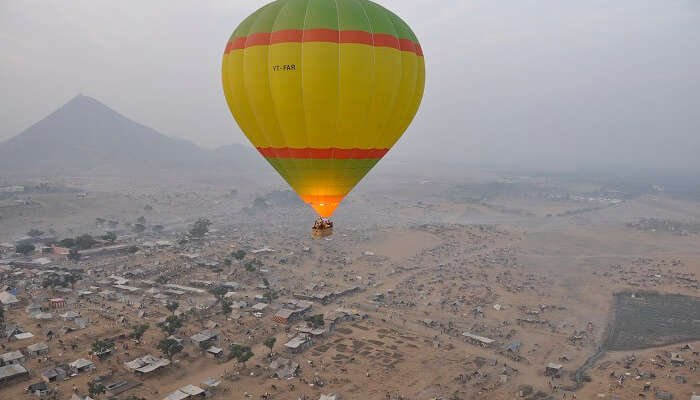 If your travel dates to Pushkar coincide with the Pushkar camel fair or Pushkar camel festival , which begins on 23rd October and ends on 4th November, then you must experience a hot air balloon ride. It is probably one of the most adventurous and exciting things to do in Pushkar. Enjoying the stunning bird's eye view of the Pushkar city, temples, forts, and lake for over an hour is certainly an exquisite experience.
Hot air balloon ride charges: INR 12,00/person
Must Read: 15 Festivals In November In India That Call For An Early Winter Vacay
5. Trekking to Ratnagiri Hill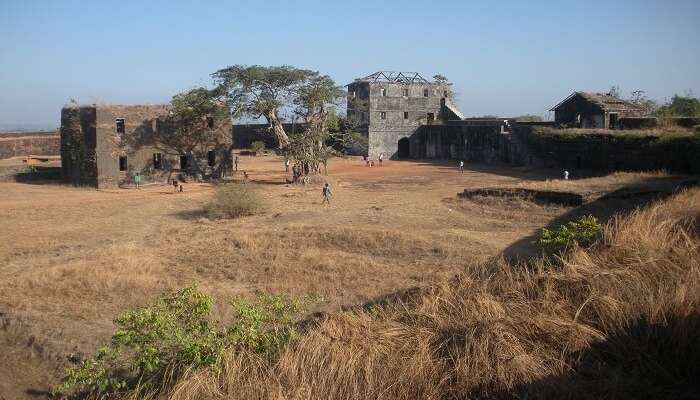 If you are interested in hiking, never miss the opportunity to climb up one of the best places to visit in Pushkar: Ratnagiri hill in Pushkar. The best time for this 1.5 km long trek is during evening hours, so that one can enjoy photogenic sunset views. Savitri Temple, which is dedicated to Lord Brahma's wife is located atop and offers a breathtaking view of the entire city and a lake nearby.
Sightseeing and local tours in Pushkar
6. Attend evening aarti at Varaha ghat and visit Brahma temple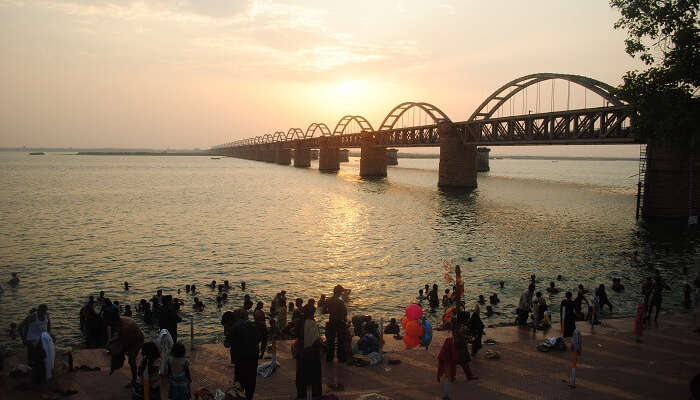 The holy lake of Pushkar is encircled by more than 400 temples, including country's only Brahma temple. Brahma temple, Pushkar is one of the best places to visit in Rajasthan and among the most photogenic temples in the town. Attending evening aarti at Varah ghat is also an experience you wouldn't want to miss. You can see numerous illuminated earthen lamps, hear the sound of ringing bells, and holy chants during the aarti.
Opening hours: Summer: 7 Pm and Winter: 5: 30 Pm
7. Go handicrafts shopping in the bazaars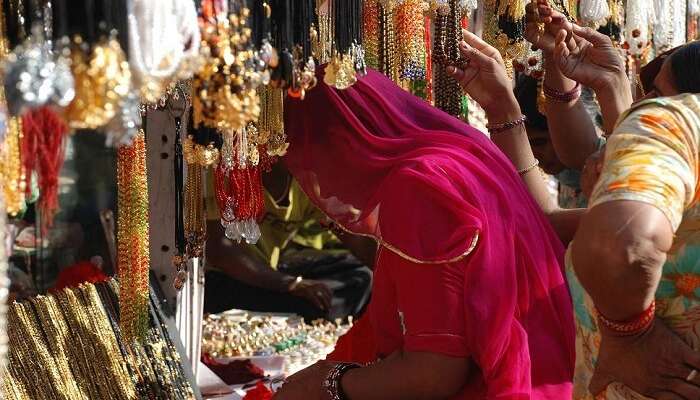 Do you love collecting souvenirs or simply love shopping? Rajasthan is a paradise for shopaholics and Pushkar is no exception. Indulging in a hearty shopping experience is one of the best things to do in Pushkar. Brush up your bargaining skills while you explore the sadar bazaar and sharafa market in Pushkar to pick amazing Rajasthani souvenirs, puppets, textiles, home décor, colourful dresses, jootis, bags, Rajasthani jewelleries, and camel leather products.
Must Read: Shopping In Rajasthan: 10 Colorful Markets You Must Visit
8. Try the local street food and unique restaurants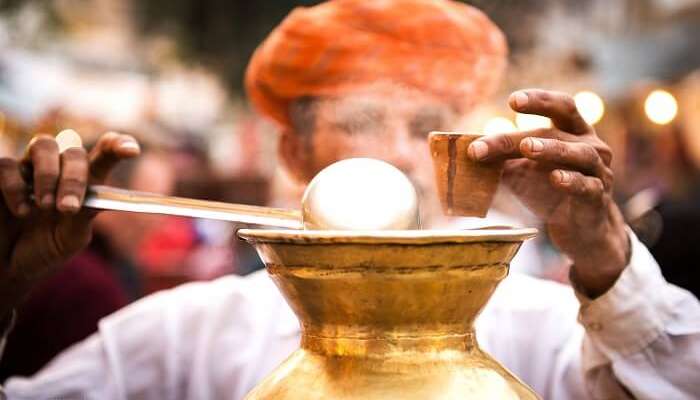 Food connoisseurs are tempted to visit Pushkar and enjoy a sumptuous food trail. From street shops to restaurants, the holy city of Pushkar has something for every foodie. Go on a food trail and enjoy Rajasthani sweets, Namkeen, and special masala tea.
Some of the best restaurants in Pushkar you must explore include:
Out of the Blue – Never miss their sumptuous momos and noodles
Om Shiva Garden restaurant – Try their firewood pizza and expresso coffee
Sunset Café – Enjoy fresh products from German bakery while you enjoy stunning sunset views
Cultural activities in Pushkar
9. Taking Nagara lessons at Gangaur ghat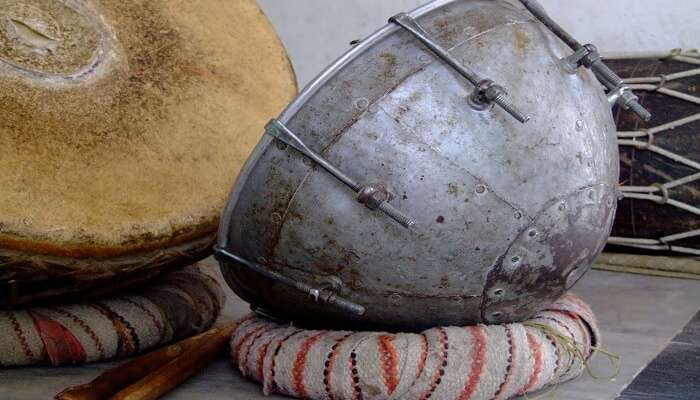 While roaming around Gangaur ghat, one may find celebrated drummers offering drumming lessons. You may be lucky enough to learn Nagara – the local drum, from coke studio drummer Nathu Lal Solanki. If you're a lover of music, then this is among the best things to do in Pushkar for you.
Suggested Read: Rajasthan Trip: The Royal Twist To A Normal Tale
10. Watch live Kalbelia dance performance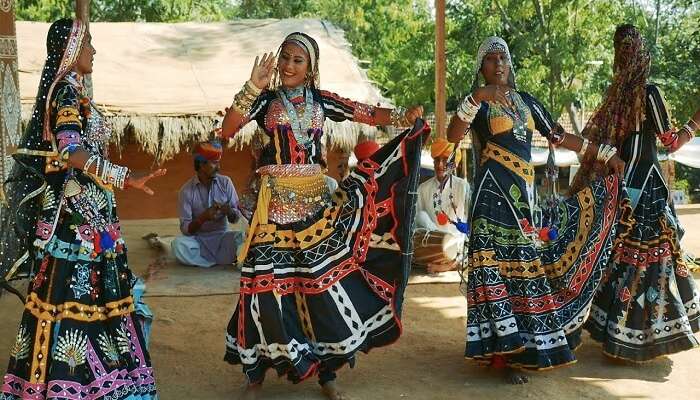 Kalbelia is a nomadic tribe of Rajasthan, who were snake charmers, until the profession was declared illegal. They are now known as tribal dancers in Rajasthan. The traditional dazzling black attire and serpentine dance moves are sure to mesmerise you. Luxury hotels and havelis arrange Kalbelia dance performances for their guests, and one can also book them directly for performances around the dunes.
Are you inspired by the bright colours and beautiful old streets of Pushkar? Book a customized Rajasthan tour package to explore the explored.
Further Read: 9 Scintillating Places To Visit In Pushkar
Comments
comments