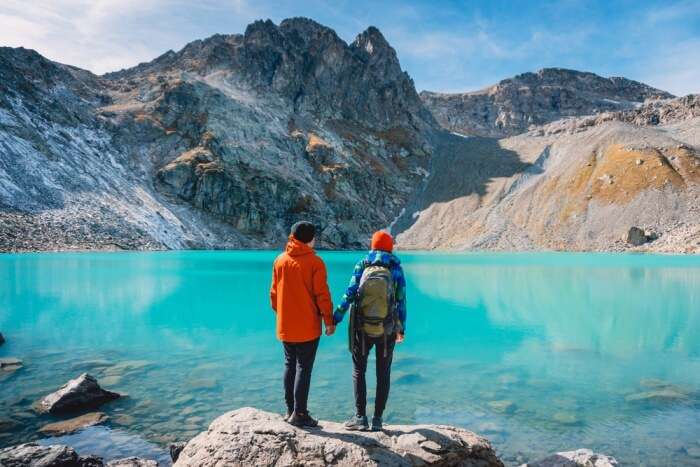 If pristine wilderness, secluded escapades, and a cabin in the woods sound like a place where you would want to spend some quality time with your spouse, then we have a winner and it's Alaska. 'The Great Land' in North America, has umpteen reasons why you should spend your honeymoon in Alaska.

Alaska is the best place to unwind and reconnect with your spouse after a wedding frenzy. Since Alaska is the largest state in the USA,  it can be a little mind-boggling to set a perfect itinerary for a honeymoon in Alaska. But worry not for these ultimate Alaska honeymoon ideas will help you plan a perfect honeymoon for you.
About Honeymoon In Alaska

Alaska provides you with one-of-a-kind honeymoon experience offering you all the thrill and seclusion you seek. What doesn't it have? Thrilling adventures, breathtaking scenery, romantic lodges, and seclusion. Alaska checks all the boxes a couple desires from their honeymoon.
The spectacular scenery and unique wildlife in the backcountry provide a plenty of opportunities to honeymooners for private adventures and secluded moments. Watch the stellar Northern Lights while you cuddle up with your bae in the wood cabins or have romantic moments on a honeymoon cruise surrounded by snowy mountains and icebergs. It is also highly likely a wild bear may come third-wheeling with you. LOL!
Weather In Alaska
Come prepared for all kinds of weather situations in Alaska. Alaska has a reputation for harsh winters. The temperature varies from region to region, North Alaska being the coldest region of all. Check the weather conditions carefully before you plan your honeymoon in Alaska.
Summer: The region enjoys a fair share of the sun in the months of May-September. The days are warm with an average temperature of around 20° C while the nights get cold. Expect rainfall at any time of the day.
Winter: Winters are severely cold in Alaska with temperatures plummeting to as low as -50° Celsius. Most of the regions become inaccessible during the winter season due to heavy snowfall.
Best Time To Visit Alaska
There are two best seasons to visit Alaska depending upon the kind of experience you seek from your honeymoon in Alaska.
May-September: If you are planning a honeymoon in Alaska, summer is an appropriate time to indulge in an array of adventure activities. The extended daylight hours give you the advantage to explore the wilderness of the region. The national parks and hiking trails become accessible. You can partake in activities like fishing and cruise around glaciers.
November-March: If you want a honeymoon bundled up and cold, winter is the best time. Enjoy the Northern lights dancing out of your window while you snuggle with your spouse in the cabin or go skiing on the inviting snowy mountain slopes. For a winter honeymoon in Alaska, October is the best time.
Ideal duration For Honeymoon In Alaska
Ideally, 7 to 10 days are sufficient to explore the wilderness and wonders of nature in the 'The Great Land'. Though it all comes down to the kind of experience you want to have and you can plan your itinerary accordingly.
Honeymoon In Alaska: Places To Visit
The outbacks of Alaska have no dearth of places to visit. And, each one of them is as enchanting as the other one. Put all these places to visit in Alaska on you list.
1. Denali National Park And Reserve

Centered on the highest mountain in North America, Denali National Park in Alaska is a vast hub of wilderness and adventure. Located between Anchorage and Fairbanks, this park is home to wild bears, wolves, reindeers, and about 167 variety of birds. If you are an adventurous couple, you will have a variety of activities to do here together. Go hiking or biking on the enthralling trails in the park. Camping in the woods will give you plenty of time to bond. Needless to say, picturesque views will blow your mind away.
Entry Fee: INR 650 per person
Timings: 8 AM – 5 PM (open only in summer)
How to reach: Denali National Park has a rail connectivity from both Anchorage and Fairbanks. It is also well-connected through roads.
Suggested: Since you cannot cover the largest park in America in a day, it is suggested that you spend a night or two to immerse in the experiences. The park has a cabin and hotel to stay in.
Must Read: 10 Best Places To Visit In Alaska That Offer Once-In-A-Lifetime Experience
---
Planning your honeymoon but confused about where to go? These honeymoon stories help you find your best honeymoon trip ever!
Real honeymooners. Real stays. Real opinions to help you make the right choice.
---
2. Mendenhall Glacier And Ice Caves

There are two main reasons why you should visit these caves. One, there is nowhere like this beautiful landscape where water runs over rocks under the blue ceiling. Second, this place may not exist after a few years. Located in Mendenhall Valley near Juneau, the 'otherworldly' ice caves are the beautiful by-product of receding Mendenhall Glacier. Though you may have to take a strenuous trek to reach the caves, you can get up close and personal with the mighty glacier and the lake from the visitation center. The 13-mile ribbon of ice fitted in a surreal backdrop is one of the popular Alaska honeymoon destinations.
Entry Fee: INR 325 per person
Timings: 6 AM 12 AM
How to reach: The glacier is 20 km away from Juneau and can be reached either through road or ferry. The shuttle costs $20 per person for a round trip. You can also take a transit bus which is a much cheaper options
Suggested: Partake in Rafting and Kayaking activities in the Mendenhall Glacial Lake if you want to float among the bergs.
3. Kenai Lake

The turquoise blue zig-zag lake will make you fall in love with nature and each other all over again. Kenai Lake is a quaint lake perfect for honeymooners to spend peaceful, quality time with each other. Alaska's most famous fishing lake, it is also a popular destination for kayakers and rafters. Spend a night or two in one of the lodges along the shore of the lake and wake up to the majestic views of nature.
How to reach: Kenai Lake is easily accessible by road. It takes a 2-hour drive from Anchorage to reach the lake.
Suggested: Go fresh-water fishing or kayaking in the crystal clear waters of the lake.
Suggested Read: Go Glacier Kayaking In Canada & Live Your Craziest Fantasy Ever!
Romantic Things To Do On Honeymoon In Alaska
Wondering what to do on your honeymoon in Alaska. Have fun doing all these activities together in the wilderness of Alaska
1. Dog Sledding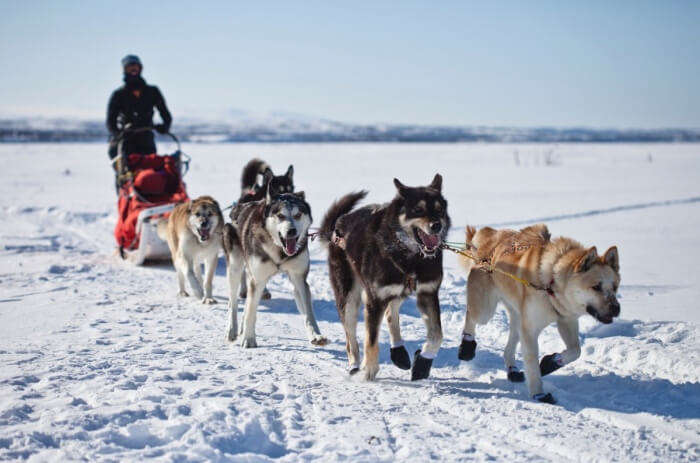 There is a myriad of activities to explore the wilderness in the backcountry. One of which is dog sledding. Imagine speeding through backcountry sitting on a sled pulled by powerful Alaskan dogs. Come, be a part of great Alaska tradition. Not only this, you can also spend time with the furry friends in the kennel. Hop on the ride of your life and survey the hanging glaciers that surround you.
Cost: INR 34,385 for a ride
Suggested Read: 10 Extraordinary Things To Do In Alaska That Will Make You Crave For An Adventure
2.Honeymoon Cruise In Alaska

Cruising on the Alaska waters is not only the best way to enjoy the dramatic scenery but also a perfect way to bloom your romance on your honeymoon. Imitate the famous 'Rose and Jack' pose from the Titanic movie while you admire the landscape from. If you are lucky, you will also get to witness the sea animals like whales and seals frolicking in the water.
Cost: Different cruises have different prices for a particular time duration. You might want to check before you book a day cruise. Though a 3-4 hour cruise starts from INR 5,200 and can go up to INR 16,250.
Suggested Read: Alaska Cruise Tours: The Most Scenic Cruise To Tame The Pacific Ocean
3. Helicopter Tour

Get the majestic views of the glaciers and massive Mckinley Peak in Denali National Park while soaring hundreds of feet above in the sky. If you already weren't awestruck with the landscapes of Alaska, observing the rapid shifts in nature from up in the sky will make your jaw drop. Flying in Alaska is a way of living, but for tourists, it is truly a grand experience. It won't be an understatement if it is called a once-in-a-lifetime experience.
Cost: INR 17,550 for one-hour flight
Suggested Read: Germany Honeymoon Guide: Where To Go, What To Do, When To Go
Honeymoon In Alaska: Must-Have Experiences
Alaska is famous for below listed experiences. Do not come back without having these experiences in Alaska on your honeymoon. We repeat 'Do not come back'!
1. Experience The Northern lights

Alaska is a few of the places on earth where you can witness the surreal phenomenon of Aurora borealis when the whole sky lights up with green lights. If you are planning a honeymoon in Alaska during winters, you ought not to miss watching the Northern Lights. You can either book a cabin in the village of Codfoot or join a Northern Lights Honeymoon Tour, Alaska wherein you will be transferred to Coldfoot Village from your hotel. It will be the most romantic experience of your life.
Where: Northern Lights are best seen in Fairbanks, Alaska.
Best time: October – April
Suggested Read: This Sled Hotel In Finland Lets You Move Around For The Best Views Of Northern Lights!
2. Stay In Cabin In The woods

Ditch the luxurious resorts while you are on your honeymoon in Alaska. The best way to experience the wilderness of the place is when you stay at a cabin in the woods. Wake up to the spectacular views of nature and verdant greenery of Alaska forests. On top of it all, living in a cabin will provide you with all the seclusion you need as a couple. Keep in mind that these cabins are only available in summer from May to September.
Where to stay: There are a number of honeymoon cabins in Alaska all over the state where you may wish to stay depending upon the kind of experience and location you like.
Best time: May-September
Suggested Read: The Sheldon Chalet: New Luxury Resort Amidst The Challenging Alaskan Glacier
Alaska Honeymoon Resorts
Here is an eclectic pick of resorts in Alaska so you can take your pick of staying experience in Alaska.
1. Chena Hot Springs Resort

Designed beautifully in traditional Alaskan style, Chena Hot Springs Resort promises you a luxurious and comfortable stay. The century-old rustic resort has a heated indoor pool, an ice-museum, a massage parlor, and even an on-site hot spring. The location of the resort couldn't be more perfect. Watch the northern lightings right from the window. If this isn't enough, ride a dog sled during the winter months for an exciting Alaskan adventure.
Location: 56.5 Chena Hot Springs Road, Fairbanks, AK 99712, USA
Tariff/Night: INR 9,973 – 20,350
Ratings: 4.2/5
Website | Review
2. Mckinley Chalet Resort

Combine luxury and breathtaking views of nature at Mckinley Chalet Resort. The charming timber resort is located just 3 miles away from Denali National Park. So, if you wish to stay in the wilderness yet not in cabins, this resort makes for a cozy and comfortable place to spend the night. Rejoice in the lip-smacking cuisines served in their in-house sophisticated restaurants.
Location: Mile 238.9 Parks Hwy, Denali National Park and Preserve, AK 99755, USA
Tariff/Night: INR 11,658 – 29,447
Ratings: 4.1/5
Website | Review
Suggested Read: 8 Best Resorts In Alaska To Unwind At Your Own Pace Amidst Nature In 2022!
3. Seward Resort

Whether you want to stay in a lodge, yurt, motel room, or an RV, Seward Resort offers you all kinds of accommodation to suit every mood and persona. The pocket-friendly accommodation offers comfortable rooms equipped with all the modern amenities for a perfect staycation. It is the best place to assimilate into the Alaskan lifestyle.
Location: 2305 Dimond Blvd, Seward, AK 99664, USA
Ratings: 4.5/5
Website | Review
Suggested Read: China Honeymoon Guide: Witness All The Shades Of Nature At Once In The Most Romantic Way!
Honeymoon In Alaska: Where To Eat
Wondering where to eat and dine on your honeymoon in Alaska? Here is a list of famous restaurants where you can take your spouse out on a romantic date.
1. The Saltry

Set in the picturesque settings of Halibut Cove, The Saltry is renowned for its fresh seafood and salubrious salad preparations. The other unique thing about the restaurant is that it is only accessible through a boat. So, of course, you will be eating at the waterfront. Try their fresh halibut and salmon dishes.
Address: 1 W Ismilof, Halibut Cove, AK 99603
Timings: 1 PM – 9 PM
Price for two: INR 4,000
Website | Review
Suggested Read: Ireland Honeymoon Guide: All You Need To Know For Celebrating Your Special Vacay The Irish Way
2. The Crow's Nest Restaurant

The only four-diamond fine-dining restaurant in Anchorage is known for its panache and rich hospitality. A menu is influenced by a blend of French and American cuisines, you can also see the reflection of local resources in the dishes. Order a bottle of an expensive wine from their 10,000 bottles wine cellar for your candle-lit dinner.
Address: 939 W 5th Ave, Anchorage, AK 99501, USA
Timings: 5 PM – 9 PM
Price for two: INR 3,575
Website | Review
Suggested Read: 10 Best Restaurants In Boston That Promise A Gluttony Affair
3. Glacier Brewhouse

As the name suggests, Glacier Brewhouse is a microbrewery which is famous for its crafts beers. A local's favorite in Anchorage, it is a great place to chug beers and soak up city's energy. The only place to have Alderwood-fired rotisserie, they serve a full array of savory dishes on their menu.
Address: 737 W. 5th Avenue, Suite 110 Anchorage, AK 99501
Timings: 4 PM – 11 PM
Price for two: INR 4,000
Website | Review
Suggested Read: 8 Best Restaurants In Miami To Treat The Gastronome In You
Getting Around In Alaska

Alaska is a wide state which is made up of many islands and fjords. Though there is a proper road, rail, and ferry network, some of the remote regions are not easily accessible. There are various ways you can get around in Alaska depending upon the accessibility of the region.
Airline
Alaska has an in-state airline which offers transport to almost 20 destinations in Alaska. This includes most sought-after destinations like Sitka, Nome, Aleutians, North Oil Company town of Prudhoe Bay. Charter planes and helicopters are also available on hourly-basis for more remote regions in the state.
Car Rental
You can rent a car or RV (Recreational Vehicle) in Alaska. Before you do that, make sure the place you are heading to has a proper road network. It is a great option for sightseeing in the town you are staying but it gets expensive if you consider this to get from one town to another.
Cruise
It is the most popular way in Alaska to get around the small islands and fjords in the state. However, it is mainly operational in the summer season from late April to September. Not only it is a great way to get around places in Alaska, but also an experience in itself. There is a motley of big ships and small cruises (inside passage and ocean) which will take you on a scenic ride around the state.
Ferry
Alaska Marine Highway System is very well organized and have daily shuttles which will connect you with the neighboring towns and communities. You can check the schedule on their official website.
Train
Even though Alaska rail network has a limited scope, it is still a great opportunity to enjoy the scenic beauty of the state. There are two operational rail routes; one that connects Anchorage with Seward, and another one connects White Pass to Yukon Route Railroad.
Honeymoon In Alaska Essentials
Locals have an advice for all the tourists who come to visit Alaska – 'Stay casual, dress in layers, and get proper footwear'. The weather in Alaska is nippy even in the summers. Also, if you are venturing out into the wild, you will need a whole set of different clothes. Here is all you should pack to have a stress-free honeymoon in Alaska:
Clothing And Footwear
In summer
Thermal wear
Fleece Jacket
Water-resistant bomber jackets
Cotton T-shirts
Nylon pants (for water and outdoor activities)
Swimsuit for hot-tub or sauna
Gloves
Woolen Cap
Lightweight, waterproof hiking shoes with good traction
In winter
Waterproof snow pants
Down Jacket
Balaclava
Winter boots
Mittens
Miscellaneous
Sunscreen
Sunglasses
Bug spray
First-aid kit
BinocularsUmbrella/Raincoat
Tech stuff
Mobile charger and power converters
USB cable and extra SD cards
Camera and charging cord
Headphones and earphones
Power bank
Documents & IDs
Passport and visa related details
Photo identification proofs like driving license
Credit cards
Things To Keep In Mind
Here are few important points you should keep in mind before you head for your honeymoon in Alaska:
Getting around in Alaska on a private vehicle might be a tad bit expensive. Make use of local transport wherever possible.
The best way to have an enjoyable experience in Alaska is by following a local itinerary. Locals know more about this place than anyone.
It gets really cold in Alaska, even in summers. So, layering is essential.
Please do not forget to carry a bug-spray since you will be in the outback most of the time.
Do not venture out in the wild alone. Please take a guide with you at all times. It is easy to lose your way in the Alaska forests.
It is highly likely to have an encounter with a bear. So, keep a pepper-spray handy.
Budget For Honeymoon In Alaska
Planning a honeymoon in Alaska can be a wee bit expensive. The budget below includes all the necessities like accommodation, meals, local transfers, sightseeing, and miscellaneous expenses.
Here is per day expenditure of a couple on honeymoon in Alaska:



Flights (Round Trip): INR 2,07,000 approx.
Avg. Accommodation: INR 8,600 approx. per night (on double-sharing basis)
Meals (Including Alcohol): INR 8,000 approx. (Breakfast, Lunch, and Dinner)
Local Transfers: INR 4,000 approx. (Ferry rides are expensive)
Sightseeing: INR 1,400 approx.
Miscellaneous: INR 4,000 approx. (For shopping, tickets, movies, etc.)
Please Note:
Airfare is not included in the budget since the rates can differ depending on the origin of the destination, time of booking, and the choice of travelers.
The prices mentioned above are exclusive of taxes.
An estimate has been mentioned above in all the prices that may depend on the time of booking.
Flight rates mentioned above have been derived on a booking made 60 days prior to departure.
How To Reach Alaska
There are no direct flights between India and Alaska. However, Alaska is well connected to many states in America by air and water routes. What you can do is take a connecting flight from the states in America to Anchorage Airport in Alaska. Seattle and Alaska have the least air travel time of 3.2 hours. You can also take a cruise or a ferry from US port cities to Alaska.
That's all, folks!
Further Read: The Wondrous Mendenhall Ice Caves Of Alaska
Alaska is a great option for honeymooners who want to ditch the conventional honeymoon destinations. And now you know how to make it perfect for you and your partner in Alaska. So, plan a honeymoon vacation to Alaska and have the most amazing experiences with the love of your life. 
Disclaimer: TravelTriangle claims no credit for images featured on our blog site unless otherwise noted. All visual content is copyrighted to its respectful owners. We try to link back to original sources whenever possible. If you own the rights to any of the images, and do not wish them to appear on TravelTriangle, please contact us and they will be promptly removed. We believe in providing proper attribution to the original author, artist or photographer.
Please Note: Any information published by TravelTriangle in any form of content is not intended to be a substitute for any kind of medical advice, and one must not take any action before consulting a professional medical expert of their own choice.
Frequently Asked Questions About Honeymoon In Alaska
Is Alaska good for honeymoon?
Yes, Alaska is a perfect destination for honeymoon. However, it is not the tropical paradise but the place is known for its exclusive experiences that attracts honeymooners from across the world to this amazing place.
How much does it cost to rent a cabin in Alaska?
Cabins in Alaska are offered by numerous public agencies. It might cost you INR 3000-4000 per day depending on the time you are planning your visit.
Can you see the northern lights in Alaska?
Yes, The Interior and Far North areas in Alaska are considered to be the best for viewing northern lights. Whereas you can spot aurora anywhere in Alaska.
Where should I stay in Alaska?
The following are the best places to stay in Alaska:
1. Orca Island Cabins
2. Kenai Fjords Wilderness Lodge
3. Brooks Lodge
4. Alaska's Stonewood Lodge
5. Kantishna Roadhouse Denali Background Lodge
6. Alaska Garden Gate
7. Copper Whale Inn
Can you see the Northern Lights from Anchorage Alaska?
Yes, you can see the northern lights from Anchorage in Alaska.
Which is the best hotel in Alaska for couples?
The following are the best hotels in Alaska for couples:
1. The Lodge Denali Park Village Hotel
2. Top of the World Hotel
3. Prospector Hotel
4. The Hotel Alyeska
5. Hotel Captain Cook
---
Looking To Book Your Honeymoon Package?
Book memorable honeymoon on TravelTriangle with 650+ verified travel agents for 65+ domestic and international destinations.
---
People Also Read
Honeymoon In Los Angeles Honeymoon In Orlando Honeymoon In Iceland