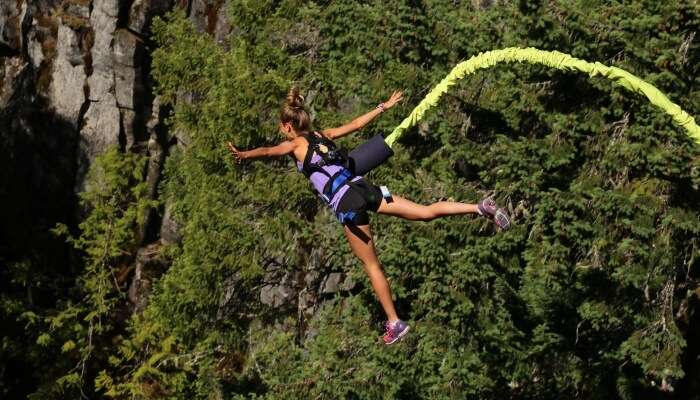 Goa isn't just about alluring seashores and dazzling beaches. Goa today is fast becoming one of the top destinations for adventure sports in India. Bungee jumping is one sport that can give an extremely high adrenaline rush and goosebumps to even a highly seasoned adventure sports enthusiast. Bungee jumping in Goa is the latest entry to the list of stunning high-end adventure sports that one can engage in. What sets apart the electrifying experience of Bungee jumping in Goa is the serenity and picturesque beauty of the impressive locations of Bungee jumping spots. Most of them are near the beach fronts and are simply unmatchable with the experience one can have in any other city. Here is your guide to this high adrenaline rushing adventure. Don't miss the thrills of bungee jumping on your next trip to Goa.
Top 5 Spots For Bungee Jumping In Goa
Whether you are an adventure buff, or just want to explore these places. Here is the curated list of top spots for Bungee Jumping in Goa – for a rousing, exhilarating and safe jumping experience.
1. Jumpin Heights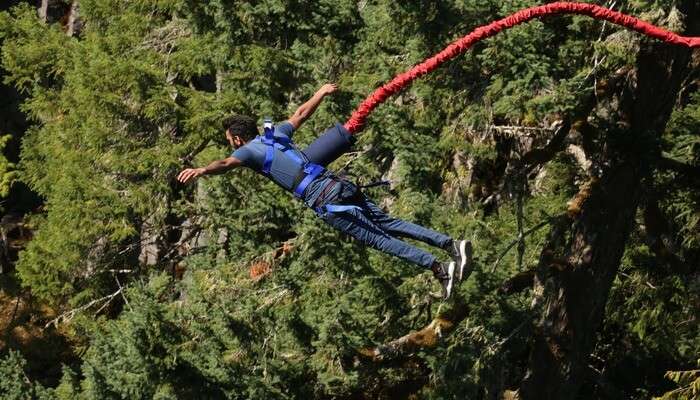 Jumpin Heights is one of the most popular names for Bungee Jumping in India. Made popular by its titillating Bungee Jumping spot in Rishikesh – its spot in Goa is it's second in the country. Situated in the exquisite peaceful surroundings of Mayem lake – this is a perfect place to experience a spine-tingling bungee adventure.
What differentiates Jumpin Heights from others is its highly experienced trainers – who have trained internationally from New Zealand. This is the one bungee jumping spot in Goa that is supported by Goa Tourism Development Corporation (GTDC). Run by ex-army men this bungee spot is accredited by the Government of Goa. Situated at a serene beauteous small village in north Goa – the place is surrounded by a dense forest cover.
Location : Mayem Lake, Bicholim district
Bungee Jump Height:55 Mtrs
Timings: 9 AM to 6 PM; Closed on Tuesdays
Price: INR 4100/- (excluding GST)
Contact : jumpinheights.com/goa | +91-9810995172
7 Best Places For Camping In Goa For An Enchanting And Rejuvenating Experience
2. Gravity Zone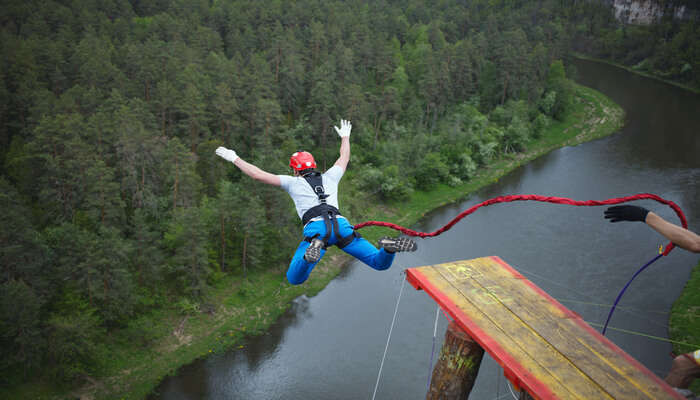 This bungee zone is situated at a very picturesque location near the alluring beauty of Anjuna beach. The best part of this bungee zone is its low height which is only 25 meters. This makes it an ideal place for new adventurers, kids or if you are a newbie for this sport and want to try it with lower heights. This is one of the oldest bungee spots in Goa. Situated at around ten kilometres from Calangute beach this place offers a splendid bungee jumping experience. This spot will also give you a reason to experience the stirring intriguing beauty of pristine Anjuna village. It is definitely one of the best spots for bungee jumping in Goa.
Location: Gravity Zone, Anjuna Village, Goa 403509, Landmark- Anjuna Beach.
Bungee Jump Height: 25 Meters
Bungee Jumping Cost: INR 500–4500.
Timings: 9 AM to 6 PM.
Contact: gravityzone@usa.net
3. Sea Water Sports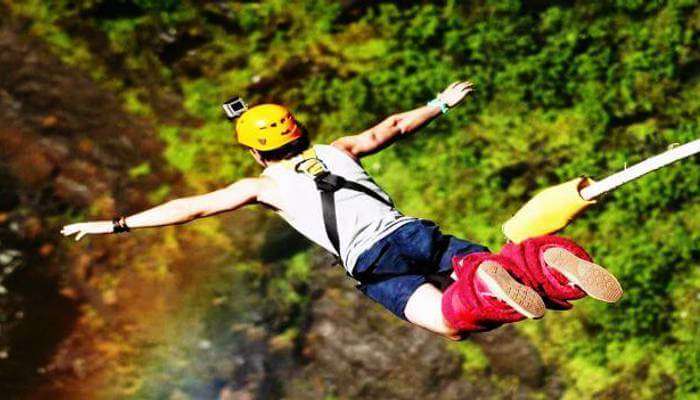 Sea Water Sports at Goa offers one of the best places to try your first ever bungee jumping experience. This is an extremely safe option with the venue having a number of very experienced and trained instructors who make you feel at ease and would keep guiding you. One of the best part about this venue is its accreditation with STANZ (Standard of Australia New Zealand).
The best part of this venue is the availability of different packages to suit one needs – there are custom packages if you are travelling with your family, with your friends, for kids and for corporate. These packages usually chilled beer to relax you after your jump along with delicious lunch or breakfast. Unlimited soft drinks are complimentary here.
Location: Flysports Adventure Park, Vadawal, Latambarcem, Goa 403503
Bungee Jump Height: Options of 50, 60 or 70 meters
Bungee Jumping Cost: Approx 2500/- for kids. And approx INR 3700/- for adults. Price may vary according to the month/day/time of your visit
Timings: 9 AM to 6 PM
Contact : https://www.seawatersports.com/goa | +91 – 8291917770
Trekking In Goa: 14 Trails That Are Ideal For An Adventurous Experience
---
Planning your holiday in Goa but confused about what to do? These Goa travel stories help you find your best trip ever!
---
4. Goa Bungy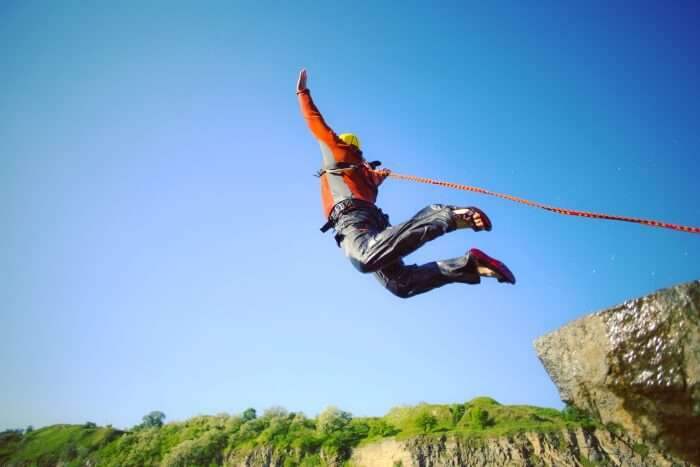 This is one of the latest entries in bungee jumping in Goa. This spot is located near Anjuna beach in delightful surroundings. This spot offers a water dipping bungee jumping experience and is probably the highest water dipping bungee in this region. Founded with consultation from Columbian bungee jumping professionals this place boast a very friendly team to help you get comfortable and have one of the best experiences of your life. This place has an inclined tower to reduce the chances of accidents and risks.
The fascinating experience of this spot gets enhanced by the bewitching beauty of Anjuna beach and its surroundings. It has a perfect setting to be one of the most memorable experiences of your life, one you will surely cherish for a long time. Spot also offers to capture these memorable moments in a video or photographs clicked from different angles. There is a highly professional video and photography team to capture your best moments when you are diving to the glory.
Location : 1716/1 Soranto Waddo, Anjuna Bardez, Goa 403509
Bungee Jump Height: 61 Meters
Timings: 9 am – 6 pm, Daily
Price: INR 3750/- for adults, INR 2550/- for juniors. There are additional charges for photos/videos
Contact : +91-8506865393 | Goabungy.com
5. Atlantis Watersports

Atlantis watersports offer a range of adventure sports in Goa. The latest addition to its list of adrenaline rushing sports is the bungee jump. Bungee jump here follows STANZ guidelines. Instructors and crew are friendly. The high point of bungee at this place is the availability of different 4K cameras to shoot your professional video from different angles along with a copter shoot. It is one of the best spots for bungee jumping in Goa.

Location: 12, Simplex Chamber, Umta Waddo, Near Baga Circle, Next To RBL Bank, Calangute, Goa 403516
Bungee Jump Height : Options of 50 / 60/ 70 meters.
Timings: 9 AM – 6 PM
Price: INR 3999/- for an adult. INR 1699/- for a kid between 10 years to 16 years.
Contact: 083858 54949 | atlantiswatersports.com

16 Best Forts In Goa Every History-Lover Must Visit
Known for its breathtaking beaches, Goa is rightly considered to be a tourist paradise. A Goa vacay is a must for nature lovers as well as adventurists! Bungee jumping in Goa will not only pump your adrenaline but will also bring you closer to the mystical beauty of this place! Make the most of it by planning a visit to the above-mentioned spots!
For our editorial codes of conduct and copyright disclaimer, please click here
Frequently Asked Questions About Bungee Jumping In Goa
Is there an age limit for Bungee jumping in Goa?
At most places participant should be of minimum 10 years old. Minors (upto age of 14 or 16 ) may be required to get no objection certificate signed from their parents or guardians. Exact rules may vary from location to location.
Is there a maximum weight limit for bungee jumping?
Yes. Tourists with more than 150 KG of weight won't be able to undergo this adventure sport. This limit is dependent on the individual spot. At some it may be as low as 110 kg. Also at most places there is a minimum weight requirement of 35 kg.
What is the best time for bungee jumping adventure in Goa?
Bungee jumping at most of the above spots is generally open throughout the year except during heavy rains in month of Monsoons.
What should one wear for the jump?
You can wear normal sportswear or even Tshirt with jeans will be fine for the jump. Ensure whatever you wear is comfortable. Do not carry bags or accessories in any of your pockets. For females it is advisable to keep their hairs firmly tied. It is not advisable to carry your mobile phone during the jump.
For whom bungee jumping isn't advisable?
If you are suffering from any ailment – it is advisable to be double sure about it. It isn't advisable for pregnant women, people suffering from heart problems, people with high blood pressure, people who had fractures recently, people with any kind of neurological disorders. Also if you are overweight, weighing more than 120KG – it is not advisable to undergo this sport.
---