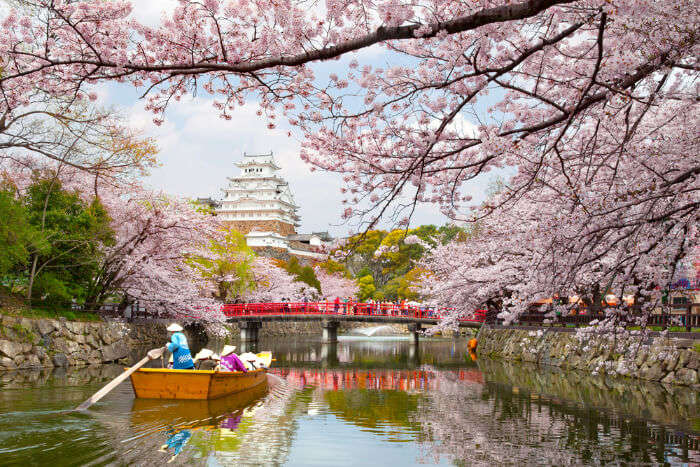 Japan stands as the epitome of strong community values and graceful living. To see Japan is to soak in the still existing ancient way of life and marvel at the technological advancements that have seeped into all parts of Japanese life. If visiting Japan, then besides its cherry blossom season(most recommended) and the less highlighted autumnal colours, its castles are worth your time. Castles in Japan speak of its ancestry, they are silent sentinels of the heritage of Japan, the land of the samurais and the geishas. The architecture of Japan is synonymous with its pagoda-style temples and castles and they should be first in your list of the itinerary.
The Best Castles In Japan
Do not worry yourself sick over the enormous number of castles in Japan. We have selected and curated a list of the most-visited castles for you. Add them to your Japanese bucket list and don't forget to take your cameras!
1. Himeji Castle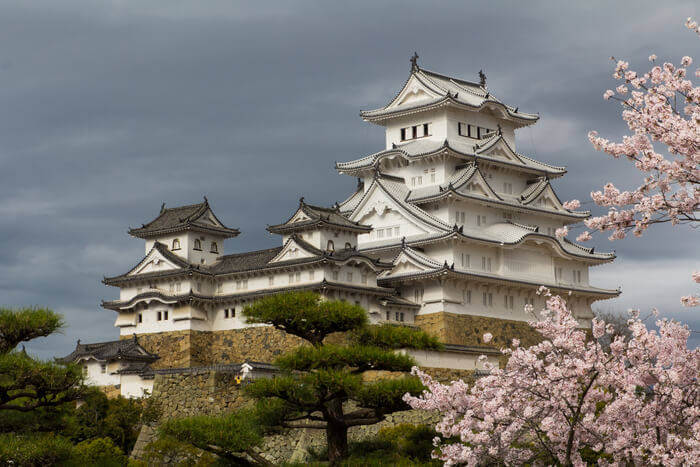 Image Source
Perched atop a hill, Himeji castle or as it is commonly known as White Heron Castle, is in Hyogo. With 83 buildings painted in pristine white, this elegant castle is almost 400-years-old. Himeji Castle is cast in traditional Japanese architecture with the topmost structure rising above the tiered building. Akamatsu Norimura, a samurai warrior built the Himeji Castle as a fortress in 1333. Over the centuries, the castle has undergone many structural improvements under the ownership of various clans. The castle, fortunately, survived the WWII bombings. This UNESCO heritage site is one of the original castles in Japan.
Location: Himeji Castle,68 Honmachi, Himeji, Hyogo Prefecture
Visiting Hours: 9 am to 5 pm (from late April to August the closing time gets extended by one hour)
Entrance Fee: 1000 yen for Castle only and 1040 yen includes a visit to the nearby Kokoen Garden
Must Read: 35 Best Places To Visit In Japan That Make It Look Right Out Of A Storybook
2. Osaka Castle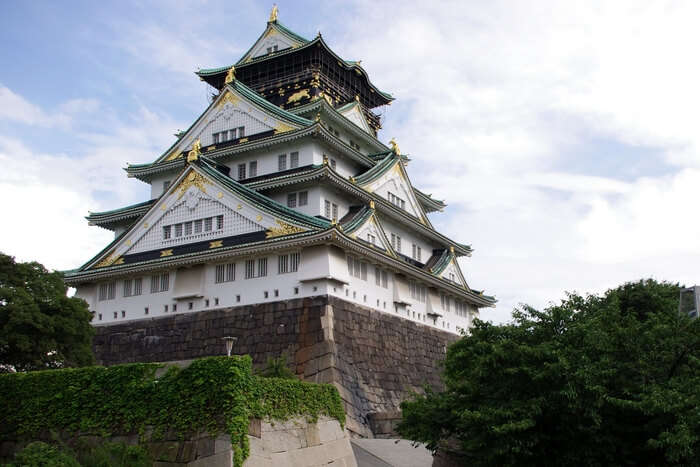 Image Source
The Osaka Castle was erected at the site of Ishiyama Honganji temple and an erstwhile castle. Despite the heavy WWII raids, the castle got away with minor damage and has been restored to its former glory with few state-of-the-art upgrades. The castle tower even boasts of an elevator! Secondary citadels, turrets, stone walls, gates, and moat surround the castle. The Nishinomaru Garden which surrounds the western citadel is filled with around 600 cherry trees and is a favored hanami spot during the cherry festival season.
Location: Osaka Castle, 1-1 Osakajo, Chuo Ward, Osaka, Osaka Prefecture
Visiting Hours: 9 am to 5 pm: extended hours during various holidays and special exhibitions
Entrance Fee: 600 yen
Nishinomaru Garden-
Visiting Hours: 9 am to 5 pm
Entrance Fee: 200 yen (350 yen in the cherry blossom season)
Suggested Read: Travelers Will Now Have To Pay A Sayonara Tax When Leaving Japan
3. Matsumoto Castle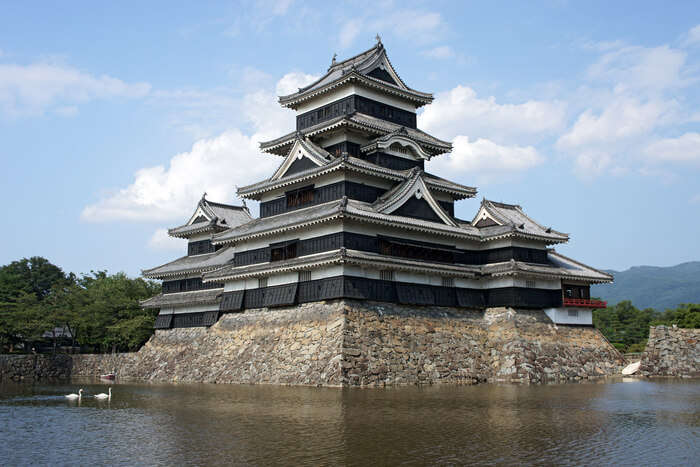 Image Source
One of the iconic original castles in Japan, Matsumoto is "hirajiro" castle. Hirajiro means a castle which is built upon flatland instead of hills or mountains. The castle is more fondly called the "Crow Castle" owing to its beautiful black façade which exudes charm and grandeur. Situated in Nagano, it is easily accessible from Tokyo via train. This 16th century castle was built as fortress for peace was yet to prevail in the region.
The wooden wainscoting gives it an old-world authentic air unlike the other castles in Japan. The observation deck on the sixth floor offers an enchanting view of the city. Matsumoto Castle is a popular spot during cherry blossom season. The expansive open grounds and park are dotted with the iconic and beloved cherry blossom trees which will make your Instagram handle drool-worthy.
Location: Matsumoto Castle, 4-1 Marunouchi, Matsumoto, Nagano Prefecture
Visiting Hours: 8: 30 pm till 5 pm
Entrance Fee: 610 yen
Suggested Read: Japan Beats Singapore As Having The World's Most Powerful Passport!
4. Shuri Castle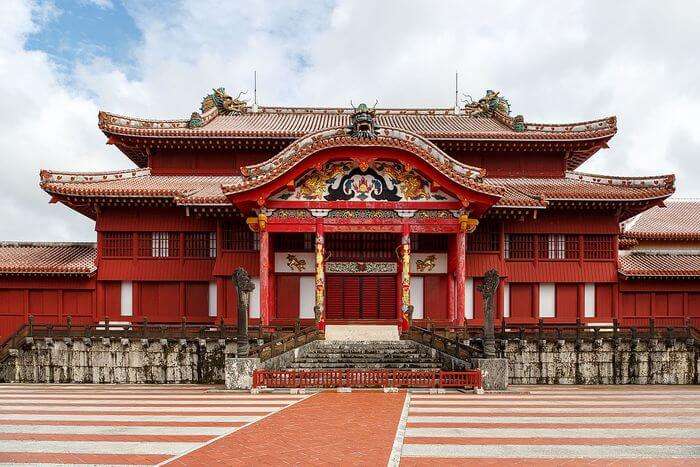 Image Source
This ochre-red castle will welcome you in all its eye-catching glory in Okinawa. The royals of the Ryukyu Kingdom reigned from the Shuri Castle. Built in 1429, it is the largest castle on the island. A world UNESCO heritage site, the castle has labyrinthine grounds and has a replica of the King's Crown and throne for the visitors to soak in the glory of the medieval ruling house. Visitors can glean a lot of background from the information displays along the walls of the castle especially about its maritime connections with mainland China.
Location: Shuri Castle, 1 Chome-2 Shuriken Jocho, Naha, Okinawa Prefecture
Visiting Hours: 8:30 am to 5 pm
Entrance Fee: 820 yen
5. Matsue Castle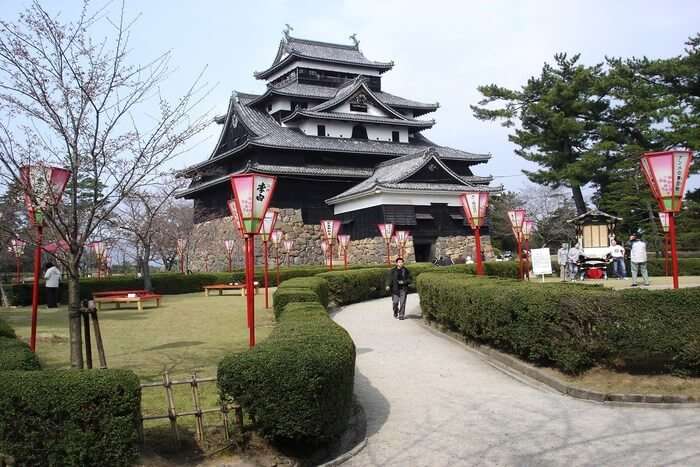 Image Source
Another one of the black castles, Matsue is situated in the Shimane Prefecture. It still retains its original towers and thus is one of the original castles in Japan. The castle was completed in 1611 at the end of the feudal war period in Japan. Thorough renovations of the 1950s restored this slightly austere looking castle and it now houses a museum with many medieval artifacts. Visitors can also enjoy a boat ride down the Horikawa River with the boat men and women sharing the history of the place.
Location: Matsue Castle, 1-5 Tonomachi, Matsue, Shimane Prefecture
Visiting Hours: 8:30 am to 6: 30 pm
Entrance Fee: 560 yen (50 percent off for foreign tourists)
Suggested Read: This Library Hostel In Japan Is The Perfect Cocoon That Every Bookworm Dreams Of!
6. Nagoya Castle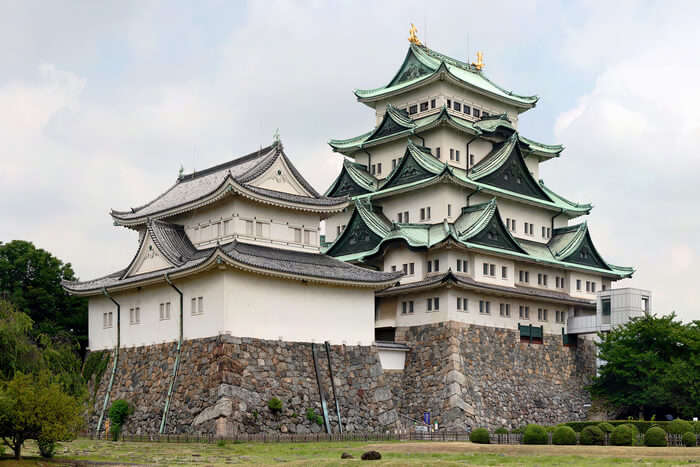 Image Source
Nagoya Castle is found in the Nagoya city which is the fourth largest city in the country. The castle was built in the Edo period and was one of the castles to face a lot of damage during the 1945 air-raids. The castle is now closed for renovation which is set to be completed by the year 2022. It is said that the castle was a gift from a military governor named Imagawa Ujichika, to his son. The castle has two moats and beautiful grounds with many cherry blossoms trees. The castle is considered as one of the premium examples of Shoin architecture.
Location: Nagoya Castle, 1-1 Honmaru, Naka Ward, Nagoya, Aichi Prefecture
Visiting Hours: 9 am to 5.50 pm
Entrance Fee: 500 yen
Suggested Read: Cherry Blossoms Are In Full Bloom & So Is The All New Spring Flower Cruise In Japan
7. Hirosaki Castle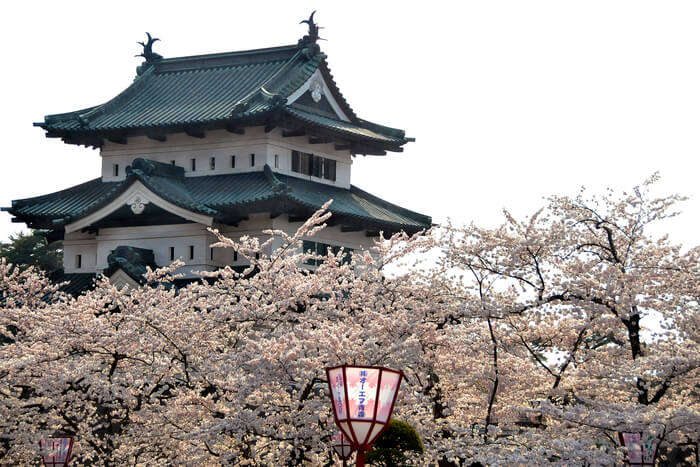 Image Source
Set among the beautiful environs of Hirosaki Park, this castle was erected in 1611. In 1627, the original keep with five storeys was struck by lighting and gutted. Construction again began in 1810 and a keep with three storeys was built. There are more than 2500 cherry blossom trees in the Hirosaki Park. Each year Hirosaki Castle Snow Lantern Festival is organized which attracts score of visitors. Get into a boat and take a ride down its petal filled moats and many picnic spots.
Location: Hirosaki Castle, 1 Shimo Shirogane Cho, Hirosaki, Aomori Prefecture
Visiting Hours: 9 am to 5 pm
Entrance Fee: 310 yen
Further Read: Getting A Japan Visa Will Now Be Easier Than Buying A Movie Ticket!
Any visit to Japan cannot be complete without a visit to its castles. Don the traditional Japanese attire of a Samurai warrior or a beautiful Kimono (whatever takes your fancy) and walk in the castles in Japan like a true-blue Japanese. Book your trip to Japan now! Do not forget to share it with your friends.
---
Looking To Book A Holiday Package?
Book memorable holidays on TravelTriangle with 650+ verified travel agents for 65+ domestic and international destinations.
---