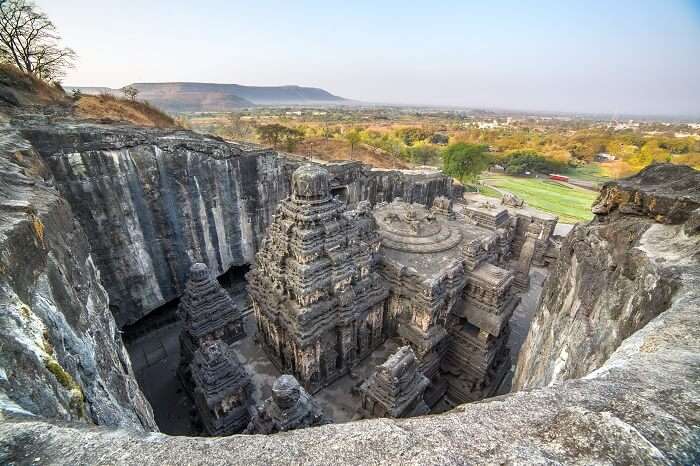 India is the abode of culture and heritage. And the true reflections of these traits can be seen in historic sites, edifices, landscapes, and monuments of India. One such structural wonder that reflect the true glories of the past are the caves in India.
While there are some that have immaculate works of art, others are marvels of topography themselves. And then there are some with religious & cultural string attached to it. These Indian caves narrate tales about the rich culture, tradition, background, & spirituality.
Here's a quick list of the must-visit caves in India that have become major tourist attractions. Have a look.
A Lesser-known North Indian Cave
---
Looking To Book A Holiday Package?
Book memorable holidays on TravelTriangle with 650+ verified travel agents for 65+ domestic and international destinations.
---
1. Koteshwar Temple Cave, Uttarakhand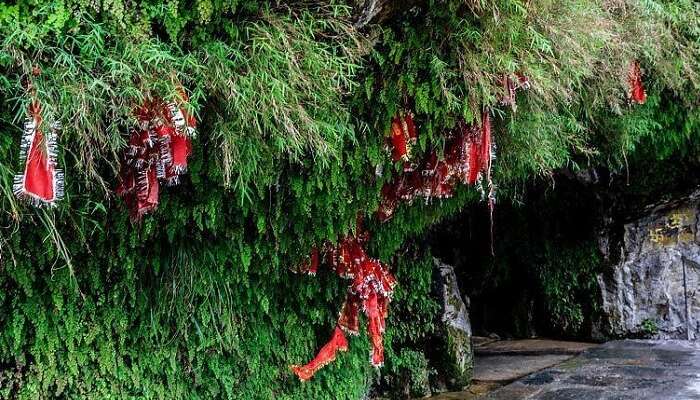 Located on the banks of Alakananda in Rudra Prayag, this Koteshwar is one of the ancient caves of India. As per mythological beliefs, Lord Shiva meditated in the cave on his way to Kedarnath. And so, the cave is dedicated to Lord Shiva.
How to reach: Jolly Grant Airport at Dehradun, 142 km away, and Haridwar railway station, located 142 km away, are the nearest places that connect the cave to the rest of the world.
Where to stay: Hotel Jwalpa Palace, Hotel Mandakini, and Monal Resort
Most Popular West Indian Caves
2. Elephanta Caves, Maharashtra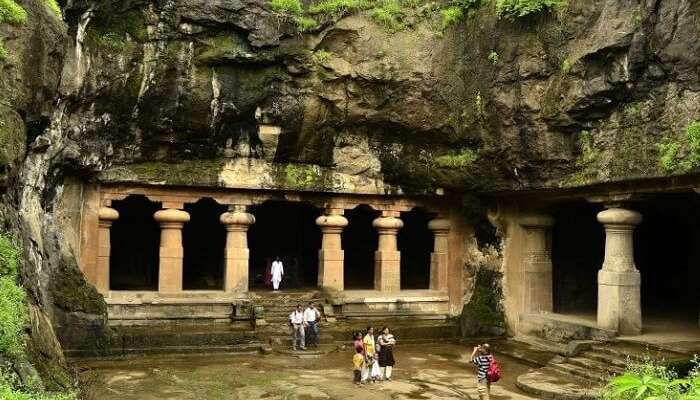 Popularly known as Gharapuri, the Elephanta Caves are among the famous caves of Maharashtra. These rock-cut caves, located 7 km off the coast of Mumbai, boasts of the sculptures of Shiva in various forms, including Vamadeva, Nataraja, Kalyanasundara, Andhakasura Vadha, and Sapta Matrikas.
How to reach: Mumbai is the nearest rail and air connect. Ferry services are available from Mumbai to Elephanta Caves. It takes about half an hour in a ferry.
Where to stay: Elephanta Caves is a half day excursion from Mumbai. So stay in any hotel in Mumbai, as per your budget.
3. Ajanta and Ellora Caves, Maharashtra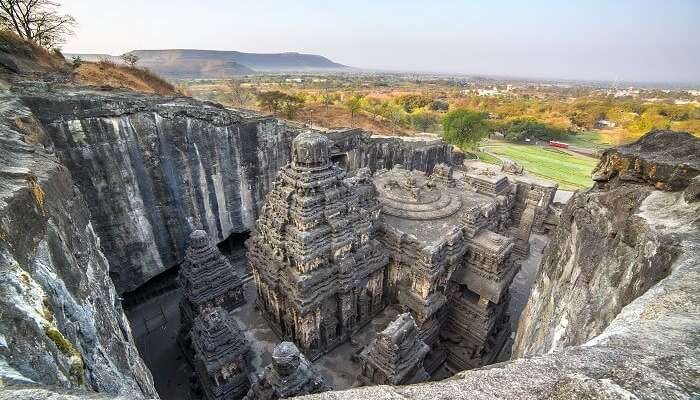 Ajanta and Ellora are two fascinating caves in India. These rock cut Ajanta and Ellora caves of Maharashtra showcase carvings, wall paintings, and finest sculptures of the country. Declared as a World Heritage Site by UNESCO, the Buddhist caves at Ajanta and Ellora consist of Maitreya Buddha, Kailash Temple, and abstract designs of devils, humans, & birds. The carvings and sculptures of Ellora and Ajanta caves comprise of remnants of Jainism, Buddhism and Hinduism.
How to reach:
By air: Aurangabad Airport is located 97 km from Ajanta and 30 km from Ellora.
By rail: Jalgaon Railway Station is located 77 km from Ajanta and 159 km from Ellora.
Where to stay:
Ellora: Hotel Kailash, Vrindavan Resorts, and The Meadows Resort & Spa
Ajanta: Hotel Ajanta, Hotel Maitreyas, and Hotel New K P Park
Most Popular Caves in Central India
4. Bagh Caves, Madhya Pradesh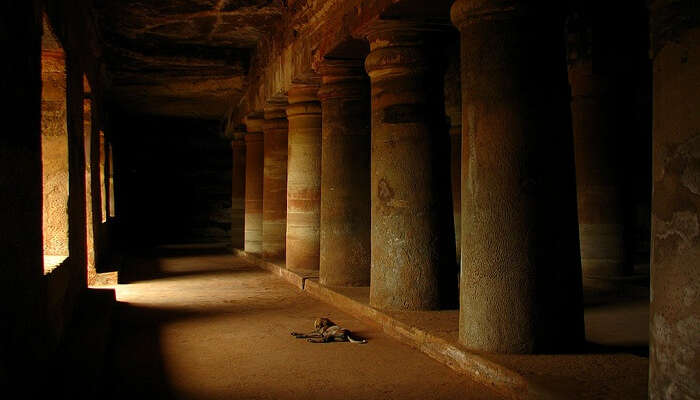 The Bagh caves in India consist of beautiful collections of 9 sandstone rock-cut monuments. The cave is known for outstanding mural paintings & carvings by renowned painters & sculptures. Located in the Dhar district near the Mundu town of Central India, these Indian caves are marvellous specimens of Buddhist art & architecture.
How to reach: Indore is the nearest rail and air connect, located at a distance of 160 km from the Dhar district. Private taxis and buses ply to the caves regularly from Indore.
Where to stay: Hotel Jhira Bagh Palace
5. Bhimbetka Caves, Madhya Pradesh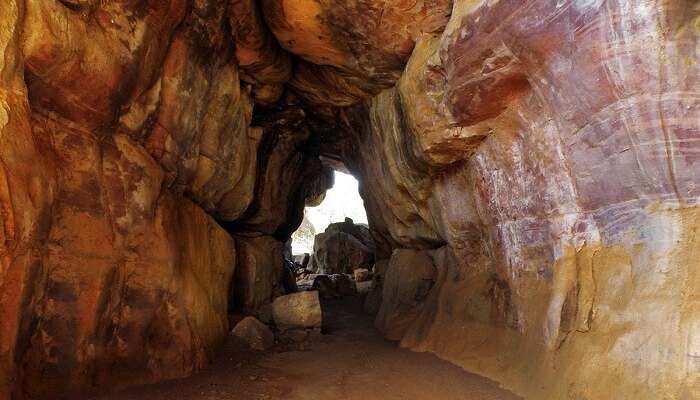 The Bhimbetka caves are picturesquely snuggled amidst the rocky terrain and the plush greenery of Ratapani Wildlife Sanctuary. Like many other popular caves in India, Bhimbetka is also a UNESCO World Heritage Site. These caves are known for intricate rock carvings and cave wall paintings that depict traits & lifestyles of prehistoric Stone Age.
How to reach: Nearest airport and railhead are at Bhopal, approximately 45 km away.
Where to stay: Hotel Highway Treat (MPTDC Property) is the only decent hotel in Bhimbetka. However, one can stay in Bhopal in hotels like Mayuri, Royal Villas, and Jehan Numa Palace
---
Planning your holiday but confused about where to go? These travel stories help you find your best trip ever!
Real travel stories. Real stays. Handy tips to help you make the right choice.
---
6. Jogimara and Sita Bengra Caves, Chhattisgarh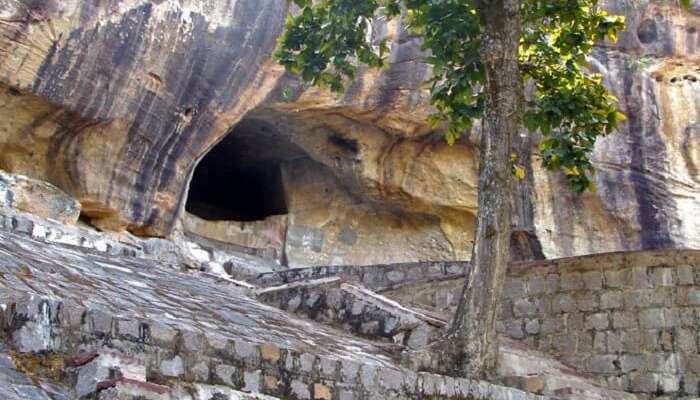 Situated in Ambikapur, Jogimara & Sita Bengra Caves are known as vintage theatres in the world. These are naturally formed caves and can be approached by the long Hathipole tunnel. Mythological stories claim that Ram, Sita, and Lakshman resided here during their exile.
How to reach: While Ambikapur has its own railway station, the nearest flight connectivity is up to Ranchi – located 290 km away.
Where to stay: Hotel Panchanan
The Best Caves in East India
7. Mawsmai Cave, Meghalaya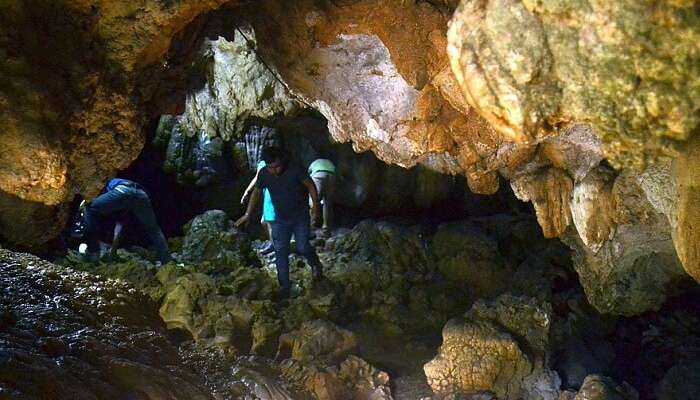 Mawsmai, located near Mawsmai village in Cherrapunji of Meghalaya, is one of the most engrossing natural caves of India. The naturally formed limestone cave has many attractive stalactite and stalagmite formations. The cave is fully lighted, though the cave passage is so narrow in places that people need to crawl instead of walking.
How to reach: The closest railhead and airport is at Guwahati, located 124 km from Mawsmai.
Where to stay: Kutmadan Resort and Polo Orchid Resort
Suggested Read: 30 Gorgeously Surreal Landscapes of India You Have To See To Believe
8. Krem Liat Prah, Meghalaya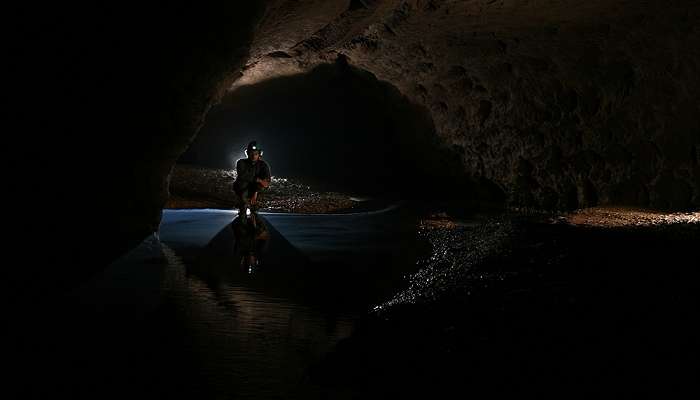 Located in the Shnong Rim Ridge, Krem um im-Liat Prah is a large natural cave network in India. This mysterious cave attracts cave explorers & trekkers. And on top of it, the Meghalaya Tourism organises cave tours. The highlight of these cave tours is a walk through the gigantic trunk passage known as the Airport Hanger.
How to reach: Shillong is the nearest city. The tour authorities arrange buses or taxis from Shillong.
Where to stay: This expedition is a part of the 22-day cave tour and the tour operators organise camp accommodations and home stays here.
9. Udayagiri and Khandagiri Caves, Orissa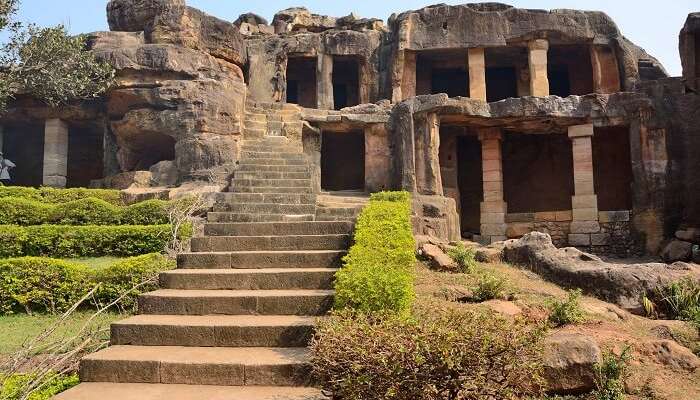 Located on the outskirts of Bhubaneshwar, both Udayagiri and Khandagiri are famous caves that reflect the culture and the heritage of Jainism. Udaygiri is perched on the Sunrise Hill and is known for the famous Queen Palace and the Tiger's Mouth caves. Khandagiri is a collection of 15 rock-cut Jain shelters and boasts of incredible carvings of women, elephants, athletes, & geese carrying flowers in Ananta Cave or Cave No 3.
How to reach: Biju Patnaik Airport in Bhubaneswar is 4 km away from the caves. In fact, the nearest railway station is also at Bhubaneshwar, which is at a distance of 6 km from the caves.
Where to stay: Suryansh Hotel & Resort, Trident, and Swosti Premium Hotel
The Most Prominent South Indian Caves
10. Belum Caves, Andhra Pradesh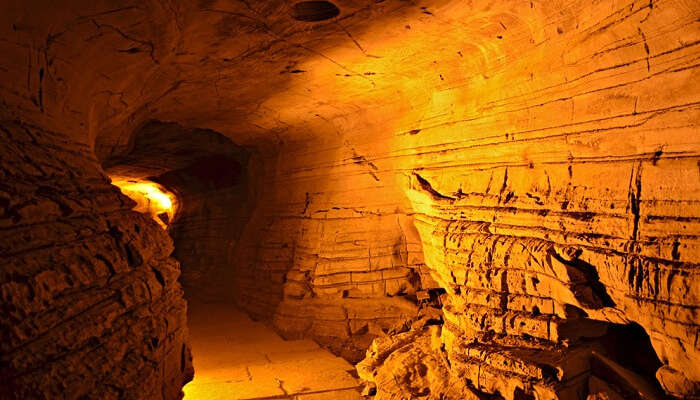 Belum Caves are located in Kurnool city and are among the largest caves in India. These Indian caves are naturally formed by the constant flow of the underground stream. The natural underground wonder is made of black limestone & quartz. Though the total length is 4 km. only 1.5 km is accessible by tourists.
How to reach: Cuddapah Airport (41 km away) is the closest airport while Dhone (41 km away) is the nearest railway connect.
Where to stay: Haritha Belum (APTDC Property)
Suggested Read: 10 Super Cool Places Near Hyderabad For The Quirky Explorers
11. Borra Cave, Andhra Pradesh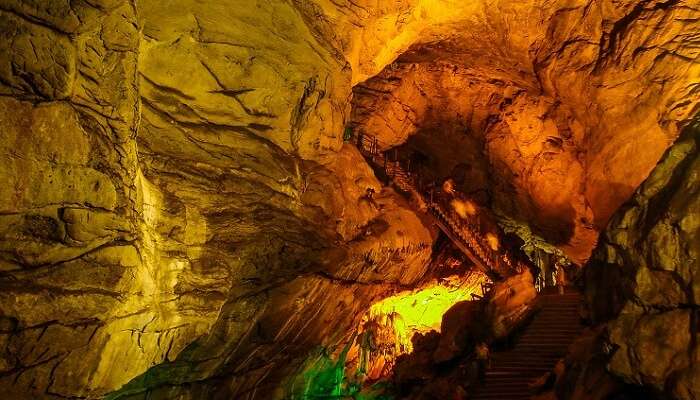 Borra Cave is a natural cave in India, formed by the dipping of streams on limestone rock clusters. The cave is located on the way to Araku Valley and depicts amazing features of karst (limestone) topography like stalactite, stalagmite, halectite, and pillars. This Indian cave comprises of formations like Shiva Linga, Parvathi, Mother Child, and Human Brain.
How to reach: The nearest airport to Borra Caves is Vizag (90 km away), whereas the nearest railway station to the caves is Vizianagaram(61 km away).
Where to stay: Haritha Valley Resort, Haritha Hill Resort, and Haritha Mayuri Resort
12. Undavalli Caves, Andhra Pradesh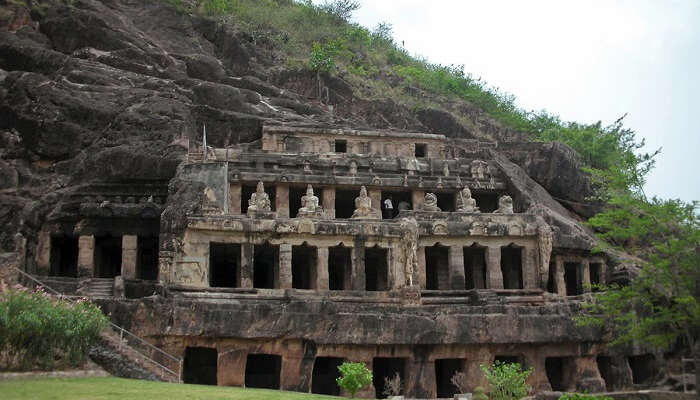 The marvellous Undavalli caves in India display jaw dropping specimens of rock-cut architecture. These ancient caves, related to the Vishnukundin rule, have sandstone figures. These include a mammoth figurine of Lord Vishnu in a reclining posture, the numerous Buddhist sculptures, and the Trimurti – Brahma, Vishnu, and Shiv – that showcase intricate skill, craftsmanship, and artistic gracefulness.
How to reach: Vijayawada is the closest rail and air connect. The airport is 23 km away, while the railway station is just about 3 km away from the caves.
Where to stay: Manorama Hotel, Haritha Berm Park, and Hotel Mamata
13. Nellitheertha Cave, Karnataka
Nellitheertha is a 200 meter-long geographical rock formation. The cave passage is narrow and cave floors remain damp & marshy round the year. Those who wish to explore this natural rock cut formation, need to crawl on the knees.
How to reach: Nearest railhead and air connect is at Mangalore, located approximately 18 km away.
Where to stay: Hotel Maya International, The Getaway Hotel, and Hotel Ocean Pearl in Mangalore
14. Badami, Karnataka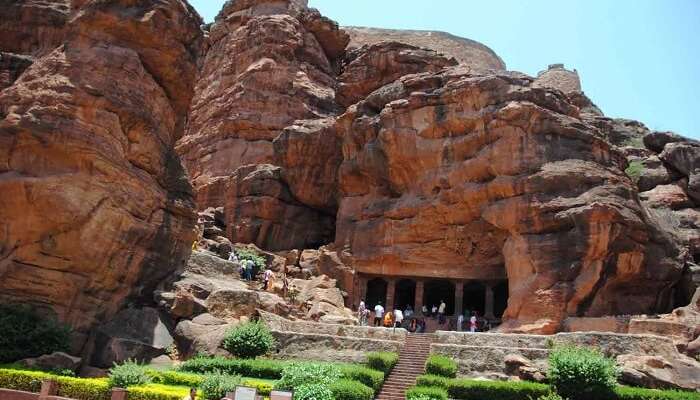 Badami Caves are among the major tourist attractions of Karnataka. The artistry in these caves in India reflect the Chalukya era of history. It comprises of images & sculptures of Hindu Deities, Jain Tirthankars, and Jain Gods. The major attractions here include 18-armed dancing Shiva, Mahisashur Mardini, two-armed Ganesha, Ardha Nareeswara, Narasimha, Anantasayana, and Trivikrama.
How to reach: Belgaum, located at 190 km away, has the closest airport. Badami has its own railway station.
Where to stay: Krishna Heritage Hotel, The Heritage Resort, and Hotel Mayura Chalukya
Must Read: These Best Places To Visit In Karnataka Will Totally Knock You Out
15. Varaha Caves, Tamil Nadu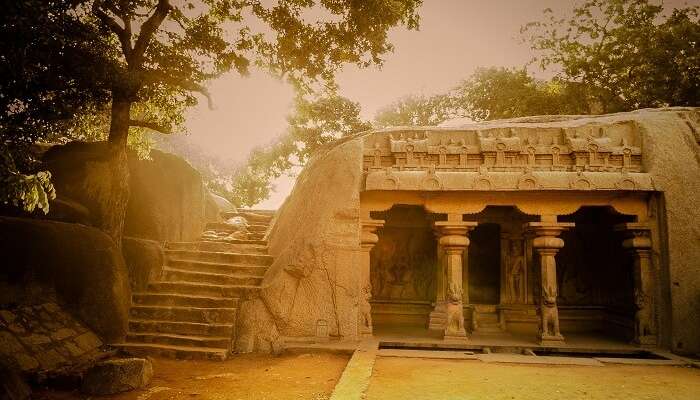 This is a UNESCO World Heritage Site, located in Mamallapuram. The Varaha Caves are true reflections of rock-cut architecture of the Pallava rule. Extraordinary carvings, detailed sculptures, and incredible artistry have made these caves rank among the major tourist attractions of South India. The cave temple architecture depicts a flawless fusion of Dravidian & Buddhist art designs and the immaculate images of Lord Varaha & his wife Bhumi allure the tourists.
How to reach: Chengalpattu Railway Station, located at 24 km from the caves, and Chennai International Airport, 41 km from the caves, are the nearest points connecting the caves to the rest of the world.
Where to stay: ITC Grand Chola, The Westin Chennai, and Somerset Greenways
The list of Indian caves is quite tempting & fascinating. So, which of these are you heading to next?
Further Read: 15 Natural Wonders In India That Your Geography Teacher Forgot To Tell You About
Frequently Asked Questions About Caves In India
Q. Which is the longest cave in India?
A. Krem Liat Prah in Jaintia Hills, Meghalays is the longest cave in Meghalaya and in India too. In fact, it is one of the longest caves in the world with a length of 30,597 meters.
Q. Which is the most famous cave in India?
A. Ellora & Ajanta Caves are the most well known caves in India. Located in Maharashtra these caves are one of the major tourist attractions and are a marvel of beauty.
Q. Are the Ajanta and Ellora Caves the same?
A. No, Ajanta and Ellora are two different caves. Ellora Caves consists of 34 caves and are a coming together of Hindu, Jain and Buddhist caves. Whereas Ajanta Caves is a Buddhist Caves. It is a collection of 26 caves.
Q. Who found Ajanta Caves?
A. It might come as a shock to you but Ajanta Caves were found by a foreigner and not an Indian national. Ajanta caves were discovered by John Smith in 1819.
Q. How many caves does Ellora have?
A. There are 34 caves in Ellora and it is situated in North Maharashtra. It is a must visit place and one of the most famous caves in India.
Q. Are there Buddhist caves in India?
A. Yes, there are somewhere around 1200 cave temples in India and most of them are Buddhist. In fact, the most famous caves in India which are Ajanta and Ellora caves are Buddhist caves too.
Q. Which is the largest cave temple in India?
A. Kailasanatha or Kailasha is the largest rock-cut cave temple not just in India but in the world. Situated in Ellora Caves in Maharashtra, this cave temple is not just historical but very beautiful too.
Q. Where are Bagh Caves located?
A. Bagh Caves are located right in the heart of India, in Madhya Pradesh. These caves are pretty famous for their paintings and are also known as Rang Mahal.
Comments
comments