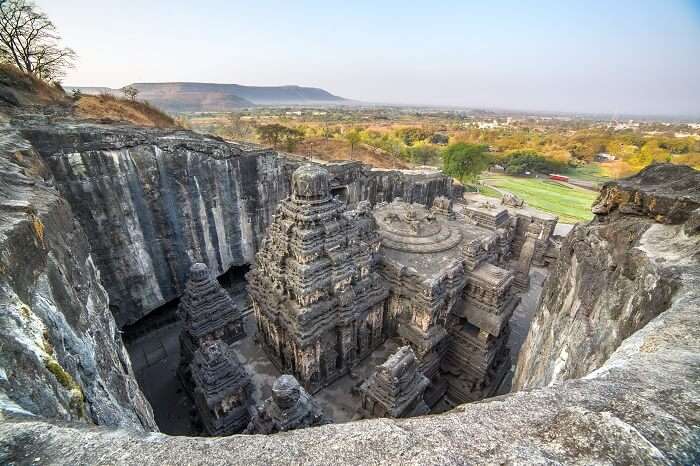 India is the abode of culture and heritage. And the true reflections of these traits can be seen in historic sites, edifices, landscapes, and monuments of India. One such structural wonder that reflect the true glories of the past are the caves in India.
While there are some that have immaculate works of art, others are marvels of topography themselves. And then there are some with religious & cultural string attached to it. These Indian caves narrate tales about the rich culture, tradition, background, & spirituality.
Most Popular Caves In North Indian 
Here's a list of the must-visit caves in North India that have become major tourist attractions. Have a look.
1. Koteshwar Temple Cave, Uttarakhand

Located on the banks of Alakananda in Rudra Prayag, this Koteshwar is one of the ancient caves of India. As per mythological beliefs, Lord Shiva meditated in the cave on his way to Kedarnath. And so, the cave is dedicated to Lord Shiva.
How to reach: Jolly Grant Airport at Dehradun, 142 km away, and Haridwar railway station, located 142 km away, are the nearest places that connect the cave to the rest of the world.
Where to stay: Hotel Jwalpa Palace, Hotel Mandakini, and Monal Resort
2. Amarnath Cave, Jammu And Kashmir

Amarnath Cave is one of the most visited tourist attractions in India and is also considered to be one of the holiest places in the country. This cave is basically a shrine of the Lord Shiva. It is believed to be more than 5,000 years old and is therefore a pivotal part of the Hindu Mythology. This sacred cave is located at the height of 3,888 meters. 
How to reach: You won't find any straight trains to Amarnath and the nearest station is known to be one in Jammu, which is situated 178 km away. You take a cab till Baltal and take a 15 km long trek to finally reach Amarnath 
Where to stay: Hotel Snowland, Imperial Resorts, Green Glamping Resort, and Zebrina Guest House
3. Tabo Caves, Himachal Pradesh

These caves are located near the village of Tabo. Located amidst the wondrous views, these caves have been carved out of the hills. These caves are also known to be the meditation location for the Buddhist monks. You'll find a number of small and big caves that have been embellished with bright praying flags.
How to reach: You can visit Tabo Village via taxis without any hassle from Manali or Shimla. On reaching Tabo Village, you'll be easily able to reach the caves by going uphill
Where to stay: Namsay Homestay Tabo, Zostel Homes Tabo, Hotel Maitreya Regency Tabo, and Phunstok Homestay
4. Patal Bhuvaneshwar Caves, Uttarakhand

Located in the village of Bhuvaneshwar in Uttarakhand, the caves were founded in Treta Yuga by King Rituparna. In accordance to the Hindu mythology, these caves could be entered using 4 doors – Randwar, Paapdwar, Dharamdwar, and Mokshadwar. It is believed that on Ravana's demise, the Paapdwar got closed while Randwar was closed after the eventful Mahabharata battle. Therefore, currently, there are only two entrances to these caves. 
How to reach: it is at Tanakpur where the nearest railhead from the village of Bhuvaneshwar is located, which is 154 km away. From the station, you can easily get a bus that will take to the caves
Where to stay: Hotel Himalaya Darshan Berinag, Summit Parvati Resort, KMVN Tourist Rest House, and Shailasha Resort
Most Popular Caves In West India 
Listed below are some of the famous caves you'll find in the western region of the nation. Don't forget to add them to your itinerary.
5. Elephanta Caves, Maharashtra

Popularly known as Gharapuri, the Elephanta Caves are among the famous caves of Maharashtra. These rock-cut caves, located 7 km off the coast of Mumbai, boasts of the sculptures of Shiva in various forms, including Vamadeva, Nataraja, Kalyanasundara, Andhakasura Vadha, and Sapta Matrikas.
How to reach: Mumbai is the nearest rail and air connect. Ferry services are available from Mumbai to Elephanta Caves. It takes about half an hour in a ferry.
Where to stay: Elephanta Caves is a half day excursion from Mumbai. So stay in any hotel in Mumbai, as per your budget.
6. Ajanta And Ellora Caves, Maharashtra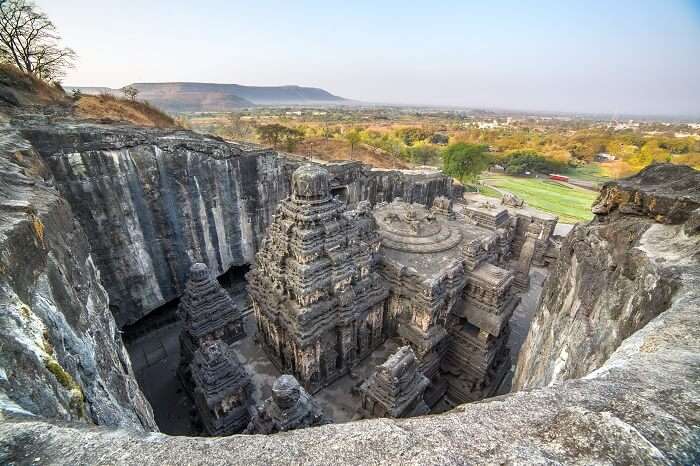 Ajanta and Ellora are two fascinating caves in India. These rock cut Ajanta and Ellora caves of Maharashtra showcase carvings, wall paintings, and finest sculptures of the country. Declared as a World Heritage Site by UNESCO, the Buddhist caves at Ajanta and Ellora consist of Maitreya Buddha, Kailash Temple, and abstract designs of devils, humans, & birds. The carvings and sculptures of Ellora and Ajanta caves comprise of remnants of Jainism, Buddhism and Hinduism.
How to reach:  Aurangabad Airport is located 97 km from Ajanta and 30 km from Ellora. By rail: Jalgaon Railway Station is located 77 km from Ajanta and 159 km from Ellora
Where to stay: Hotel Kailash, Vrindavan Resorts, The Meadows Resort & Spa, Hotel Ajanta, Hotel Maitreyas, and Hotel New K P Park
7. Pataleshwar Caves, Pune

These caves in Pune are quite similar to the concept of Ellora Caves and their establishment dates back to the 8th Century AD. These caves also have a religious aspect attached to them, as they've been constructed to pay reverence to the Lord Shiva. You can also find the beautiful sculptures of Sita, Ram, and Laxman.
How to reach: the cave temple can be reached without any hassle. All you have to do is take taxi till Jungli Maharaj Road from Pune railway station or airport. From this road, the cave temple is just at a distance of less than 3.5 km  
Where to stay: Centurion Hotel, The Pride Hotel Pune, FabHotel Krishna Presidency, and Ramee Grand Hotel and Spa  
8. Karla Caves, Lonavala

These caves too are a part of a temple and are located at a close distance from Lonavala. These caves form a part of one of the oldest Buddhist temples in India. The temple was established in 200 BC. These caves are admired for their awe-striking architecture and intricate designs on the walls of these caves will simply overwhelm you. 
How to reach: you can reach the caves from Lonavala Railway Station via bus or even an auto. On reaching the location, you will either have to climb 350 steps from the base or 200 steps from the car parking spot to finally enter the caves 
Where to stay: Treasure Island Resort, MTDC Karla, Rain Forest Villas, and Hill View Villa 
Most Popular Caves In Central India
Central India too is known for its history and culture. These two aspects are beautifully depicted in the caves located here. Some of them have been mentioned below.
9. Bagh Caves, Madhya Pradesh

The Bagh caves in India consist of beautiful collections of 9 sandstone rock-cut monuments. The cave is known for outstanding mural paintings & carvings by renowned painters & sculptures. Located in the Dhar district near the Mundu town of Central India, these Indian caves are marvellous specimens of Buddhist art & architecture.
How to reach: Indore is the nearest rail and air connect, located at a distance of 160 km from the Dhar district. Private taxis and buses ply to the caves regularly from Indore.
Where to stay: Hotel Jhira Bagh Palace
10. Bhimbetka Caves, Madhya Pradesh

The Bhimbetka caves are picturesquely snuggled amidst the rocky terrain and the plush greenery of Ratapani Wildlife Sanctuary. Like many other popular caves in India, Bhimbetka is also a UNESCO World Heritage Site. These caves are known for intricate rock carvings and cave wall paintings that depict traits & lifestyles of prehistoric Stone Age.
How to reach: Nearest airport and railhead are at Bhopal, approximately 45 km away.
Where to stay: Hotel Highway Treat (MPTDC Property) is the only decent hotel in Bhimbetka. However, one can stay in Bhopal in hotels like Mayuri, Royal Villas, and Jehan Numa Palace
11. Kutumsar Caves, Chattisgarh

These caves lie in Bastar, in the well-known Kanger Valley National Park. People essentially come to these caves to witness the stalactites as well as stalagmites. There are five chambers in these caves that are believed to have been formed naturally. These caves are 1,327 meters in length and usually remain dark through the day, as there's no opening that can let sunlight in. 
How to reach: the nearest airport from these caves is Vishakhapatnam Airport, which is 300 km away from the destination. You can consider calling a cab to reach this attraction and take the Jagdalpur route
Where to stay: Gurukripa Home Stay, Naman Heights, Naman Bastar, and Bastar Jungle Resort
---
Planning your holiday but confused about where to go? These travel stories help you find your best trip ever!
---
12. Jogimara And Sita Bengra Caves, Chhattisgarh

Situated in Ambikapur, Jogimara & Sita Bengra Caves are known as vintage theatres in the world. These are naturally formed caves and can be approached by the long Hathipole tunnel. Mythological stories claim that Ram, Sita, and Lakshman resided here during their exile.
How to reach: While Ambikapur has its own railway station, the nearest flight connectivity is up to Ranchi – located 290 km away.
Where to stay: Hotel Panchanan
Most Popular Caves In East India
The caves in the eastern region of India will leave you all overwhelmed. Check out the list below!
13. Mawsmai Cave, Meghalaya

Mawsmai, located near Mawsmai village in Cherrapunji of Meghalaya, is one of the most engrossing natural caves of India. The naturally formed limestone cave has many attractive stalactite and stalagmite formations. The cave is fully lighted, though the cave passage is so narrow in places that people need to crawl instead of walking.
How to reach: The closest railhead and airport is at Guwahati, located 124 km from Mawsmai.
Where to stay: Kutmadan Resort and Polo Orchid Resort
Suggested Read: 50 Gorgeously Surreal Landscapes of India You Have To See To Believe
14. Krem Liat Prah, Meghalaya

Located in the Shnong Rim Ridge, Krem um im-Liat Prah is a large natural cave network in India. This mysterious cave attracts cave explorers & trekkers. And on top of it, the Meghalaya Tourism organises cave tours. The highlight of these cave tours is a walk through the gigantic trunk passage known as the Airport Hanger.
How to reach: Shillong is the nearest city. The tour authorities arrange buses or taxis from Shillong.
Where to stay: This expedition is a part of the 22-day cave tour and the tour operators organise camp accommodations and home stays here.
15. Udayagiri And Khandagiri Caves, Orissa

Located on the outskirts of Bhubaneshwar, both Udayagiri and Khandagiri are famous caves that reflect the culture and the heritage of Jainism. Udaygiri is perched on the Sunrise Hill and is known for the famous Queen Palace and the Tiger's Mouth caves. Khandagiri is a collection of 15 rock-cut Jain shelters and boasts of incredible carvings of women, elephants, athletes, & geese carrying flowers in Ananta Cave or Cave No 3.
How to reach: Biju Patnaik Airport in Bhubaneswar is 4 km away from the caves. In fact, the nearest railway station is also at Bhubaneshwar, which is at a distance of 6 km from the caves.
Where to stay: Suryansh Hotel & Resort, Trident, and Swosti Premium Hotel
16. Dungeshwari Caves, Bihar

These caves are situated at a distance of 12 kilometers from Bodhgaya and are based on the significance of Buddhism. These caves are believed to be sacred, as it is said that Buddha came to meditate here. You can also witness two beautiful statues of Buddha as well as an idol of the Goddess Dungeshwari. 
How to reach: You can take a cab from Gaya to reach these caves. The distance between the two locations is 12 km and will take you about 30 minutes to reach the destination 
Where to stay: Oaks Bodhgaya, Hotel Bodhgaya Regency, Maya Heritage, and Hotel Sujata Bodhgaya
17. Barabar Caves, Bihar

These caves are famous owing to the fact that they are counted amongst the oldest caves in India. The rock-cut caves are believed to have been established during the reign of Maurya Empire (322 BC – 185 BC). Enveloped within Nagarjuni and Barabar hills in Bela Ganj block in the district of Gaya, there are four caves here in total. The way these caves have been built shows similarity with the state-of-the-art technique of rock cutting.
How to reach: the nearest airport from the caves is in Patna as well as Gaya while the nearest railway station is in Banavar Halt. The destination can be reached via cab from railway station as well as both the airports 
Where to stay: Mahabodhi Hotel, Hotel Bodh Vilas, and Sukhdeo Clarks Inn
Most Popular Caves In South India 
The caves mentioned below lie in the southern region of the country and are loved by locals and tourists alike. Scroll through to know more.
18. Belum Caves, Andhra Pradesh

Belum Caves are located in Kurnool city and are among the largest caves in India. These Indian caves are naturally formed by the constant flow of the underground stream. The natural underground wonder is made of black limestone & quartz. Though the total length is 4 km. only 1.5 km is accessible by tourists.
How to reach: Cuddapah Airport (41 km away) is the closest airport while Dhone (41 km away) is the nearest railway connect.
Where to stay: Haritha Belum (APTDC Property)
Suggested Read: 20 Super Cool Places Near Hyderabad For The Quirky Explorers
19. Borra Cave, Andhra Pradesh

Borra Cave is a natural cave in India, formed by the dipping of streams on limestone rock clusters. The cave is located on the way to Araku Valley and depicts amazing features of karst (limestone) topography like stalactite, stalagmite, halectite, and pillars. This Indian cave comprises of formations like Shiva Linga, Parvathi, Mother Child, and Human Brain.
How to reach: The nearest airport to Borra Caves is Vizag (90 km away), whereas the nearest railway station to the caves is Vizianagaram(61 km away).
Where to stay: Haritha Valley Resort, Haritha Hill Resort, and Haritha Mayuri Resort
20. Undavalli Caves, Andhra Pradesh

The marvellous Undavalli caves in India display jaw dropping specimens of rock-cut architecture. These ancient caves, related to the Vishnukundin rule, have sandstone figures. These include a mammoth figurine of Lord Vishnu in a reclining posture, the numerous Buddhist sculptures, and the Trimurti – Brahma, Vishnu, and Shiv – that showcase intricate skill, craftsmanship, and artistic gracefulness.
How to reach: Vijayawada is the closest rail and air connect. The airport is 23 km away, while the railway station is just about 3 km away from the caves.
Where to stay: Manorama Hotel, Haritha Berm Park, and Hotel Mamata
21. Nellitheertha Cave, Karnataka
Nellitheertha is a 200 meter-long geographical rock formation. The cave passage is narrow and cave floors remain damp & marshy round the year. Those who wish to explore this natural rock cut formation, need to crawl on the knees.
How to reach: Nearest railhead and air connect is at Mangalore, located approximately 18 km away.
Where to stay: Hotel Maya International, The Getaway Hotel, and Hotel Ocean Pearl in Mangalore
22. Badami, Karnataka

Badami Caves are among the major tourist attractions of Karnataka. The artistry in these caves in India reflect the Chalukya era of history. It comprises of images & sculptures of Hindu Deities, Jain Tirthankars, and Jain Gods. The major attractions here include 18-armed dancing Shiva, Mahisashur Mardini, two-armed Ganesha, Ardha Nareeswara, Narasimha, Anantasayana, and Trivikrama.
How to reach: Belgaum, located at 190 km away, has the closest airport. Badami has its own railway station.
Where to stay: Krishna Heritage Hotel, The Heritage Resort, and Hotel Mayura Chalukya
Must Read: These Best Places To Visit In Karnataka Will Totally Knock You Out
23. Varaha Caves, Tamil Nadu

This is a UNESCO World Heritage Site, located in Mamallapuram. The Varaha Caves are true reflections of rock-cut architecture of the Pallava rule. Extraordinary carvings, detailed sculptures, and incredible artistry have made these caves rank among the major tourist attractions of South India. The cave temple architecture depicts a flawless fusion of Dravidian & Buddhist art designs and the immaculate images of Lord Varaha & his wife Bhumi allure the tourists.
How to reach: Chengalpattu Railway Station, located at 24 km from the caves, and Chennai International Airport, 41 km from the caves, are the nearest points connecting the caves to the rest of the world.
Where to stay: ITC Grand Chola, The Westin Chennai, and Somerset Greenways
24. Trichi Caves, Tiruchirappalli

These caves have been established as a part of Tiruchirapalli Rock Fort Complex. These awe-striking caves are essentially a part of two temples – the lower temple and upper temple. It is believed that the Pallavas, Nayaks, and Cholas from Madurai constructed these temples and this historical essence is quite visible in the architecture of these caves.
How to reach: you can take a cab from Tiruchirappalli International Airport, which is 16 km from the caves or from Tiruchirappalli Junction, which is less than 5.5 km away 
Where to stay: Hotel Mayas, Vivid – A Boutique Hotel, Hotel Deepam, and Grande Inn
25. Sittanavasal Caves, Tamil Nadu

These caves are situated in Sittanavasal Village in the district of Padukottai in Tamil Nadu. These caves are also known by the name Arivar Koli. It is believed that the caves were established in 7th Century and are well known for their awe-inspiring paintings, depicting scenes like pond full of lotuses and people collecting them, fish, lilies, geese, elephants, dancing figures, and more. 
How to reach: these caves are located at one-hour distance from Tiruchirappalli and taking a cab directly from Tiruchirappalli  airport will be a great idea
Where to stay: Hotel Saradha Grande, Chembiyan Hotel & Restaurant, and Hotel Sathyam  
Further Read: 22 Natural Wonders In India That Your Geography Teacher Forgot To Tell You About
The list of caves in India is quite tempting & fascinating. Each cave mentioned above is known for their historical significance. Most of these caves are also known for their religious aspects. Keep this list handy when planning your Indian tour. So, which of these are you heading to next?
Disclaimer: TravelTriangle claims no credit for images featured on our blog site unless otherwise noted. All visual content is copyrighted to its respectful owners. We try to link back to original sources whenever possible. If you own the rights to any of the images, and do not wish them to appear on TravelTriangle, please contact us and they will be promptly removed. We believe in providing proper attribution to the original author, artist or photographer.
Please Note: Any information published by TravelTriangle in any form of content is not intended to be a substitute for any kind of medical advice, and one must not take any action before consulting a professional medical expert of their own choice.
Frequently Asked Questions About Caves In India
Which is the longest cave in India?
Krem Liat Prah in Jaintia Hills, Meghalays is the longest cave in Meghalaya and in India too. In fact, it is one of the longest caves in the world with a length of 30,597 meters.
Which is the most famous cave in India?
Ellora & Ajanta Caves are the most well known caves in India. Located in Maharashtra these caves are one of the major tourist attractions and are a marvel of beauty.
Are the Ajanta and Ellora Caves the same?
No, Ajanta and Ellora are two different caves. Ellora Caves consists of 34 caves and are a coming together of Hindu, Jain and Buddhist caves. Whereas Ajanta Caves is a Buddhist Caves. It is a collection of 26 caves.
Who found Ajanta Caves?
It might come as a shock to you but Ajanta Caves were found by a foreigner and not an Indian national. Ajanta caves were discovered by John Smith in 1819.
How many caves does Ellora have?
There are 34 caves in Ellora and it is situated in North Maharashtra. It is a must visit place and one of the most famous caves in India.
Are there Buddhist caves in India?
Yes, there are somewhere around 1200 cave temples in India and most of them are Buddhist. In fact, the most famous caves in India which are Ajanta and Ellora caves are Buddhist caves too.
Which is the largest cave temple in India?
Kailasanatha or Kailasha is the largest rock-cut cave temple not just in India but in the world. Situated in Ellora Caves in Maharashtra, this cave temple is not just historical but very beautiful too.
Where are Bagh Caves located?
Bagh Caves are located right in the heart of India, in Madhya Pradesh. These caves are pretty famous for their paintings and are also known as Rang Mahal.
---
Looking To Book An International Holiday?
---
People Also Read: