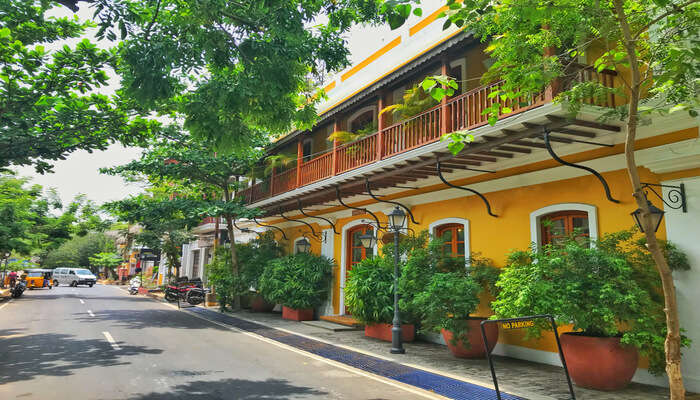 One of the most popular holiday destinations, Puducherry, also known as Pondicherry, attracts a lot of tourists for all the right reasons. Not only does this beautiful city have alluring beaches all along its coast, but it also possesses a rich cultural history.
The city was ruled by the French for a long time, and they have contributed to its vibrant structures and colorful cottages. Apart from that, temples in Pondicherry have an excellent background that interests the tourists. The ambiance created by the locals helps you feel more connected to your spirit while you discover its rich history. Here, we are listing some of the temples in Pondicherry.
9 Famous Temples In Pondicherry
Are you looking for the spiritual sites in Pondicherry? There are many prominent temples in Pondicherry that are known for their interesting facts, historical background, and religious beliefs. Here are some of the most popular temples in and around Pondicherry:
Manakula Vinayagar temple
Sree Varadaraja Perumal temple
Vedapureeswarar temple
Sivananda Swami temple
Kamakshi Amman temple
Sri Gokilambal Thirukameswar Temple
Irumbai Shiva Temple
Panchavati Anjaneya Temple
Navagraha Temple
1. Manakula Vinayagar temple

Dedicated to Lord Ganesha, Manakula Vinayagar temple Pondicherry is a famous pilgrimage and tourist site. Dated back to 1666, it is among the most famous temples in Pondicherry, containing a 7.5 kg golden chariot whose construction was possible purely based on donations received from the devotees.
As the story goes, the French and the whites tried to get rid of the idol by throwing it into the sea, but to their surprise, it was always found to be back at the temple. This temple shows a great work of craftsmanship on the stone walls of the temple, just like it's witnessed in most of the temples in Tamil Nadu. Manakula Vinayagar Temple Pondicherry is one of the most popular religious sites in the area.
Address: Manakula Vinayagar, White Town, Puducherry, 605001
Must Read: 42 Best Places To Visit In Pondicherry In 2022: India's French Colony!
2. Sree Varadaraja Perumal temple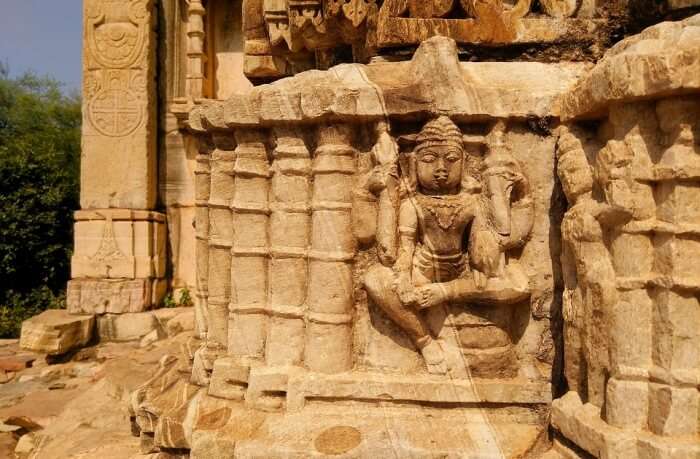 Build to worship Lord Vishnu, The Sree Varadaraja Perumal temple is one of the 108 Divya Deshams of Vishnu. It owes its popularity to the story of all the 12 holy poets visiting this temple. It is known to be one of the most sacred and famous temples in Pondicherry and was built by the Cholas back in 1053.
One of the rituals conducted in this temple is to bring the newborn babies and feed them a spec of rice in front of the Lord himself, assuring that the baby will be under his protection for the rest of his life.
Address: Nethaji Nagar, Kanchipuram, Tamil Nadu 631501
Suggested Read: 25 Restaurants In Pondicherry 2022 That Will Satiate All Gastronomic Cravings
3. Vedapureeswarar Temple

Not a famous temple in Pondicherry, but the Vedapureeswarar temple Pondicherry is dedicated to Lord Vedupeeraswarar. Built on the banks of the Cheyya river, the temple interestingly has a Nandi bull that faces in the opposite direction of the Shiva Lingam.
Due to the abundance of sandalwood trees in the area, it is also nicknamed as the Santa Narayanam. It is said that Lord Shiva in this temple is self-manifested, and because of this, the temple was built around it. The temple consists of 2 corridors, and 5 Rajagopuram and the inscriptions on the walls hint it to be from the Chola period.
Address: Thiruverkadu Post, Thiruvallur District, Tamil Nadu 600 007
Suggested Read: Nightlife In Pondicherry: 5 Underrated Yet Super Cool Experiences To Try In 2022
4. Sivananda Swami Temple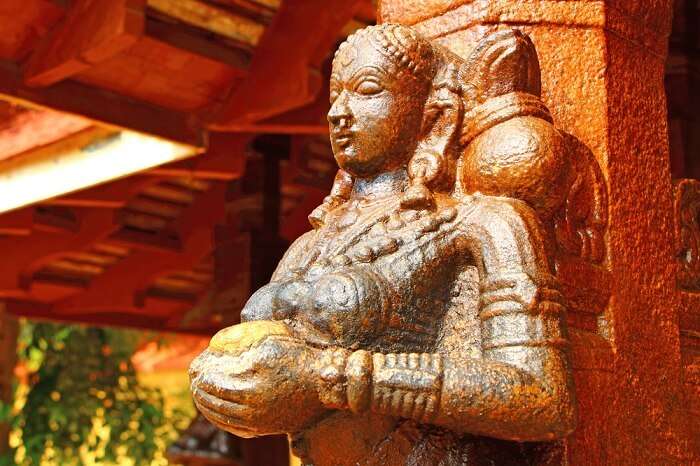 Also a shrine, this temple is the burial site of a Guru Sithanandar, who was said to be buried alive. To honor him, people have built this temple dedicated to Lord Shiva and is a place where all the peace lovers accumulate.
A meditation hall is constructed in the center of this temple for all the devotees to spend some soulful time. It is a popular attraction for the students as this temple has the deity of God Dakshinamurthy, who is responsible for the good grades and examinations.
Address: Lawspet Main Road, Puducherry, India, 605003
Suggested Read: 14 Adventure Sports In Pondicherry That Are Perfect For A Fun 2022 Getaway!
5. Kamakshi Amman temple

The Kamakshi Amman temple is dedicated to the Hindu Goddess Kamakshi Devi, who is said to be the incarnation of Durga or Parvati. It is said to be constructed by the Pallava kings. This is one of the essential temples in Pondicherry with the most amount of visits.
A total of four worships are performed every day in this temple, and the devotees are invited to join. It celebrates its annual festival in the spring, that is the chariot festival called Ther and the float festival called Theppam. Apart from these, Navaratri, Aadi, and Aipasi Puram are also celebrated here.
Address: Kamakshi Amman Sannathi Street, Kanchipuram, Tamil Nadu 631502, India
Suggested Read: New Year Parties In Pondicherry: Welcome 2022 By Celebrating At These Splendid Venues
6. Sri Gokilambal Thirukameswar Temple

This temple, located in Villianur near Pondicherry, is said to be the one with the greatest religious significance. It consists of a 15-meter tall chariot that is taken out on a procession every year in May during the appearance of the full moon. This festival is well renowned for its beauty, and many tourists travel to Pondicherry to be a part of this grand event.
The statue you'll find in this temple is of Thirukameswarer Gokilambal, who is ardently brought out in the decorated chariot during the festival time and is also offered with the Prasadam. According to the story, a Chla king suffering from Leprosy prayed in this very temple only to get cured by the blessings of Lord Shiva. If the devotees contribute to the pulling of the chariot during the festival, their wishes are said to be fulfilled.
Address: Villianur, Puducherry 605110
Suggested Read: Shopping In Pondicherry: 20 Updated Places To Buy Souvenirs In 2022!
7. Irumbai Shiva Temple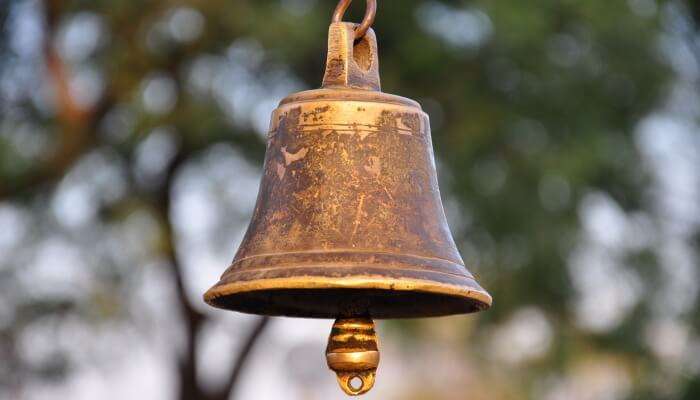 Disclaimer: The image is for representation purposes only.
This ancient Shiva temple in Pondicherry is one of the Devara Paadal Petra Shiva Sthalas and welcomes devotees from the surrounding areas. The temple is believed to be constructed in the 7th century by King Kulothungan III of the Chola dynasty. Shiva is worshipped in the form of Mahakaleshwar and the shrine reflects the features of the Ekdala style of architecture. 
Address: Irumbai Mahalam, Villianur
Suggested Read: 20 Spectacular Places Near Pondicherry You Should Definitely Visit In 2022!
8. Panchavati Anjaneya Temple

Image Credit: Shiva for Wikimedia
Panchavati Anjaneya Temple is located near Irumbai Shiva Temple and is another popular temple in Pondicherry. The temple resides a 32 feet tall shrine of Hanuman and the splendid architecture of the temple is truly admiring. The temple experiences a huge number of devotees on Saturday, the day considered ideal for worshiping the presiding deity. 
Address: Pondicherry-Tindivanam Road
Suggested Read: 7 Weekend Getaways From Pondicherry One Can Pick For That Much Awaited Break In 2022!
9. Navagraha Temple

Image Credit: RSMN for Wikimedia
This is one of the most interesting temples in Pondicherry and is dedicated to the nine planets of Hindu Mythology. The temple features gigantic statues of the gods. The most prominent statue is of Saneeswara which is nearly 27 feet tall. The temple is quite popular among locals and is visited by individuals seeking planetary remedies in their personal life. 
Address: NH 32, between Pondicherry and Tindivanam
Further Read: 40 Things To Do In Pondicherry In 2022 For A Fulfilling Retreat
Now that you ardently know what all Pondicherry has for tourists, it's about time to get along the packing spree and book your tickets. These temples in Pondicherry will let you explore the devotional side of this beautiful place on your trip to Pondicherry.
Disclaimer: TravelTriangle claims no credit for images featured on our blog site unless otherwise noted. All visual content is copyrighted to its respectful owners. We try to link back to original sources whenever possible. If you own the rights to any of the images and do not wish them to appear on TravelTriangle, please contact us and they will be promptly removed. We believe in providing proper attribution to the original author, artist, or photographer.
Frequently Asked Questions About Temples In Pondicherry
What is the nicest time to explore Pondicherry?
The best time to visit Pondicherry is during February.
What are the preparations required to visit Pondicherry?
Since Pondicherry is a warm, coastal place, it is best to carry summer clothes with you while you are visiting.
What are the places to visit near Pondicherry?
For people who plan a tour and visit Pondicherry as a part of it, they can travel to the nearby states of Karnataka and Kerala.
Do you need to book in advance to visit Vedapureeswawa Temple Pondicherry?
You can book for Vedapureeswara Temple in advance if you want to avoid queues.
What are the popular hotels near Vedapureeswarar Temple?
Ram Guest House, Sapphire Inn, La Maison Radha, and Valentine Hostel are among the most popular places to stay near the Vedapureeswara temple.
What can I do in Pondicherry?
There are numerous interesting things to do in Pondicherry. Here are the most popular activities: 1. Go for scuba diving 2. Visit Auroville 3. Take a city tour 4. Explore the city on a bike 5. Visit popular temples in Pondicherry
Is Pondicherry safe at night?
Yes, Pondicherry is safe at night. The crime rate here is quite lesser than other places in the country.
---
People Also Read