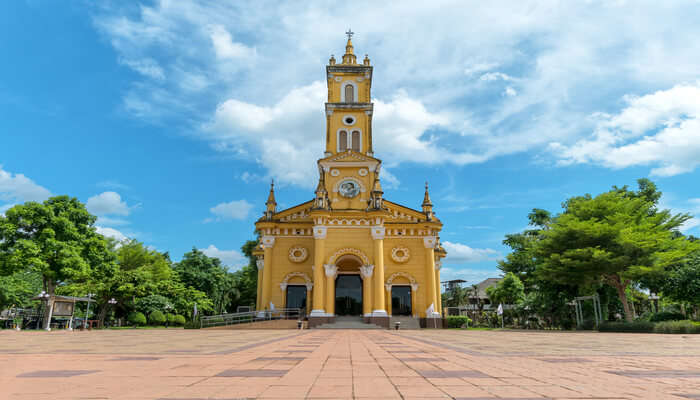 Thailand is known for its beaches, water sports, nature and wildlife, history, culture, and wellness retreats. It is a democratic country that practices non-confrontation. You will find many churches in Thailand that have exquisite architecture built in Gothic-style and other architectural styles. They are built with striking features and are distinct in their design and built from each other. Apart from that, there are many ancient churches in Thailand that have been built during the 16th and 17th centuries. There are more than 50 churches across Thailand which showcase various types of traditions that were followed there in old times. On your next vacation, you can visit these churches for a unique experience.
8 Best Churches In Thailand
Here is a list of the best churches in Thailand that you can visit on your holiday in Thailand and have a different kind of experience there. Take a look!
1. Church Of Immaculate Conception

Image Source
This Church has two towers and a huge bell in one of its towers. It is built in the Gothic architectural style. There is a statue of the Virgin Mary placed at the main entrance. It has been reconstructed four times. It has stunning stained glass windows. The statue of the Virgin Mary is embedded with more than 200,00 sapphires and looks magnificent.
This is the largest church in Thailand. It is known for its opulence and gives the impression of the Medieval period. It is more than 300 years old and is located on the banks of the Chanthaburi River. The towers of this church are 20 meters high. It is adjacent to a bridge and is surrounded by lush green. Since the 17th-century the Catholic community has been established in Thailand. Vietnamese immigrants fled to Thailand and built this church.
Many decorative pieces have been added since the time of its reconstruction. The stained glass windows have pictures of saints and look impressive. There is another statue of the Virgin Mary installed inside the church perched on the golden podium. Since ancient times Chanthaburi has been known for its gem trade. You can visit this church to admire its workmanship.
Location: Chanthaburi
Timings: 6.00 am to 7.00 pm
Suggested Read: 22 Exciting Things To Do In Bangkok – Thailand On A Holiday
2. St. Joseph's Church

Image Source
This church was established in the 17th century by French missionaries on the land granted by King Narai. During his reign, Thailand formed relations with Europe. The French impressed the king with their technical and architectural expertise and took a grant to build a church at this site. This site is located on the bank of Chaophraya River.
Ayutthaya was once a prosperous kingdom and an international port for trading. The first church built on this site was made in wood and constructed in the 16th century in the European style of architecture. It was reconstructed again and lasted only for 80 years after its initial construction. The church was burnt in the 17th century by the Burmese army who invaded this country.
The church was in ruins until the 19th century. Since this was the site where the first church was built, its importance was regained and a church was constructed again on this site. This church has been rebuilt in the 18th century again in the Romanesque style of architecture. It has stained glass windows and domes. It is surrounded by a beautiful garden and has a clock tower. There is a lake on the premises of the church which adds beauty to its surroundings.
When you visit this church follow guidelines to show respect. Cover your knees and shoulders when you visit this church. Do not smoke or eat inside the church. Be quiet and do not talk loudly. Taking pictures inside the church is allowed. It has many noteworthy architectural facets that can be captured in a camera.
Location: Ayutthaya
Timings: 8.00 am to 6.00 pm
Suggested Read: A Sojourn In Thailand Or Bali For Honeymoon ? We'll Help You Decide
3. Santa Cruz Church

Image Source
This is one of the oldest catholic churches built in the 17th century in Bangkok. It is built on the bank of the Chao Phraya River and is one of the important landmarks of the city. Portuguese Catholics who lived in this city in the 16th century built this church. It has a dome of a reddish hue and many fascinating architectural features.
Portuguese extended its military support to King Taksin in the 15th and 16th century to drive away Burmese. In honor of their support, the King granted this land to them to construct a church. The first church was constructed in the wood when it was built in the 16th century and lasted only for 65 years. Initially, the design of the church as the Chinese influence of architectural style and was called the Chinese church by the locals.
The church was rebuilt again in the 19th century when King Rama VI reigned Thailand. Two Italian architects designed this church with a crucifix installed at the main gate. It is surrounded by a beautiful garden and has a statue of Mary installed within its green space. The garden has a courtyard and is dedicated to the Virgin Mary.
The walls of the church have beautifully decorated stained glass windows that have biblical images. There are tombstones and cemetery on the rear side of the church. The tombstones belong to pastors who served this church. The rear part of the courtyard has statues of Virgin Mary and Joseph standing as guardian angels.
The interiors of this church are magnificent and have a detailed design on its ceiling. There is a bell tower in the central part of this church. The history of the church depicts the Portuguese heritage and culture which has an influence on this land. The dome is lit with a blue light and looks magnificent in the night.
Location: Thonburi District, Bangkok
Timings: 8.00 am to 6.00 pm
Suggested Read: Know How This Couple's Honeymoon Trip To Thailand On Budget Turned Out To Be Their Best Adventure!
4. Holy Trinity Church

Image Source
This is one of the most beautiful churches in Thailand that is surrounded by a lush garden and has a highly decorative interior. This is a Russian Orthodox church that is close to plantations and has a serene atmosphere. It has a golden dome and rich interiors. Every wall is made with intricate detailing. It has an admirable filigree and opulent artifacts you can take note of.
Masses are conducted regularly at this church. It also has a children's playground where kids are encouraged to plant flowers and shrubs as a part of community service. This church is located in peaceful surroundings. It is decorated with golden interiors made in an ornate style. The walls have pictures of saints and images from the bible. It has an opulent alter. There is also a car parking area available inside this church.
This church has a few towers and a golden dome. It walls are pristine white and blend with the lush green color of the surroundings. This church is designed in the shape of a cross and has a unique architecture. The service at this church is led by Father Danai. Bangkok and Pattaya are dotted with many Russian orthodox churches.
This is the first orthodox church to have a Thai priest to ordain its services. This is a family-friendly church. It has golden walls and pictures of Jesus and many saints. Children can have a good time at the playground of this church.
Location: Thalang, Phuket
Timings: 8.00 am to 8.00 pm
Suggested Read: New Year Party In Thailand: 17 Top Venues & Events
---
Planning your holiday in Thailand but confused about what to do? These Thailand travel stories help you find your best trip ever!
---
5. Saint Anna Nong Saeng Church

Image Source
This church was built in the 19th century with some materials imported from Vietnam. It is built in the French-colonial architectural style. It has two towers which are connected by a bridge. The view of the surroundings is stunning with a lush green garden. It is located in a peaceful atmosphere. The architectural style of this church is similar to that of Assumption Cathedral in Bangkok.
The front courtyard has a statue of Saint Anna holding a child. It is located on the riverside and gives a scenic view of the river. This is one of the architectural landmarks in Thailand. The interiors have pews, stained glass images of Jesus which look magnificent. There is also a cemetery attached to this cathedral.
This is a religious landmark that holds some historical significance because of the Vietnamese immigrants. It is surrounded by many old buildings and is a good place to spend some time and reflect. There are many Vietnamese attractions close to this church. There is a museum, a village, and the Governor's residence close to this church.
You need to book in advance to take a tour of this church so you can find a seat. There are also many hotels and restaurants nearby. You can take a day trip to the serene atmosphere of this church and admire the interiors and architecture of this church.
Location: Nakhon Phanom
Timings: 8.30 am to 6.30 pm
Suggested Read: Thailand 7 Days Trip: There's So Much To Learn From Rakshita's Experience
6. Nativity of Our Lady Cathedral
Image Source
This cathedral is sacred for Roman Catholics. It is built in the honor of the birth of the Virgin Mary and was built in the 18th century. It took 6 years to build this church. It is designed in the Gothic architectural style.. It was originally built using burnt bricks and black syrup from sugarcane. The interiors have beautiful stained glass imagery that depicts the life of the Virgin Mary from the bible.
It also has pictures of male and female saints on its walls. The doors of this cathedral are carved with anecdotes from the bible. Inside the cathedral, there are various forms of candle stands. The tower on top of this cathedral is used as a Bell Tower. There are artistic arches inside this cathedral that are worth taking notice.
You can see the influence of Thai art on the walls of this cathedral that has been used from the ancient art influences of Chaing Mei. The stained glass used inside this cathedral has been imported from Europe. These windows depict scenes from the life of Jesus Christ. There are numerous statues inside this cathedral.
Visit this cathedral to take a note of religious symbolism. The altar is ornate and decorative. It has an intricate design which makes it look magnificent. This cathedral is symbolic of Roman Catholicism and is visited by Roman Catholics in the nearby area.
Location: Samut Songkhram
Timings: 8.00 am to 4.00 pm
Suggested Read: Check Out How Fantastically Mayur Spent 6 Days In Thailand With His Family
7. Assumption Cathedral

Image Source
This cathedral is built to honor the death of the Virgin Mary and her journey to heaven. It was built in the 16th century by the French missionaries. It was designed by a French architect and later design elements were added by the Italian who also added an artistic touch to numerous buildings in Bangkok.
This cathedral was damaged during World War II and was later restored. It has two towers and is one of the most important cathedrals in Bangkok. It was visited by Pope John Paul II in the 18th century which regained its reputation since his visit. The front portion, as well as the interiors of the cathedral, have bronze statues of saints.
It has a sloped ceiling and frescos that look similar to the one you would find from European cathedrals. This is a worthy place to stop and take note of its architectural delights and religious significance. The ceiling and the altar of this cathedral is beautifully designed and has an ornate design elements.
This is one of the historic buildings in Bangkok that has a European influence you can admire. This is a 200-year-old church and is the oldest in Bangkok. A place you can stop and admire its history and architecture that has many striking features. The ceilings are decorated in the Baroque style of architecture.
Location: Bangkok
Timings: 8.00 am to 4.00 pm
Suggested Read: Thailand In September: A Pocket Guide For An Amusing Vacation
8. Holy Rosary Church

Image Source
This is one of the most magnificent churches you can visit in Bangkok. It is built in the Gothic architectural style. It is built close to the site of the river and has rich and ornate interiors. You can view a magnificent stained glass work throughout the church. This church is also known as Kalawar Church. It is a roman catholic church built in the 17th century by Portuguese Catholics.
It is located on the eastern banks of the River Chao Phraya. This church has been damaged over many years and has been rebuilt three times. There is a statue of the Virgin Mary which stands on its top spire. The colorful stained glass depicts stories from the Old and New Testament. You can take pictures of the artistic details of the walls and ceiling inside this church.
The exterior walls of the church are cream in color. The most striking feature of this church is its steeple which is eye-catching. The doors and windows of the church are designed in the classic arched Gothic style. There is a statue of the Virgin Mary standing at the entrance.
The interior of this church has the most beautiful stained glass work. It is surrounded by a peaceful garden which adds to the tranquility and beauty of the garden. You can attend the mass on Sundays. This is one of the best churches in Bangkok that is built in the European style. The statue of Jesus is carried on the streets during Easter celebrations.
Location: Bangkok
Timings: 8.00 am to 7.30 pm
Further Read: Is Thailand In October Really A Good Time For A Vacation? Here's Your Answer
Thailand is dotted with many old churches with striking architectural features that represent the European style of architecture. You can visit them for ornate ceilings, stained glassworks, their historical significance, and interiors. Most of them are tastefully decorated and are picture-worthy. So, on your next vacation in Thailand, do visit these churches!
Disclaimer: TravelTriangle claims no credit for images featured on our blog site unless otherwise noted. All visual content is copyrighted to its respectful owners. We try to link back to original sources whenever possible. If you own the rights to any of the images, and do not wish them to appear on TravelTriangle, please contact us and they will be promptly removed. We believe in providing proper attribution to the original author, artist or photographer.
Please Note: Any information published by TravelTriangle in any form of content is not intended to be a substitute for any kind of medical advice, and one must not take any action before consulting a professional medical expert of their own choice.
Frequently Asked Questions About Churches In Thailand
How old are churches in Thailand?

Most of the old churches have been built in the 16th and 17th century.

The churches are built in what architectural style?

Most of the old churches are built in the Gothic and Romanesque styles of architecture.

Which church has an opulent gem-studded statue of the Virgin Mary?

The Cathedral of the Immaculate Conception has a gem-studded statue of the Virgin Mary.

Is Christianity practiced in Thailand?

Buddhism is the major religion in Thailand. Thailand has religious diversity.

Which is the popular Russian Orthodox Church in Thailand?

The Holy Trinity Church in Phuket is the oldest Russian Orthodox Church with beautiful interiors.

Which Russian Orthodox church in Thailand has the most stunning architecture and murals?

Church of St.Nicholas the Wonderworker in Bangkok has the most striking interiors.
---