Famed as the Pink City, Jaipur is the prime attraction of Rajasthan which is known for its remarkable history. Brimming with joyous occasions and festive vibes, Jaipur is one of the grandest destinations in India to be explored. Being one of the earliest mapped cities in India, the remarkably well-preserved heritage of Jaipur boasts ancient forts, old markets and royal palaces. Showcasing excellent charm and architectural grandeur, there are myriad places to explore in Jaipur and the City Palace of Jaipur happens to be one of the prime tourist attractions in the Pink city! Listen to the fascinating century old tales of valour and explore this historic palace built with utmost elegance.
History Of City Palace Of Jaipur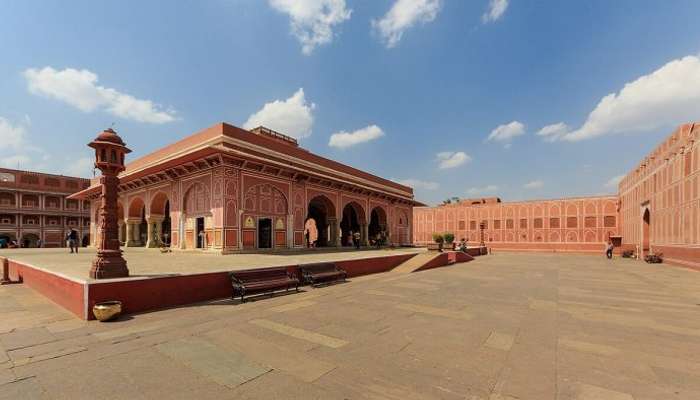 Imagine a big palace right in the middle of the city of Jaipur! Isn't it wonderful? One can capture magnificent views of forts, gardens, palaces and courtyards all around. The City Palace of Jaipur is a beautiful blend of the Mughal and Rajasthani architecture representing the elegance and royalty of the Pink City! The City Palace of Jaipur, Rajasthan has won the hearts of many and continues to do so. Built by Maharaja Sawai Jai Singh I in 1729-1732, this palace becomes a window to peek into the stories of the glorious past and the authentic culture of Jaipur.
Maharaja Sawai Jai Singh relocated to Amber due to water storage problems and increase in population. Later he called Vidhyadhar Bhattacharya, a famous Bengali Architect who crafted this palace as per the rules of vaastu shastra.
Location: Jaipur (Rajasthan, India)
Built By: Maharaja Sawai Jai Singh II
Built In: 1729 – 1732
Architectural Style: Combination of Shilpa Shastra of Indian style of architecture with European and Mughal styles.
Must Read: 6 Invigorating Picnic Spots Near Jaipur To Visit In 2020
Architecture of City Palace Of Jaipur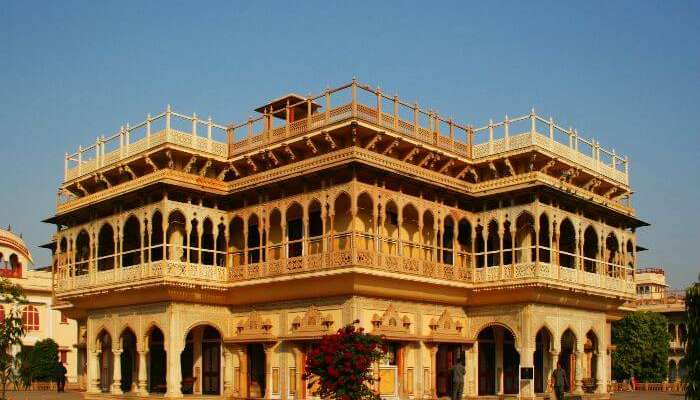 Planned in 'Grid Style', this palace is impressive with four gates to enter and exit, namely 'Udai Pol', 'Tripolia Gate', 'Jaleb Chowk' and Virendra Pol'.
Encompassing temples, palaces, gardens, balconies and patios, this palace is embellished with beautiful latticework, carved marbles, inlaid ornamentations and jali work. Reflecting the taste of authentic Mughal style, this palace is decked with mirrors and distinct murals. In every nook and corner of the palace, one can witness the perfect blend of colors, culture, art and design.
Suggested Read: 10 Best Places To Visit Near Jaipur For A Refreshing Weekend Break In 2020
About City Palace of Jaipur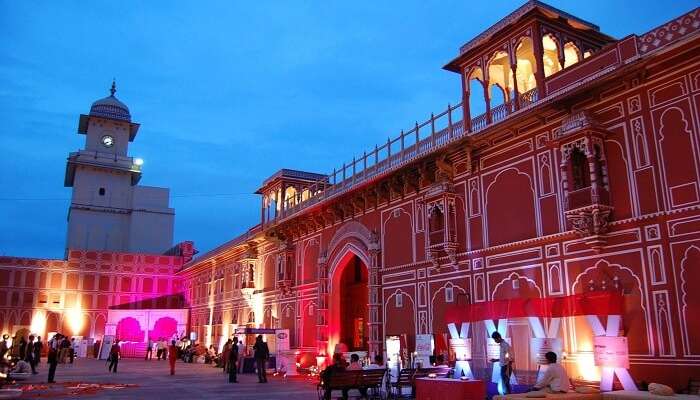 Positioned within a walled city, city palace was built by Maharaja Sawai Jai Singh II, the founder of Jaipur. Representing a beautiful blend of Rajput and Mughal architecture, the last ruling royal family still resides in the exclusive section of the palace that is private and not open for the public to tour.
Encompassing Mubarak Mahal (the palace of reception) and Maharani's Palace (the palace of the queen), the city palace of Jaipur is truly commendable. Jaipur is segregated into 9 blocks with royal palace standing tall and reflecting so much beauty and charm in the center. Walls of the city were made by renowned architect Vidyadhar Bhattacharya and Shilpa Shastra.
Mubarak Mahal is home to Maharaja Sawai Man Singh II Museum showcasing exclusive collection of delicate Pashmina (Kashmiri) shawls, royal costumes, Benaras silk sarees, and other dresses with Sanganeri prints & folk embroidery.
Hawa Mahal and Jantar Mantar are positioned along the outer walls of the palace representing rich culture and heritage of the ancient state.
Suggested Read: 40 Magnificent Tourist Places To Visit In Jaipur In 2020
Attractions To Visit In The City Palace Jaipur
Let's take a look at some of the most famous structures of the City Palace of Jaipur what you shouldn't miss on your visit to the palace.
1. Entry Gates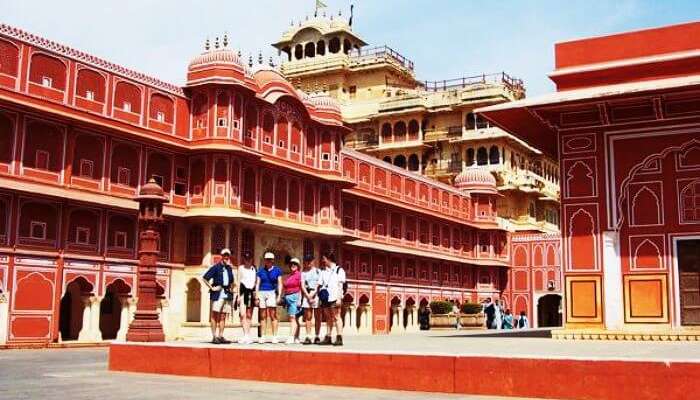 Decked with three grand entry gates named Virendra Pol, Udai Pol and Tripolia Gate. Virendra Pol and the Udai Pol are two gates open for visitors while Tripolia Gate is dedicated for the royal family.
Suggested Read: 25 Best Restaurants In Jaipur To Relish Royal Meals On Your 2020 Vacay!
---
Rajasthan Holiday Packages On TravelTriangle
---
2. Mubarak Mahal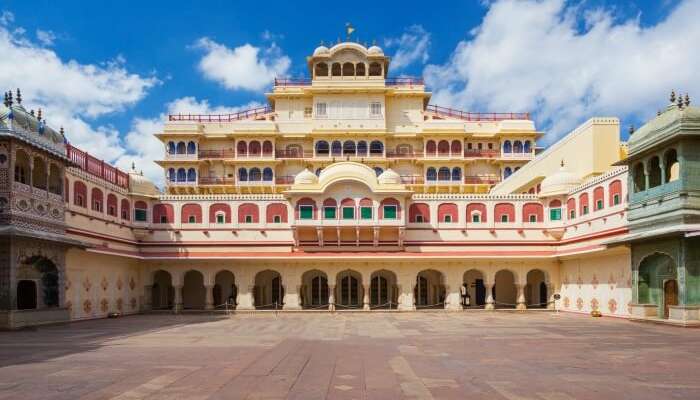 Mainly a reception centre, this Mahal is now being converted into a museum showcasing a wide array of Rajasthani textiles worn by kings and queens of the state.
Suggested Read: Get The Rajasthani Bohemia On! 14 Amazing Shopping Places In Jaipur To Explore In 2020!
3. Chandra Mahal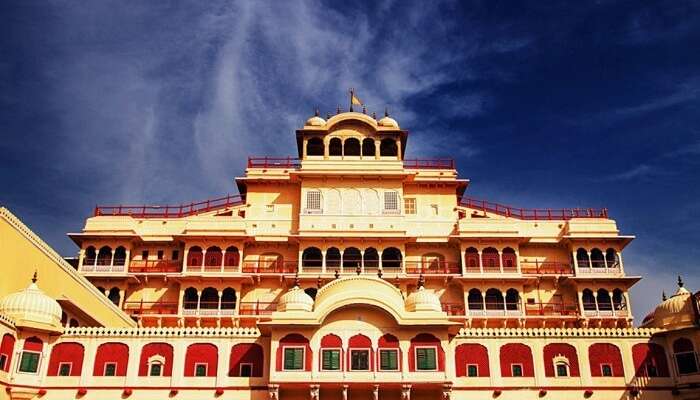 Seven storey Chandra Mahal is home to Mukut Mahal, Shri Niwas, Ranga Mandir, Sukh Niwas, and a museum. Works of mirror, exclusive paintings and floral adornments are a pride of honor. Many artifacts and articles preserved here include royal formal costumes, Kashmiri pashminas, silk saris, Sanganeri block prints, embroidered shawls, and ornamental clothes.
The City Palace emphasizes the intricate beauty of each section. The "Sukh Nivas" painted blue in colour is bedecked with white lining while the "Rang Mandir" has mirrors of all sizes embedded in its walls, pillars and ceiling.
Decorated with mirror walls and blue tiles, "Shobha Nivas" is embroidered with mica and gold leaf.
Suggested Read: Jaipur Literature Festival 2020: Know All About India's Biggest Literary Event Right Here
---
Planning your holiday in Rajasthan but confused about what to do? These Rajasthan travel stories help you find your best trip ever!
---
4. Maharani Palace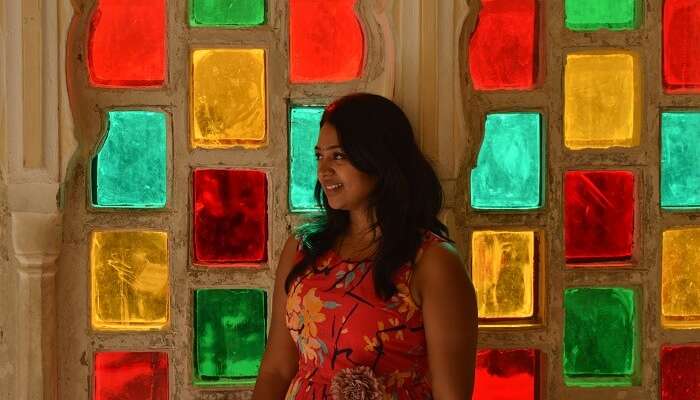 Served as the residence of the queens, this royal palace is adorned with gems and semi-precious stones. The armoury in Maharani's Palace reveals the weapon collections and ceremonial items. The intricate ceiling of this mahal is comprising of beautiful precious stones.
Besides the attractions, a visit to Diwan-i-Khas (Hall of Private Audience), Baggi Khana, and Diwan-i-Am (Hall of Public Audience) are a must. Bounded by four gates is this Pritam Niwas Chowk is an inner courtyard decked with beautiful motifs.
Suggested Read: Hawa Mahal: A Complete Guide To Explore The Culture And History Of Jaipur In 2019
Ticket Price of City Palace of Jaipur
The entry fees of the city palace ranges from INR 130 to INR 500.
For Indians – INR 130
For children – INR 70
Foreign tourists – INR 500
Photography Fee – INR 50
Videography Fee – INR 150
Sr. Citizen fees -INR 110
Audio Guides – INR 200
Note: It is highly recommended to carry a guide or an audio guide, to get an overall view of the entire palace.
Suggested Read: Monsoon In Jaipur 2020: A Guide To Explore The Pink City Of Rajasthan!
Timings of City Palace of Jaipur
The palace opens around 9.30 am in the morning. For you to explore the entire place, it may take two hours to three hours. Also, you have to buy a ticket separately if you want to visit the museum.
Best Time To Visit City Palace
It's always preferable to visit the palace under cool or pleasant climatic conditions. Jaipur is a hot and dry city with winter months being moderately hot during the day. The best time to visit Jaipur is between October and March when it is comparatively cooler.
Suggested Read: Water Parks In Jaipur: 9 Awesome And Amusing Places To Stay Cool This Summer!
Facts about City Palace of Jaipur
There are numerous facts of the palace you would be fascinated after knowing. Here goes the list of some of the best ones.
The City palace was constructed by the founder of the city of Jaipur, Sawai Jai Singh.
A small part of the City Palace is transformed into a museum, while the other part is a residential area of the former ruler of Jaipur.
This palace is decked with number of gates to enter the palace. You can access all the gates excluding the Tripolia gate (reserved only for royal family).
Representing different seasons of the year namely Autumn, Spring, Winter and Summer,there are four small gates in the Pritam Niwas Chowk.
The two sterling silver jars in this palace have made their world record of being the world's largest sterling silver vessels in the Guinness Book of World Record.
Baggi Khana is dedicated for chariots and coaches.
Tips for visiting City Palace of Jaipur
Carry a valid student ID along with you in order to avail a discount on the entrance fee
You need approximately 2 to 3 hours to take a proper tour of the palace. So make sure you arrange the time slot accordingly
Jantar Mantar will be at your right, as soon as you exit the palace
The audio guides are available in English, French, Hindi and German. Regular guides can speak other regional languages as well
Flat shoes are recommended instead of heels
This palace also provides you with restroom facilities
Further Read: Top 27 Things To Do In Jaipur: Exploring The Pink City All Over Again In 2020
If you truly want to witness the beauty of the pink city then visit to this beautiful City Palace of Jaipur is a must. It's time to embark on a journey and plan a trip to Jaipur to unveil the hidden treasure of Rajasthan. What are you waiting for? The royalty awaits you!
Frequently Asked Questions About City Palace of Jaipur
Q. Who lives in City Palace Jaipur?
A. City Palace Jaipur is home to Jaipur Darbar  where they royal family still resides in this complex.
Q. When was City Palace Jaipur built?
A. This royal City Palace was built during the year 1729-1732 AD under the reign of Raja Man Singh.
Q. Who built the City Palace?
A. Vidhyadhar Bhattacharya, a famous Bengali Architect constructed this palace as per the recommendation of Maharaja Sawai Jai Singh.
---
Looking To Book A Holiday Package?
---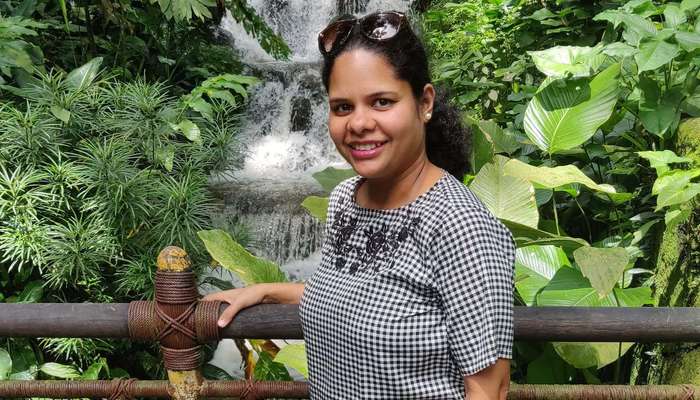 Comments
comments