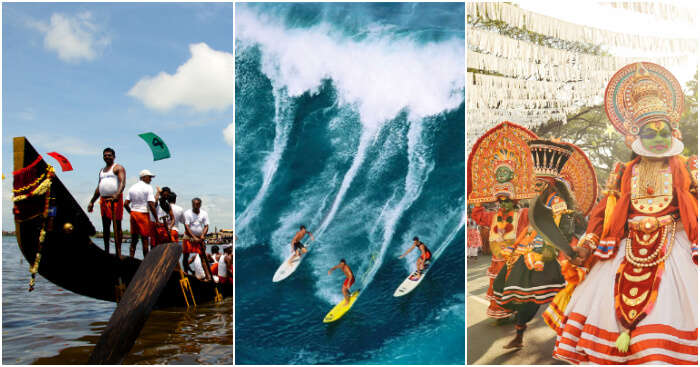 India is a land of diverse religion, heritage, culture, and traditions and the true reflection of this variety is seen through varied festivals, celebrated across the country. While most of the places in the country enjoy monsoon in August, the plethora of charming festivals in August in India help people enjoy the rain splashes all the more.
From the boat races to music and yoga feasts, August has quite a few varieties of festivals, which are high on spirit, fun and vibrant.
14 Best Festivals In August In India
With so many things to do and places to visit, there are plenty of experiences that India has on board for all tourists. Check out this list to make sure you don't miss out on any of the top festivals in India in August 2022!
1. Nehru Trophy Snake Boat Race

Nehru Trophy Snake Boat Race is one of the most popular and classic festivals in August in India 2022. This is a thrilling boat race, organized at Punnamda Lake in Alleppey, where thousands of men row snake boats and compete with each other. This, one of the enthusiastic August 2022 festivals in India showcases great zeal of bonding, coordination and team spirit and eventually marks the commencement of 10 days long Onam festival in Kerala. Another popular event of the same kind is Aranmula Snake Boat Race. This thrilling boat race takes place on Pampa River in Alleppey and marks the end of the festival of Onam.
Where: Punnamda Lake, Alleppey in Kerala
What's special: Many of boatman rowing snake boats, singing folk songs and indulging in healthy competition is a great sight. Moreover, the spectators enjoy this buzzing event from the banks of the lake or can stay in houseboats and experience the same.
Date for Nehru Trophy snake boat race 2022: 13th August
30 Best Places To Visit In August In India To Welcome Monsoons In 2022
---
Looking To Book A Holiday Package?
---
2. Athachamayam Festival

Celebrated along with the Onam festival, Athachamayam is one of the most iconic cultural festivals in August 2022, India, that rejoices the heroic triumph of the royal king of Kochi. This is one of the most vibrant festivals in the month of August in India, actually Kerala, where local people wear a traditional outfit and participate in folk dance and music. Elephant rallies and colorful tableaus showcasing local tradition, artforms, and culture are also seen during the festival.
Where: Tripunithura, Ernakulam, Kochi
What's special: Local people dress up like tigers and participate in rallies.
Dates for Athachamayam festival 2022: 30th August
3. Nag Panchami

Among the age-old Indian festivals in August, Nag Panchami holds a special significance. This is one of the most unique and courageous festivals in the month of August in India where snakes are worshipped. On an auspicious day of lunar month of Shraavana, Nag Panchami is observed in full glory and pomp in rural parts of India and Nepal. This festival is followed by Jhapan Mela- a tribal festival, where Goddess Manasa is worshipped. Jhapan Mela is a rural fair demonstrating various tricks with snakes and is observed in the interior parts of Vishnupur and Bankura districts of West Bengal.
Where: Rural parts of Maharashtra, Andhra Pradesh, Tamil Nadu and Kerala
What's special: Snakes are carried in procession to the temple and devotees dance to the music of been or snake charmer's flute.
Dates for Nag Panchami 2022: 2nd August
29 Monsoon Destinations In India That Will Make You Dance In The Rain In 2022!
4. Eid-Al-Adha

Eid-al-Adha is one of the most significant festivals in the month of July in India, observed by the Muslim community. Popular as Bakri Id, this festival is celebrated through sacrifices of sheep and goat and cooking the meat and sharing with friends and relatives. On an auspicious day, people dress up in beautiful attires, attend community prayers, visit friends and folks and exchange sweets and gifts. Children receive idi or gifts from elders.
Where: Celebrated by Islamic community, all over India.
What's special: Delicious meat preparations are cooked at every household and mosques, Islamic monuments and markets are decorated with lights and flowers.
Dates for Eid-al-Adha 2022: 9th July – 10th July
---
Planning your holiday but confused about where to go? These travel stories help you find your best trip ever!
---
5. Raksha Bandhan

On every full moon day of the month of Shraavana, which corresponds with August, the glorious festival of Raksha Bandhan is celebrated throughout India. Undoubtedly, this list of Indian festivals in August is not complete without talking about Raksha Bandhan. It is rejoiced to honor the love and bonding between a brother and a sister. The sister ties the rakhi- a sacred thread around the brother's wrist and prays for his long life and well-being while the brother takes an oath to protect her lifelong.
Where: Pan India, particularly in north, west and central part of the country
What's special: The sister performs aarti and applies tilak before tying the thread, while the brother gives gifts and sweets in return.
Date for Raksha Bandhan 2022: 11th August
36 Most Famous Festivals Of India You Must Experience In 2022
6. Teej

Festivals celebrated in July in India are incomplete without Teej, where Goddess by the same name is worshipped by Rajasthani women with full enthusiasm. This is one of the music festivals in July in India. Featuring absolute grandeur and glory, Teej is rejoiced in every part of the pink city, with traditional songs, dance, music, carnivals and local food. Here, native woman dress-up in green traditional outfits, wear bangles and mehndi and carry Goddess Teej in golden palanquin across the city. The rally is accompanied by decorated elephants, camels, and horses. This one tops the list of most amazing festivals of India that you must celebrate with the locals!
Where: Jaipur
What's special: Teej special sweet dishes like ghewar and malpoa are prepared in every household.
Dates for Teej 2022: 31st July
7. Madras Week

22nd of August is the foundation day of the city of Madras, now Chennai. To honour and celebrate the same, the entire week is rejoiced with grandeur and pomp in the city. The entire city is decorated with lights and flowers and various tours, fairs, shows and recreational events are organized for tourists and locals. This is one of the best festivals in August 2022 India that you ought to explore!
Where: Chennai, Tamil Nadu
What's special: Heritage walks, food walks, bike tours and photo exhibitions.
Dates for Madras Week 2022: 22nd August
Top 12 Summer Festivals In India You Must Plan Attending In 2022!
8. Tarnetar Fair

Another spectacular September festival is Tarnetar fair, held near the temple of Triniteshwar Mahadev in Gujarat. The fair was originally organized as a searching place for a spouse for tribal communities. This is a typical rural fair, where one can see and experience brave stunts, magic shows, tribal dance and music, camel rides tattoo stalls, merry go rounds and local food and handicrafts shops. If you wish to witness this buzzing and fascinating tribal feast, fret not! Gujarat Tourism offers comfortable tented accommodations and other facilities for all.
Where: Tarnetar Village, Surendranagar, Gujarat
What's special: Performances of jodia pava (double flutes), rahado folk dance.
Dates for Tarnetar Fair 2022: 8th September – 11th September
9. Covelong Point Surf, Music And Yoga Festival

As one of the most spectacular and one of its kind cultural festivals in August in India; Covelong Point Surf, Music and Yoga Festival attracts thousands of music and health enthusiasts every year. This cultural feast features a variety of events and shows like performances of Indian and International musicians, screening of world cinema, national level surfing competition and meditation workshops. People joining this festival will be surely spoiled with choices of activities to indulge in. From chilling at the beach, checking out organic food stalls to taking part in kayak races and beach volleyball matches; there is something for everyone.
Where: Covelong Point Social Surf School, Kovalam Village, Chennai
What's special: Yoga on the beach, water gun fights and healing music therapies.
Dates for Covelong Point Surf, Music and Yoga Festival 2022: NA
15 Uncommon & Unusual Festivals In India That You Should Attend In 2022
10. Krishna Janmashtami and Dahi Handi

This festival is celebrated at a grand scale in India and some parts of the world to commemorate the birthday of Lord Krishna. The day is also called the Gokulashtami in some places and in Maharashtra it is known as Govinda. This is one of the joyous occasions celebrated with much vigour and there are kids who dress up like Krishna to narrate his life story.
Where: Mumbai, Maharashtra
What's Special: The Dahi Handi where the clay pot is filled with curd and hung over with a thread. Young boys make a human pyramid and hit the pot with a stick.
Date Of The Festival: 18th – 19th August
11. Bonderam Festival

This is an annual festival which is celebrated every year on the fourth Saturday of August. It is a traditional flag festival which started off from the disputes over property in various parts of the village. There were flags used to mark boundaries till the rival groups knocked them down. In the present day they make a representation of that incident by hosting mock fights and street parades.
Where: Divar Island, Off the coast near Panjim, Goa
What's Special: The vibrant parades hosted by the locals to enjoy a great time making a parody of the incident which happened years ago.
Date Of The Festival: NA
Festivals In Mizoram: 3 Must Experience Festivities Which Reflects The Culture And Heritage!
12. Ganesh Chaturthi

This is one of the famous festivals of India which is celebrated with much vigour for around 11 days. This festival commemorates the birth of Lord Ganesha. This festival starts at a grand scale where gigantic statues are decorated and worshipped. Even statues of Lord Ganesha are brought home for 10 days and by the end of it is submerged in the water.
Where: Mostly in states of Maharashtra, Goa, Karnataka, Tamil Nadu and Andhra Pradesh
What's Special: Celebrated at a grand scale and brings positivity
Date Of The Festival: 31st August
13. Chakradhar Samaroh

This is a 10-day classical music festival which happens on an annual basis during the Ganesh festival. This soothing celebration takes place to honour the king and musician Chakradhar Singh of Raigarh which is known as the cultural capital of Chattisgarh. He is known for writing many books on music and dance and also introduced a new form of Kathak.
Where: Raigarh, Chattisgarh
What's Special: The light and sound show
Date Of The Festival: NA
30 Spellbinding Places To Visit In July In India To Relish The 2022 Monsoon
14. Onam

This is a 10-day long harvest festival which is celebrated in Kerala with much vigor. The festival is known for celebrating the homecoming of the mythical king Mahabali. During this festival, the locals decorate the entrance of the houses with flowers arranged in a beautiful manner. Alongside that it is celebrated with other festivities like buying new clothes, and a plethora of dishes served on a banana leaf.
Where: Kerala
What's Special: Snake boat race, dancing
Date Of The Festival: 30th August – 8th September
The list of fascinating festivals in August in India is right in front of you. Pick your choice, check out the list of festivals in August in India, mark your calendar and head up. Witness the beauty of India and its rich culture in August by participating in the vibrant and wonderful festivals that hold the country together. So, plan a trip to India for an exhilarating experience in this land like never before!
For our editorial codes of conduct and copyright disclaimer please click here.
Frequently Asked Questions About Festivals In August In India
Which festivals can I attend in August in India?
Some of the famous festivals you can attend in August in India are Nehru Trophy Snake Boat Race, Athachamayam Festival, Nag Panchami, Eid-Al-Adha, Raksha Bandhan, Teej, Tarnetar Fair, Covelong Point Surf, Music And Yoga Festival, Bonderam Festival, Ganesh Chaturthi, Chakradhar Samaroh, and Onam.
How is the weather in August in central India?
August is considered the end of the monsoon season which includes heavy rainfalls on some days. The weather during this month is pleasantly cool and the temperature hovers around 23°C.
When is Madras Day celebrated?
Madras Day is a festival organised to commemorate the founding of the city of Madras in Tamil Nadu, India. It is celebrated on 22 August every year.
---
---
People Also Read: