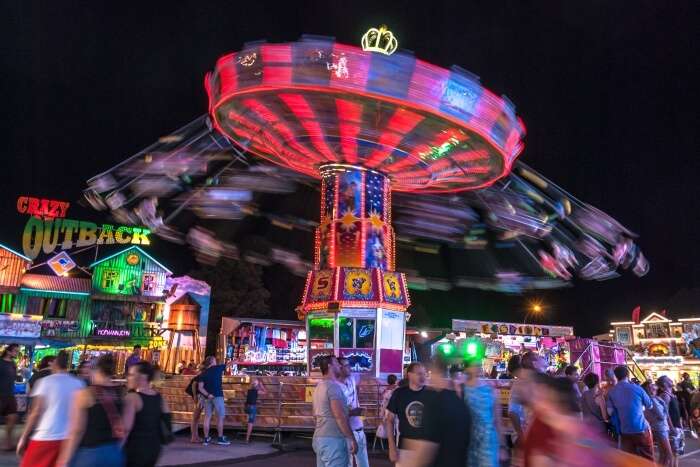 Luxembourg, a tiny country bordering Germany and France, is one of the most beautiful places in Western Europe. Officially called the Grand Luxembourg Duchy, the country is popular with tourists for its distinctly multicultural capital Luxembourg City. Be it the medieval castles that dot the capital city, the delicious fusion cuisine that borrows from the Germanic and Latin influences or the fun, warm and celebratory festivals in Luxembourg – the culture here holds a special attraction for tourists from all over the world. This country in Europe is altogether a different world which you ought to experience once in your lifetime.
15 Delightful Festivals In Luxembourg
Even though one of the smallest countries in Europe, Luxembourg offers a lot to its tourists. If you are planning a visit, here is a list of the most popular festival and events in Luxembourg that you can plan your trip around:
Echternach
Luxembourg Kizomba Festival
Winter Lights Festival
Liichtmessdag Candlemas Day
National Day
Luxembourg Lights Festival
Schueberfouer
The Bonfire Festival
Carnival Parade of Diekirch
Festival OMNI
Easter Sunday
Octave Market
Geenzefest
Pretzel Day
Fuesend
1. Procession of Echternach

The eastern locality of Echternach is noted for St Willibrord's abbey, first built by the local saint in the 7th century, and expanded to full glory during the Middle Ages. However, Echternach is also associated with Luxembourg's most visible cultural symbol, the Dancing Procession, that is held every year in the summers. Starting on a bridge on the river Sauer, followers of the Roman Catholic saint hop forwards and sideways all the way to his crypt that is housed in the center of the basilica. Recognized in 2010 as Intangible Cultural Heritage by UNESCO, the parade sees participation by groups of priests, abbots and musicians in full traditional clothing, in addition to hordes of tourists who turn out to witness the very last of all dancing processions to still happen in continental Europe, making the one of the most popular festivals in Luxembourg.
Location: Echternach, Luxembourg City
Hopping Procession Dates 2022: Yet to be announced
Must Read: 35 Best Places To Spend Christmas In Europe In 2022
2. Luxembourg Kizomba Festival

Organized by KZL, this beautiful festival will see its sixth edition next year. Focussed on the traditional form of Kizomba, the event brings together some of the best dancers, teachers, and musicians (DJs) of Kizomba from all over the world. The exotic dance form, which originated in Angola, means 'to party' in the local language. A soft, romantic touch to it makes Kizomba a must try form for all couples barring age, making it one of the best Luxembourg music festivals.
Location: The Box, Exhibition & Congress Centre, Kirchberg
Luxembourg Kizomba Festival in 2022: 28th April to 3rd May, 2022
3. Winter Lights Festival

One of the most beautiful of Luxembourg festivals, this Christmas celebration runs through the month of December and turns the center of the medieval Luxembourg city into a festive paradise. The ancient fortifications and cobbled stone streets are decorated with close to over 220 trees, of which a sizeable number are Christmas trees. Christmas markets selling all kinds of Christmas stuff pop up all over the central squares, and locals and tourists swarm to these markets throughout the month of December for gifts and decorations. In addition, there are festival concerts, plays and circus performances around Centre-ville that make for a wonderful Christmas atmosphere during and around Christmas and New Year. For really special gifts, be sure to check out the souvenir shops that only open Sundays during the Winter Lights Festival.
Location: Centreville
Winter Lights Festival Dates 2022: 19th November 2021 to 2nd January, 2022
Suggested Read: 13 Frolicsome Beaches In Europe For All The Excited Beach Bums Across The Globe
4. Liichtmëssdag Candlemas Day

Very similar to the American tradition of trick-or-treating during Halloween, the Liichtmessdag Candlemas Day is celebrated around the time of the Carnival. On the eve of St. Blaise's day, children make Luxembourgian lanterns, which they carry to homes around their communes to collect candy from their neighbors. Literally meant to celebrate liichten, the light, the festival is looked forward to a lot by local children for sweets and candy, and sometimes even money. Are you enchanted by the idea? We hope you give it a try on your trip to Europe.
Location: Luxembourg
Liichtmëssdag Date 2022: 2 February, 2022
5. National Day

The National Day Parade first began as a celebration of Grand Duchess Charlotte's birthday, on 23rd of January. However, because the date was in winter, it was shifted to June 23, and the tradition has continued to this day. On the eve of the National Day, there is a change-of-guards ceremony at the Grand Ducal Palace at 4 PM that marks the beginning of festivities. The parade begins on the evening of the day itself, with torchlight processions passing through the narrow cobbled streets and main roads of the city. Simultaneously, there are free open-air concerts at major city squares, and there is a major festive gathering around the Adolphe Bridge, complete with a spectacular display of fireworks at night.
Location: Luxembourg City
National Day Date 2022: 23rd June, 2022
Suggested Read: 17 Spots For Snorkeling In Europe Every Underwater Enthusiast Must Visit In 2022
6. Luxembourg Light Festival

A warm, glowy festival in the middle of winter is all you need to do away with the blues. Light shows, walking trails, audio-visual installations, and so much more – the festival takes the participants from one iconic piece of architecture in the capital to another (think National Museum of History and Art, Clairefontaine, Rue du Saint Esprit and many more). The Luxembourg Light Festival is one of the best experiences in the month of December.
Location: Luxembourg City Centre
Luxembourg Light Festival Dates 2022: December, 2022
7. Schueberfouer

The biggest funfair in Greater Luxembourg City, the Schueberfouer is a one of a kind Luxembourg tradition that began as far back as 1340 with John the Blind, Count of Luxembourg and King of Bohemia. Today, the festivities center around a display of folk culture, coupled with plenty of exciting high-speed roller coasters, drop towers and other rides for children(and even adults). In fact, last year, there were 43 rides specially made for the festival, 20 of which were specifically for children, in addition to 69 games. The festive atmosphere also invites plenty of local vendors to the fairgrounds, and visitors, participants, and tourists can enjoy a wide variety of delicious baked treats that can only be found in Luxembourg.
Location: Glacis, Limpertsberg
Schueberfouer Dates 2022: 19 August 2022 – 7 September, 2022
Suggested Read: Guess Which European City Gets The Title Of World's Most Liveable City This Year!
8. Buergbrennen The Bonfire Festival

The most glorious bonfire festival in Luxembourg, the Buergbrennen, also called the Faaschtefeir (Lint Festival) is celebrated on the Sunday after the end of the Carnival. Meant to literally chase away the winter, it is one of the traditional festivals in Luxembourg that began as pagan tradition thousands of years ago. Buergen is constructed atop hillsides using logs, hay, and branches by locals, and then set on fire (under the supervision of the fire brigade, of course). The buergen are set afire with much fanfare, and usually, the most recently wed couples in the commune or local celebrities are given the honor of throwing in the match. Before the bonfire is lit, there are often torchlight processions leading up to the pyre. Traditional dishes such as green beans soup and mulled wine are common with festivities.
Location: Luxembourg City
Buergbrennen Date 2022: March, 2022
9. Carnival Parade of Diekirch

The chief of the parades of the carnival season that takes over Luxembourg City through February and March, the Carnival Parade of Diekirch is held, of course, in the Luxembourg City commune of Diekirch. Revellers, known as fuesgecken, usually dress up in colorful and innovative costumes to participate in the procession that moves through the neighborhood. Participants and onlookers are also treated to a wide variety of delicious treats that are prepared specifically for the carnival, the chief amongst them being the carnival doughnuts (called the Maisercher, or the mouse doughnuts) and the Stretzegeback, which are tiny pastry cakes that are scalded previous to being baked. The length of the procession is a formidable 2 km, and it was attended by 2000 people last year, making it one of the largest carnival processions of the season.
Location: Diekirch
Carnival Parade Dates 2022: 8th March, 2022
Suggested Read: This Winter 2022, Escape To The Best Honeymoon Destinations In Europe!
10. Festival OMNI

The most prominent and famous Luxembourg music festival, this beautiful event is attended by hundreds of natives when local as well as international artists perform in the capital. Primarily focussed on blues and jazz genres of music, the festival brings together music and celebrations, which make it a must-attend event especially in the balmy summer nights of Luxembourg. You will find great crowds of fellow music lovers and enthusiasts at Festival OMNI, which is on the list of Luxembourg Holidays and Festivals as well.
Location: Neumünster Abbey, Luxembourg City
Festival OMNI Dates 2022: Yet to be announced
11. Easter Sunday

Easter Sunday is one of the most important festivals in Luxembourg. In fact, it is celebrated all across the Europe continent with much fervour zeal. On this day, people color eggs in colorful patterns and hide them in places which others have to find. The one with the maximum number of findings is the winner. You get to eat traditional duck, rabbit or, pork with roasted potatoes.
Location: Luxembourg
Dates: 17th April, 2022
Suggested Read: 10 Best Day Trips From Luxembourg For A Perfect European Holiday
12. Octave Market

Also known as Oktavsmäertchen, Octave Market is the third Sunday after Easter. On this day, the procession is taken out to pay tribute to Virgin Mary. Many festive markets are set on the streets for the pilgrims so that they are fed well. The visitors can also buy souvenirs apart from getting their hands on delicious food. It is the most important day in Grand Duchy.
Location: Luxembourg city
Dates: May, 2022
Suggested Read: 12 Best Restaurants In Luxembourg For An Appetizing Vacation
13. Geenzefest

Geenzefest is the celebration of flower blooming and is the prettiest Luxembourg festivals 2022. It is celebrated in the month of May or June when the pastures begin blooming with yellow flowery shrubs in the Oesling region. The whole landscape is bathed in golden color. The locals organize ornate parades, exhibitions, and cultural programs. The celebration continues throughout the Whit Weekend. More than 10,000 visitors take part in the festival. Then, why not you?
Location: Oesling region, Luxembourg
Dates: May or June
Suggested Read: 10 Best Castles in Luxembourg That Are Replacements For Sheer Magnificence!
14. Bretzelsonndeg

Who here loves Pretzels? If you said 'yes', then you should definitely attend Bretzelsonndeg – the Pretzel Sunday. The pretzel is a specialty in Luxembourg made of puff pastry and fondant icing. There is also a funny tradition related to this day. A man gifts a pretzel to his sweetheart on this day. If she accepts it, he is allowed to come over to her place on Easter Day. if not, he will be sent a basket of bread. People also carry out procession on this day handing out free pretzels.
Location: Luxembourg City
Dates: 27th March, 2022
Suggested Read: Luxembourg Nightlife: 10 Places Where You Can Party Like There's No Tomorrow!
15. Fuesend

Fuesend is one of the most popular Luxembourg festivals 2022 celebrated by organizing masked balls, parades, and cavalcades. It is a Carnival that is held in the beginning of February and continues till the month of March. Do not miss out on gorging sweet carnival goodies like doughnuts and small cakes during the carnival.
Location: Luxembourg City
Dates: Yet to be announced
Further Read: 31 Festivals In Europe That Will Up The Fun Factor Of Your Euro Tour In 2022
These festivals in Luxembourg serve as great tourist magnets for the country. Apart from the celebrations, the art and architecture of Luxembourg, in general, are pretty rich, making it a haven for all those who are interested in exploring the European continent more. You can browse our portal and plan your itinerary for Luxembourg today to land the best deals ever.
---
Frequently Asked Questions
What holidays do they celebrate in Luxembourg?
National Day, Christmas, Labour Day, Easter Monday, and Europe Day are some of the holidays they celebrate in Luxembourg.
How is Christmas celebrated in Luxembourg?
The locals in Luxembourg attend a mass on either the day before the eve or on Christmas Day. A hearty meal is prepared and gifts are exchanged with family and friends.
Is English spoken in Luxembourg?
English is a frequently spoken language in Luxembourg but French and German and more prevalent.
What food is Luxembourg known for?
Judd mat Gaardebounen – a smoked porked dish, pretzels, fried fish, crispy potato fritters, are some of the famous food items from Luxembourg.
What is Luxembourg most famous for?
Luxembourg is a rich country surrounded by Belgium, France, and Germany. It is known for its rich history that goes back to the 10th century. It is also famous for the restaurant with the world's largest inventory of wine.
---