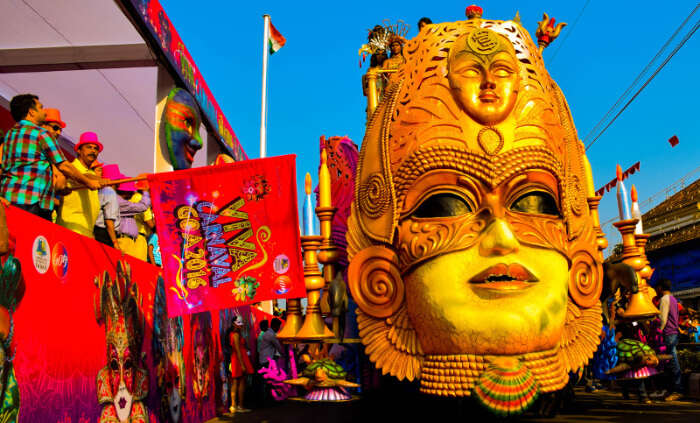 Goa knows how to throw a party on a massive scale and make the youth of the country go crazy. So charge yourself and take out your most vibrant dress to get lost in the vivid colours of Goa Carnival 2023.
The carnival will be celebrated on the streets of Goa from 18th to 21st February. Goa Carnival festival is all about dancing on the streets, vehicles festooned with flowers and feathers, people's faces covered with masks, and the crowing of King Momo.
Where Does It Happen?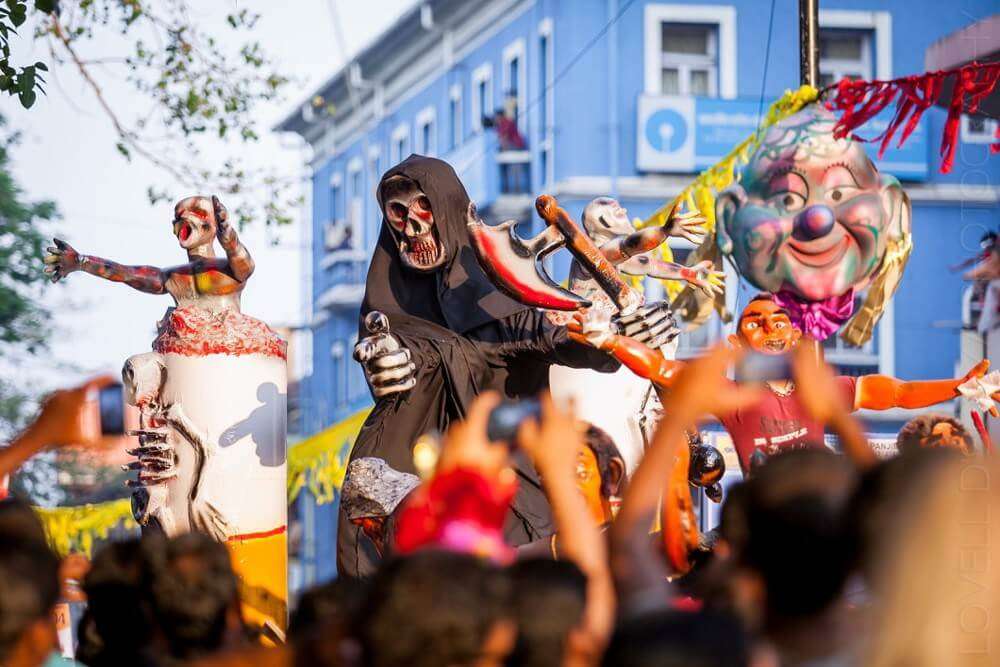 Cities covered – Panaji, Margao, Vasco da Gama, Mapusa
This 4-day long carnival festival in Goa travels across the state performing and spreading happiness starting from Panaji through the wonderful Margao to the quaint towns of Vasco and Mapusa. The carnival goes through interesting lanes and alleys of the almost unknown towns. If you want to explore Goan culture, then this is the time to head to the paradise.
Must Read: 15 Crazy Festivals In Goa You Need To Witness Atleast Once In Your Lifetime
What Are The Goa Carnival Attractions?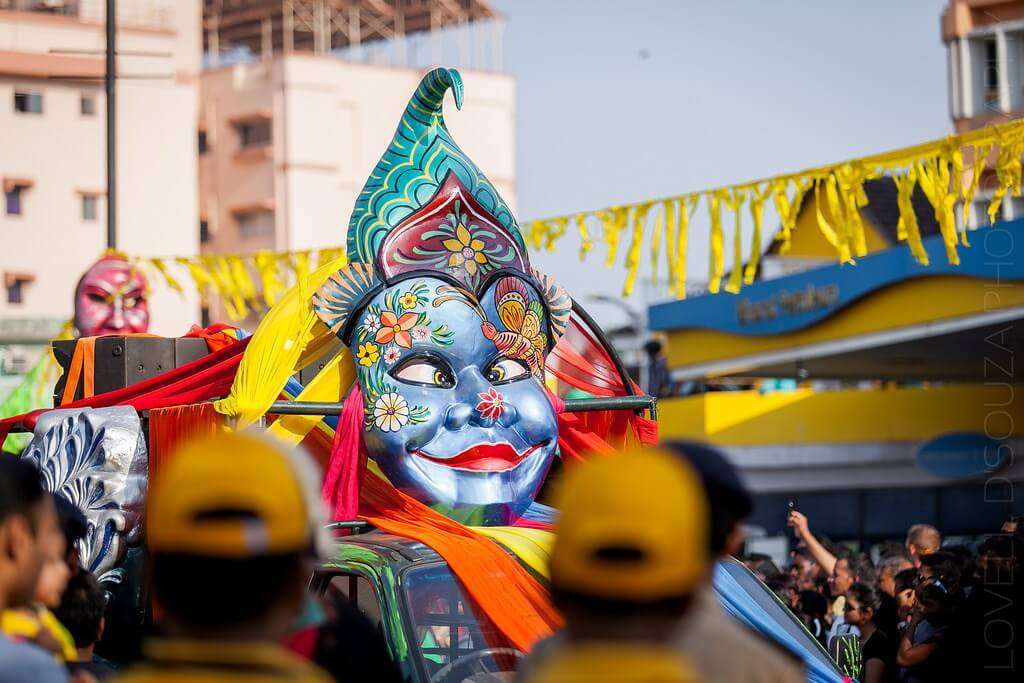 Who doesn't know about Goa's rich history and Portuguese heritage, but the heavy commercialization doesn't let you experience its vibrant tradition. However, Goa revives itself during the carnival and comes to life. There are several things to do in Goa Carnival and here's what to expect:
Colourful decorated float parades
Sports competitions
Authentic Goan seafood and a lot of Feni
Fashion Shows & DJ Nights
Suggested Read: 14 Most Haunted Places In Goa: Sources Of The True Ghost Stories In Goa
The Carnival Isn't Just For Friends But Your Family Too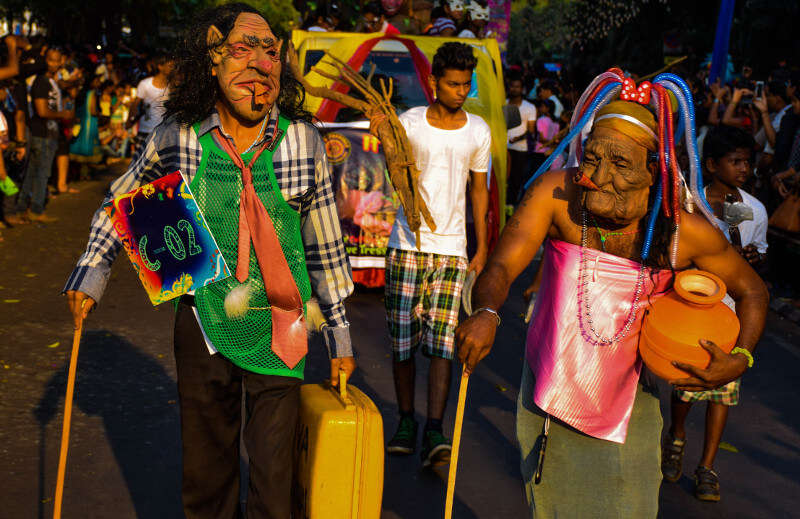 When you think of a Carnival, you imagine all the happening things not quite appropriate for a family trip, but this isn't the case with Goa Carnival. People of all ages take part in it making it one of the most happening carnivals in the world. There's no entry fee; you just have to enjoy, enjoy, and enjoy. In case you want to take part in Red & Black dance, there's a small fee of INR 100. So, get wear your Goa Carnival mask and join the crowd.
Suggested Read: Goa Travel Guide [Infographic]: All You Need For A Fun-Loaded Vacation
Tips For Planning A Short Trip To Goa In February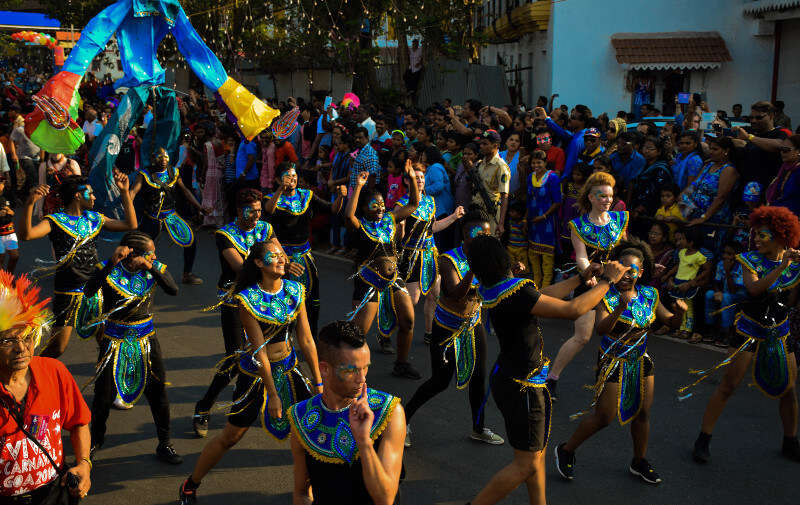 It's the peak season, which means all the hotels, guesthouses, and beach resorts in Goa will be packed and the tariff will shoot up to new highs, so book your accommodation in advance.
Keep your belongings safe, pickpockets may be lurking around.
The streets of Goa will be flooded with people and floats, so if you wish to visit any of the popular places in Goa during the carnival, you will have to talk to your hotel staff about it.
Places To Visit In Cities Where Goa Carnival Will Be Held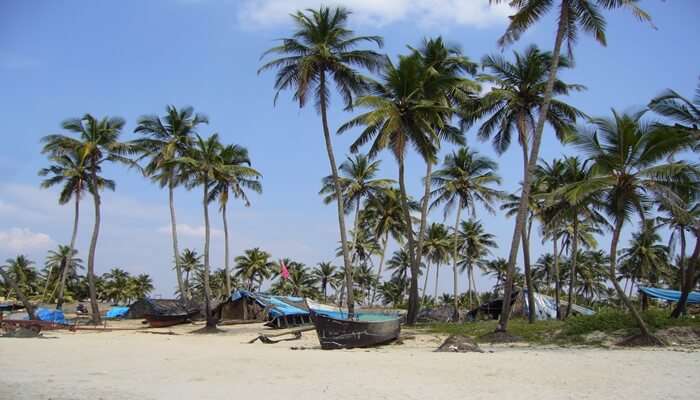 Panaji – Our Lady Of The Immaculate, Fontainhas, Goa State Museum, Reis Magos Fort, Miramar Beach, Goa Science Centre And Planetarium, Maruti Temple, Vainguinim Beach
Margao – Holy Spirit Church, Colva Beach Road, Our Lady Of Grace Church, Goa Chitra Museum, Municipal Garden, Shree Damodar Temple, Sat Burzam Ghor
Vasco da Gama – Japanese Garden, Monkey Beach, Mormugao Fort, Pilot Point, Baina Beach, St. Ansrew's Church, Heart Shaped Lake, Hansa Beach, Sao Jacinto Island
Mapusa – St. Jerome Church, Shri Dev Bodgeshwar Sansthan, Datta Temple, Milagres Church, Shree Ganesh Temple
Further Read: 9 Reasons Why Goa Is A Backpacker's HELL
So, plan a trip to Goa and get your bags packing and remember to let go of your stress, have tons of fun, and take a lot of pictures so that you can relive the wonderful moments of Goa Carnival.
Frequently Asked Questions About Goa Carnival
Why is Goa Carnival celebrated?
Goa Carnival was started in the 18th century by the Portuguese in Goa to celebrate the beginning of Lent. In the Christian calendar, Lent is a season of abstinence, fasting, and prayer. So, this carnival is to celebrate the last lavish meals before entering the fasting season.
Where is the Goa Carnival held?
Goa Carnival is majorly held in various parts of Goa including, the happening capital – Panjim, Vasco da Gama, Margao, and Mapusa.
What is the entry fee for Goa Carnival?
There is no entry or participation fee for Goa Carnival. But there is a fee of INR 100 for participating in the Red and Black Dance.
When will Goa Carnival 2023 be held?
Goa Carnival 2023 will be held from 18th to 21st February.
How is the weather in Goa in February?
The temperature in Goa in February ranges between 32° to 20° Celsius. There is no rainfall during this month and the weather gets a bit warmer than January.
People Also Read: