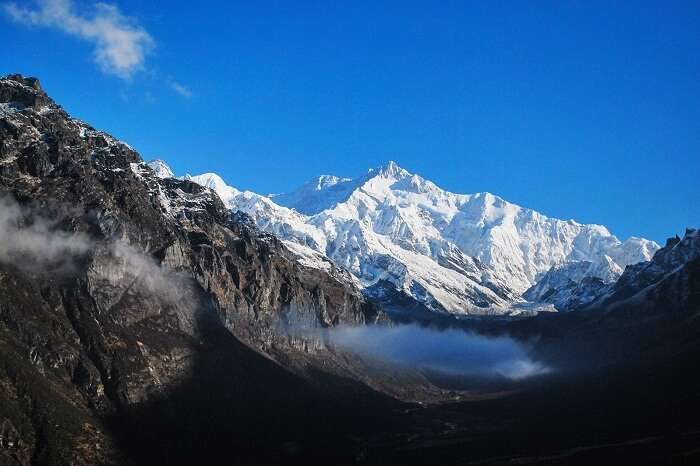 "It's always further than it looks. It's always taller than it looks. And it's always harder than it looks." These are the basic "three rules of mountaineering" and for those who're up for the challenge to put these three rules to test, we have the perfect guide of Goechala trek for them. Conquer the laborious trek that lasts for about 11 days, and takes you through about 90 kilometers of ever-changing and forever-challenging terrains on your next trip to Sikkim with this tailor-made Goechala trek guide.
About Goechala Pass & Trekking In Sikkim
From Mount Kanchenjunga, to Mount Pandim, and from the Three Sisters to the mighty Everest, relish the charm of the most challenging peaks as you embark on the thrilling Goechala trek.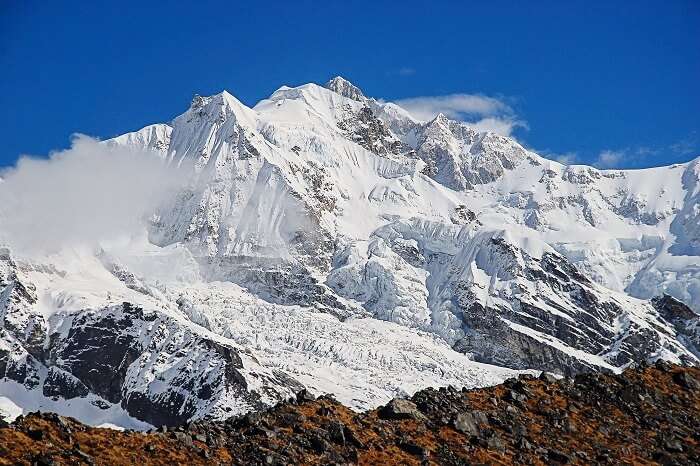 While Sikkim strikes a perfect balance between the natural beauty of its flora and fauna, trekking in Sikkim, especially on the Goechala trek, covers up for the adrenaline rush which is much needed for few of the wanderlusting souls. So if you've been planning on satiating your thirst for some adventure, get going with this Goechala trek guide, which is all you need for a soul-stirring getaway.
Must Read: 28 Best Himalayan Treks Under 10K That You Must Include In Your Bucket List!
Goechala or Goecha La Pass Snippet
Following list will give you an idea about the entire Goechala trek and it will help you to understand about the trek in detail.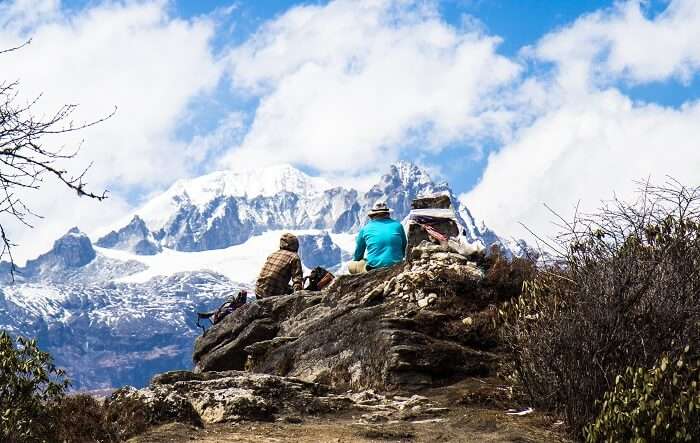 Location: Western Sikkim
Starting Point: Yuksom
Ending Point: Goecha La
Altitude: A maximum of 16,200 ft.
Duration: 11 Days (upward & downward trek)
Distance Covered: 90 Kilometers Approximate
Level of Difficulty: Initially moderate but later on the trek gets difficult with changing terrains
Goecha La Trek Best Time: April to May & October to November
Goecha La Trek Temperatures: Mornings & Nights – -5°C to 10°C; Daytime: 10°C to 25°C
Available Accommodation Options: Tents, Trekking Huts, & Guest Houses are available on the route
Goechala Trek Route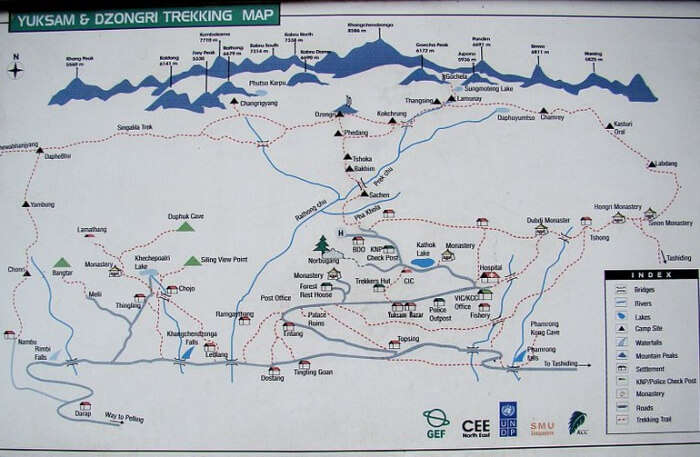 The most famous route which the trekkers can take depending upon their expertise, feasibility, and convenience is the one that takes you through Dzongri via Phedang, all the way to Thangsing, and up till Goechala.
One also has the option of not going to Dzongri and trek uphill from Phedang but that would just lose the essence of the whole trek.
How To Reach
The best modes of transport to reach the base camp of Yuksom are that of flights, and trains.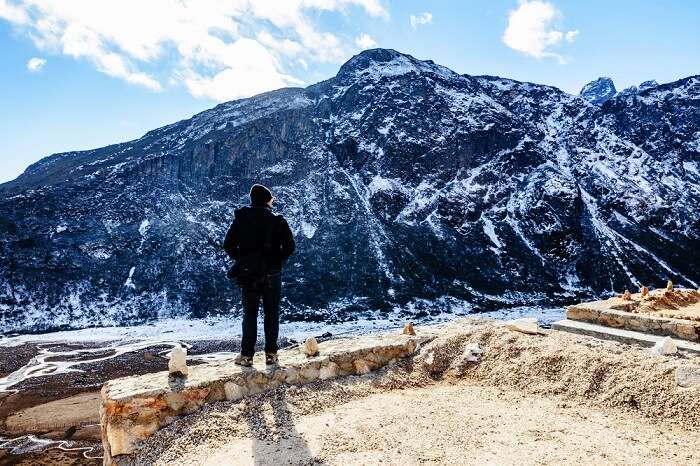 By Flight: Most of the metro cities are connected to the nearest airport of Bagdogra Airport. One can reach this airport, and take a cab reach Yuksom which is located at a distance of about 155 kilometers and will take a maximum of 6 to 7 hours.
By Train: Located at the heart of Siliguri in West Bengal, New Jalpaiguri Junction happens to be the nearest railhead to Sikkim which is well connected with other metropolitans. Located at a distance of about 150 kilometers, one can reach Yuksom in about 6 hours from New Jalpaiguri Junction via a cab.
Goechala Trek Itinerary
For those who plan to stick to the usual itinerary which would suffice to experience the whole trek in the way it should be done, it should not take them more than 11 days to cover then entire Goechala trek for both the ways.
However, for those trekkers who'd like to take their own time or spend a day or two extra at any of the points in between, the choice is all yours.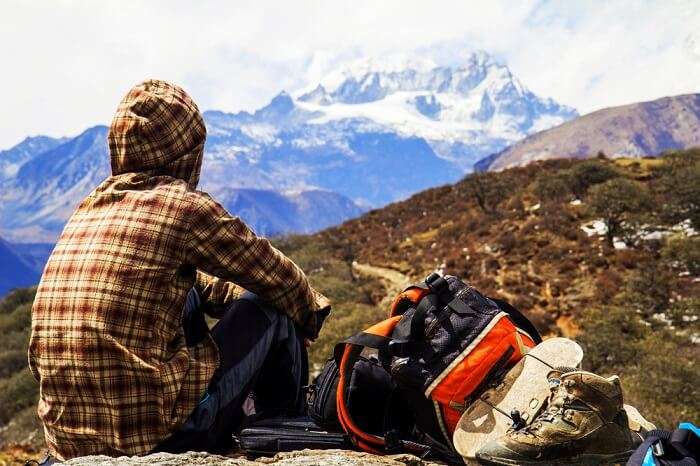 Day 1: New Jalpaiguri Junction at Siliguri –> the base camp of Yuksom
Day 2: Yuksom –> Sachen
Day 3: Sachen –> Bakhim –> Tshoka
Day 4: Tshoka –> Phedang –> Dzongri
Day 5: Leisure Day in Dzongri
Day 6: Dzongri –> Dzongri Top –> Kokchurang –> Thansing
Day 7: Thansing –> Lamuney
Day 8: Lamuney –> Samiti Lake –> Goecha La –> Thansing
Day 9: Thansing –> Phedang –> Tshoka
Day 10: Tshoka –> Bakhim –> Sachen –> Yuksom
Day 11: Yuksom –> New Jalpaiguri Junction at Siliguri
Suggested Read: 20 Stupefying Winter Treks In Himalayas
Find the Goechala Trek Map here:
Detailed Itinerary
Before you even begin to plan for the restless Goechala trek, consider going through the exhaustive detailed itinerary that gives the trekkers a jist of the encounters that await them.

Day 1: Arrival at Yuksom
An expedition to Goechala trek would require the wanderlusting souls to get to the New Jalpaiguri Junction which is the nearest railway station to the base camp of Yuksom. One can drive up till there which takes about 6 hours, and at the end of the drive, one would already be at an altitude of 5,670 ft.
Day 2: Yuksom to Sachen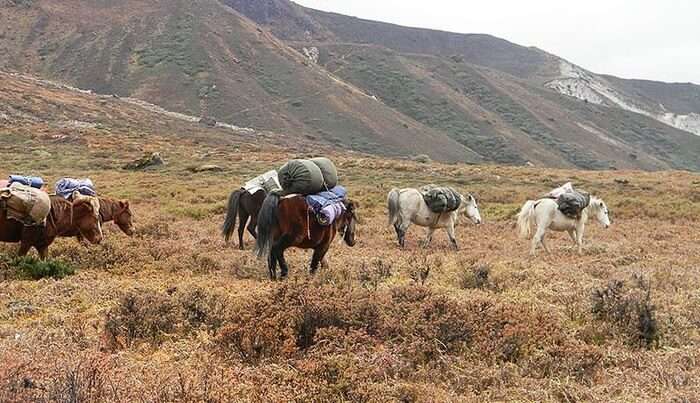 Once you reach Yuksom, stay at the booked accommodation option, and prepare well to begin your trek. Though people like to trek from Yuksom to Tshoka in day, it is advised to begin the trek slowly and retain the energy for forthcoming days. Taking one through lush environs, and dense forests, travelers will have a surprise encounter with the ancient bridges of Pha Khola, Tshushay Khola waterfalls, and the Mentogang Khola River before reaching their destination of Sachen. Upon the arrival at Sachen, the trekkers would be at an altitude of 7,150 ft.
Day 3: Sachen to Tshoka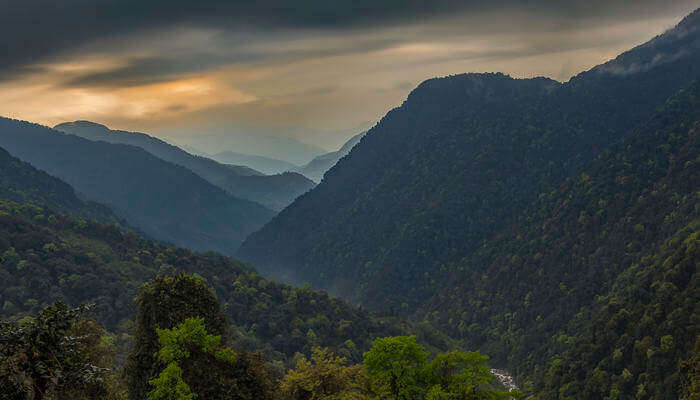 On the third day, the trek continues from Sachen to the next destination of Tshoka which passes through the village of Bakhim. This part of the trek will open up the clear skies that will lead you ahead. The trek remains pleasant throughout Sachen but soon takes the trekkers to a steep climb on reaching River Perk. One can stop at Bakhim and revive their energies with some tea and snacks. Continue to follow the trek and at the end of the trail, arrive at Tshoka which an altitude of 9,700 ft. and treat your eyes to the majestic views of Mt. Pandim and Mount Kanchenjunga.
Day 4: Tshoka to Phedang and Phedang to Dzongri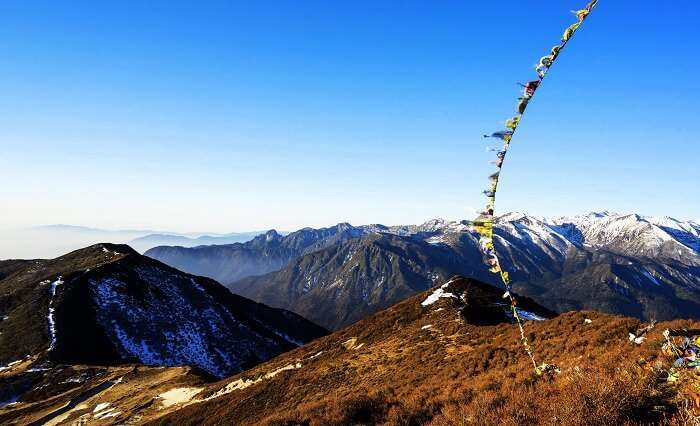 Surrounded by the Rhododendron trees, this is the most beautiful as well as the most crucial part of the trek. Post trekking for about an hour through a mix of steep climb and flat wooden paths, the trail leads the trekkers to Phedang and by the time one reaches the spot, it's almost lunch time. Post that, continue your journey onto the trail that takes one to the mighty Dzongri – the destination of the day. Muddy patches, steep slopes, and colorful prayer flags will accompany you on the way till the time you stop at an altitude of about 12,980 ft.
Day 5: Revive Your Energies At Dzongri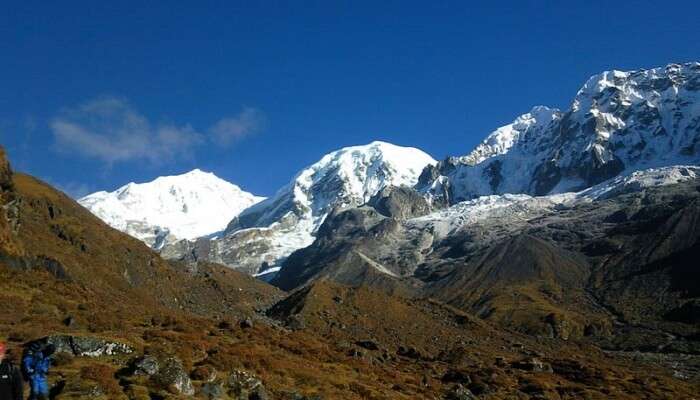 Give a break to your system and let the body revive from continuous trekking for the past four days. Spend a night under the starry sky, and get enough sleep to gear up for a thrilling day ahead.
Day 6: Dzongri to Dzongri Top and Dzongri Top to Thansing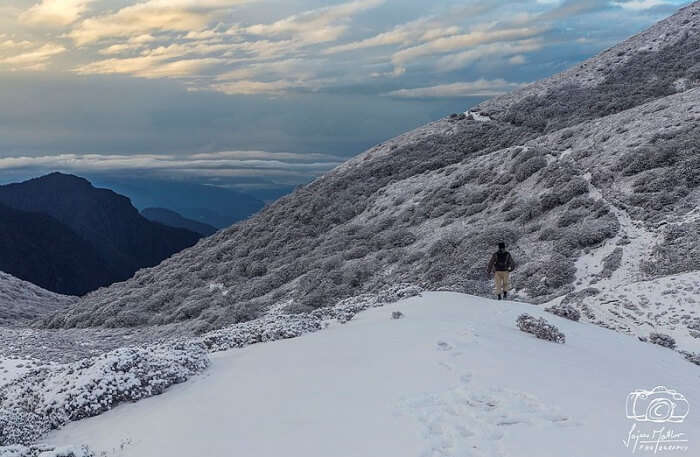 From Dzongri, start your trek towards Kokchurang that should take a minimum of 5 hours and a maximum of 6 hours. This part of the trek strikes a perfect balance between ascending from Dzongri, and descending on to the grasslands of Kokchurang. Follow the trail uptill the Prekchu River from where, the next stop of Thangsing is located at a distance of just two kilometers at an altitude of 12,900 ft.
Suggested Read: 12 Hidden Romantic Places In Himalayas
Day 7: Thansing to Lamuney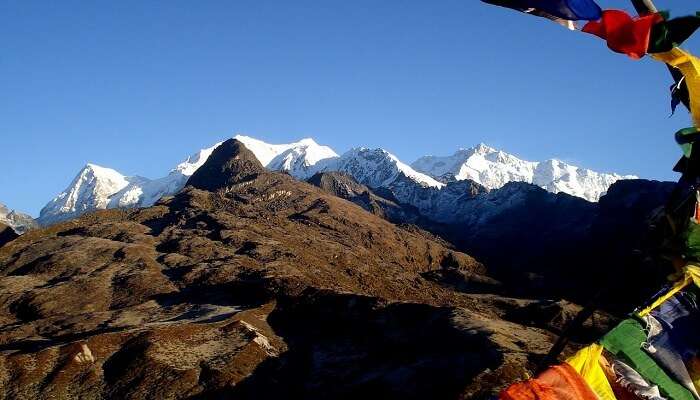 Offering a clear view of Mount Kanchenjunga and the other peaks of the summit, this descent part of the trek through the meadows of Thangsing requires the trekkers to be a bit careful. The descent is steep in nature, and the mesmerizing views can prove to be danger in disguise. Follow the trail through the trekker's hut and you will find yourself on the lands of Lamuney at an altitude of 13,600 ft., in no time.
Day 8: Lamuney – Samiti Lake – Goecha La & Back To Thansing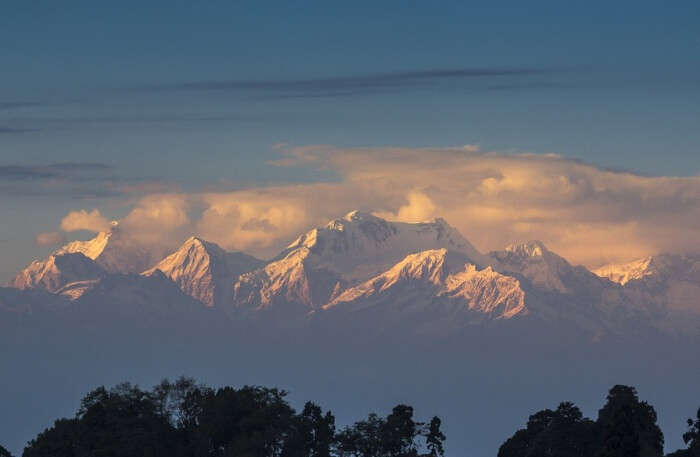 This is the day which is bound to be full of rewards for all the hard work, time, and efforts that this trek has drawn out of you. Start your trek at the earliest by 3 am. Trekkers will be forced to observe the change in the terrains, as the trail that leads from Lamuney to Goechala via Samiti Lake starts to become steeper as the ridge becomes clearer, and appears closer. Reaching Samiti Lake should not take more than 45 minutes to 1 hour from the time one steps on to the rocky path. Once trekkers reach the lake, that is the point from where one has to be very careful.
The path keep getting narrower, the climb is way too steep, and the ridge takes you through the risky sides of the mountain. It will take a maximum of two hours to reach Zemathang and another two hours to finally reach Goechala at an altitude of 16,200 ft. Since it is not allowed to camp at a dangerous height where the oxygen level does not suffice, one can spend enough time to relish the views and eventually trek back to Thangsing for the night stay.
Day 9: Thansing to Phedang and Phedang to Tshoka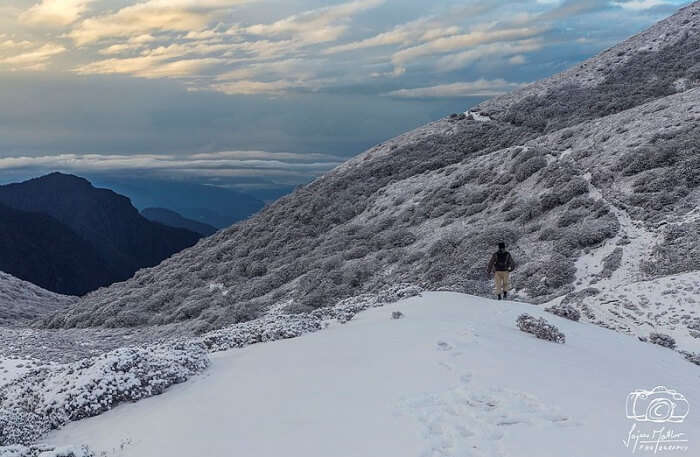 Follow the same trail that will lead you towards Lamuney, post which one can move towards Kockchurang via Thangsing. Trek back on the trail that leads to Phedang and in no time one will reach Tshoka as the downward trek is faster when compared to the uphill. Trekkers can choose to stay at the trekker's hut or pitch their own tents for the night in Tshoka.
Day 10: Tshoka to Bakhim, Bakhim to Sachen, and Sachen to Yuksom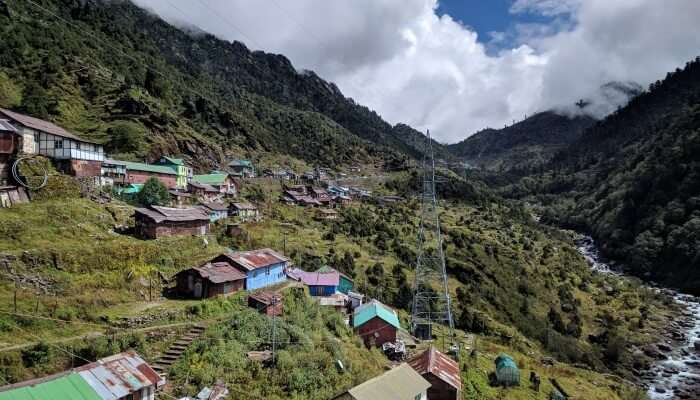 Due to the presence of a steep descent, it is faster to trek down from Tshoka to Sachen via Bakhim as compared to the time taken during the uphill trek. It doesn't take much time to cover the last few miles that will lead you to the settlement of Yuksom.
Day 11: Yuksom to New Jalpaiguri Junction at Siliguri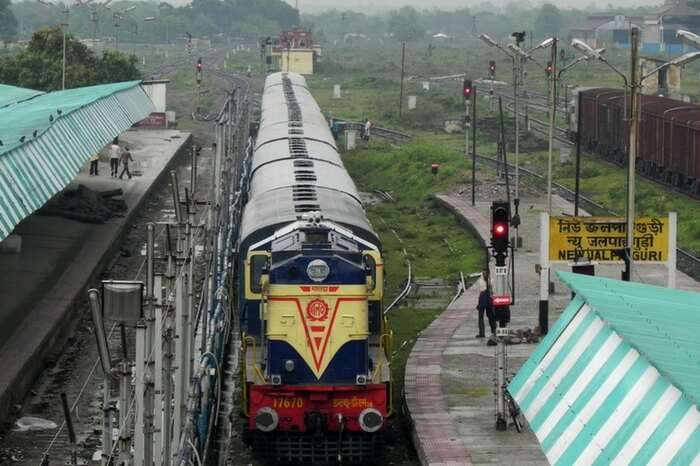 For those who don't plan on extending their stay at Yuksom, can also reach the New Jalpaiguri Junction in Siliguri via a cab.
Why Is Goechala Trek The Best Trek In India?
One of the primary reasons to go for Goechala trek is its mesmerising views of the mountain range. Trekkers consider this Goechala trek as closer to any of the hard treks of Nepal.
Watching sunrise on the Kanchenjunga Range is another reason to choose Goechala for any trekkers.

The Samiti Lake is one of the important attractions while you are going for the Goechala trek. The breathtaking views of the still water of the Lake and most importantly the reflection of Mt Pandim in the lake is literally a visual treat.
Goechala Trek Cost
An average budget per person for a 11-day trek has been taken into consideration which includes the cost of average accommodation, meals, and other miscellaneous costs that includes the permit fee, tents for camping, trekking equipments, yak charges, porter, and so on.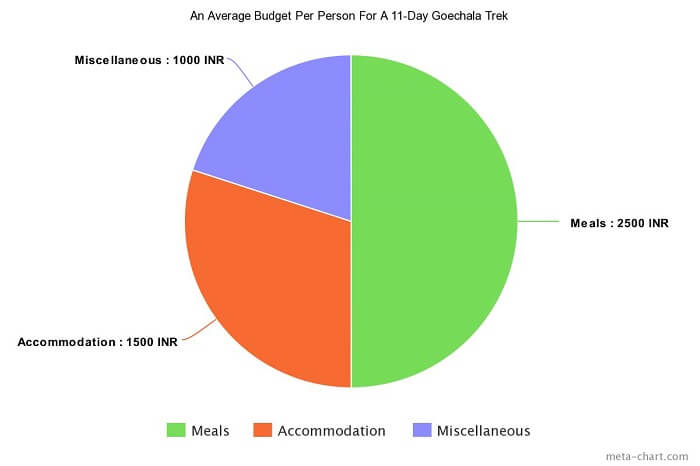 Flights Per Person Till Bagdogra Airport: INR 15,000 for a round trip (Based on booking done 30 days prior to departure)
Accommodation (Stay in a guest house or a homestay at Yuksom): INR 1,500 per person (double-sharing basis and tax excluded)
Meals: INR 2500
Miscellaneous: INR 1000
An average budget for a 11-day Goechala trek would cost up to INR 20,000 per person.
Please Note: The flight rates have been excluded as the rates may differ for each traveler depending upon the origin of destinations.
5 Things You Must Experience On A Goechala Trek
If you are going for a trek to Goechala, you are coming almost face to face with Mt. Kanchenjunga. Goechala is considered as the base camp for the Kanchenjunga Trek. Glaciers, Rocky terrain, flora and fauna, and a stunning Samiti Lake, together welcomes you to have a spectacular and a memorable experience for lifetime.
1. Interact With The Locals At Yuksom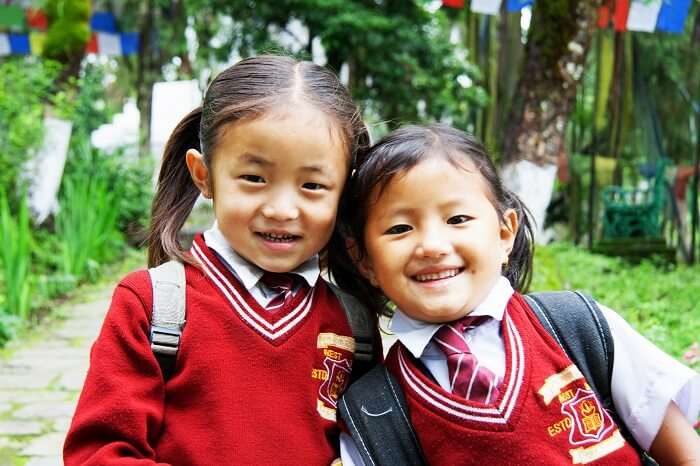 Lush green and unspoilt, Yuksom is a beautiful village in West Sikkim that one must explore on their Goechala Trek. Other than the natural beauty, what will surprise you is the hospitable treatment, and generosity of the locals who always greet passers by with their smiling faces.
Suggested Read: 10 Offbeat Trekking Spots In The Himalayas
2. Be Mesmerized By The Nature's Charm At Bakhim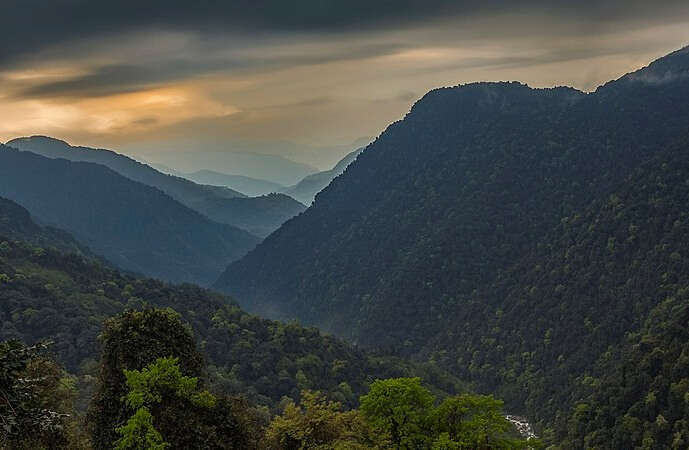 Enveloped in the dense forests of magnolia, rhododendron, orchids and ferns, Bakhim is nothing less than a paradise where trekkers can take rest and enjoy the scenic views. The panoramic views of the valleys, hills, and the Prekchu River are like a cherry on the cake!
3. Fill Your Soul With The Stunning Views Of The Summit At Dzongri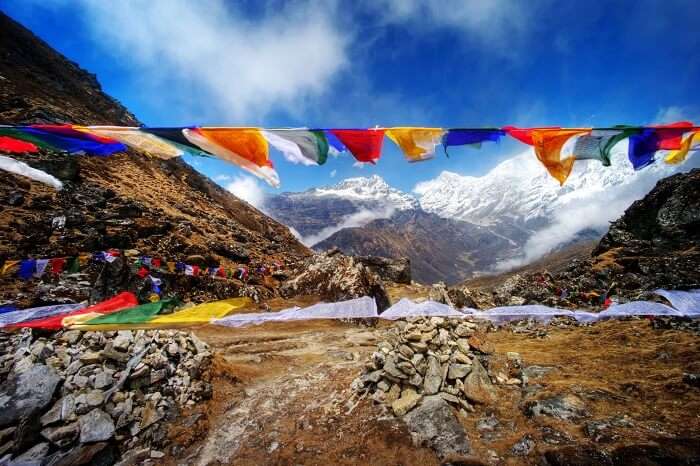 The Dzongri Summit is the best part of the Goechala trek that allows travelers to feed their hungry souls with the dazzling 360 degree views of the mountains and their snow-capped peaks. The summit is located at an altitude of 4,250 meters on top of a hill in the enchanting backdrop of the Himalayan Range.
4. Witness The Morning Glory At Tshoka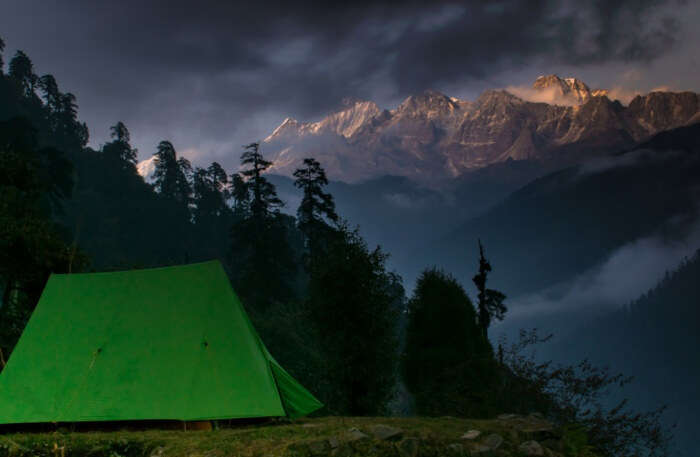 Located an elevation of 3,400 meters, Tsokha is a tiny refugee settlement in the Kanchenjunga National Park that serves as the perfect overnight halt for trekkers. It is known for providing travelers with the most spectacular views of the sunrise over Mt. Pandim.
5. Spend A Night Under The Starry Sky At Thangsing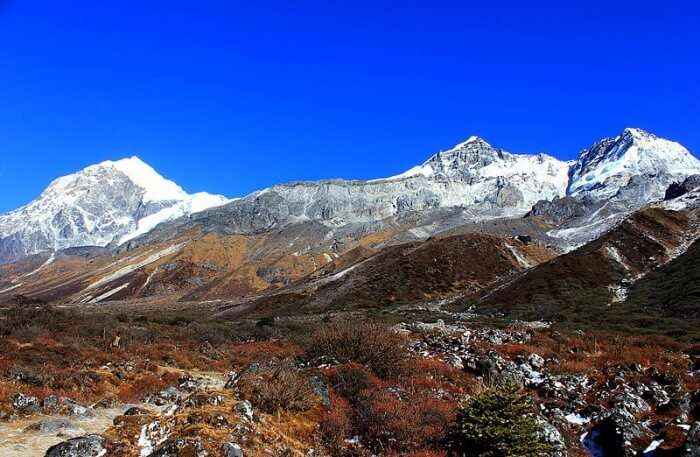 Adorned with sprawling meadows and a quaint little river, Thangsing provides as a charming overnight halt to trekkers. Apart from being a scenic halt, Thangsing is also a haven for night photographers who can simply camp here and capture magnificent views of the Milky Way Galaxy overhead.
7 Essential Tips While Packing For Goechala Trek
Do not step out of the house before you tick off each of these must-take essentials from your packing checklist for the Goechala trek.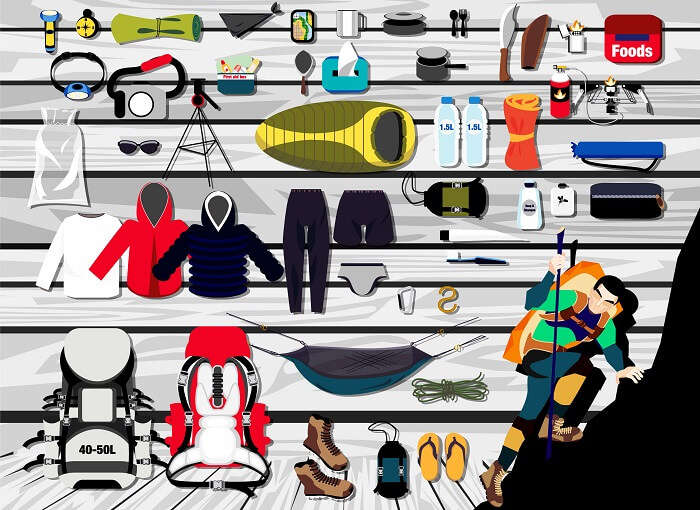 1.First Things First: Basic gear for trekking, refillable water bottles, sunglasses, trekking pole, a rain-covered rucksack, torch, and spare batteries, camera, and drone (if you have one).
2.Major Documents: Govt. Photo ID card (original, and three photocopies), three passport size photos, Inner Line Permit (ILP) for foreigners, medical certificate, and a disclaimer form.
3.Quick-dry Clothing: Warmers, lowers, track pants, t-shirts, thermals, fleece jacket, padded jacket, sweaters, rain-wear, thick socks, cotton socks, essentials, gloves, water-resistant gloves, caps, balaclavas, footwear, hiking shoes, and slippers.
4.Utensils: A lightweight aluminium lunch box, a small plate, a spoon, a mug, and other essentials that one may need.
5.Toiletries: Sunscreen lotion, cold cream, moisturizers, toothbrush & toothpaste, sanitizer, toilet roll, small towel.
6.Must Carry: Anti-fungal cream, tampons for women, pouches to dispose off non-biodegradable waste,
7.Miscellaneous: First-aid kit, prescribed medicines (if any), dry fruits, energy bars, chocolates, and snacks to munch on.
Suggested Read: Sikkim In December: Find Exciting Experiences In The Winter Wonderland Of North-East
11 Tips & Special Requirements
For those who're gearing up for the most thrilling Goechala trek, please be mindful of these crucial tips, and special requirements.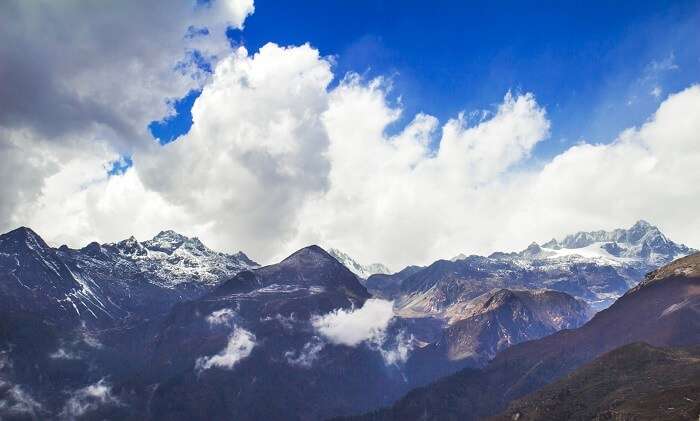 Make sure you have a minimum of 10 solid treks ranging from moderate to difficult in your kitty before planning for Goechala Trek.
Being a mountainous terrain, there is no availability of any network beyond the neighborhood of Yuksom.
Be sure to make an entry at the police station before you start your trek.
Carry extra copies of your documents as there are no xerox centers or photocopy shops in Yuksom.
Make the payment of permit fees at the forest check post.
Though the charges for carrying a camera are extra, these rates have been included in the average budget already.
In case you have hired a guide, ask for their assistance in guiding you with all the rules and regulations.
For foreign nationals, it is a must to reach the base camp one day prior to the day of Goechala trek.
Foreign nationals are expected to obtain a foreigner trek permit that costs an additional of INR 2,000 from the city of Gangtok which is a mandatory requirement by the Government of Sikkim.
Also, trekkers from foreign countries need to obtain a special Protected Area Permit (PAP) in order to be eligible to trek in a group of 2 and more people.
An Inner Line Permit can be obtained from the premises of Bagdogra Airport or from the check-post which lies at the entrance of Sikkim while traveling from Siliguri.
Further Read: Top 28 Things To Do In Sikkim For Unbeatable Adventures In Breathtaking Landscapes
That sums up pretty much everything you need to tick off another strenuous trek from your bucket list. And if the travel bug has bitten you already, then unleash the adventurer in you and explore the Goechala trek. Last but not the least, always remember that the danger is real, but fear is a choice. So don't wait and take a stroll in the above details to plan a trek to the Goechala trek.
Disclaimer: TravelTriangle claims no credit for images featured on our blog site unless otherwise noted. All visual content is copyrighted to its respectful owners. We try to link back to original sources whenever possible. If you own rights to any of the images and do not wish them to appear on TravelTriangle, please contact us and they will be promptly removed. We believe in providing proper attribution to the original author, artist or photographer.
Please Note: Any information published by TravelTriangle in any form of content is not intended to be a substitute for any kind of medical advice, and one must not take any action before consulting a professional medical expert of their own choice.
Bon Voyage!
Frequently Asked Questions About Goechala Trek
What are the symptoms for Acute Mountain Sickness (AMS)?

Nausea, mild headache, and an uneasiness in body movement are the general symptoms of AMS.

What should be done in case one suffers or diagnoses the symptoms of AMS?

Inform the guide or the leader of the trekking expedition. Follow his or her instructions, and make use of the first-aid kit, oxygen cylinders, and other medical help available on the spot.

What happens when a trekker suffers minor or major injuries on the trek?

Though injuries are a part, and parcel of such a challenging trek, the trek leaders who also happen to be the trained, and certified wilderness first-aid responders will guide to take the injured trekker to the nearest medical center.

Do mobile networks work in remote areas during the trek?

Not at all. Yuksom is the last stop wherein one is connected to the rest of the world. Beyond that, one must ditch the virtuality, and relish the reality.
People Also Read
Trekking In Darjeeling Trekking In Himachal Pradesh Trekking In Uttarakhand